Only in America do we turn a random day in April into an unofficial holiday for people who enjoy weed. And only in Miami will that holiday continue into the next day, with mass consumption of roast pork. That said, there are a handful of people in this city who aren't that into weed or church, and might be looking to do something else this weekend. For that set we've got a pirate festival in Lauderdale, a Rolling Stones cover band giving a free pool party concert, and multiple chances to win undrinkable amounts of free beer. Those all highlight the best stuff going on in South Florida this Easter and 4/20 weekend.
Friday, April 19 – Sunday April 21
Batch Gastropub
Nothing says "I just threw this shit together because it looked good" like a menu featuring chicken covered in Cheetos, Cap'n Crunch donut holes, and tot waffle burgers. It's like the folks at Batch just picked junk food names out of a hat and put them together, but at some point this weekend this one-time only menu will sound absolutely amazing.
Cost: Like you'll be coherent enough to care
Friday, April 19 - Sunday, April 21
Veza Sur Brewing Co.
Your gratuitous weekend selfies might actually earn you something this weekend, when Veza Sur hides 24 kegs throughout Miami, posting hints to their locations on its Instagram stories every hour. Snap a photo of yourself with the keg, post it to your feed, tag @VezaSurBrewingCo and #HechaEnMiami, and stand by to see if you won one of the kegs.
Cost: Free
Friday, April 19 – Saturday, April 20
Wynwood Yard
The final hours of the Wynwood Yard will be filled with the stories of the people who made the neighborhood, as the Juggerknot Theatre Company presents Wynwood Stories. These real-time theatre experiences will educate you on how Wynwood went from industrial wasteland to gentrified arts district through personal tales of the neighborhood's most influential people.
Cost: $75
Saturday, April 20
Esplanade Park
It's not quite Gasparilla, but South Florida's biggest celebration of pirates takes place from 11am to 5pm in Esplanade Park at the Second Annual Fort Lauderdale Pirate Festival. It'll include a pirate-themed raft race, pirate encampments, a dunk tank, live cannon demonstrations, and mermaids for photo ops.
Cost: Free
Saturday, April 20
Seminole Hard Rock Hotel and Casino
When you bought Rolling Stones tickets, you had to know there was at least a 50% chance one of them was gonna need heart surgery and cancel, right? Well, you can still listen to their music, sung by the considerably-younger Music City Stones, at a free poolside concert at the Hard Rock starting at 8pm. Though you won't see Mick and the gang, have enough $4 beers and $8 Bacardi cocktails and you might think you did.
Cost: Free
Saturday, April 20
Tarpon River Brewing
The good, god-fearing people who run Tarpon River wouldn't force you to choose between Easter mass and winning a year's worth of free beer. So head there Saturday at 10am and search the brewery for hidden eggs, find the golden egg that entitles you to free beer for a year, then spend Sunday appropriately thanking the higher power who led you to the treasure.
Cost: Free
Saturday, April 20
X Miami
In honor of Earth Day, Daybreaker is getting its social conscience on this Saturday when its rooftop poolside Budokon Yoga or Merengue Movement class will donate all its proceeds to the environmental nonprofit Pathways to Paris. Hang around after for the dance party and join Debris Free Oceans for a downtown street cleanup. The fun gets started at 11am.
Cost: $25 for yoga and dance. $15 to just dance.
Saturday, April 20
1306 N Miami Ave
One of the greatest hip-hop artists/college lecturers of all time takes the stage at 1306 Miami at some point after 11:30pm Saturday. He'll be joined by DJ Heron and LAMEBOT, as well as an entire crowd of people who'll cry when they realize Lil Uzi Vert still sells more records.
Cost: $44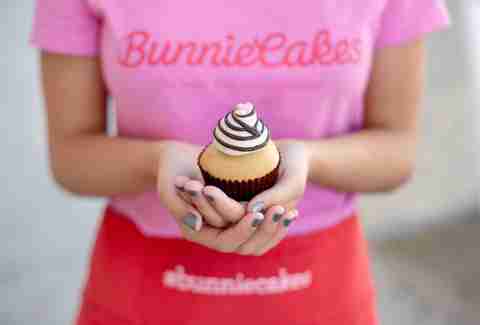 Sunday, April 21
Marlins Park
If you'd rather hear a lecture from a renowned cupcake maker than a priest on Easter morning, head to Marlins Park where Bunnie Cakes will be hosting another of its popular cupcake decorating workshops at 5th Base before the Marlins take on the Washington Nationals. The workshop begins at 11am and includes admission to the game and all the cupcakes you decorate. Way better than hot dogs.
Cost: Tickets start at $20
Sunday, April 21
Quarterdeck
In the long, drawn-out, Flanigan's/Quarterdeck/Big Daddy's Saga, the Quarterdeck in Ft. Lauderdale Beach on Cordova Road has been a constant. Until this weekend. That's when the fabled, old-school bar full of ship models and 100 fish mounts closes its doors with a big ole' parking lot party. There'll be a pig roast, beer pong, jenga, corn hole, and DJ Marcus Amaya playing taps as another South Florida legend bites the dust.
Cost: Free to attend.
Sign up here for our daily Miami email and be the first to get all the food/drink/fun in town.