Everything Fun You Can Do in Miami This Weekend
From Jai-Alai to House of Horror Haunted Carnival, we've got you covered.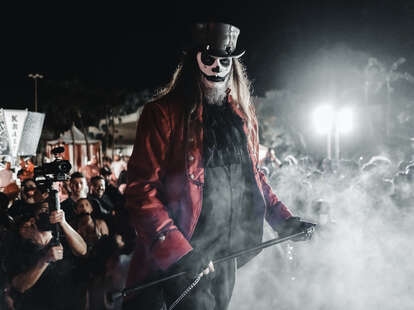 Photo courtesy of House of Horror Haunted Carnival
Well South Florida, we made it through our first big storm of the season. And while Brickell may be a few leased BMWs lighter and there's some patio furniture still floating around Westchester, for the most part we got through unscathed. This weekend offers plenty of chances to celebrate your survival, including a massive local beer fest, $6 sake bombs, and an Emo karaoke bar crawl. All that and Battle Court Jai-Alai highlight the best stuff going on this weekend.
Friday, September 30
Magic City Fronton
The fastest game on Earth is back with a vengeance this weekend, as Battle Court Jai-Alai hits the Magic City Fronton. The play is a little different that the stuff you used to see on dollar beer night in Dania, but it moves even faster than before, and includes a live DJ and video arcade.
Cost: Admission is free. Wagers are on you.
Friday, September 30
Museum of Contemporary
Decompress from the stress of storm week in MOCA's outdoor courtyard, as the museum's Friday free jazz series continues at 8 pm. This month they welcome Peruvian trumpet impresario Dante Vargas, who has played with some of the biggest names in Latin Jazz.
Cost: Free
Friday, September 30 – Sunday, October 2
Miami International Mall
Spooky season is official upon us, which means the House of Horror Haunted Carnival is taking over Miami International Mall. This year brings four new haunts, including a Silent Mall, Drown Town, the Insanitorium, and Scare X studios where gaming and haunting collide.
Cost: Weekend tickets are $40 advance; $45 at the door.
Saturday, October 1
Brickell
Throw it back to the days when Dashboard Confessional was the soundtrack to your breakup on an Emo Bar Crawl through Brickell. Your ticket rates a drink at five neighborhood bars, and the whole thing ends with Emo karaoke at Blackbird Ordinary from 6 - 9 pm.
Cost: $20 ahead of time; $25 at the door.
Saturday, October 1
Evelyn Greer Park
Maybe you read about Miami's best breweries and thought, "Those all look amazing, but no way I can try them all in one weekend!" Think again, as many of those places—including Unbranded, Lost City, Wynwood, and Veza Sur—will be among the 40+ breweries sampling at Pinetoberfest, starting at 6 pm.
Cost: GA tickets are $25
Saturday, October 1
Miami Design District
The Institute of Contemporary Art hosts a Family Fest in the Design District from noon to 3 pm, where kids can learn about contemporary art. The afternoon includes aerialists, jugglers, clowns, and the Menestrelli Circus. And there'll also be face painters at Palm Court and interactive art-making in Paradise Plaza.
Cost: Free
Saturday, October 1
Wharf Miami and Ft. Lauderdale
It wouldn't be Oktoberfest unless The Wharf was encouraging people to do Jager shots. This Saturday both locations will reward anyone downing a shot of everyone's favorite herbal liqueur with a free German beer. Plus, the first 500 people who show up with an RSVP get a free beer boot.
Cost: No cover; drink prices vary.
Saturday, October 1
1-800 Lucky
If you think you've outgrown Jager and prefer to do shots like a cultured, civilized adult, head to 1-800 Lucky, who for the first time in its five-year history will be serving sake bombs. In honor of National Sake Day, for $6 you'll get a Singha beer, a pint glass, chopsticks, and a shot of sake. Not sure what to do next? Guess you're not as cultured as you think.
Cost: $6
Saturday, October 1
Morikami Museum and Gardens
If your culture and sophistication goes beyond doing shots, get your dose of Japanese tradition at a special Shibori Indigo class at Morikami Gardens. You'll learn the ancient dying technique then create a special set of dinner napkins to bring home.
Cost: $70
Saturday, October 1 – Sunday, October 2
Various locations
The NSU Art Museum opens a new exhibit this weekend called Ursonate by South African artist William Kentridge. You can be among the first to see it and not pay a dime if you have a B of A or Merrill Lynch Card, as this weekend cardholders get into the museum—as well as PAMM, HistoryMiami, and other local institutions—for free.
Cost: Free