Miami
Presented By
Everything Fun You Can Do in Miami This Weekend
Free guac! We've got free guac, here!
Presented By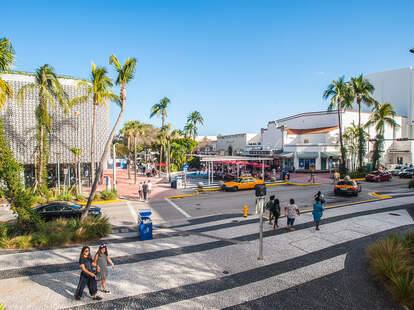 We're approaching that day that comes every April, where you walk outside, feel the pleasant, not-horribly-humid weather, and think, "Welp, last day of this until October." So bid the fair weather adieu in style this weekend by hitting an artisan market full of local restaurant legends, catching a double feature al fresco, or running a 5K in Ft. Lauderdale. All that and free guac on Friday highlight the best stuff going on in South Florida this weekend.
Friday, April 23
Vale Food Co.
Tired of that annoying reminder every time you ask for guacamole on your burrito bowl that it's gonna cost you extra? Then head to Vale Food Co. this Friday afternoon, where in addition to serving you a bowl that's way healthier than you'll find at any of those guac-charging goniffs, they'll also give you guac gratis with any purchase.
Cost: Menu prices vary—only the guac is free
Friday, April 23
Coral Gables Museum
If the Coral Gables Museum and its enthralling look into the people and architecture that made South Florida what is today has been on your list for a while, Friday is the time to make it happen. The museum's Twilight Fridays return this week, with free admission, live music, and cocktails for sale from 6 to 8 pm.
Cost: Free admission
Friday, April 23
Dezerland Park
South Florida's premiere LGBT film festival kicks off Friday night at the Dezerland Drive-in with Potato Dreams of America hitting the big screen at 7 pm followed by a launch party with a live DJ and free popcorn. The rest of the festival spans numerous in-person venues and online screenings through May 2. Peep the full fest lineup here.
Cost: Tickets run $40
Friday, April 23 - Sunday, April 25
Beach between 21st and 22nd Streets
Beach polo is a sport many of us are only aware of once a year, when the ponies and their riders hit the sand for the World Polo League Beach Polo event in South Beach. Well, now we've gone two years without remembering it was a thing. Make up for your neglect this weekend by heading out to cheer on Nacho Figueras, Nic Roldan, Melissa Ganzi, and others as they battle in front of the dapper beach crowd.
Cost: Tickets start at $75
Saturday, April 24
Sweet Liberty
Patrick and the Swayzees may well have been the greatest South Florida bar band of all time. And though the lineup and name (they're now just The Swayzees) may have changed, the show remains a must-see. Lead singer Les Greene and pianist River Seine will be performing as River Les Traveled at 7 pm and it promises to be just as exciting as the OG crew.
Cost: No cover
Advertisement
Tanqueray
Weekend plans change fast, so grab a drink that's ready when you are. Tanqueray's Crafted Gin Cocktails come ready to drink and are the perfect addition to any occasion. Made with real Tanqueray gin and natural flavors, they deliver premium, bar-quality cocktails whenever you want. Grab a can and enjoy.
Sunday, April 25
The Tank Brewing Co.
After the roaring success of its first OffBeat Market, Tank Brewing is now making it a monthly affair with pop-ups rolling through the last Sunday of each month. April's edition will include all-you-can-drink 8-ounce pours from noon to 4 pm for $14 plus bottomless mimosas and sangrias for $20. You'll also be able to shop for locally-crafted jewelry, soaps, pet accessories, swimwear and more from noon to 6 pm.
Cost: Free to attend; Menu and retail prices vary
Sunday, April 25
Museum of Graffiti
The Museum of Graffiti continues its monthly outdoor movie series this Sunday, but this time it's packing double the punch: In addition to getting the chance to watch Street Heroines, a documentary chronicling the under-represented world of female graffiti artists, you'll also get two Jim Beam cocktails and unlimited popcorn during the show. Good deal.
Cost: Tickets run $16
Sunday, April 25
Lincoln Road
The good news is the South Beach Wine and Food Festival is almost upon us. The bad news is its arrival means this Sunday marks the last edition of SOBEWFF's Artisan Market, where Harry's Pizzeria, Temple Street Eatery, Salty Donut, and other SoFla staples hawk their wares to hungry crowds. To up the ante, Fairchild Gardens will also be giving tours of the 1,200 orchids you've never even noticed growing along Lincoln Road.
Cost: Free to attend; Menu prices vary
Sunday, April 25
Itamae
Timon Baloo has been on a tear since closing Balloo last year. In addition to Mrs. Baloo at The Wharf, the former Sugarcane chef is teaming with Intamae this Sunday for what promises to be a Caribbean-Nikkei classic. The five-course feast of curry calabaza tiradito, Nikkei chili crab, curry amarillo mussels, and other crazy stuff starts at 7 pm.
Cost: Email hello@itamaemiami.com or DM @itamaemiami for reservations and pricing info
Sunday, April 25
Huizenga Park
Yes, every weekend you have the choice to walk to stop drunk driving. But this month you can do it completely sober at the Walk Like MADD and MADD Dash, a 5K to benefit Mothers Against Drunk Driving. The socially-distanced shuffle starts at 7 am, but if that's too early for you or involves too many people, you can still complete the race virtually through May 9.
Cost: In-person registration runs $35; Virtual runs $25