Dive Into Mezcal Samples or a Pool Party in Miami This Weekend
Compete in a soccer tournament, and you might just win a trip to Germany.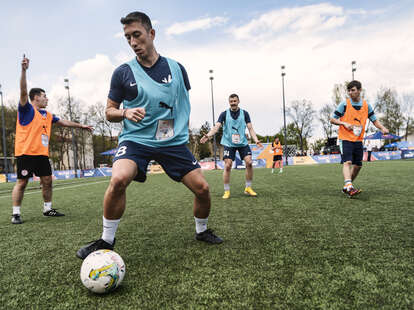 It's an unprecedented weekend here in South Florida, where both our hockey and basketball teams are in the finals. And while we're sure you'll be glued to the TV for both the Heat and Panthers, if you need something to do before the games, this weekend is teeming with options from moonlight meditations to a mezcal festival in Fort Lauderdale. Whether you hit up those events or give back at a beach cleanup for World Oceans Day, we have it all on this list of the best things to do in Miami this weekend.
Friday, June 2
Dunkin'
There truly is no better way to end the work week and start the weekend than picking up a sweet breakfast and not even needing to take out your wallet. This Friday, you can do just that by stopping by Dunkin' on National Donut Day, where they're giving out a free classic donut with any beverage purchase.
Cost: Free
Friday, June 2 – Sunday, June 4
KAO Bar and Grill
They say there's no such thing as a free lunch, but what about a free ride to get lunch? That's exactly what you'll get thanks to a new promotion by KAO Bar and Grill. The South Florida restaurant, which occupies the space inside a revamped shipping container in Hallandale Beach, is teaming up with Uber to offer $25 off rides for two to the restaurant with the code "D8 Night." So call a car and get ready to dig into Agentinian fare alongside music from a live band.
Cost: Menu prices vary
Friday, June 2 – Sunday, June 4
Various locations
Estrella Damm Culinary Journey, a series in which local restaurants create special dishes to pair with the iconic Spanish beer, is returning to Miami for the month of June. This year's participating places include Doya, Rosie's, Zitz Sum, RED Steakhouse, Sweet Liberty, and Graziano's.
Cost: Varies
Friday, June 2 – Sunday, June 4
SoulFly Chicken
The hit popup fried chicken joint SoulFly Chicken will get its first brick and mortar spot in Wynwood this week. The creations from Jamaican-American chef Troy Tingling will include whole chickens, tenders, wings, and sandwiches, using about 40% the oil of most fried chickens.
Cost: Varies
Friday, June 2 – Sunday, June 4
Canyon
The Rio Tequila Bar at Canyon is hosting a weekend-long celebration of our favorite smoky agave spirit with Mezcal Lauderdale taking over the bar. The festivities include tastings, tasting dinners, brunch, and mixology classes, as well as a massive Sunday grand tasting.
Cost: Varies by event
Saturday, June 2
Loan Depot Park
Ok, sure, the Heat and Panthers are both playing for championships this weekend. But are either of them offering a ton of local beers to sample for two hours before gametime? The Marlins will be starting at 2 pm, where a special ticket rates you unlimited craft beer samples in left field prior to the 4:10 pm tilt against Oakland.
Cost: $30
Saturday, June 3
W South Beach
The W is getting in the World Oceans Day spirit a little early, kicking off its celebration on the beach behind the hotel at 8 am with pilates, a beach cleanup, and ocean educational sessions. The day continues at 5 pm with a Sheroes of the Ocean panel discussion followed by a screening of the Ocean Film Festival at 7 pm.
Cost: Beach activities are free; film fest and panel are $30
Saturday, June 3
Thesis Hotel
Have you been to a full moon circle yet? No? Well, this weekend you can cross that off your list as the Thesis holds one on its Paseo. It'll be a calming session lit by the full moon, with slow flow yoga, meditation, journaling, and affirmation cards.
Cost: $20
Saturday, June 3
Revo Soccer
Red Bull's Four 2 Score soccer competition will hold its regional finals on Saturday from 9 am to 4 pm, where squads of four local players compete in fast-paced futbol to see who can punch a ticket to the finals in Germany. If you've got three buddies you think can make a run, registration is still open. If not, they'll have a FIFA console there to entertain you too.
Cost: Free to attend; registration is $50 per team
Sunday, June 4
National Hotel
Since there are no sharks swimming around in the National Hotel's infinity pool, there'll be nothing to fear when you dive in and watch the hotel's special screening of Jaws this weekend. The film will be playing poolside at around 8 pm.
Cost: Free, reserve a spot here
Matt Meltzer is a Miami-based contributor for Thrillist, a veteran of the United States Marine Corps, former pageant judge in the Miss Florida America system, and past contributor to Cosmopolitan magazine. Matt graduated with a BBA from University of Miami and holds a master's in journalism from the University of Florida. He currently lives in Miami with his Betta fish, Bob.