One of the great things about living in Miami is least once a month you can go out and celebrate some country's Independence Day -- at a party that's usually three times as crazy as anything you did for Fourth of July. This weekend, Colombia honors its independence, and you can join in by doing free aguardiente shots at The Wharf, hitting a daylong Latin music festival in Wynwood, or, if you feel like being different, jamming out to Southern rock on a dock in Broward. All that and the 50th anniversary of the moon landing highlight the best stuff going on in South Florida this weekend.
Friday, July 19
Tank Brewing
It was only a matter of time before the big, open spaces and flowing beer at breweries turned themselves into fight venues. This Friday at 6pm Tank Brewing hosts a massive Jiu-Jitsu event, where 2019 IBJJF Black Belt World Champion Joao Miyao will take on Marvin Castelle. And female action between Brazilian Giovanna Eburneo and Miami's Simonie Lee tops a three-fight undercard.
Cost: Bleacher seats start at $30
Friday, July 19 - Sunday, July 21
Laborejo
Still not convinced Doral is a top-tier dining destination? They just got a vegan molecular gastronomy restaurant with craft mocktails. Take THAT, Wynwood! Laborejo -- which means laboratory -- has a menu full of stuff like compressed watermelon sushi rolls and pumpkin cream soup, served alongside juice concoctions billowing with white steam.
Cost: Varies
Saturday, July 20
The Wharf
Not that Colombians really need an excuse to start a great party, but this Saturday the Wharf will be giving them (and anyone else who shows up) a free shot of aguardiente if they show up before 5pm. After that, shots are only $3, which, once again, ensures it'll be a nice, calm evening.
Cost: Free to attend. Free shots require an RSVP here.
Saturday, July 20
Wynwood Marketplace
Though it might be Colombian Independence Day, all of Latin America will be on hand at MegaRumba from 2pm to 3am. The day will be choc full of Latin food trucks, crafts, and live music from Lenier, Domino Saints, and Los Adolescentes, among others. It'll also have a special Colombian section with free-flowing aguardiente by Antioqueno Real and live Colombian DJs.
Cost: Free
Saturday, July 20
Hard Rock Events Center
Former Last Comic Standing winner and TV star Iliza Shlesinger hits the stage at the Hard Rock Events Center at 8pm. If you've never heard of her check out her Netflix special Iliza: Elder Millennial or listen to her podcast "AIA: Ask Iliza Anything," then proceed to buy tickets immediately.
Cost: Tickets start at $40
Saturday, July 20
Frost Museum of Science
No better place to remember the one giant leap for mankind than the Frost Museum, who'll be holding an Apollo 11 Day all day Saturday. In addition to exploring the night sky in a portable planetarium under the Oculus, you can also catch an exclusive screening of the Smithsonian Channel's new documentary, The Day We Walked on the Moon, peruse multiple new exhibits on space travel, and transmit your name into outer space at the Send Your Name to Mars station.
Cost:  $29.95 adults, $20.95 children
Saturday, July 20
Shooters Waterfront
One of Ft. Lauderdale's most beloved waterfront watering holes begins its summer concert series this weekend with a southern rock lineup starting at 3pm. ShovelHead will take the stage to kick off an afternoon a music, food, and drink specials, followed by Southern Blood at 7pm.
Cost: Free to attend.
Saturday, July 20
Bayfront Park Amphitheater
The makers of 2017's inescapable feel-good anthem "HandClap" take over the Bayfront Park Amphitheater starting at 7pm. Fitz and the Tantrums will be joined by headliners Young the Giant, who gave us -- "Silvertongue" and "Something to Believe In" most recently -- as well as opening act Coin.
Cost: Lawn seats start at $29.50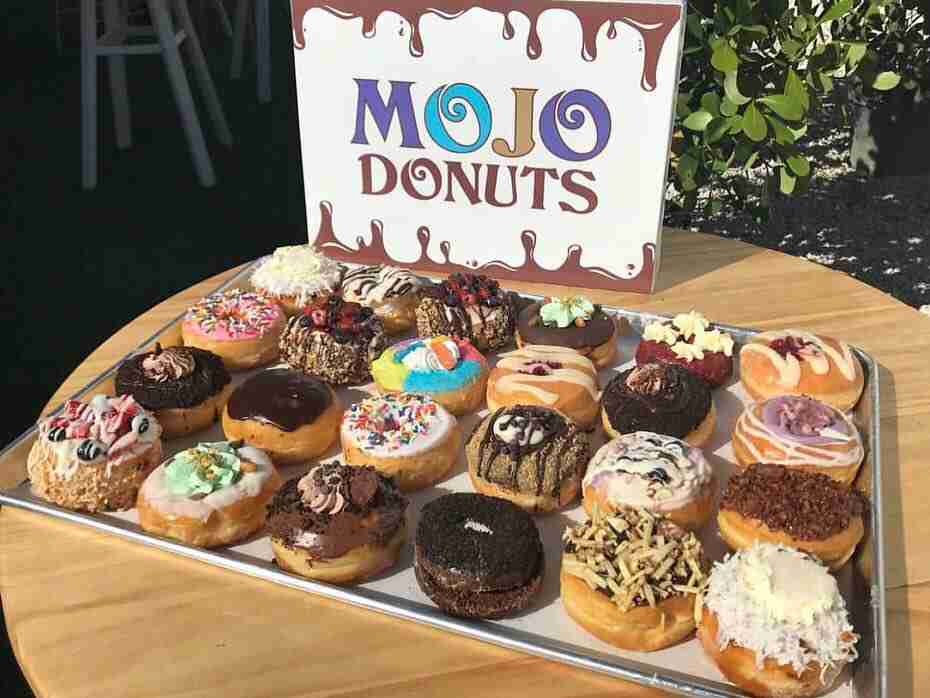 Sunday, July 21
The Wharf
Nobody does made up food holidays quite like The Wharf, who will be honoring both National Ice Cream Month and the forthcoming National Ice Cream Day by dishing out free scoops of Mojo Donuts' Hershey's ice cream to anyone who RSVPs.
Cost: Free, but you need to RSVP here
Sunday, July 21
La Cerveceria de Barrio
The odd Lincoln Road establishment locals actually go to is introducing a very locals-friendly brunch this week, where brunch entrees like huevos rancheros, chilaquiles, or the BIG breakfast burrito come with unlimited mimosas or frosé, all for a scant $29.99.
Cost: $29.99 plus tax and gratuity
Sign up here for our daily Miami email and be the first to get all the food/drink/fun in town.