Fun Things to Do in Miami This Weekend
Check out a drag pool party, a pop-up of one of Barcelona's hottest bars, and two brand new dining spots.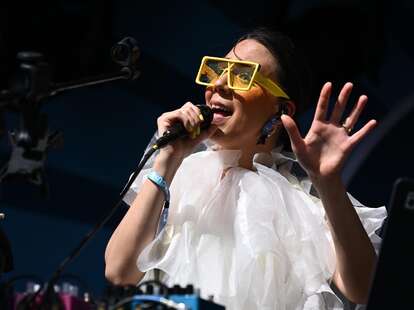 Somehow, it's already the first week of February—and Black History Month—which means you can officially start your weekend small talk by saying, "Can you believe it's already February?" Of course, this weekend has enough going on that you probably won't need small talk, with the return of Jai-alai, the opening of Queen, and a new Jimmy Buffet musical. All that and Rail Fun Day highlight the best stuff happening this weekend in South Florida.
Friday, February 3
Magic City Casino
Battle Court Jai-Alai—the team-game version of Miami's favorite parimutuel—returns to the fronton at Magic City Casino for its third season starting at 7 pm. The smaller court makes the action even more intense than before, and a club-like VIP section creates an atmosphere not seen around the sport since the '80s.
Cost: Admission is free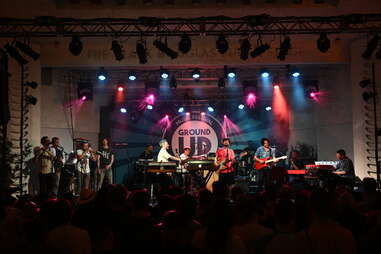 Friday, February 3 - Sunday, February 5
North Beach Bandshell
The most artist-accessible music festival in America is back on the shores of Miami Beach, as Snarky Puppy headlines all three nights of the GroundUP Music Festival. The festival goes beyond performances, with a full weekend of artist-led workshops, brunches, and lounges where guests and artists share spaces like colleagues. This year's lineup also includes Lizz Wright, Nai Palm, and other hard-to-pinpoint acts.
Cost: One-day passes start at $130.
Friday, February 3 - Sunday, February 5
Actors' Playhouse at Miracle Theatre
It's like Mamma Mia for parrotheads this weekend as a brand-new Buffet-filled musical hits the Miracle Theatre stage. Escape to Margaritaville promises to include hits like "Cheeseburger in Paradise," "It's Five o'clock Somewhere," and "Margaritaville." Friday's opening night gala also includes a post-show street party.
Cost: Tickets start at $65.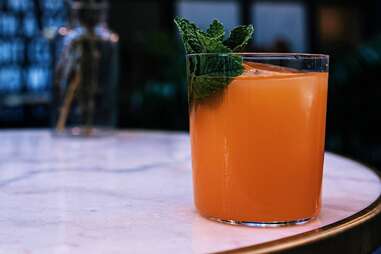 Sunday, February 5
Mezcalista at the Moxy
The team behind Barcelona's renowned five-star dive bar Two Schmucks are popping up at the Moxy for a couple of months starting this weekend. Head to the not-so-hidden speakeasy Mezacalista and see why Moe Aljaff and Juliette Larrouy's Spanish spot is a mainstay on pretty much every list of Best Bars in the World.
Cost: No cover. Drink prices vary.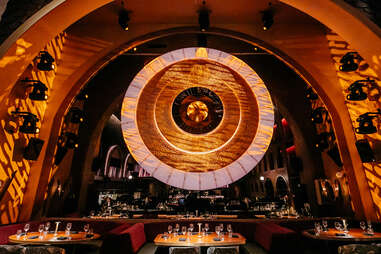 Friday, February 3 - Sunday, February 5
Queen
The Paris Theater—you know, that art deco theater on Washington Ave. that's been like 15 different clubs since 2001—is reinvented as Queen starting this weekend. The opulent new digs are adorned in art that would make the Faena jealous, boasting a menu of extravagant Japanese cuisine from a chef plucked from London's Annabelle's.
Cost: No cover. Food and drink prices vary.
Saturday, February 4
Understory
The Jaguar Sun team has transformed the old Center for Subtropical Affairs into Understory, where an all-star lineup of local food and wine purveyors set up shop. This week is the perfect opportunity to check it out as Understory begins its live music programming with Jacuzzi Boys starting at 8 pm.
Cost: Tickets start at $15.
Saturday, February 4
Griffing Park
Grammy-nominated Locos Por Juana headlines the musical acts at the second annual Caribe Arts Fest from noon to 10 pm. Other bands include reggae group BACHACO and Haiti's Harmonik, who'll join a cadre of Caribbean artisans, food vendors, and a kid-friendly art zone where families can create artwork together.
Cost: Free
Saturday, February 4
Ft. Lauderdale Airport TRI-Rail Station
TRI-Rail hosts its Rail Fun Day from 11 am - 3 pm, when families are invited to enjoy crafts, cookie decorating, food trucks, and face painting. The afternoon will also include South Florida's Kids Got Talent, where children from around the region will compete in an AGT-style singing showcase.
Cost: Free. TRI-Rail fares are $5 all day.
Saturday, February 4
Tacology
Brickell City Centre's top-deck taco shop celebrates its sixth anniversary starting at 8 pm. The fun kicks off with a live lucha libre wrestling show and Mariachi band, followed by free shots at 9 pm. The party then continues all night with sounds from DJ Mary Jane.
Cost: No cover. Food and drink prices vary.
Sunday, February 5
Arlo Hotel
The Arlo Hotel gets into the Miami pool party game on its swanky rooftop starting at 3 pm. But this is no ordinary chlorinated rager—Arlo is collaborating with Wigwood, South Florida's largest Queer performance festival, to put on a fabulous drag pool party featuring drag legend Lady Bunny.
Cost: No cover. Food and drink prices vary.