From Art Basel to NYE, December Is Actually the Hottest Month in Miami
Holiday events, music festivals, and everything you need to know about what's happening in Miami this month.
Winterfest Boat Parade in Downtown Fort Lauderdale

| Albert Barr/Shutterstock
Winterfest Boat Parade in Downtown Fort Lauderdale

| Albert Barr/Shutterstock
While March gets most of the hype as Miami's hottest month, December is right up there with it. Kicking off with the art world invasion during Miami Art Week and Art Basel, the month moves seamlessly into a lineup of warm-weather holiday events before capping off with some of the best New Year's Eve parties in the world. This month we've also got a Scarface celebration, two beachside music festivals, and a massive food festival in the PBC. So while we may not have snow, cozy fires, or frosty windows, December weekends in Miami still promise to be spectacular.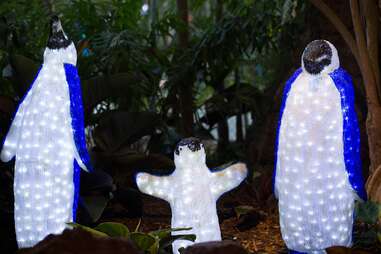 Holiday Events in Miami
December 1–2, 15–16; 22–23; 7:30 and 8:30 pm
Various locations, Free
Some of South Beach's most recognizable buildings turn into light mapping canvasses for three weekends in December. Lincoln Road's Euclid Oval, The Gabriel Hotel, and The Betsy will take turns hosting fantastic light shows, where your favorite holiday classics are brought to life through projection-mapping on the exterior walls.
Through December 23; 5 pm to 5 am
Brickell, Prices vary
The Christmas-themed pop-up bar Miracle takes a divey turn this season, now open in the cozy cocktail bar Better Days. The Christmas-themed menu, presented by Drink Miami includes festive libations like the Snowball Old-Fashioned (rye whiskey, gingerbread, aromatic & wormwood bitters) and Jingle Balls Nog (cognac, cream sherry, almond milk). Another bonus: This Christmas bar miraculously will stay open until 5 am.
Every weekend, 6–9 pm
Pinecrest Gardens, Tickets start at $12
The lush paths of Pinecrest Gardens transform into a twinkly holiday wonderland as thousands of lights guide the way to a full month of events. There'll be a big gift bazaar, as well as pajama parties, live music, cocktail and beer tastings, and appearances from St. Nick himself.
Saturday, December 16, 6:30 pm
Downtown Fort Lauderdale, $30
Typically, a Saturday night boat party in Fort Lauderdale falls squarely into the "naughty" category. But for one night a year South Florida seafarers go "nice" with the family-friendly Winterfest Boat Parade. Cabin cruisers, luxury yachts, and everything in between will be decked out in their holiday finest, rolling up the New River past Downtown Fort Lauderdale. For prime seating, head to Las Olas Oceanfront Promenade, where a special ticketed viewing area gives you the best vantage point. Oh, and this year's grand Marshals are none other than Boyz II Men.
Friday, December 22–Saturday, December 30, Showtimes vary
Diplomat Beach Resort, $39
The Grand Theater at the Diplomat becomes our own version of the Grand Chapiteau for the final week of 2023 as the Pomp, Snow, and Cirqueumstance show takes over the 50,000-square-foot space. Based on the book by Neil Goldbers, the holiday-themed performance promises plenty of acrobats, skaters, magic, cycling, trapeze artists, and outrageous costumes.
Live Music Events in Miami
Saturday, December 2–Sunday, December 3, 12 pm
Fort Lauderdale Beach, Tickets start at $109 for two days
December in Miami brings perfect outdoor concert weather, best experienced at the beachside Riptide Music Festival in Ft. Lauderdale. Bask in ocean breezes as you enjoy sets from The Black Keys, Jelly Roll, Silversun Pickups, Flo Rida, and the aptly named Beach Weather across two days.
Every Friday, 7:30–10:30 pm
Coconut Grove, Free
Enjoy a little slice of the Mediterranean as the temperatures cool off at the venerable Mr. C Hotel, where you can kick off every weekend with live music at the hotel's restaurant Il Giardino. Savor light Italian bites and music as the winter breeze blows through and you sip bellinis from the people who invented them.
Friday, December 8–Sunday, December 10, Doors open 8 pm
Downtown, Ticket prices vary
Art can take a lot of forms, and you'll find Miami's finest fusion of music and dance at E11even. Take in the artistic sounds of Snoop Dogg Friday night as his music is interpreted by the club's troupe of classically trained dancers. The fun continues Saturday with a mystery headliner, then finishes off the weekend with the skilled costumery and electronic sounds of Deadmau5.
Friday, December 8–Sunday, December 10
Virginia Key Beach Park, One day tickets start at $99
It's like a mini Burning Man on the shores of Virginia Key during Art Week, when larger-than-life art installations and electronic music combine for the Art With Me Festival. The three-day dance fest will include a stellar lineup of international artists like All Day I Dream, Anthony Middleton, Apache, and Elephant Heart, all playing amongst provocative sculptures and interactive art.
Friday, December 15; 7:30 pm
South Beach, Tickets start at $32
Miami's New World Symphony does its own version of the holiday concert when it presents Sounds of the Season, a festive holiday performance which will include staples like The Nutcracker Suite and Carol of the Bells. They'll also throw in some South Florida twists like Hyken's Chanukah 5776 and DiLorenzo's Navidad Latina.
Sunday, December 24; 5 pm–9:30 pm
Fort Lauderdale, Free
No, they're not bringing Old Blue Eyes back through a high-tech hologram. But Ft. Lauderdale's LOOP park will get you in the holiday mood with Jeff Grainger and his band playing Rat Pack hits by the ocean. You can bring a picnic basket and enjoy the show free from the lawn, or ball out with a supper club-style table for as little as $30 per person.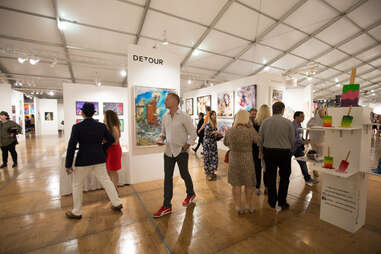 Art and Culture Events in Miami
Friday, December 1, 6–10 pm
Old Town Pompano, Free
Admit it: You've never taken the time to explore Pompano Beach beyond a happy hour at Beach House and one regrettable trip to the harness track. Discover a new corner of South Florida with Old Town Pompano Untapped, where you can stroll through gallery openings at the Bailey Contemporary Art Center, snack on southern food at South Bar and Kitchen, and sip beers from local Pompano breweries like 26 Degrees and Dangerous Minds.
Through December 17
Omni, Tickets start at $55
A young Puerto Rican woman's search for identity is at the center of La Gringa, currently the longest-running Spanish-language production off-Broadway. Follow Maria Elena Garcia as she returns to her native island only to find locals who call her an outsider despite her love for her homeland. The production is taking place at Adrienne Arsht Center for Performing Arts and is in English and Spanish.
Friday, December 8–Saturday December 30
Various locations, Tickets start at $39
Clara, the Mouse King, and that catchy song from Tetris are back at multiple venues throughout the area, presented by Miami City Ballet. Featuring George Balanchine's rendition of "The Nutcracker," the Christmas classic will be performed by more than 100 dancers donning intricate, dazzling costumes. The tradition hits the Broward Center on December 8–10; the Arsht Center December 15–24; and the Kravis Center in West Palm Beach December 28–30.
Tuesday, December 5–Sunday, December 10, 11 am–8 pm
Miami Beach, $60
With literally a gazillion art shows during Art Week, figuring out which ones are worth hitting can be tough. One that needs to be at the top of your list is SCOPE, the week's largest contemporary art show with more than 110 contemporary artists presenting their work. The day also starts with ALO yoga classes, concludes with sunset DJ sessions, and offers seminars and talks from artists all day.
From December 6, 1 pm–7 pm
Miami Beach, $25
The trippy world of Artechouse opens its newest installation during Art Week, showcasing Zach Leiberman's Future Sketches/Code Poems. The exhibition examines the inherent poetry in technological coding and showcases two floors of interactive exhibits. It runs until May.
Saturday, December 9,10 pm
South Beach, $60
Thought poolside Art Week parties teeming with beautiful people were only for those with legitimate connections? Think again, as MAXIM's shindig at the SLS is a ticketed event where you can rub elbows with Maxim models to the sounds of DJ James Hype. It doubles as the magazine's November/December issue release party, so you'll likely see a cadre of celebs hanging around too.
Saturday, December 9, 4:45 pm
Miami Beach, $195
Say hello to your little friend Al Pacino as he joins the Fonainebleau to celebrate the 40th anniversary of the film that defined Miami for a generation. Tony Montana himself will be on hand for a black tie gala with dinner, a Q&A, memorabilia auction, and more. No word if he'll be joining Steven Baur for ice cream by the pool prior.
Saturday, December 9, 10:30 am and 1:30 pm
Delray Beach, $35
Tired of having presents under the tree that look like they were wrapped by a wild racoon? Take a class on the delicate art of Japanese gift presentation at Morikami Gardens, where you'll learn to wrap with washi wrapping paper, create unique gift boxes, and master other elegant Asian gifting techniques.
Friday, December 15, 7 pm–11:45 pm
Omni, $10
Frost's Planetarium's laser light spectacular gets a holiday makeover with a lineup of new shows set to music fit for the season. The night starts with a laser The Nutcracker, then continues with a set of Christmas classics in Holiday Music. Those who prefer their lasers with the traditional classic rock soundtrack can still enjoy The Beatles at 10 pm and Queen at 11 pm.
All month-long, 10 am–8 pm
Wynwood, $12
Of all the new exhibits and installations coming to Miami for Art Basel and Art Week, perhaps the most intriguing is the Wynwood Walls' new reclaimed subway car. The 1970s Boeing-Vertol 2400 is one of only 200, once used for anti-terrorism training at the Center for National Response. Its new iteration is a work of modern art that'll be on display at the Walls for the foreseeable future.
Food and Drink Events in Miami
Saturday, December 2–Sunday 3; 1–9 pm
Wynwood, Food prices vary
Filipino chefs from all over the East Coast converge on Smorgusburg in Wynwood to celebrate Ube and all things Filipino. Restaurants like New York's Joey Bats and North Carolina's Kuya Bear will be on hand serving up ube sliders, ube longganisa frita smashes, and ube bibingkas, with a bevy of Filipino craft vendors and makers on hand too.
Sunday, December 3, 10 am–4 pm
All Batch locations, Menu prices vary
Santa is cool and all, but we all know the naughty Grinch probably has more fun. Batch gets it, and is throwing a Grinch-themed brunch to kick off December at all four of its locations in Miami, Ft. Lauderdale, West Palm and Delray. Dress the part and bring in a new, unwrapped toy, and you'll be rewarded with a free shot.
Thursday, December 7–Sunday, December 10
Various locations, Ticket prices vary
Like clockwork, the 561 throws its own food and wine bacchanal every year over the first weekend in December. Escape the Basel crowds and take the Brightline up to West Palm, where you'll find 26 events and an expanded wine program with more than 60 wine tables pouring juice with 90+ Wine Spectator ratings. You can also take chef workshops, enjoy private dinners, and hit the big Grant Tasting on Sunday.
Saturday, December 9, 5:30 pm, 7 pm, and 10 pm
Wynwood, $115 per person
Coyo Taco's corporate chef Oscar Vides steps behind the sushi bar at Miss Crispy Rice for a 15-course feast that concludes with a complimentary ticket to an Everyday People party at Oasis Wynwood. The menu will be a Mediterranean journey including stuff like a Veal Milanese Sandwich, Saffron-Infused Nigiri, and Uni Panna Cotta.
Sunday, December 24, 5 pm–10 pm
Buena Vista, $105 per person
The Design District's new French kosher restaurant celebrates its first holiday season in Miami with a twist on the great Jewish Christmas tradition of Chinese food. They'll be serving a special French-Chinese kosher dinner, with special dishes like Duck a l'Orange with dried chilis, Rosemary Lamb Chops with lemon grass potatoes, and Truffle Fried Rice.
Sunday, December 24, 5pm
Doral, $45 per person
Don't feel like doing the whole La Caja China rigamarole this Noche Buena? You can still enjoy your traditional Christmas Eve feast at Kuba Cabana, where Chef Jorge Mas is plating up all your holiday favorites as a three-course, prix fixe menu. Start out with Ropa Vieja Croquetas or Tomalitos, then indulge in Mojo Lechon with congri, salad, and mojo sauce before finishing off with Kuba Cabana's take on flan.
All month-long, 6 pm–2 am
Wynwood, Menu prices vary
While Miami is awash in fantastic foods from across the globe, one cuisine we've been severely lacking in is Moroccan. Problem solved with the opening of Zuri, a new spot in Wynwood bringing the flavors of North Africa to America's Casablanca. Look for chicken and lamb tagines, mackerel escabeche, and plenty of stuffed dates, serving until 2 am on Fridays and Saturdays.
Sports and Wellness Events in Miami
Saturday, December 16, 9 am
Little Havana, $50
Your Miami Marlins may be in the middle of the offseason, but you can still get out on their home field when you run the Triple Play 5K. The 3.2-mile run goes around and through Loan Depot Park, with a finish line at home plate. And those who are more base-stealers than long-relievers can opt for the 1K route as well. All proceeds go to UM Health, and there'll be an after party in the ballpark's West Plaza.
Matt Meltzer is a Miami-based contributor for Thrillist, a veteran of the United States Marine Corps, former pageant judge in the Miss Florida America system, and past contributor to
Cosmopolitan
magazine. Matt graduated with a BBA from University of Miami and holds a master's in journalism from the University of Florida. He currently lives in Miami with his Betta fish, Bob.