All the Things You Have to Do in Miami This Fall
For the last month or so, your feed has likely been filled with people telling you "winter is coming." But you know what? It's not. Ever. Because this is South Florida, and the concept of "winter" is about as fictional to us as flying dragons and zombie javelin throwers. You know what is coming though? Fall. And with it the return of three pro sports, one of the nastiest rivalries in college football, beer festivals, ballets, and even a Thanksgiving boat party. So get ready, Miami. Autumn is coming.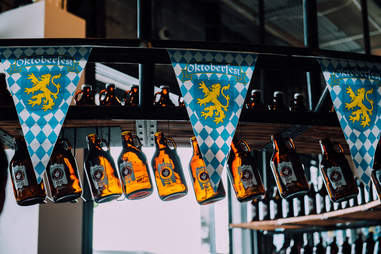 Blocktoberfest

| Concrete Beach
This Edgewater Italian spot feels even more like home this fall, when they'll be serving up AYCE spaghetti and meatballs and limitless draft beer for $19.99 during every Monday Night Football game.
Maybe you can't get to Munich, or even Tulsa, but Wynwood will be hosting an Oktoberfest celebration that's just as rowdy. Concrete Beach closes the street for its annual block party, complete with a pretzel toss and pretzel-eating competition.
That fancy electric car is actually named after Nikola Tesla, the man whose research laid the foundation for wireless communications and other energy transfer. SoBe Arts is premiering a musical about his life.
Miami's top technology companies converge for Virtual Dimensions, showcasing how virtual reality will play in the next generation of art. Guests will have the opportunity to experience virtual reality art firsthand while enjoying live music and cocktails.
Nine of South Florida's top breweries will be on hand to offer you liquid refreshment at the finish line of this inaugural 5K to benefit Amigos for Kids. Food and live music will also be available at the post race soiree.
Grovetoberfest

| Courtesy of Grovetoberfest
Estrella Dam has tasked 51 local chefs with creating three-course meals to pair with different beers. Prices range from $30-$70, depending on the restaurant, and include an appetizer, dessert, and main course featuring garbanzos.
Learn all about that big noodle in your head that makes you, you, at Brain: The Inside Story. The exhibit will run for six months and utilizes imaginative art, vivid brain-scan imaging, and interactive exhibits to tell the story.
Presidential election runner-up Hillary Clinton will spend an evening discussing the election and other topics "with my guard down," as part of her tour promoting her book, What Happened. Tix go for $150 and gets you a signed copy and a photo-op with HRC.
Chefs from Glass & Vine, Shake Shack, Rusty Pelican, and other local favorites sample their best creations at this annual charity cook-off. The main event is a pro chef showdown, between Brian Nasajon of Beaker & Gray and Santiago Gomez of Tacology.
Two of the best comics from the last 30 years perform a 90-minute set, when Howard Stern alum Artie Lange joins Curb Your Enthusiasm's Richard Lewis onstage.
In case you forgot, South Florida has our very own NHL franchise, and it won the division two seasons ago. Don't talk about last season and go cheer your Florida Panthers on to their first home win against the Tampa Bay Lightning.
Miami's own independent music festival hits it big time this year, when Gorillaz and Richie Hawtin headline a lineup of Miami's best musical acts, along with plenty of bands who may not be household names but should be.
Miami's scaled down version of Tales of the Cocktail holds its capstone event, where over 100 spirit brand ambassadors, distillers, and industry pros mingle at the Grand Tasting. Food, live jazz, and plenty of samples are included.
Miami's most haunted mansion invites aspiring ghost hunters to spend the night visiting the most active locations on the estate with EMF meters, pendulums, and dowsing rods. It's called a spookover, not a sleepover, since nobody will be getting any sleep.
Miami's undisputed king of beer festivals, Grovetoberfest, returns to its rightful home in Peacock Park with over 400 different beers on tap. It'll also include chef demos from Jeff McInnis and Janine Booth, Giorgio Rapicavoli, Brett Hessler, and Jeremy Ford.
Laugh all you want, but Zumba is hard. Don't believe it? Hit up the Rotary Club's Zumbathon where you'll be doing aerobic dance steps in colorful clothes for over two hours. You won't snicker again once it's over.
To open its 32nd season, Miami City Ballet performs George Balanchine's Jewels, a three-part ballet showcasing French, Russian, and American ballet styles. The show also runs at the Broward Center October 28 and 29, and the Kravis Center between November 17-19.
Open bars, sunshine, and seafood never mix poorly, right? Of course not. So spend your Saturday enjoying an open bar and fish specialties from Naked Taco, Red the Steakhouse, A Fish Called Avalon, and other seafood stalwarts.
The NBA's best ever second-half team to miss the playoffs? Your Miami Heat, who were a blistering 30-11 down the stretch last year and were eliminated on the final day. See if they can build on their success as they open the home season against the Indiana Pacers.
Biscayne Bay Brewing Company will have a venerable all-star lineup of local brews to celebrate its one-year anniversary party, with guest taps from MIA, Wynwood Brewery, Tank Brewing, J Wakefield, and Miami Brewing. And of course, plenty of food trucks.
TheFitExpo, the biggest fitness show on the West Coast throws its first East Coast event, with over 150 fitness products on display, plus live dodgeball, strongman competitions, powerlifting contests, and a fitness model search.
The nation's second-largest theatre troupe behind Cirque du Soleil puts on a live-action game of Clue with a three-course dinner. Actors stage a murder and it's up to you, the audience, to figure out whodunit. Margaritas always make you think clearer anyway.
In Key West, Halloween means one thing: Fantasy Fest. This annual bacchanal of the barely clothed is one of
America's great hippie parties
and an absolute spectacle if you've never gone. Kick it off with a raging pool party at the
Perry Key West
at the Stock Island Marina, maybe the closest thing to "normal" you'll see all week.
The fanciest Halloween party of the year takes place on the sand, when the Little Lighthouse Foundation hosts its annual spooky shindig. This year's theme is the Dark CarnEvil, and includes a premium open bar, food, and live entertainment.
If you don't want to drag your kids around the neighborhood, bring them to your favorite horse track, where the Not so Spooky Halloween will have face painting, a $5,000 costume contest, and shops in the village definitely not handing out raisins.
Wynwood does Lincoln Road one better with the biggest Halloween block party in the city. A 240-foot LED screen will show spooky videos all night, culminating with a screening of Rocky Horror Picture Show. Plenty of drinks and 20 food trucks will be on hand.
Seed Food and Wine Festival

| Seed Food and Wine Festival
Get an idea of just how widespread the plant-based lifestyle has become, and check out this festival with yoga workshops, a 5K run, veggie burger battle, BBQ throwdown, and more.
A must for Monty Python fans, this event will feature a screening of the classic Monty Python and the Holy Grail, followed by a conversation and Q&A with the one and only John Cleese.
Gabrielle Anwar hosts the 22nd annual Make a Wish Ball, this year headlined by Grammy Award winner Lenny Kravitz.
It's like a weekend long trip to the casino showroom when Sebastian Bach, Dokken, Quiet Riot, Lita Ford, Cheap Trick, Joan Jett, and 10 other bands you only remember if you grew up with a house phone converge for Rock Fest 80s. All ages, however, all welcome.
Not '80s enough for you? Cool, no problem. Burger Beast hooks you up with 15 restaurants and food trucks serving up hot dogs and sausages at Wiener Bash, headlined by Vince Neil and Great White.
Can we bring back the Reagan years even harder? Sure! Between 1983 and 1990, no rivalry in college football was more heated than the University of Miami vs. Notre Dame. "Catholics vs. Convicts" returns to South Florida when the Fighting Irish make their first regular-season trip to Dade County since 1989.
Maybe Lemonade was about him cheating. Maybe Beyoncé just enjoys smashing mailboxes and cold, citrusy beverages. Who cares. Hip-hop's living legend bring his 4:44 tour to the AAA, and for one night, all is right in the rap world.
Miami's most historic home and gardens finally gets a shoutout from Al Roker this year when it turns 100 years old. It also gets a big, fancy charity ball to help the protection and preservation of the rare old house in Miami that hasn't been bulldozed for condos.
There's nothing worse than a food festival where you have to pay a la carte. Not at the first ever Tacolandia, where 30 of South Florida's greatest purveyors of tacos will be serving meat in tortillas until you beg them to stop. Beers and cocktails, however, are extra.
Family, football, and gluttonous amounts of food are great and all. But this is Miami. Why not do Thanksgiving on a private island with unlimited beer? It's only three hours anyway, so you might still make it back in time to watch the Lions lose.
Florida Grand Opera performs Lucia di Lammermoor, the tale of a Scottish bride forced to marry against her will who cuts up her husband on their wedding night. The macabre tale is one of the toughest roles for a soprano, this one tackled by Metropolitan Opera's Anna Christy.
Sign up here for our daily Miami email and be the first to get all the food/drink/fun in town.
Matt Meltzer is a contributing writer to Thrillist who hopes it's a long flight back for everyone to South Bend. Follow him on Instagram @meltrez1.