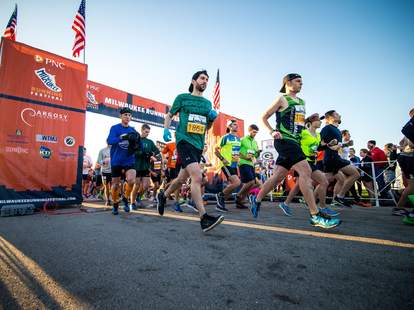 Everything You Absolutely Must Do in Milwaukee This Fall
A film festival, rolling thunder, and lots and lots of beer: That's how Milwaukee does fall. There are still plenty of fests, parades, and events going on through November, so don't let the cooler weather stop you -- get out there and explore your city.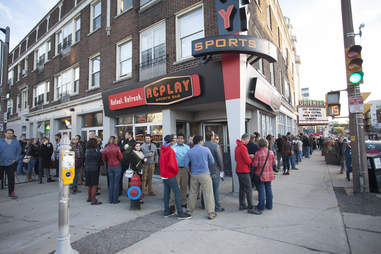 Milwaukee Film Festival

| Courtesy of The Milwaukee Film Festival
Head to 30+ Wauwatosa restaurants and food markets for dining deals, drink specials, and event-only prix-fixe menus. It's like MKE's Downtown Dining Week, but suburban.
What it costs: Prices vary by location.
This 3-mile regatta race through Downtown will feature over 900 participants; check out the map for primo viewing locations and course information.
What it costs: Free
This street festival features food, art, music, and entertainment on five different stages, as well as books and local vendors; it's also partnered with local business Kompost Kids to make this a zero-waste event.
What it costs: Free
Get ready for an all-ages psychedelic show, with special guest Mac DeMarco.
What it costs: $42-$52
Eat fall goodies, buy a pumpkin to carve, and listen to some cover bands at this annual event. If gourds everywhere and apple pie don't get you into the fall spirit, nothing will. Kids can even make scarecrows from used clothing and piles of straw.
What it costs: Free
A gathering of all things nerdy, scientific, robotic, and crafty for you to browse and participate in; watch T-shirts get screen printed (and then buy one!), cheer on battling robots, and head to the dark zone in the back for interactive light shows.
What it costs: Free
Historic and interesting buildings that are normally closed to the public open their doors for exploring and tours during this, one of MKE's most unique and beloved events.
What it costs: Free, $10 for some group tours
For those of us who treat pets like kids, this is the festival for you. Who doesn't want to see Kitty City, dogs diving off docks, and a pet costume contest?
What it costs: Free
Our film festival includes screenings, educational sessions, bowling tournaments, and parties with plenty of drinks. A panel on the state of cinema in Milwaukee is a must for film buffs.
What it costs: $66 for a six-pack of tickets
On weekends, head to the park for German beer, food, activities, and frolicking. The Downtown location always makes this one of the most bustling Oktoberfest celebrations in the city.
What it costs: Free, including free beer on Sept 29 at 5pm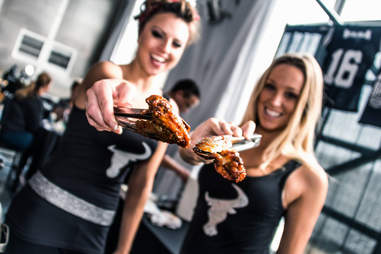 Milwaukee Wingfest

| Chris Haase
Get unlimited samples of bloody marys and chili from local restaurants -- you'll need to pace yourself for this hours-long event, or risk a dreaded tomato overdose.
What it costs: $30
Sure, Milwaukee's got lots of beer events, but this is the only one focused on ciders: throw back unlimited samples of over 40 ciders, cider cocktails, and small-batch nano brews. And don't worry, the Wisconsin Badger game will be playing.
What it costs: $45-$65
It's "An Evening You Will Forget for the Rest of your Life." You shouldn't pass up a chance to see two Saturday Night Live legends in one place.
What it costs: Tickets start at $175
Officially qualify for the Boston Marathon, or choose a shorter route; no matter which distance you run, though, you'll pass by MKE landmarks like the Harley-Davidson Museum, Veterans Park, and Art Museum.
What it costs: $30-110, depending on the distance you sign up for
Head to the Third Ward to browse galleries, sip cocktails, and experience art. Museums, organizations, shops, and even distilleries all get in on the action by hosting local artists' work.
What it costs: Free
Experience three days of traditional singing, drumming, and dancing at this event sponsored by the Forest County Potawatomi, where competitors from around the country will compete for an array of prizes.
What it costs: Free
This tour, State of the World, is making up for a previously scheduled tour that was canceled two years ago due to Jackson's pregnancy.
What it costs: $26.95+
Watch the parade, shop, or participate in the 5K run at this eighth annual event. It's one of the most colorful, interesting, and diverse ways to celebrate around Halloween.
What it costs: Free
The Milwaukee Symphony Orchestra will score the film live as it plays on the big screen. There was a similar concert with E.T. that was a huge success, so expectations are high for this one.
What it costs: $29.50-$55
Chow down on wings and vote for your favorite; most of Milwaukee's well-known wing slingers will participate again, including previous champs TomKen's, Spitfire's, and Double B's.
What it costs: $25+
Holiday Folk Fair International

| Holiday Folk Fair International
Support and honor our local veterans as this parade snakes through Downtown, where you're sure to see plenty of local television news hosts, sports mascots, and color guards.
What it costs: Free
Celebrity chefs attending this year include Duff Goldman and Shaun O'Neale; you can chat with food vendors, attend chef meet-and-greets, watch cooking demonstrations, and of course, taste plenty of samples.
What it costs: $50+
It's been 30 years since GNR's debut album hit the airwaves, so what better time to celebrate with Slash & co.? Mullet and bandana are optional.
What it costs: $149.50+
It's called the Rant, White & Blue tour, so you can probably expect some polarizing political viewpoints. Watching someone else get angry has never been so cathartic.
What it costs: $55+
This indie songwriter takes influences like David Bowie and David Byrne, and turns them into experimental pop that's sure to impress (and confuse).
What it costs: $69+
The festival kicks off with the official Milwaukee Christmas tree lighting at City Hall and fireworks. Once everything is lit, take a ride on the Jingle Bus and see all the displays in style.
What it costs: Free, or $1 for the Jingle Bus
Learn about world cultures through food, art, crafts, music, and good old retail therapy. Besides learning a thing or two, it's a great spot to start your Christmas shopping -- especially for those hard-to-buy-for people.
What it costs: $12
There will be giant balloons in cartoon character shapes, vintage cars, floats, and marching bands, plus the Big Guy himself, Santa. It might be a little early, but it'll get you in the holiday spirit.
What it costs: Free
Sign up here for our daily Milwaukee email and be the first to get all the food/drink/fun in the Brew City.
Lacey Muszynski is a Milwaukee writer who really appreciates the amount of annual bloody mary events in MKE. Follow her on Twitter @worthhersalt.