The Best Indoor Workouts in the Twin Cities
The absolute hardest time to motivate yourself to get off the couch and get to the gym is definitely the winter when you live in the Twin Cities. When it's negative 20 or we've just gotten a foot of snow, packing your gym bag before scraping your ice-covered car is the last thing you want to do. But, there are more exciting fitness options in town than ever and we've rounded up the 10 hottest ways to stay fit in the metro -- no matter your workout style. From hip-hop yoga to circus acrobatics to indoor rowing, there are tons of reasons to venture out this winter.
Multiple locations
The Twin Cities' resident rock climbing society Vertical Endeavors was founded by a former 3M employee in the early '90s before climbing gyms were even a thing. Decades later, Vertical Endeavors has four metro-area locations and offers classes, clinics, and open climbing for all ages and skill levels. Never been climbing before? The gym offers auto belays (so you don't need a partner) and routes specifically for first-timers. All you have to do is don a harness and take your workout to new heights.
Cost: $20 day pass and $12 rental package; $74 monthly all-access; health insurance reimbursement offered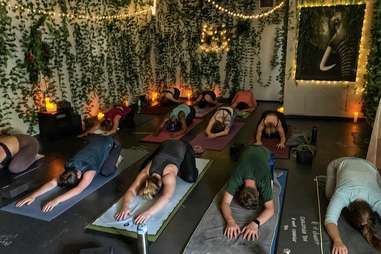 Northeast Minneapolis
As the first and only hip-hop yoga studio in the Twin Cities, 612 Jungle was started two years ago for yogis of all ethnicities, races, and cultural backgrounds. Located inside the funky Holland Arts Building, the Jungle offers a diverse array of classes -- from vinyasa called Trappin' Hard to SOULIT set to soul music to R&B Restore -- taught by experienced instructors. You might flow to Alicia Keys or Frank Ocean once class while another might feature Cardi B, Gucci Mane, or trap music. Bring yourself, exactly as you are, to this welcoming oasis.
Cost: $45 new student one month unlimited; then $109 monthly unlimited
North Minneapolis
Just outside of downtown Minneapolis, The Firm is a great one-stop-shop for everything group fitness: yoga, cycle, CrossFit, strength and conditioning, boxing, pilates, barre, dance, and aerobics. Started 30 years ago by three Twin Cities fitness friends, The Firm went through a few iterations before moving to its current home about a decade ago. The high-energy atmosphere, class variety, super-positive instructors, and proximity for downtown dwellers and workers are all great reasons to get firm while also having fun.
Cost: First week free; $135 monthly unlimited; health insurance reimbursement offered
Northeast Minneapolis
More than just a workout, Xelias Aerial Arts was founded about a decade ago by a former Ringling Brothers Barnum and Bailey Circus performer. Today, it's a community of all ages filled with people who love to flip, jump, and drop from dizzying heights. Xelias (named after Xena: Warrior Princess) classes start with strength and core conditioning before progressing to various pieces of equipment like rope, fabric, trapeze, rings, and floor. If you've ever seen Cirque du Soleil and pictured yourself whirling and twirling, circus arts could be a new, exciting way to stay fit in 2020.
Cost: $150 for one week of one-hour classes
Uptown
After the massive old Shed Fitness space off Lyndale was shuttered, a woman who used to work out there decided to start her own neighborhood gym with her husband. True Grit Society (we're unsure if it was named after the Coen brothers film) is focused on high-intensity interval training (HIIT) but also offers spin and yoga. With fun classes like Grit HIIT, Motivation Monday, Fast & Furious Spin, and the Saturday True Grit Run Club, there's no shortage of ways to get your sweat on at this centrally located gym.
Cost: First month free; $129 monthly unlimited
Multiple locations
If you're looking to get the most out of your workout in the least amount of time, Alchemy 365 offers highly efficient and effective classes at five metro-area locations that combine cardio, HIIT, core work, weight training, and yoga. The workouts are all just 40-50 minutes and class sequences change often, so you won't be bored. The studio was started by a local couple who left 3M and Life Time Fitness about six years ago to merge their passions. Today, Alchemy's unique mix of elements from various disciplines keeps gym-goers coming in the door.
Cost: First week free; $99-$159/monthly plans; health insurance reimbursement offered
Northeast Minneapolis and Minnetonka
If you really want to get your yoga practice off the ground, consider becoming a frequent flier at The Aviary. This boutique fitness studio has two metro-area locations and lots of options for weightless stretching, flexing, and flipping. Aerial yoga uses gravity and resistance to strengthen muscle groups you don't normally work by suspending your practice in a hammock. In addition to yoga, The Aviary offers bungee kickboxing, handstand and backbend classes, and aerial dance. The studio was founded nearly five years ago by a local lawyer with a passion for aerial arts, and has also become a popular place for birthday and bachelorette parties.
Cost: Four classes for $65; $179 monthly unlimited
Downtown Minneapolis and Wayzata
Unless you're a hardcore outdoor runner, sub-zero temps and slippery conditions drive many of us to the treadmill in the winter. But, there's only so much you can do to keep the dread-mill exciting: Enter Fly Feet Running, with two area locations and a run club mentality. Fly Feet combines high-intensity running, strength training, and pump-you-up group dynamics so you can cross the finish line to your fastest self -- without going outside. Founded by a former Target employee and pro soccer player, Fly Feet also has professional running coaches available to check your form and provide training suggestions for upcoming races.
Cost: Three classes for $30; $179 monthly unlimited; health insurance reimbursement offered
South Minneapolis
Who says you can't have your (fitness) cake and eat it, too? Urban Cycle's Zen Cycle is the perfect mix of pedal to the metal biking and blissed-out yoga relaxation, all in one class. Led by two instructors, Zen Cycle begins with heavy hills and fast sprints followed by 30 minutes of vinyasa practice on your yoga mat. The studio, founded by a local real estate agent and fitness fan, also offers endurance and strength training rides, boot camp, personal training, nutrition coaching, and chiropractic services.
Cost: Two weeks unlimited is $25; $149 monthly unlimited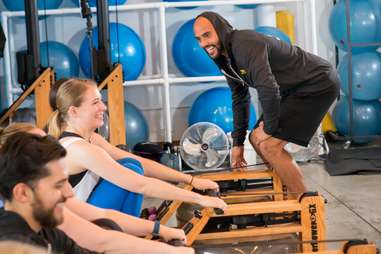 Northeast Minneapolis
If you're looking for spring-break-ready arms, abs, and legs, weRow promises no low-impact workout will sculpt your body better than indoor rowing. Located in the historic Keg House Arts Building, the studio specializes solely in rowing with state-of-the-art machines that work nine major muscle groups. Instructors run the group classes like you're rowing as one crew team, motivating you along the way and providing feedback on form and technique. Also, check out the Zenflow class that combines rowing with stretching and deep breathing.
Cost: Five free days of unlimited classes as an intro; $70-129 monthly plans
Sign up here for our daily MSP email and be the first to get all the food/drink/fun the Twin Cities have to offer.