Everything You Must Do in the Twin Cities This Holiday Season
Brighten up your winter.
Sure, the short window of time between carving the turkey and ringing in the new year seems to fly by... but we already know the holidays will be very different in 2020. COVID-19 has changed many things, but there's still fun to be had—if you know where to look. Many popular local events are returning—just in a new format, be it a virtual concert or a drive-thru experience. We've made a list—and checked it twice—to help you celebrate the season as much as anyone can during a pandemic.
Now - December 17
Virtual
The popular holiday celebration in Loring Park has gone virtual this year, with a series of activities ranging from a televised holiday special to craft demonstrations to opportunities to shop local. For the kiddos, Holidazzle is teaming up with Santa to offer free Zoom meet-and-greets, story time, and special phone messages to keep the magic alive. Sure, we'll miss the ice-skating and fireworks—but hopefully the beloved city tradition will be back in full force in 2021.
Cost: Free
Now - December 20
Virtual, American Swedish Institute
Not surprisingly, Minnesota is the state with the highest percentage of Scandanavian-Americans and many families still celebrate their heritage's holiday traditions. If you're looking for a specific gift to impress Grandma, the Swedish Institute's got you covered. Julmarknad—their holiday market—is going virtual this year, with over 30 artisans selling jewelry, clothing, pottery, and home decor with a Scandanavian touch. The ASI museum store is also open for in-person shopping.
Cost: Depends on what you buy

Now - December 24
Virtual
The popular Linden Hills Holiday Market returns—but this year, it's 100% virtual. You'll still find hundreds of local vendors selling ready-to-gift items like handmade pasta, sweets, pastries, honey, and soap. While it's not the same experience as in years past, you can still support small businesses and check those hard-to-shop-for foodies off your list. Even better, when you pick up your order through the contact-free drive-thru, the kids can also see Santa curbside.
Cost: Depends on what you buy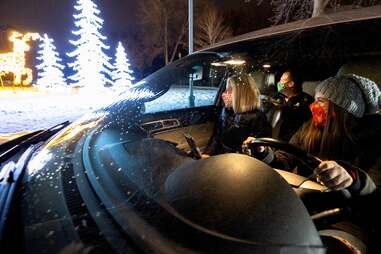 Now - January 3
Minnesota State Fairgrounds, St. Paul
Brand-new for 2020, the fairgrounds hosts "GLOW Holiday Festival" for the first time—a drive-thru experience starring more than one million bright bulbs. The loop around the grounds takes you past Christmas trees, cool light displays, icicle installations, and a gingerbread house. Cruising the path takes about a half hour and you remain in your vehicle the entire time. On the way out, pick up coffee, hot chocolate, salted nut rolls, and more from the GLOW food court.
Cost: $46/vehicle

Now - December 24
Virtual, Union Depot
Typically, Union Depot's "Hub for the Holidays" offers all sorts of in-person activities—but this year, you can enjoy the event from home. Catch the popular tree-lighting ceremony via video special on December 4—and then stop by the Depot's outdoor plaza to snap photos in front of the huge holiday tree. The European Christmas Market will also return (virtually) with unique gifts and entertainment.
Cost: Free

Now - December 31
Virtual
Feeling guilty about all those Christmas cookies you've been eating? The annual Reindeer Run is the perfect chance to torch some calories—and this year, it's virtual. You can run where and when you want, choosing from 5K, 10K, or half-marathon distances. All runners receive a race medal and long-sleeve performance shirt.
Cost: $35 entrance fee

Now - January 3
Valleyfair Amusement Park, Shakopee
The parking lot at popular Valleyfair amusement park is being transformed into "Christmas in Color" this year—a stay-in-your-car cruise for the whole family. The bright lights will be synchronized to holiday music on the radio as you take in the winter wonderland. Even better, a portion of proceeds from the extravaganza benefit the Make-A-Wish Foundation.
Cost: $30/vehicle

Thursdays, Fridays, & Saturdays in December
Tattersall Distilling, Northeast Minneapolis
As the popular distillery points out, the holidays may be different this year but you can still get into the "spirit." Tattersall is forgoing their traditional in-person holiday market but you can still order specialty cocktail kits to be picked up curbside. Flavors include caramel apple, pear maple fig and blueberry habanero and each kit makes about six to eight drinks. Enjoy at home—or they make great gifts for the cocktail lover on your list.
Cost: $20 per kit
December 3 - 27
Metro-wide
If you're looking for a way to celebrate with your family or small group (who have hopefully all been social distancing) Twin Cities Sightseeing is offering a private "All is Bright Holiday Lights Tour." The open-air bus, which holds up to 13 people, is kinda-sorta like being outside. You'll cruise around town to see the city's most festive lights—while sipping whatever cocktail, brew, or other beverage you decide to bring along.
Cost: $150 to rent the whole bus
Now - January 1
Minnesota Landscape Arboretum, Chaska
If you want to see magical, decked-out trees and holiday bulbs—without leaving your car—the arboretum is offering an amended version of their popular Winter Lights event. This year, there will be no indoor displays, but a drive-thru experience will still allow the family to see glowing lights, decorated evergreens, and ice luminaries.
Cost: $15 for non-members, $10 for members

December 4 - 13
Dangerous Man, Northeast Minneapolis
There are dozens of virtual holiday markets this year, but the best bet for an in-person experience would be Dangerous Man brewery in Northeast. They're turning their tap room into the "Lil' Holiday Market," which will require masks, social distancing, and only allow a limited number of people at a time. The market will feature brand-new Dangerous Man merchandise, beer-inspired home decor from local vendors, and—of course—seasonal beer sold in crowlers and growler refills.
Cost: Free, plus shopping

December 10
Virtual
Every year, local Top 40 station KDWB brings a star-studded show to town with performers belting out holiday hits. Not surprisingly, this year's concert will look a little bit different—but you can still catch big names like Billie Eilish, Dua Lipa, Harry Styles, Shawn Mendes, and The Weeknd, virtually. You can rock out at home using the CW app or listen on iHeartRadio.
Cost: Free

December 18
Virtual
What better way to spend the days leading up to Christmas than listening to classic holiday music from the Minnesota Orchestra? This year, the performance "A Midwinter Gathering" will also feature storytelling from local poets and writers about what the season means to them during these unprecedented times.
Cost: Free

December 19
Virtual
If you're looking for an over-the-top family holiday—Griswold-style—look no further than Hennepin Theatre Trust's "Virtual Christmas Vacation with the Griswolds." Chevy Chase and Beverly D'Angelo, who play Clark and Ellen in the movie, narrate the live event as they share favorite memories, behind-the-scenes insights, and answer audience questions during a live Q&A.
Cost: $25
December 19 - January 2
Norway House, Ventura Village
The annual Nordic Gingerbread Wonderland returns in two forms this year—one in person and one virtual. The in-person version has limited tickets—a third of last year's 15,000 person capacity. The online version allows you to see unique, original gingerbread pieces without leaving your house. Creations are made by professional bakers and pastry chefs as well as non-professional local families—and many replicate recognizable Twin Cities buildings and landmarks.
Cost: $10 non-members, $5 members, virtual event—free

December 19 - 31
Virtual
For many, a favorite (and fancy) holiday tradition in the Twin Cities is catching A Christmas Carol at The Guthrie. This year, you can still see amazing actors and performances—but you won't have to dress up a bit. Dickens' Holiday Classic is a fresh story featuring four Christmas Carol veterans who bring Dickens' seasonal favorite to life. The virtual event will be filmed and available to stream as many times as you'd like beginning December 19.
Cost: $10

December 19-31
Virtual
Grammy Award-winning music group Sounds of Blackness brings a soulful take to your favorite holiday tunes in styles ranging from R&B to hip-hop to jazz and gospel. "The Night Before Christmas: In Concert" includes talented vocalists and the Sounds of Blackness band. If you enjoy contemporary arrangements of traditional holiday music, this show may get you grooving in your living room.
Cost: $15

Anytime
West Metro, Excelsior
It's no secret some of the best holiday lights—on the biggest houses—can be seen along Lake Minnetonka. After dinner, grab the kids and some hot chocolate and head west to the lake for a light drive. Loop around the bays, find some holiday music on the radio, and enjoy a free, COVID-friendly tradition. If you're out west on a weekend and looking to do some holiday shopping, Excelsior's quaint small businesses are also open for unique gift-giving.
Cost: Free
Sign up here for our daily MSP email and be the first to get all the food/drink/fun the Twin Cities have to offer.