Every Outdoor Summer Movie Screening in the Twin Cities This Summer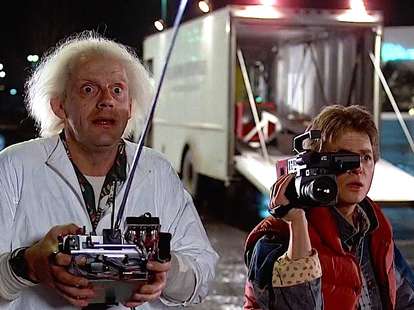 The Twin Cities have been dunked headfirst into summer, which means plenty of mosquitos, but also rooftop drinking and outdoor movies. Grab a blanket and some buddies, and hit one or more of all the al fresco film screenings happening in Minneapolis and St. Paul this season.
Will Smith is the last man in a world filled with carnivorous zombies, working to save humanity from its disgustingly diseased self.
Muppets. Pirates. That's all you need to know.
A masterful explanation of male privilege wrapped in an adorable, animal-filled world.
An author reminisces about his travels with a Native American elder in Lakota country.
A kind alien named E.T. makes new friends and gets hounded by the government.
Matt Damon becomes the first man to survive on Mars (by growing potatoes in his own crap). Presented with Spanish subtitles.
Fly away again with Bastian and Falkor as they battle The Nothing.
Taraji P. Henson, Octavia Spencer, and Janelle Monae lead the inspiring, Oscar-nominated charge about the black female NASA scientists who got John Glenn into orbit.
Spend a summer evening with Smalls and the gang.
The third sequel to the summer blockbuster once again makes you wonder why nobody there learns any lessons.
Don't be afraid to sing along to Anna Kendrick, Justin Timberlake, and the rest of this cartoon's excellent cast.
The classic is meant to be seen on the big screen.
Watch Pee-wee outdoors, and try not to think of what he did indoors at the movies...
It absolutely holds up, just like Paul Rudd's youthful complexion.
Action, adventure, more Star Wars -- we crave all these things.
Revisit the Robin Williams fantasy adventure before the sequel hits theaters in six months.
The riveting story behind Jackie Robinson's groundbreaking career with the Brooklyn Dodgers, presented here with Spanish subtitles.
Matthew McConaughey plays a congenial Koala trying to save his failing theater with a singing competition. What's not to love?
Say, "This is the worst film in the franchise" and see what happens. We dare you.
Celebrate local filmmakers of color with selections including Remnants, Westbound, The Mermaid, The Big Chop. has a playground, and also some grass (for sitting).
In need of a cult classic that features swashbuckling pirates, filial revenge, giants, and the medieval Claire Underwood? As you wish.
Well, at least Minnesotans don't have to worry about great whites in our lakes.
Make like a tree and get the hell out of your house to see this classic.
Gene Kelly, Debbie Reynolds, and Donald O'Connor splash their way through the greatest musical of all time. Hopefully the weather cooperates for this event.
Another fun argument to be had is whether or not the ewoks are annoying. Bring it up at the screening. We dare you.
The Avengers fight each other this time. It is fun.
Presented with Spanish subtitles.
Denzel Washington and Viola Davis spar over their well-worn marriage in St. Paulite August Wilson's Oscar-winning masterpiece.
Yes, the cross-dressing nanny movie holds up, thanks to Robin Williams' terrific performance.
We prefer Iceman.
A gorgeous film about the unlikely success of Phiona, a chess prodigy from the slum of Katwe in Uganda starring David Oyelowo and Lupita Nyong'o.
A magnificent animated explanation of how emotions work that'll have you laughing and weeping then laughing again.
Erase all your memories of Crystal Skull with the original. Presented with Spanish subtitles
Fish are friends, not food, at least when they're adorable cartoons.
Hugh Jackman brings his swagger to the role of Captain Hook in this Peter Pan origin story.
Ever heard of them?
Will Arnett is a top three Batman, no question
Maybe Michael Jordan should've stuck to baseball...
Celebrate local filmmakers of color with selections including Marianne, The Example, and 22 Years.
Young Kubo uses magic to learn his identity and battle the Moon King and other magical creatures after he accidentally summons a vengeful spirit. Typical Thursday.
A sequel every bit as good as the original.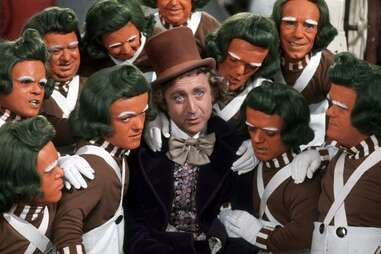 Jennifer Lawrence and Chris Pratt are the hottest two people awake on a spaceship.
Find out what your pet is doing while you're not home.
The newest Disney princess hangs with The Rock and gets to sing Lin-Manuel Miranda songs. We're jealous!
A young German mail-order bride tries to build a happy Minnesota life with her Norwegian immigrant lover.
Relax outside and ponder how messed up this great movie is for kids.
Reese Witherspoon helps two Sudanese orphans grow accustomed to life in Kansas.
Hopefully you can make it through the park without a giant demon dog trying to possess you.
An animated story about storks who no longer deliver babies but deliver packages for a global internet retail giant. Thanks, Amazon.
An annual small-town Minnesota beauty pageant gets way out of hand with a hilarious cast including Kirsten Dunst, Denise Richards, and Kirstie Alley. Highly underrated.
The 2016 update is presented with Spanish subtitles.
Ryan Gosling teaches John Legend how to be a "pure" jazz artist while Emma Stone seeks acting fame.
This free event takes place in the redesigned Wurtele Upper Garden adjacent to the Walker. For this special commission, Ryan Olson (Polica, Gayngs) and his all-star ensemble Marijuana Deathsquads present intriguing new live cinematic scores set to 1920s experimental short films by iconic Dada artists Hans Richter and Viking Eggeling.
Matthew Broderick lives out every high schooler's dream.
Feel like a kid again with Woody, Buzz, and the gang.
Put a little wintry chill in your summer with Walter Matthau and Jack Lemmon.
And be sure to get a pregame burger from Mickey's.
The pirate movie that launched the franchise that just doesn't seem to die.
Sign up here for our daily MSP email and be the first to get all the food/drink/fun the Twin Cities have to offer.
Becki Iverson is an overstimulated millennial with multifarious passions she somehow finds time to catalog at her blog, Compendium. Follow her on Instagram for snapshots of how her brain operates, or Facebook for a shortcut to her long-form musings.