As if real life isn't frightening enough, some of you really like to go to commercial haunted houses to get the bejeebus further scared out of you. Psychiatrists would call this "displacement," but others would call it fun. We're not here to settle who's right, but we are here to point you to the most terrifying haunted houses in Nashville, should that appeal to you. As it's the spookiest of seasons, Middle Tennessee offers plenty of unsettling venues where patrons can walk among the dead and get their heartbeats pumping. These are the best of the best.
North Nashville
There are actually six separate attractions at this monstrous haunted complex. Options range from a reimagining of The Exorcist featuring an evil nun to a haunted morgue to a full-on zombie apocalypse. To fill up your scary agenda, there are also carnival games, mini escape games, and ax-throwing classes, because you never know when you'll need that particular set of skills to defend yourself from the ghouls.
Cost: $24.99-$33.99
Hermitage
Located in an old theater multiplex, Slaughterhouse makes for the perfect scary date night experience. While you wait in line, you'll be entertained by a DJ and dancers. Once you make it into the attraction, there are five separate theaters to explore filled with spookiness from some of your favorite old movies. Speaking of movies, you can watch classic scary movies after the trip through the "sin-ema." The talented tattooists of Lone Wolf are also on hand to permanently commemorate the occasion in ink if you're so inclined.
Cost: $25 general admission, $32 with a movie, $50 with a movie and dinner
East Nashville
Located right across the Cumberland River downtown, Devil's Dungeon is one of Nashville's oldest and most beloved (behated?) haunted houses. With more than 20,000 square feet of creepy dark hallways to feel your way through and rooms filled with grotesque costumed performers determined to make you scream, Devil's Dungeon is scarier than sharing a pedal tavern with a bachelorette party from Auburn!
Cost: $20, with a $30 speed pass
Antioch
Lines to get into this attraction can get scary long, but it's worth the wait (or the cost of the speed pass) because once you enter Haunted Hell, you'll encounter scores of frightening actors spread across the decrepit ruins of the property. Attractions range from a pitch-dark maze to navigate to a thoroughly disorienting distortion room with flashing strobe lights and a floor that seems to shift beneath your feet. In addition to little surprises and jump-scares, there are also larger grotesque tableaus decorated in intricate detail to shock and awe.
Cost: $25, with a $35 speed pass
North Nashville
This multi-attraction experience actually offers a full refund if you can complete the tour through the haunted house, a free-fall from the roof and a special "Beast Challenge" that purportedly involves eating something really nasty. Even if you don't get your money back, you'll get to spend an enjoyable evening making your way through the Isaac Kechem Mansion between Madison and Goodlettsville that has more than a century of history of being haunted as hell!
Cost: $25 general admission, $15 Beast Challenge, $10 Beast Jump, $50 combo
Clarksville
During rush hour, the drive up Interstate 24 to Clarksville can be scary enough. Now add zombies. This attraction includes outdoor movies shown on a big screen for your pre- or post-zombie killing pleasure, along with a pitch-black maze to navigate, a shooting gallery to practice your skills before you go hunting for walkers, and two separate zombie missions to help thin out the crowd of undead. One option is more of a militia scenario traipsing through the woods while the other puts you on top of a Zombie Assault Vehicle with a turret-mounted paintball gun to sweep the area with. You'd almost have to feel sorry for all those ghouls, except they have no feelings. Because, y'know… zombies.
Cost: $49 all-access pass
Spring Hill
Bundle up, because this is an indoor/outdoor haunted experience. There's a cozy bonfire to keep you warm while you watch horror movie clips to keep you entertained in line. The journey begins with a traditional indoor haunted house with a disorienting mirror room and plenty of creepy crawlies roaming the hallways before pouring you out into the haunted woods where you'll encounter scary scenes and bloodcurdling actors. Guests can also take a haunted hayride to extend the evening's enjoyment.
Cost: $28
Lebanon
You'll have to survive three trials to make your way out of this frightening forest. "The Curse" revolves around the region's days of yore stretching back to indigenous Native American legends through Civil War battles in the area, with frightening actors reenacting the haunted history. "The Portal" features more modern nightmares like zombies and Slenderman. "The Crypt" is a hybrid maze/escape game filled with eerie creatures and spectacular special effects. It's a bit of a haul out to Lebanon from Nashville, so you might as well tackle all three once you get there.
Cost: $15 each for The Portal and The Curse, $10 for The Crypt.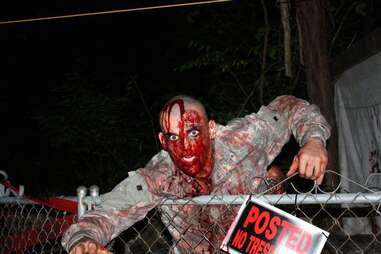 Gallatin
Bring some folding money, because this attraction is cash-only. Plus, you'd hate to miss out on experiencing 20 scare zones spread out over 17 acres of wooded trails just because you only brought your debit card. Each zone features multiple scenes straight out of horror canon, like a movie unspooling before your eyes. Oh, there will be blood, but it's mainly aimed at family fun as long as your kids can survive a little goofy gore.
Cost: $15
Columbia
If you've learned nothing else in this roundup of Halloween-themed attractions, it should be that THE WOODS ARE FREAKING HAUNTED around here. It'll take you most of an hour to wend your way through the paths that crisscross along an old mining trail that is inhabited by all sorts of creepy denizens. Stay with your group lest you lose your way in the freaky forest. If you'd rather ride than walk, take the haunted hayride where you can shoot paintballs at hordes of staggering zombies. Don't forget to spring for some extra ammo so you don't run out before the herd is defeated!
Cost: $20 Haunted Woods, $20 Zombie Paintball Hayride, $30 combo, $10 entertainment zone
Sign up here for our daily Nashville email and be the first to get all the food/drink/fun the Music City has to offer.