Everything You Must Do in Nashville This Holiday Season
The holidays are upon us, and there's no avoiding the onslaught of cheer and sentimentality that accompany Christmas, Hanukkah, Kwanzaa, and whatever else that guy in the next cubicle is celebrating with his sarcastic, unadorned aluminum pole. (Dude, you were five years old when Seinfeld went off the air!) So we suggest you just roll with it and make the best of the holi-daze by checking out some of these fun events happening in Music City.
Cheekwood Lights

| Caitlin Harris
It's always Christmas at Santa's, where the holiday decorations never come off the walls unless they fall down from decrepitude. Unlike other Nashville karaoke bars where it seems performers are angling for recording contracts, Santa's is all about having a good time. It's cash-only, beer-only, and the no-swearing rule is strictly enforced. Probably exactly not like Christmas at your house.
Cost: Beers start at $2
The sprawling Opryland Resort has something for everyone during the holidays, from just gaping at the millions of holiday lights to touring Ice, a wonderland carved out of frozen H2O that's an homage to A Charlie Brown Christmas, to a Cirque du Soleil, an inspired acrobatic extravaganza. They've even set up a tubing hill covered with 1.5 million pounds of artificial snow for Winter X Game wannabes.
Cost: $18-25
Participants from RuPaul's Drag Race on VH1 will be rocking the runway in some fierce holiday couture while they perform Christmas songs and tell naughty jokes while generally embarrassing your grandma who you really shouldn't have brought along. That was really mean of you to tell her she'd be seeing Rand Paul.
Cost: $24-57
In what has become a local holiday tradition, the Nashville Repertory Theatre mounts their eighth annual production of A Christmas Story, the dramatic (and hilarious) adaptation of the beloved story of the Parker family and Ralphie's quest for his own Red Ryder BB gun with a compass and a sundial in the stock. There are appearances by the Bumpus hounds, that bully Scut Farkus, and the iconic leg lamp. If you can keep from laughing when Ralphie makes his appearance wearing his new pink bunny pajamas, then your heart is three sizes too small. Performances are on Wednesdays and Sundays.
Cost: $47.50-$52.50
Every year, the beloved botanical gardens at Cheekwood manages a pretty impressive showing with a Griswoldian display of illumination in their lovely garden paths around the property. It's one of the most pleasant places around to take a holiday stroll cuddled up with your sweetheart.
Cost: $22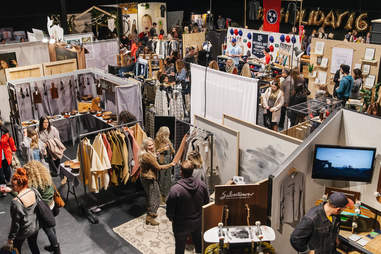 Porter Flea

| Hannah Messinger
The Nashville Ballet presents the 10th edition of their uniquely Nashville version of the classic Tchaikovsky holiday ballet at TPAC's Jackson Hall. This being Music City and all, you can expect all sorts of fun shout-outs for the locals at this family-friendly production. So don't be surprised when Andrew Jackson comes riding in with his cavalry.
Cost: $35-$90
The city's most festive 5K run starts off at Nissan Stadium and ends in time to watch the kick-off of the annual Nashville Christmas Parade down Broadway. Running in costume is strongly encouraged, especially if that costume is warm.
Cost: $35-$40
Marching bands, musical acts, floats, and balloons travel along Broadway to welcome the Big Guy and his elves to town to officially kick off the holiday season in Music City. This being Nashville, the music is always fantastic, so find yourself a good viewing spot early for the best chance to see the show. Alternately, the parade is televised all over the country, so you can always be lazy and watch it from your couch in your Grinch PJs.
Cost: Free
Join hundreds of other like-minded revelers for a tour of a dozen of Nashville's favorite bars and honky-tonks. Come wearing holiday regalia or just wear the Santa hat they'll give you and a wristband that will entitle you to food and drink specials at each stop. Oh, and pants. Pants would be good too.
Cost: $20
Nashville's biggest and best crafts gift fair comes to the Tennessee State Fairgrounds for this annual flea market event. More than 150 local artists will be displaying their wares for you to shop for that perfect gift for that certain someone on your holiday list who you have no earthly idea what to buy.
Cost: $25 for Friday's preview; free on Saturday
Every year Mayor Megan Barry invites all of Nashville to Public Square Park for the official Nashville Chanukah Lighting Ceremony and Celebration, and this year is no different. The ceremony runs from 4:30pm until 7pm, and is a great way to celebrate the holidays alongside your neighbors.
Cost: Free
The First Baptist Church downtown hosts this annual meet-up of tubas and euphoniums playing classic Christmas carols like Trace Adkins would sing them, i.e. in the l-o-o-o-o-w register. Players rehearse on their own in advance and form an impromptu orchestra on the day of the event, plus a quick practice before entertaining the assembled masses. Whether you play or just listen, it's a low-down good time.
Cost: Free
Chabad Nashville and the Gaylord Opryland Resort have arranged for Hanukkah to take center stage in the midst of all the Christmas celebration for at least one night as they present an evening of traditional Jewish music, a menorah ice carving, and the chance to buy tickets to ice skate, all on the grounds of the Gaylord Opryland Resort and Convention Center.
Cost: Free (ice skating is an additional cost)
Your local hockey heroes are celebrating Jewish Heritage Night with a special lighting of the menorah and Hanukkah melodies playing from the jumbotron. After this festival of lights and love, join in on the screaming as 17,000+ fans boo the visiting Winnipeg Jets.
Cost: $29-$200
In past years, the Nashville Predators have constructed a small outdoor rink for ice skating outside the Bridgestone Arena, but this year they're inviting you inside to skate on the big sheet. Experience what it's like to skate inside the huge rink while holiday movies play on the big screens of the arena.
Cost: Free
Sign up here for our daily Nashville email and be the first to get all the food/drink/fun the Music City has to offer.
Chris Chamberlain is a Nashville native who writes about food, drink, and travel at a bunch of places. To him, the holidays represent the season when he transitions from gin to bourbon. Follow his indiscretions on Twitter @CeeElCee.