Traveling over the holidays can be pretty stressful, so if you're a local Nashvillager, why not take advantage of the numerous activities in your own backyard to get you in the spirit? There's always so much going on in Nashville, but especially during this time of year. Alternately, if you're thinking of visiting Music City, there's something for everyone going on all season long, so make your plans now. You'll find we're quite hospitable as long as you don't ride scooters on the sidewalk where we're walking.
Now through March
Downtown
Bobby Hotel discovered they had a hit on their hands last year when they turned their Rooftop Lounge into a Nordic Village with private igloos that small groups could rent out like chilly cabanas. They're back again this holiday season with more eight-person igloos plus two rustic cedar cabins to host groups up to three couples. Book a block of time and make like Nanook of the North.
Cost: $200 and up
Now - Monday, December 23
Downtown
The General Jackson Showboat makes nightly cruises throughout the holiday season with a festive holiday dinner buffet and a full stage show featuring a dozen talented performers crooning Christmas classics. Baby, it's cold outside, but it's tasty warm inside the showboat as you cruise your way to downtown and back to Opry Mills.
Cost: $66 and up
Now - Wednesday, January 1
Donelson
Gaylord Opryland Resort always dresses up for the holidays with the massive hotel's pavilions festooned in decorations and flowers lit by millions of twinkling lights. Other holiday opportunities at the resort include a musical based on the story of a certain famous red-nosed reindeer, indoor snow tubing, and their annual ICE! Spectacular featuring characters and scenes from the beloved A Christmas Story carved from huge blocks of ice and painted in bright colors. Dress warmly, because they keep the temp below 10 degrees to preserve the art.
Cost: $21.99 and up
Friday, November 15 - Monday, December 30
South Nashville
The Nashville Zoo looks to the east to celebrate the holidays this year with Zoolumination, a display of 500 custom-made silk lanterns scattered across the zoo's 60 acres, creating elaborate displays of animals, holiday-themed scenes, and even a 200-foot-long dragon. Visitors will also be entertained by Chinese acrobats, entertainers, cuisine and hand-made crafts.
Cost: $19-$29
Thursday, November 21 - Sunday, January 5
West Nashville
The botanical gardens at Cheekwood are always beautiful, but they take it to the next level over the holidays by decorating the grounds with colorful light displays. You can purchase 3-D glasses to transform some of the displays into twinkling illusions like snowflakes or elves, even though we're pretty sure those things were already three-dimensional to start with. Don't think too hard about it; just enjoy some cocoa and s'mores around the roaring fire pits.
Cost: $22 and up
Friday, November 22 - Wednesday, December 25
SoBro
This Christmas takeover at Headquarters Beercade is one of the most eminently Instagrammable opportunities in town. With over-the-top decorations and matching "Naughty" and "Nice" thrones to pose in, you can assure next year's holiday card is the most festive ever. Plus, they offer a menu of all sorts of fun holiday-themed cocktails and weekly ugly sweater contests.
Cost: Free
Friday, November 22 - Sunday, December 29
Franklin
Pay by the carload for the chance to drive the one-mile path through multiple thematic holiday displays at The Franktown Festival of Lights. The Williamson County Ag Center is transformed into the center of the Christmas universe for this family-friendly spectacular, and visitors can tune their car stereos to enjoy classic holiday songs synchronized to the lights.
Cost: $25 and up
Friday, November 22 - Tuesday, December 31
Germantown
What do you do with a AAA baseball park in the offseason? Of course, you convert it into a holiday extravaganza and charge folks to come walk around what would otherwise have been an empty stadium. Genius! Activities to experience at GLOW include a thrilling tube run, an outdoor skating rink, Nashville's tallest Christmas tree and a two-story version of Santa's Workshop. It's everything you need for a whole evening of fun.
Cost: $15.99 and up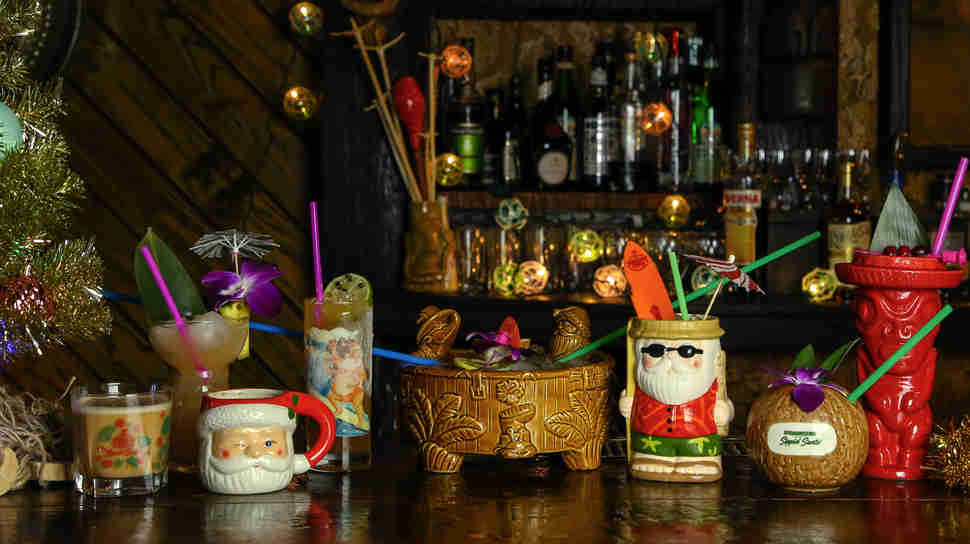 Monday, November 25 - Tuesday, December 31
SoBro
Bode is a stylish hybrid between hotel and apartment living just far enough from the urban core to still be walkable without being in the middle of all the crazy. For the holidays, Bode is converting their cozy "Hub" bar space into a pop-up called "Sippin' Santa." Decorated like somebody tossed in a tinsel grenade, it will be sparkly. They'll also host one of those ubiquitous ugliest sweater contests on December 2 for the chance to win a free night's stay.
Cost: Free
Wednesday, November 27 - Tuesday, December 31
Downtown
Hidden Bar in the basement of the Noelle Hotel isn't exactly a speakeasy since there's no secret knock or anything to get in. Instead, you just have to find it. (Really? Through that door? Yep.) Once you do make your way down the hallway to Hidden Bar, you'll encounter a festively decorated winter wonderland of lovely holiday excess and enough specialty winter cocktails to make your heart grow three sizes.
Cost: Free
Thursday, November 28
Belle Meade
"Down on the Boulevard, they take it hard," sang Jackson Browne, immediately after completing this Nashville tradition of a five-mile race up and down Belle Meade's main drag lined with stately homes. The sightseeing is primo, and the exertion on Thanksgiving morning will make you feel better about eating that third piece of pumpkin pie later that day.
Cost: $50 and up
Friday, November 29 - Sunday, December 22
TPAC
This isn't the typical theatrical adaptation of Charles Dickens' classic holiday story. Playwright Patrick Barlow has created a version that tells the entire tale using just five actors and depends on the imagination of the audience to help visualize Scrooge's world using a few simple props. The acting is superb, so you won't miss the bells and whistles.
Cost: $25 and up
Tuesday, December 3 - Thursday, December 5
Downtown
After the success of the NFL Draft earlier in 2019, it's no surprise that the bosses behind NASCAR chose to bring their season ending celebration to the streets of Downtown. The highlight of the three-day visit will be the huge awards gala, but there will be all sorts of fun and free events around Downtown leading up to the big night. Smell the rubber as professional racers tear through some tires at "Burnouts on Broadway" Wednesday night. It'll be uniquely American: loud, senseless, and consuming all sorts of fossil fuels.
Cost: Free - $555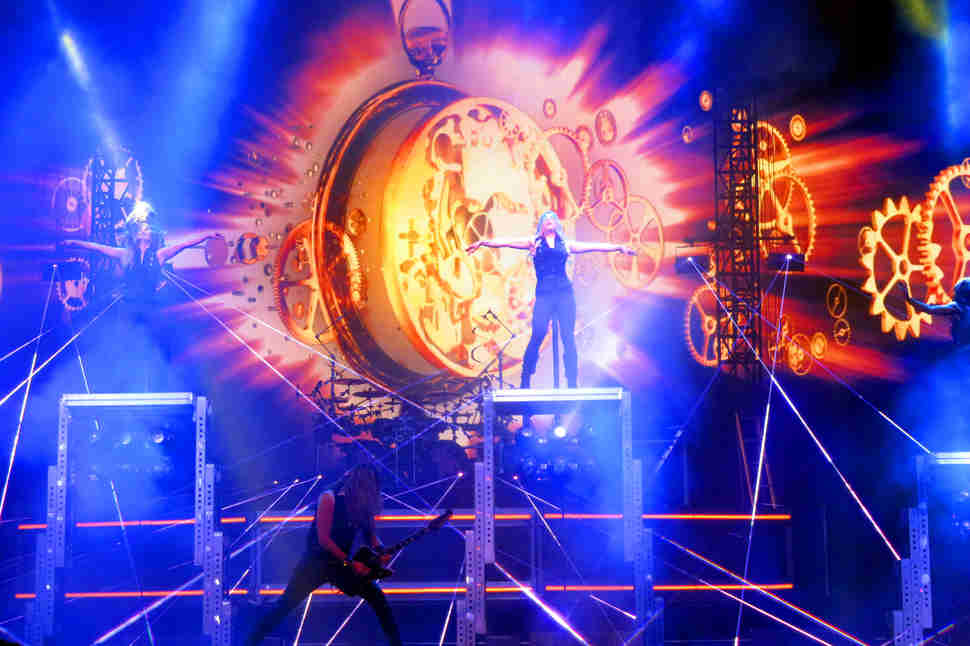 Wednesday, December 4
SoBro
They know a thing or two about winter in Siberia, so maybe that's why TSO has become associated with the holiday season and a frequent December visitor to Music City. They'll bring their winter tour back to Nashville for a full evening of multi-sensory rock theater wrapped around holiday songs.
Cost: $45 and up
Friday, December 6
Franklin
If your idea of holiday cocktails is grabbing a quick snort at the Ruby Tuesday's at the mall between trips from the store to your car's trunk, you need help. Luckily, this fun little cocktail festival is there to help with an array of creative drinks whipped up by talented mixologists plus food, music and merriment. You can even snap a selfie with Santa.
Cost: $34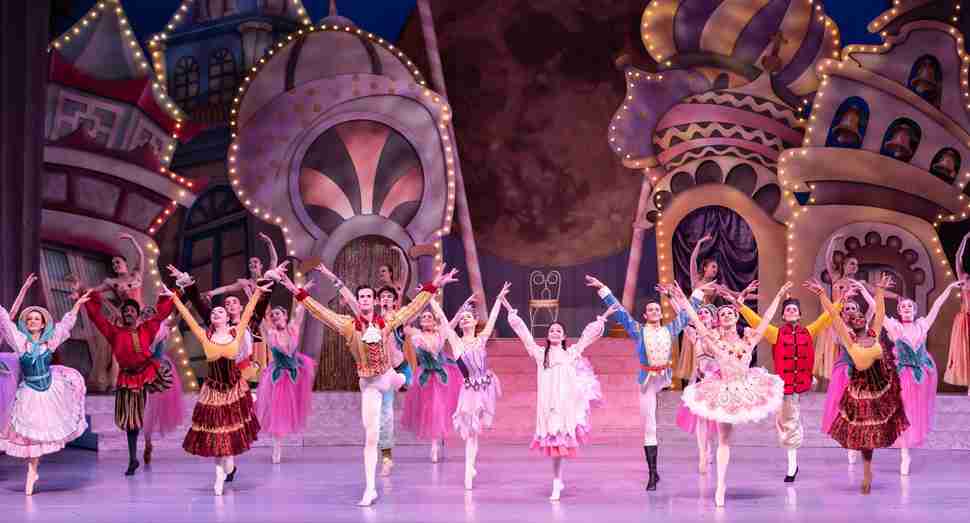 Saturday, December 7 - Monday, December 23
TPAC
There's always an appreciative audience at this run of the classic Tchaikovsky holiday ballet, mainly because the kids in the cast pack the crowd with relatives. Even if you don't have a dog in the hunt, Nashville's Nutcracker is always entertaining, with talented dancers, great music, and a few local jokes and visual puns thrown in to keep things interesting. Don't be surprised to see the Sugar Plum Fairy riding in a pedal tavern.
Cost: $53 and up
Saturday, December 7
Downtown
Last year's parade was a little contentious with Kid Rock kicked out of the Grand Marshal's seat the day before the floats rolled. Hopefully everyone can get along a little better this year for one of the most beloved traditional kick-offs of the holiday season in Music City. Set up somewhere along the side of Lower Broad to get a good view of the floats, bands, and performance groups marching by.
Cost: Free
Saturday, December 7
SoBro
Unlike a lot of holiday events, this family-friendly singalong starts at 10am with an hour of kids' activities before the show begins at 11. Kids of all ages are invited to follow Buddy the Elf's advice: "The best way to spread Christmas cheer is singing loud for all to hear." The backing band is the Nashville Symphony Orchestra, so they're pretty talented.
Cost: $49 and up
Select nights December 11 - 23
Downtown
Either member of the husband and wife powerhouse team of country stars Vince Gill and Amy Grant could probably run for mayor of Nashville and win since they're both so beloved. Every year, they crave out part of December on their busy touring calendars to entertain their fellow Nashvillians with a multi-night residency at the Ryman. This year's special guest is Rodney Crowell, so it should be really special!
Cost: $75 and up
Thursday, December 12 - Sunday, December 15
Belmont/Hillsboro
If you thought the Nashville Shakespeare Festival only puts on summer performances in local parks, surprise! They're also putting on a winter show featuring all your favorite Christmas stories crammed into one 90-minute narrative. Stay alert, because the three actors in this production switch characters constantly to bring to life some of your favorite personalities like Scrooge, Frosty the Snowman, and Yukon Cornelius.
Cost: $30
Saturday, December 14
Downtown
Unless you already own a Santa suit and like hanging with hundreds of faux St. Nicks crawling around the bars of Lower Broad, you might consider this calendar entry to be more of a warning than a suggestion. Or join them. It's your life.
Cost: Free
Thursday, December 19 - Sunday, December 22
Downtown
Nashville Symphony Orchestra head conductor Giancarlo Guerrero takes the baton for this weekend of performances of Handel's classic chorale. A large chorus will sound like the choir angelic as they channel the passion of this holiday favorite. If you do choose to sing along, you might want to let them lead.
Cost: $53 and up
Sunday, December 22 - Tuesday, December 31
Various
Knowing that nobody has the time to run over the holidays, and it's just too danged cold, the organizers of this "Virtual Race" will send you a runner's bib and a finishers medal so all you have to do is run, jog, or walk anywhere you want, on the road, on the trail, on the treadmill, at the gym, or on the track. You can run one kilometer for each day of Hanukkah or do it all at once. Keep your own time and send it in to the organizers for your prize. Who needs extra pressure over the holidays, anyway?
Cost: $9-$20
Sign up here for our daily Nashville email and be the first to get all the food/drink/fun the Music City has to offer.