The Coolest, Spookiest Ways to Celebrate Halloween in Nashville
Look no further for a terrifyingly good time this October 31.
Halloween falls on a Monday this year, so that basically turns the holiday into a three-day weekend. Never a city to say no to a party, Nashville has filled the calendar with spooky, boozy and entertaining events to celebrate All Hallows Eve and the days before and after. Pick out your most creative costume and make sure your mask has a mouth hole big enough to accommodate that straw in your vodka soda.
October 29
Gulch
The Tony W Hotel will play host to a Halloween-themed extravaganza featuring acrobats, evil carnies, a complimentary bubbly bar and a pumping soundtrack courtesy of DJ Aydamn. If your blood sugar starts to ebb during the course of the six-hour party, take advantage of the free cotton candy and popcorn to find your second wind. Costumes are encouraged, so put together something creative.
October 29
Demonbreun Hill
Nashville's biggest Halloween street party takes place inside and outside of Tin Roof on Demonbreun. Enjoy pumping party tunes courtesy of Cody Clark and DJ sets from TWINZ, a duo of steel wheel spinners Warfield and Khaos. The costume contest at midnight pays some serious cash to the winner, $500, so bring your best to the fray. Remember, the freaks come out at night.
October 27, 29, and 30
Downtown
A lot of Halloween-themed pop-up events are held at bars that throw up some decorations and serve seasonal cocktails with funny, punny names. That's fine and all, but at Ellington's Restaurant at the Fairlane Hotel downtown, they're not afraid to go dark and go all-in. They're converting the entire restaurant into a version of Christian Bale's favorite haunt from the movie "American Psycho." Somebody pretty much had to die to open up a space at that fictional NYC hotspot, but all you have to do is make a reservation to experience the immersive, theatrical meal and a show.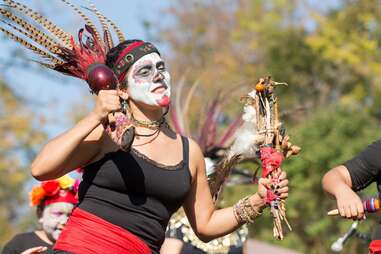 October 29 through October 31
West Nashville
If you loved "Encanto," you can experience it in 3-D at Cheekwood Estate and Gardens' celebration of the Day of the Dead over Halloween weekend. The traditions of Mexico and Latin America will be on colorful display as they honor ancestors with food, music, and dance. There will also be a crafts marketplace in case you want to take home a souvenir to celebrate all year.
October 22
Hillsboro Village
The venerable Belcourt Theater reprises their annual dusk-till-dawn horror movie marathon with twelve hours of consecutive scary movies. Part of the fun is they don't announce most of the titles in advance, so prepare to be shocked and surprised as you ride out the evening. In-theater live experiences will add to the spooky mood, and the whole shebang will end in time for Sunday brunch.
Through October 31
Downtown
Bar TENN at the Holston House downtown has been converted into Salem for a pop-up homage to the beloved film "Hocus Pocus," just in time for its sequel to hit the big screen. Don't overthink the plot of the movie; it's better to just enjoy it as a bit of camp. The immersive experience will feature specialty cocktails plus food and drink deals during happy hour.
Through October 31
Green Hills
Of all the most unlikely spots for a pop-up Halloween cocktail emporium, the Women's Club of Nashville's grand home in Green Hills has to be high on the list. But the 1920s mansion has been converted into a multi-room mixology experience with guests wandering the building to discover new drinks and encounter actors playing out the backstory loosely based on the paintings of Spanish artist Francisco Goya. Come dressed to impress and immerse yourself in the story as the talented bartenders match drinks with the surroundings.
Through early November
Downtown
The Parlour Bar off the lobby in the Dream Nashville hotel is usually a pretty mellow spot to meet friends for drinks, but apparently somebody said the wrong word three times. BeetleBar isn't an ode to John, Paul, George, and Ringo; it's a pop-up tribute to the crazy Michael Keaton film, "Beetlejuice." Director Tim Burton's whimsical design gestalt provides the inspiration for the colorful decor, custom cocktails, and specialty food offerings. As the big man himself would say, "Turn on the juice and see what shakes loose!"
Have some family fun at area pumpkin patches and corn mazes
Through October 31
Various
Now that Halloween has become a drinking holiday and costume themes tend toward "Sexy Nun/School Teacher/Demon/Astronaut/Pumber," sometimes it's nice to fill a thermos with hot cider and head out to the country for some family-friendly activities. Take a short road trip to pick your own pumpkins for a jack-o-lantern carving party at Lucky Ladd Farms, Gentry Farm or Walden Farm. If you're proud of your sense of direction, show your navigation skills by finding your way out of elaborate corn mazes at Honeysuckle Hill Farm or Shuckles. No fair using the GPS on your phone, though.
Curdle your blood at local haunted houses and hayrides
Through October 31
Various
The dedicated costumed actors at local haunted houses, hayrides and fearsome forests are happy to oblige you if you're looking for a good jump scare. Some of the best indoor experiences are at Beast House, Devil's Dungeon and Slaughterhouse Nashville. For open-air frights, check out Deadland, Creepy Hollow Woods and Bloody Acres. Don't say we didn't warn you.
Discover haunted history on a ghost tour
Year-round
Various
Nashville is gifted with talented storytellers, and some of the best specialize in the mysteries of the afterworld. The city is certainly filled with spooky history, and these fun tour guides will probably share some stories that even locals didn't know about. Nashville Haunted Tours offers itineraries that specialize in downtown, taverns, and a hearse tour of town. Ghost City Tours has several options, including some that are appropriate for the whole family, and the Haunted Franklin Tour demonstrates that the sleepy little suburb south of Nashville isn't all quaint boutiques around the town square and walkable sidewalks. Thanks especially to its Civil War history, Franklin has had some creepy stuff going on for decades.
Through October 29
West Nashville
The Adventure Park of Nashville offers all sorts of thrilling activities throughout the year from ziplines to rope bridges to axe throwing. At night, they light the trees and pump Halloween music through the speakers to create a suitably seasonal atmosphere for some adventurous fun. Feel free to come in costume, but be sure not to wear anything that might get tangled in the equipment. That would be really scary.
October 31
SoBro
Brad, Janet and the insatiable Dr. Frank 'N' Furter will be live on the main stage at City Winery as the Roxy Regional Theater travels from Clarksville to visit the big city for a performance of "Rocky Horror Picture Show." Audience participation is encouraged, nay, mandatory, and attendees can purchase bags of props in the lobby before the show for just $5. Don't bring your own Rocky Horror accouterments from home, though, lest you accidentally damage the theater and incur Riff Raff's wrath.
Through October 31
SoBro
The Bode is a fun and quirky apartment-style hotel carved out of an old apartment building, and Sidebar is the convivial cocktail bar that serves as a guest amenity. The general public is also welcome to visit, especially during the spooky season when it puts on a costume and comes out as Apotheca, an exploration of nature and mysticism with a side order of the occult. The bar is decorated like the inside of a dark forest and lit by candles. Your ticket entitles you to a "body bag" cocktail that'll either cure what ails you or… you know.
Chris Chamberlain is a lifelong Nashvillager who loves all sorts of pies: pot, apple, or pizza. A three-pie dinner would be a dream come true. Follow him at @CeeElCee.