Events listed here may be subject to cancelation depending on the developing situation with COVID-19's Omicron variant, please call or check websites before booking.
If you're looking to bid good riddance to 2021 or ring in the new year with some optimism, Nashville is chock-full of opportunities to party. From elevated dinner experiences all over town to a nationally televised music extravaganza at two downtown locations, Music City will be all abuzz on New Year's Eve. And remember if you get too much of a buzz yourself, be sure to arrange a safe ride home or grab a room in one of the many hotels in the prime party districts.
East Nashville
This usually casual Lockeland Springs restaurant is getting dolled up on NYE for their "Fancy as F**k" soiree. The evening starts out with a lively cocktail party featuring multiple gratis choices from the bar and elevated passed hors d'oeuvres like oysters and caviar and lobster corn dogs. As the big hour nears, it'll revert to more of a laid-back throwdown as the kitchen starts to pump out wood-fired pizzas and tacos to get you ready for the champagne toast at midnight. Call 615-228-4864 to make your reservations for the best neighborhood party in town.
Cost: $250 per person
Downtown
The dramatic interior of Church and Union is dominated by a huge mural of the entire text of Sun Tzu's classic combat treatise "The Art of War." Steel yourself for battle in 2022 as you feast on a three-course prix-fixe dinner, complete with champagne. Later reservations can stick around for the big celebration, or earlier diners can pay a little extra to be part of the party.
Cost: $80-100 depending on when you make your reservation
Germantown
The city's main celebration, Jack Daniel's New Year's Eve Live: Nashville Big Bash returns to Bicentennial Capitol Mall State Park. Bobby Bones will host an evening-long show which will be broadcast on national television featuring performances by acts like Jason Aldean, Jimmie Allen, Kelsea Ballerini, Dierks Bentley, Brooks & Dunn, Luke Bryan, Elle King, the Fisk Jubilee Singers, Miranda Lambert, Darius Rucker, Blake Shelton, Cole Swindell, Zac Brown Band, and others. Think of it as a country-fried Dick Clark's New Year's Rockin' Eve.
Cost: Free
Downtown
If you haven't visited the Skydeck at Assembly Hall at the 5th + Broadway complex downtown, you may be surprised at the fantastic venue they've built perched looking down at the crowds below. It will host the second stage of the big Jack Daniel's New Year's Eve Live, so you can get up and personal with acts like Lady A, Riley Green, Chris Janson, Jon Pardi and Carly Pearce.
Cost: $125 - $175
Downtown
The 21C Museum Hotel downtown offers a two-for-one with a public museum spread out across the property showcasing all sorts of cool and often edgy modern art plus a restaurant that features artistry on the plate. Gray & Dudley is serving up a special NYE dinner with three courses plus dessert along with a vegetarian option if you want to get a head start on a healthier 2022. They'll also have a hair of the dog brunch the next day if you need a pick me up after the evening's festivities.
Cost: $78
Germantown
The Optimist is a go-to destination for Nashville seafood lovers, and they're going all-in for New Year's. Their elegant five-course dinner offers choices like scallops, octopus, tuna, salmon, lobster and crab.
Cost: $125 + $50 for optional wine pairings
Yolan
This modern downtown hotel offers a couple of choices for the big night. Their signature Italian restaurant, Yolan will host a grand Vigilia di Capodanno feast, with a decadent multi-course journey around Italy featuring ultra-premium ingredients ranging from caviar to foie gras to lobster, uni and truffles. The pairings of wines and sparklers will also be top-notch. Upstairs on the 21st floor, The Joseph's more casual venue Denim is throwing a "Midnight Blue" party with a more tropical feel. Rum, mezcal and tequila cocktails will be featured along with stunning views and a DJ, and a celebratory tequila toast at midnight replaces the traditional champagne.
Cost: $160 - $295
Downtown
Nashville has been all abuzz since we first heard that legendary chef Jean-Georges Vongerichten was planning to open a new restaurant at the venerable Hermitage Hotel. After a successful first month of operations, New Year's is the first chance for the kitchen to really show off with a five-course feast featuring tuna tartare, three cheese raviolis, parmesan risotto with mushrooms, black truffle-crusted Faroe Island salmon, dark chocolate passion fruit tarts, and more. It should be quite the to-do.
Cost: $188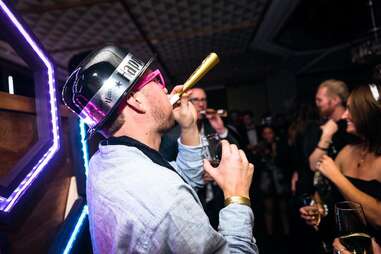 The Gulch
Sometimes, simplicity is the best course of action. LA Jackson on top of the Thompson Hotel wants to make New Year's easy for you. Pay one price and keep your wallet in your pocket for the rest of the evening as you feast on late-night eats and drinks from the open bar. Actually, you might want to keep that wallet handy to tip your bartender, because who doesn't need a little good karma to kick off the new year, right? The theme for the evening is the '90's, so get ready for some throwback fun.
Cost: $275
Chestnut Hill
Nashville's newest restaurant sensation is a culinary salute to Pacific Rim cuisine named The Hart, and early reports are that Chef Michael Gibson is killing it in the kitchen at his new eatery inside the Bento Living hotel. "Aloha" means both hello and goodbye in Hawaiian, so you can bid 2021 adieu and welcome 2022 over a menu of Polynesian dishes presented over five delicious courses. A DJ will be spinning the wheels throughout dinner and for the party afterward.
Cost: $99
Green Hills
While Green Hills isn't really known for being party central, etc. is turning up the heat by offering an internationally inspired four-course prix-fixe evening for both New Year's Eve and the first evening of 2022. While the choices are legion, it's hard to get past a grilled beef tenderloin with black bean gravy, tempura heirloom grits, caramelized onions, candied ham hock, mushroom garum butter, and broccolini.
Cost: $90 plus $40 for optional wine pairings
Melrose
The sultry and sexy ambiance at Sinema is an ideal environment to get all glammed up and celebrate the changing of the calendar. Enjoy an upscale fixed price menu with plenty of choices of luxury foods, and you'll also gain access to Sinema's upstairs lounge for a few hours of dancing to music from a DJ, a photobooth to commemorate how good you looked, and a complimentary champagne toast as the clock strikes twelve.
Cost: $125 plus optional drink pairings
Downtown
The dress code theme is black and red for Red Phone Booth's NYE bash, so keep it classy. They'll be doing their part by offering an open bar with premium spirits, a Korbel champagne toast, and an elevated buffet featuring dishes like salmon, oysters Rockefeller, lobster truffle mac 'n cheese, filet mignon, lamb, and more. Come hungry, stay late.
Cost: $299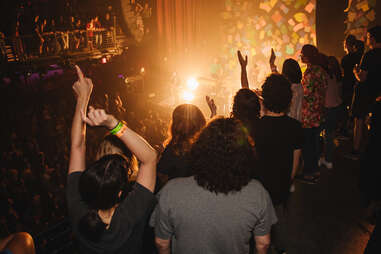 Germantown
Alabama rock n' soul band St. Paul & the Broken Bones are sure to tear the roof off at their New Year's Eve concert at Brooklyn Bowl. When Paul Janeway gets down on his knee to wail out a soulful song, you'll feel like tipping your head back and releasing everything shitty that happened to you this year.
Cost: $55 and up
Downtown
In what has become a Music City tradition, Grammy-winning Americana artists Old Crow Medicine Show will take the stage at the venerable Ryman Auditorium to mark the transition between this year and the next. They'll be joined by blues legend Keb' Mo' for an evening of joyful and energetic music.
Cost: $59.50 and up
Demonbreun/Music Row
It's OK if you're a little confused by the New Year's party concept at the Virgin Hotel. Their cheeky sense of humor is evident in the fact that the ground floor disco party is called Studio 51 and their rooftop lounge is Area 54. Fuzzy math notwithstanding, both experiences will feature food, drink and fun. Enjoy dinner downstairs or opt for three hours of open bar on the rooftop pool deck.
Cost: $75 and up
The Gulch
Any show by the Wooten Brothers is guaranteed to be funky. The family band of virtuosos always brings the fun with nary a break except to change the strings they mangle during their epic solos. At their intimate jazz cave in the Gulch, they'll welcome guests for an evening of New Orleans themed hors d'oeuvres, champagne for the midnight toast, a photo booth, and more surprises.
Cost: $69 and up
Chris Chamberlain is a food, drink, and travel writer. If Nashville was the
Love Boat
, he'd like to think he'd be Julie, your cruise director. In truth, he's probably more of a Gopher. Join him on the Lido Deck on Twitter @CeeElCee.