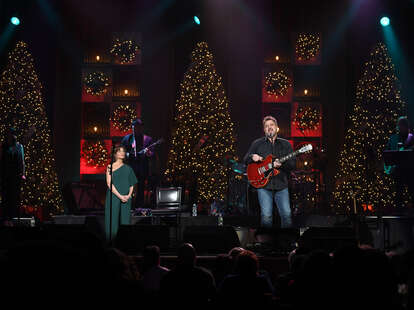 Ryman Auditorium

| Photo by Jason Kempin/Getty Images
Ryman Auditorium

| Photo by Jason Kempin/Getty Images
Nashville is bursting with talent. With a name like Music City USA, there's no doubt about the quality of the city's concert venues and the talent they host. Hell, even the local dive bars are filled with talented locals who can bust out a karaoke hit with no warning at all. But Nashville's claim-to-fame doesn't end with music. Check out the city's equally-impressive breweries, thrift shops, coffee spots and indie bookstores to get a sense of all that the city has to offer.
The culinary scene in Nashville is equally outrageous, including must-get bites before visitors even leave the airport. The city's most famous dish, Nashville hot chicken, is just a starting point, because the city has fantastic barbecue, burgers, pizza, biscuits, and even some pretty respectable seafood for a landlocked state. Whether you're looking for a quintessential Nashville dining experience or the hottest restaurants new and old, you're in luck.
And when it's time to get out and about, Nashville has a plethora of options: go to a museum, have a drink on a rooftop, take a dip in a lake, bust out of an escape room. Or you could just check out our December 2023 calendar for a little inspiration. Whatever you're in the mood for, Nashville has you covered.
Food & Drink Events in Nashville
Saturday, December 2
Marathon Village, $91.25
One of Nashville's favorite annual beer festivals makes the move to Marathon Music Works for an afternoon of tasting and conviviality kicking off at 11 am. More than two dozen breweries will take part in this year's Winter Warmer, and many of them hold back special releases to pour for the first (and often only) time of the year as part of the festivities. These tend to be exotic sours, stouts, porters, and barrel-aged beers that are higher in alcohol content, so pace yourself accordingly.
Saturday, December 2
Marathon Village, $117.86
After the Winter Warmer is over, Marathon Music Works will reset the floor for the big Bubbles and Bourbon bash, featuring a 1920s era-themed cocktail party with unlimited samples of sparkling wine, beer, and bourbons, including some really rare pours that don't show up on many bar menus or spirits store shelves. A live jazz band will help to set the sophisticated mood, and complimentary cheese, chocolate, and oysters will be augmented by food trucks where attendees can purchase more substantial fare.
Monday, December 4-Sunday, December 10
Various, $5 taco deals
Let's taco 'bout Taco Week, when dozens of local restaurants vie for the title of top taqueria by offering special $5 specialty taco deals on their menus. Taste your way through as many as you can and then cast your vote at the end of the week for your favorite. The winning restaurant will have bragging rights for the year, but really, everybody's a winner when it comes to cheap tacos.
Friday, December 8 and Saturday, December 9
East Nashville, $75
Butcher & Bee is opening up their private Rose Room to host a two-night Hanukkah feast that they promise will be "a whole latke of fun." The price of dinner includes a welcome cocktail followed by traditional holiday classic dishes like brisket and sufganiyot. For a meal like your bubbeh would make, put yourself in the very capable hands of the kitchen at the Bee.
Friday, December 15
Marathon Village, $75
Let's face it, cocktails often make the holidays a little easier to bear, so why not learn how to shake up a couple of new recipes in your own crib so you don't have to worry about getting home from a bar? The homegrown heroes at Nelson's Green Brier Distillery are welcoming guests into their distillery for an evening of whiskey and mixology. The class will begin with a tasting of two of the distillery's premium whiskeys followed by a cocktail-making demonstration by their Lead Bartender, Rachel Ramirez. As a bonus, you can consume your classwork.
Through Saturday, December 23
West Nashville, Cost of food and drink
The crew at Nicky's Coal Fired always goes all-out for Christmas with over-the-top decorations, holiday-themed drinks and special dishes, and a generally festive vibe in their cozy Italian eatery in the Nations. This year, they're adding a tiki-themed bar experience called Tropical Tidings on their heated patio so you can discover what Santa likes to drink when he's off duty. St. Nicky's will also host Santa Paws, a dog adoption event on Sunday, December 10 and a cookie party the following Sunday.
Festivals in Nashville
Friday, November 17-Sunday, February 4
Nolensville Rd., $26
Zoolumination at the Nashville Zoo is the nation's largest display of Chinese lanterns, featuring more than a thousand colorful, lighted displays depicting iconic images from Chinese folklore stretched out along an easy walking path. The jolly red elf Santa will visit nightly until Christmas Eve, because, y'know, he's kinda busy that last night.
Through Sunday, January 7
West Nashville, $28
The grounds at Cheekwood Estate and Gardens are beautiful any time of the year, but when they illuminate the estate with more than a million twinkling lights, the experience is downright magical. Stroll the gardens at night while enjoying firepits and all the makings for s'mores, seasonal drinks for purchase, and a holiday market for a little shopping.
Arts & Entertainment Events in Nashville
Friday, December 1 through Sunday, December 10
West Nashville, $40 and up
Geoff Sobelle is one of the preeminent interactive performance artists of our time, combining absurdist comedy, magic, and social commentary into presentations that stimulate deep thought while entertaining at the same time. His latest show is FOOD, and it was a hit at this year's Edinburgh International Festival. He's bringing his 500-square-foot dining table to OZ Arts Nashville for a show that will make you think about what and why you eat. But don't come hungry, because there won't actually be any food for the audience.
Friday, December 1 through Sunday, December 3
SoBro, $135 and up
Once you get over the utter incompetence of Kate and Peter McAllister as parents for leaving Kevin behind on their family trip to Paris, Home Alone really is a holiday classic. The Nashville Symphony is screening the movie three nights in a row on a huge screen hanging over the orchestra while the talented musicians perform John Williams' soundtrack live along with the film. It will be a great family affair, but just remember to check the attic to see if you've left a kid behind before you head to the symphony hall.
Friday, December 8 and Saturday, December 9
Nashville Fairgrounds, $25 for Preview Party, Free on Saturday
If you're trying to keep your holiday shopping dollars within the local economy, look no further than the Porter Flea, a curated market of Middle Tennessee crafters who come together to sell their creations together at periodic events. This year's Holiday Market is the 25th edition of Porter Flea, and they'll be pulling out all the stops to help you clear your Christmas list. Friday night is a ticketed event where early birds can get the jump on the rest of the shoppers, but rest assured that there will be plenty of cool local merch to pick from at the free market on Saturday.
Friday, December 8 through Sunday, December 24
Downtown, $51.75 and up
A local holiday tradition for decades, Nashville's Nutcracker is a wildly entertaining and slightly irreverent take on the classic Tchaikovsky ballet. The show features astounding sets, musical accompaniment courtesy of the Nashville Symphony Orchestra, talented lead dancers alongside young dancers from local dance troupes, as well as special cameo appearances by local celebrities.
Saturday, December 9 and Sunday, December 10
Belmont/12 South, Free
Five studios in the Belmont and 12 South neighborhoods will be opening their workspaces and galleries for visitors from 10 until 5 on Saturday and noon to 5 on Sunday so that you can meet the artists, see their creations, and maybe engage in a little commerce. Featured media range from ceramics to fiber art to jewelry to collages, so there's bound to be something to catch your eye.
Thursday, December 14 through Friday, December 22
Belmont, $53.94
Nashville treasure David Alford reprises his one-man performance of two holiday classics from a young Truman Capote, "The Thanksgiving Visitor '' and "A Christmas Memory" accompanied by the ethereal guitar playing of Paul Carrol Binkley. You'll laugh, you'll cry, and you'll leave the stately Belmont Mansion filled up with the holiday spirit after the show is over. Seriously, bring tissues if you're a crier.
Saturday, December 16
Franklin, $5
Liberty Hall at The Factory in Franklin will turn into one of the largest holiday markets in the region for the afternoon. It's a one-stop shop for gift shopping featuring dozens of artisans selling everything from clothing, accessories, and jewelry to home furnishings, drink mixes, and personal grooming products. Food vendors will also be on hand to keep your blood sugar levels up as you walk the aisles to discover the perfect gift for someone special.
Live Music in Nashville
December 13-14, 16-17, 19-20, and 22-23
Downtown, $45 and up
Nashville's first couple of country music Amy Grant and Vince Gill reprise their holiday tradition with a 12-show residence at the Ryman where they'll perform seasonal classics along with modern classics. Their voices meld in the way that only loved ones can, with Gill's lilting tenor and Grant's sweet vocal styles creating harmonies that make oldies sound fresh and new. Their humorous spousal banter between songs is worth the price of admission.
Friday, December 15 and Saturday, December 16
Gulch, $31.85 and up
The intimate performance space at Rudy's Jazz Room will overflow with the holiday spirit thanks to two shows nightly featuring the "Siren of the South" Miss Stephanie Adlington singing holiday standards along with New Orleans Christmas classics accompanied by a jazz combo. The Big Easy is the inspiration for the holiday menu including Creole gumbo, crawfish étouffée, and bread pudding with bourbon sauce. Wash it all down with one of Rudy's seasonal old fashioned cocktails for an evening that will leave you warm and happy.
Saturday, December 16
Germantown, $25
Guitar sensation Daniel Donato is known as one of the finest pickers in Nashville with a unique style he calls "Cosmic Country." He'll be headlining a show at Brooklyn Bowl alongside a host of other talented instrumentalists including Grace Bowers, JD Simo and Sierra Hull. We guarantee you won't get more notes per dollar of admission price at any show this weekend.
Saturday, December 30 and Sunday, December 31
Downtown, $59.50 and up
In what has become a Music City tradition, roots rockers Old Crow Medicine Show returns to the Ryman for the final two shows of the year, ringing in 2024 with a raucous show featuring special guests. Think about it, you could be one of the last people to hear "Wagon Wheel" in 2023. That's gotta be worth something.
Sunday, December 31
Germantown, Free
Get together with thousands of your newest best friends in Bicentennial Capitol Mall State Park at this free annual celebration of the turning of the calendar featuring musical co-headliners Lainey Wilson, Thomas Rhett, and Lynyrd Skynyrd. As the clock counts to midnight, a giant music note will drop down above the stage followed by a spectacular fireworks display. CBS will broadcast the festivities live, but it's always better to experience the fun in person.
Sporting Events in Nashville
Sunday, December 3
East Nashville, $61 and up
While neither of these two teams probably still has Super Bowl aspirations for this season, any tilt between these traditional divisional rivals is usually a pretty spicy occasion. Cheer your team as young players audition for more playing time in the future and perhaps say goodbye to a few beloved veterans as the rosters go through a youth movement transition.
Saturday, December 16
SoBro, $70 and up
Like the Titans, the Nashville Predators are a young team going through an entertaining rebuild. The future is on the ice now, and you can see the nucleus of what could be a Stanley Cup-contending hockey team in the near future. Plus, it's always fun to boo Alex Ovechikin whenever he comes to town.
Sunday, December 17
Vanderbilt/West End, $5
In what must be one of the shortest road trips of the year, the women's basketball team at Lipscomb will only have to travel a little more than three miles to take on the Vanderbilt Commodores for an afternoon game in Memorial Gym. Heck, they could probably just take a few Ubers. Vandy's Gym is almost three times as big as Lipcomb's Allen Arena, so it will be interesting to see how the Bisons react if the home team can fill up the arena with those cheap $5 tickets.
Saturday, December 30
East Nashville, $25 and up
Football fan bases from the SEC and Big Ten will descend on downtown in this annual celebration of college athletics. While the game is usually exciting, it's the fun events that organizers plan for the teams and fans around the game that really make this a special Nashville event. The traditional Battle of the Bands on Lower Broadway is always a highlight of the bowl season, and it's free to attend.