Kat Goduco Photography
Kat Goduco Photography
Everything That Went Down At Hotel Thrillist Austin
Everything is bigger and better in Texas. The city has incredible food, a bustling party scene, and a tightknit community. So close in fact, that when so many Houstonians were displaced after Hurricane Harvey, Austin took them in.
We wanted to celebrate that spirit and the local community by throwing Hotel Thrillist 2017 at the W Hotel in Austin. Not only did we have the time of our lives, but we even got to accept donations and donate a portion of ticket sales to the Wine & Food Foundation of Texas and the American Red Cross. To relive the two-day event, let's take a look back at all the good times we had, the tasty things we ate and drank, and, of course, the photos that captured it all.
We served up some of Austin's best
Austin is known for its world class barbecue and mouthwatering tacos, so we kicked off the weekend with a sampling from 10 of the city's eateries. (Because the best way to get to know a town is to try all its food.) Then, our friends at Chobani teamed up with a local chef to create two never-before-tasted yogurt dishes to round out the feast.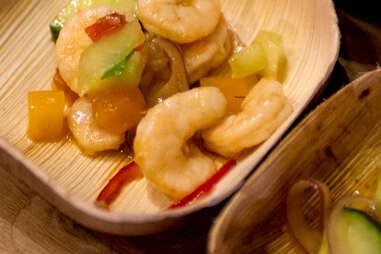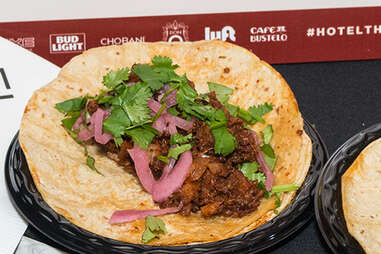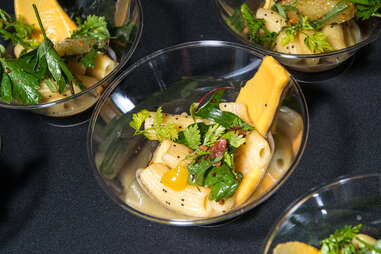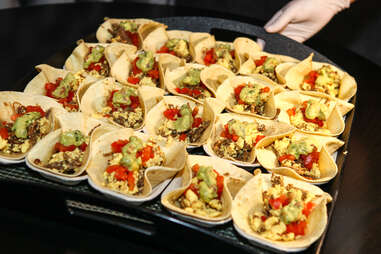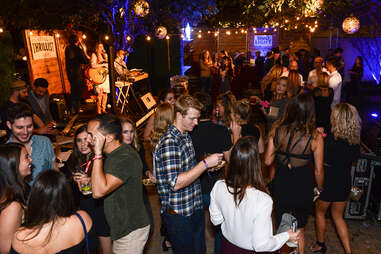 And you best believe there were cocktails
You can't forget the drinks, of course. Our friends at Don Q Rum made some specialty cocktails -- and even bananas foster -- for the occasion. Now, just in case you want to recreate them at home (which, well you probably do), we've got the recipes for you below.
You can't have a party without a photo booth
If you're going to throw a party as epic as Hotel Thrillist, then you're going to need some photo evidence of what went down. But because this is Hotel Thrillist, we couldn't just have some run-of-the mill photo booth. To help us out, Lyft provided a VW photo booth bus that was decked out with props for our guests. Not only that, but they also set up a pink carpet into the W Hotel, in true VIP style.
We started Saturday with a boost
We planned a long, fun-filled day for everyone on Saturday, so it was important to start off strong. To help wake you up, Cafe Bustelo provided some delicious coffee: hot espressos made to order and their Bustelo Cool iced coffee drinks. After that, it was time for yoga with Chobani. And seriously, if we could do yoga like this every morning, getting up early would never be a problem. The DJ was spinning awesome music, the sun was shining, and Chobani was mixing smoothies for after the workout. Talk about a boost.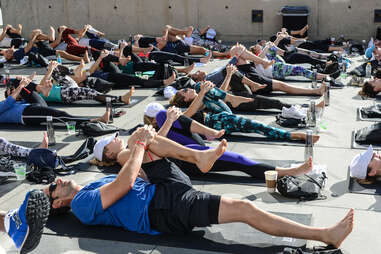 And hey, if Hotel Thrillist sparked the yogi in you, we've compiled a few simple poses you can do at home when you have a big day ahead. Just 10 minutes in the morning is all it takes.
1. Cat-Cow Pose. Cat-Cow Pose is perfect for the morning, since it stretches your back after a long night's sleep, and opens up your spine. First, get down on all fours. Inhale as you lift your chin up to the ceiling and drop your back. As you exhale, look down at your belly button and arch your back like a cat. Repeat the movement for a minute or two until you feel fully open.
2. Tree Pose. This standing pose helps you gain balance and strengthen your legs, but it also takes concentration -- so it helps wake up your mind in the morning. Simply stand straight up with your hands tight in prayer position at your chest. Bring the sole of your left foot up to your right inner thigh and balance here for a minute while inhaling and exhaling slowly. When complete, switch sides and repeat.
3. Downward Dog. Start on your hands and knees before slowly pressing back, lifting your knees off the floor, straightening your arms and lifting your tailbone. Your heels should be on the floor. This pose stretches the hamstrings and opens up the back of the body. After 30 seconds in downward dog, you'll be ready to take on anything the day throws at you.
And then things got really Texas
To live up to Austin's reputation as a food/drink/music mecca, we knew we had to go all out. So, we took the party to Rainey Street -- a historical district in the city where iconic Austin bungalows now host some of the best bars in ATX.
We started the day at Lucille's, where we dished out Frito pie (but sans the dish, of course.) Not familiar? It's a southwest staple where Fritos are topped with chili and cheese, and served right in the bag. The perfect bar crawl snack, if you ask us. Then, we had an entire marching band (!) take everyone to Clive, where Stubb's served up classic Austin barbecue, slathered in their famous sauce.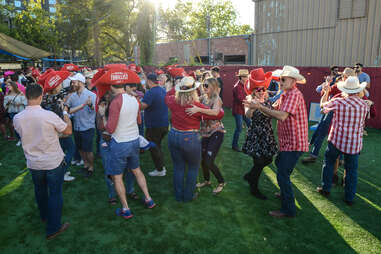 Because we had to outdo ourselves, we then taught everyone the classic Texas art of country line dancing (giant foam 10-gallon hats included) and stepped and shuffled our way up Rainey Street to our final spot, Lustre Pearl. Oh, and to honor a true Austin classic, we also had Deep Eddy (a beloved local craft distiller) pouring tastings of their vodka flavors all day -- sweet tea with a kick, anyone?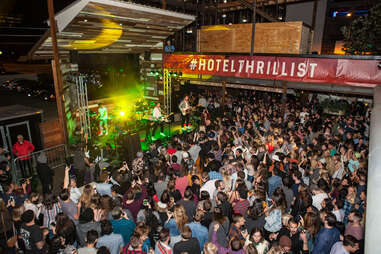 The music was on point
It's not a party without some great music -- especially not in Austin. We closed out Friday at Summit Rooftop Lounge with DJ Helena Legend, and the LA-based performer seriously kicked up the energy.
There was plenty of entertainment all day on Rainey Street, too. We had Jake Thompson at Lucille's; Candler Wilkinson IV at Clive, & Sour Bridges at Lustre Pearl. That evening we welcomed St. Lucia to Buford's Beer Garden and jammed to hits from his newest album "Matter." Both evenings had drinks provided by Bud Light and Deep Eddy Vodka, and we partied and danced real hard.
And then we took it down a notch (literally)
To close out a party in a city that prides itself on being quirky, we knew we couldn't end the weekend with just a run of the mill dance party. Instead, we hosted a complete silent disco in our suite at the W Hotel -- where everyone donned headphones and danced until the wee hours of the morning, all the while overlooking the city's downtown -- without making a sound.
To inspire even more envy, we rounded up some of our favorite pics from the weekend below, too: