Hotel Thrillist Took Over Nashville And It Was The Weekend Of Our Dreams
Perhaps you've heard: every year Thrillist descends on one hotel in one city for the ultimate weekend-long extravaganza, and this year, we brought Hotel Thrillist to Nashville. (Specifically, the Westin Nashville in downtown, right at the center of all the action.) Of course, we packed the weekend with tons of Thrillist-approved activities -- a massive feast, private concerts, and an exclusive tour of a local distillery, to name a few -- but this year, we wanted to outdo ourselves. So, we partnered with Chase Sapphire to really take Hotel Thrillist to the next level and provide some exclusive perks throughout the weekend. In case you couldn't make it (or just feel like reliving the whole party,) we rounded up everything that went down below, so grab a seat, and get ready to be amazed: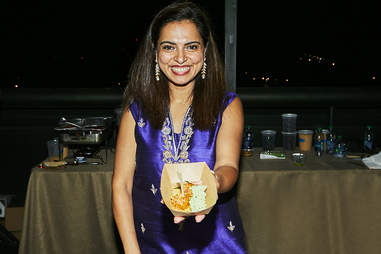 Matthew Zach
CHEF MANEET CHAUHAN HELPED US HOST OUR MOST EPIC FEAST YET
After working in restaurants around the country and judging up-and-coming chefs on Chopped, Maneet Chauhan decided to open her very first restaurant in Nashville. "It was love at first landing," she said of the city. Since opening Chauhan Ale and Masala House in 2014, she's witnessed the Music City food scene explode first hand, making her the ideal host for Hotel Thrillist: A Nashville Feast. We sampled dishes from more than two dozen of the city's top restaurants, with cuisine running from Japanese to Szechuan to Chauhan's own dishes from Chauhan Masala and Ale House, where she fuses southern Nashville classics with her Indian roots. Then, we had rising country star Cale Dodds take the George Dickel Porch Session stage to keep us entertained all night long. Of course, Chase Sapphire also brought in even more food and drinks at their lounge, exclusive to cardmembers. But, before our feast, we sat down with her to talk about why she fell in love with Music City:
She took inspiration from the city's classics when she made the menu at Chauhan Ale & Masala House. Here, she makes pakoras "hot chicken" style, transforming the traditional Indian fried fritter into her own take on Nashville's signature dish, as well as her own take on a "meat and three" plate. "The biggest thing is to embrace what the city offers and also put your roots into it," she says about crafting the menu.
Speaking of hot chicken, her first experience with the dish made her love the city's food scene. "The first time I had hot chicken, it blew my mind," Chauhan says, recalling that it was at Hattie B's with a group of friends. "The heat level and the crunchiness of the crust and the meat being so succulent… Not only does it hit the flavor, it hits the texture, and I think that's what makes it amazing."
Hotel Thrillist: A Nashville Feast was an ode to how expansive the city's food scene is. 100 people move to Nashville a day, so to keep up with those diverse palates, plenty of restaurants (featuring different cuisines from around the globe) have opened in the last few years -- and we got to sample it all under one roof. "Events like these are amazing for the guests who are coming but i'll let you in for a secret, it's even more exciting for the chefs and restaurants participating," Chauhan says. So take a gander at what our participating restaurants served up, but maybe grab a snack before you scroll. (Trust us, you're going to get hungry!)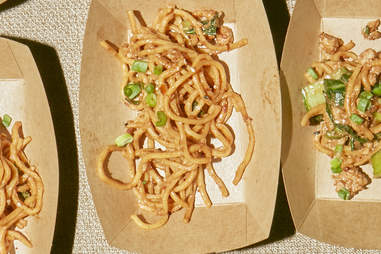 Matthew Zach
Tànsuŏ
Dan Dan Noodles
Served with suimiyacai, ground chicken, bok choy, and a Szechuan tahini sauce
Kat Goduco Photo
Deacon's New South
Black Gazpacho
A twist on classic gazpacho, made with coconut ash and topped with prawns, coconut, and rice crackers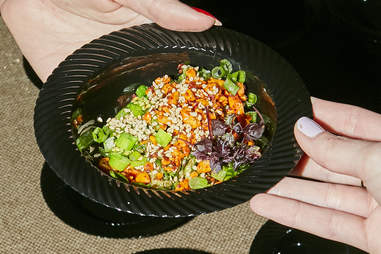 Matthew Zach
Butcher & Bee
Avocado Crispy Rice
Carolina Gold crispy rice with winter greens, peanuts, and serrano chiles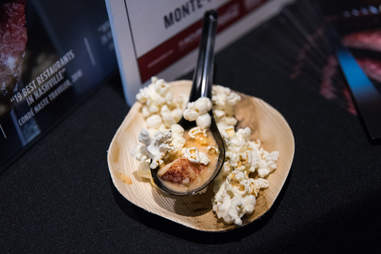 Kat Goduco Photo
Kayne Prime
Popcorn Buttered Lobster
Lobster with popcorn and slathered with a melted butter sauce
Matthew Zach
Fin & Pearl
Crispy Gulf Shrimp
Crispy fresh Gulf shrimp fired up and served with jerk aioli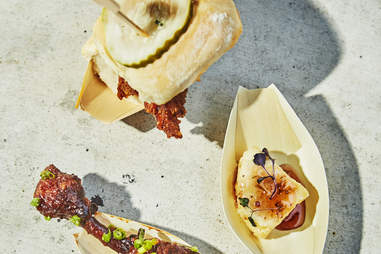 Matthew Zach
Party Fowl
Lacquered Lollipops
Springer Mountain Farms chicken lollipops lacquered in a Tennessee whiskey barbecue sauce

Hot Chicken Sliders
Classic Nashville hot chicken served on a slider bun with a pickle

Fried Cheese Grit Cakes
Southern-style fried cheese grit cakes served with strawberry jalapeño jam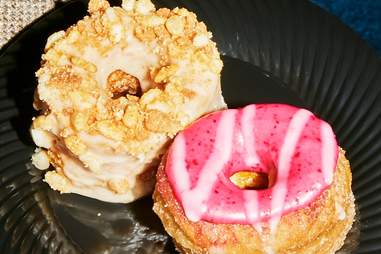 Matthew Zach
Five Daughters Bakery
100 Layer Donuts
A 100+ layer croissant/donut hybrid
Matthew Zach
Woolworth on 5th
Old Fashioned Coconut Cake
A sweet-tooth pleaser with a bite, with key lime curd and strawberry sauce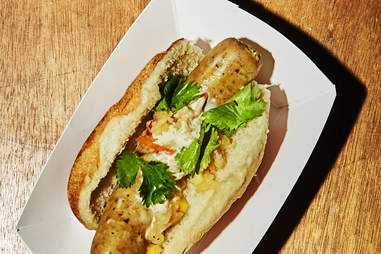 Matthew Zach
Von Elrod's Beer Garden & Sausage House
Khao Soi Hotdog
Chicken and pork sausage seasoned with curry and coconut milk, served with cilantro, mango jicama slaw, and cilantro crema
Kat Goduco Photo
Chauhan Ale & Masala House
Meatball Makhani
Pork and beef meatballs topped with a creamy tomato sauce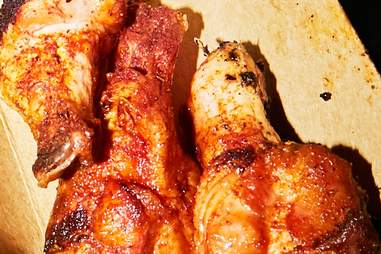 Matthew Zach
Peg Leg Porker
Smoked Chicken Wings
Slow smoked wings with a dry rub seasoning and drizzled with Alabama White Sauce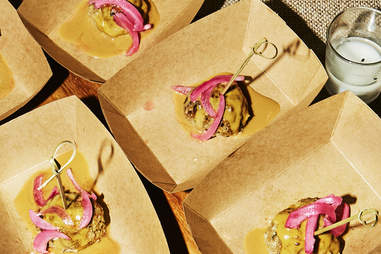 Matthew Zach
Homestead Manor
Katharos Farm Sausage Balls
Served with Yazoo Sue Mustard, Sweetwater cheddar, and topped with pickled red onion
Matthew Zach
Otaku Ramen
Hot Chicken Buns
Boneless chicken thighs with Otaku's hot spices and Kewpie mayo slaw served on a steamed bao bun with pickles, paired with a Coke
Matthew Zach
Jim N' Nicks BBQ
Pimento Cheese Slider
Slider with pimento cheese and bacon jam

Beef Brisket Slider
Hickory smoked brisket served with scratch-made creamy coleslaw

Famous Cheese Biscuits
A Jim N' Nicks cheesy speciality
Matthew Zach
Sinema Restaurant & Bar
Agnolotti
Hand-formed ricotta ravioli with roasted mushrooms, sun dried tomato beurre monte, fried capers and Parmesan
Matthew Zach
Chago's Cantina
La Empanada
Dough pockets with spiced beef, salsa nopales, and cotija crumbles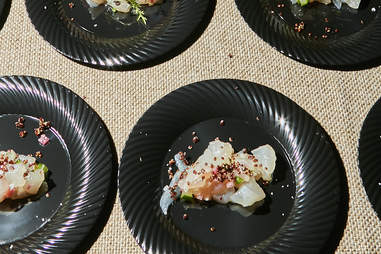 Matthew Zach
Henrietta Red
Snapper Crudo
Red snapper with citrus, radish, and tarragon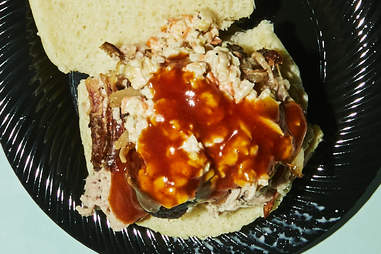 Matthew Zach
Hugh Baby's
BBQ Sliders with Slaw
Hugh Baby's famous pulled pork shoulder, topped with housemade slaw and BBQ sauce on a slider bun
Matthew Zach
The Mockingbird
Don't Worry, Brie Happy
Grilled cheese, whipped brie, jalapeño jam, chimichurri
Matthew Zach
Henley
Blue Crab Dirty Rice
Alabama Blue Crab, Carolina Gold Rice, plus house-made Andouille sausage, Wedge Oak Farms chicken livers, bay leaf & she-crab roe
Matthew Zach
Mitchell Delicatessen
Turkey Avocado Sandwich
Braised turkey with bacon, cheddar, avocado, sprouts, tomato and mayo on wheat

BBQ Asian Tofu Sandwich
Baked BBQ tofu with avocado, sprouts, cucumber and sesame ginger dressing on a hoagie
Matthew Zach
Little Octopus
Smoked Cucumber
Hay-smoked cucumber with garlic, ginger, and lemongrass
Matthew Zach
Rosepepper Cantina
Chipotle Chicken Quesadilla
Chicken stewed in a medium spicy chipotle sauce

The Salty Hombre
A spicy whiskey cocktail with jalapeño, mango, agave, and rimmed with salt, pepper, and cayenne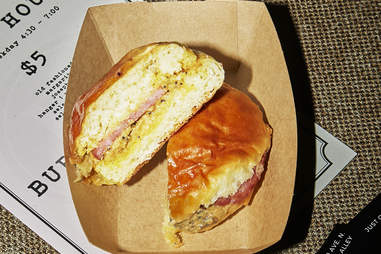 Matthew Zach
Black Rabbit
Rabbit Rolls
A Hawaiian roll with rabbit sausage, swiss, onion and poppy seed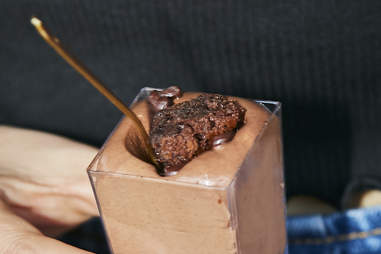 Matthew Zach
Nashville Sweets
Decadent Chocolate Mousse Jack Daniels Trifle
Fudge brownies layered with creamy chocolate mousse and Jack Daniels ganache
Kat Goduco Photo
Tailgate Brewery
The Future is Golden Ale, Peanut Butter Milk Stout, and Southeast IPA
Matthew Zach
CHASE SAPPHIRE HELPED US TAKE HOTEL THRILLIST TO THE NEXT LEVEL
This year, we knew we wanted to really take Hotel Thrillist over the top, so we partnered with Chase Sapphire as our presenting sponsor to bring that vision to life. Here's how they helped make it happen:
1. They brought even more food and drink into Hotel Thrillist: A Nashville Feast. As if Feast wasn't already a massive smorgasbord, Chase Sapphire really helped drive it home. They offered an exclusive lounge for cardmembers that evening, then brought in even more food and drinks from local favorites for a second-to-none VIP experience.
2. They helped us present a once-in-a-lifetime surprise concert. It wouldn't be Hotel Thrillist without a few surprises, especially of the celebrity variety. Chase Sapphire helped us bring in Chromeo to surprise DJ a private party at Citizen to close out the weekend -- and kept the whole thing under wraps beforehand.
3. They hosted a dinner party at one of Nashville's top restos. Chase Sapphire teamed up with Adele's, one of the city's most talked about restaurants, to present a private dinner for Chase Sapphire cardmembers. The menu featured some of James Beard award-winning chef Jonathan Waxman iconic dishes, like his JW chicken with salsa verde.
4. They even gave out treats?! Everyone coming to Hotel Thrillist got a sweet welcome to Nashville with a tasty treat from local Five Daughters Bakery, plus fancy new earbuds, a bandana, and a luggage tag. If that's not Southern Hospitality, we don't know what is.
Matthew Zach
ACURA WELCOMED US WITH IMPRESSIVE MOCKTAILS
Once we arrived at the Westin, we were greeted by a massive mural and Acura RDX parked out front, the perfect spot to snap a quick selfie. Then, once we checked in, Acura had decked out the rooftop pool into their custom welcome lounge, complete with an array of refreshing "mocktails" to sip on. We loved the Southern Charm Cooler (coconut, cucumber, lime, and mint) and Music Row Mojito (a mojito-style mocktail with blueberry) so much, we decided we needed to learn how to make mocktails of our own. So without the alcohol, how can you make an at-home mocktail just as enjoyable?
1. Use fruit and herbs. Muddling fresh ingredients will infuse tons of flavor into your mocktail. Depending on your palate, break up berries, mint, or citrus before pouring the rest of your ingredients in, making for a naturally tasty (and refreshing) drink.
2. Shaken, not stirred. Shaking isn't just for cocktails. By shaking your noncarbonated ingredients in a cocktail mixer, you'll give your mocktails a frothy texture, truly taking them to the next level. Strain over ice, then serve.
3. Use your best glassware. It might not be a real cocktail, but it can still look just as impressive. Skip the plastic cups and opt for your very best highball glass or champagne flute. This will impress your guests and have them feeling like part of the party.
Matthew Zach
THEN, COCA-COLA BROUGHT SOME SERIOUSLY TASTY PAIRINGS
Coca-Cola kept us hydrated all weekend long by stocking the bars with our favorites: Coke, Diet Coke, Sprite -- you name it. The bubbly beverages were perfect to wash down all the delicious Southern bites, but one in particular paired perfectly with a fresh Coke. Otaku Ramen's innovative Hot Chicken Buns put a spin on the one of the city's most classic dishes by using their spices, Kewpie mayo slaw, and stacking it all on a bao bun with pickles.
All over the country -- and most certainly in the south -- restaurants are innovating classic regional dishes. Take a look at some more of them and picture how delicious they'd be with an iced cold Coke.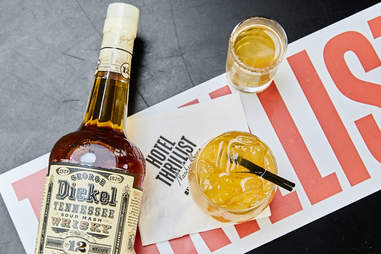 Matthew Zach
WE GOT SCHOOLED ON GEORGE DICKEL TENNESSEE WHISKY
For those who wanted something a little stronger, George Dickel Tennessee Whisky was flowing all weekend, and their mixologists dreamt up some creative cocktails for us to sip on: the Dickelade, which combines George Dickel No. 12 with lemonade; a Strawberry Hot Dickelade with their Tabasco Brand Barrel Finish and strawberry lemonade; the Nashville Cooler, a combo of their George Dickel No. 12 with watermelon and lemon juice; and two shots using their spicy Tabasco Brand Barrel Finish (one a pickleback, and one with a celery salt rim). After tasting those, we knew we immediately wanted to know more about the nearly 150-year-old brand and how it became one of the most beloved spirits in Tennessee. We chatted with distillery ambassador Brian Downing to learn a little more -- and here's what we found out.
They follow tradition.
George Dickel is as legit as Tennessee whiskey gets. Of course, that means they follow the Lincoln County Process, A.K.A. filtering (or in some cases, steeping) the alcohol through sugar-maple charcoal. Downing says it's mostly tradition, but charcoal filtering is known to give Tennessee whiskey its distinct smoothness.
George Dickel Tennessee Whisky loves to chill.
Literally. What makes Dickel whisky different is its unique chilling process, says Downing. Before they had the technology, Dickel distillers found that their winter whiskies were much smoother than those made in the summer. Now, (thanks to handy temperature control tech) they're able to replicate that process year-round. "We chill our whisky down to 40 degrees before filtration," Downing says. "[That way] fatty acids and some of the acids you don't want in the final product fall out of the solution and get trapped in the charcoal."
They take making "handcrafted" whiskey seriously.
Forget machines. "I think people are surprised because we still do a lot of things by hand," says Downing. From weighing out the mash bill that goes into every batch to labeling the bottles, Dickel does things the old school way. "We really haven't changed a lot since 1958. We're about as big as you can be to still be doing it by hand, so we're taking advantage of it."
Matthew Zach
HOTELS.COM HELPED US DO NASHVILLE OUR WAY
Just a quick scroll through this article will prove to you: we packed a ton into our Hotel Thrillist Nashville weekend, but even still, there's so much more of the city to experience. So, with the help of Hotels.com, we curated a handy map of Thrillist-approved must-eat, must-drink, and must-do stops around the Westin Nashville so our guests could explore this Music City 'hood on their own terms… when they weren't hanging with us, of course. Here's a few activities you should definitely hit up the next time you find yourself in Music City:
Tennessee Brew Works
809 Ewing Ave
You can't leave Nashville without sampling the local beer scene, so order the citrus-infused Southern Wit or the Cutaway IPA and relax to live music on the patio.
Cumberland Kayak
2 Victory Avenue
Paddle the Cumberland River under the city's historic bridges and take in some of the best views of the skyline.
Listening Room Cafe
618 4th Ave South
Come here for intimate performances from some of the best singer songwriters in Nashville, there's live acts nightly.
Matthew Zach
WE PAID HOMAGE TO "MUSIC CITY"... WITH MUSIC, DUH
Nashville isn't called Music City for nothing. So, all weekend long we embraced the nickname with special performances and surprise guests. Cale Dodds kicked off the weekend with a country set at Hotel Thrillist: A Nashville Feast. Backed by his band, the rising star played all his hits from "Out of My System" to "People Watching" and definitely made some new fans in the process. The after-party wasn't too shabby either. FGL House, owned by Florida Georgia Line, kept the party bumping with a live DJ all night long.
Saturday kicked things up a notch with a full music showcase at Jason Aldean's Kitchen & Rooftop Bar. The afternoon featured local Nashville artists across six stages. That evening, we kept it going with a private John Rich (formerly of Big & Rich) performance -- but not just any John Rich Performance. Oh, it's no big deal, but this one was at his house. We threw a little shindig at Mt. Richmore and the man himself treated us to some of most epic smash hits. You've never heard "Save A Horse (Ride A Cowboy)" until you've heard it played under a hanging crystal saddle. Before he took the stage, Sarah Lake also gave a special outdoor performance at Mt. Richmore, on the George Dickel Porch Session Stage.
Lastly, we had one more surprise. Electro-funk duo Chromeo performed a DJ set presented by Chase Sapphire. We took to the members-only club Citizen to hear hits like "Bonafied Lovin'" and "Fancy Footwork" and even displayed some fancy footwork of our own.
Matthew Zach
WE POLLED THE CROWD ABOUT THEIR MOST BELOVED BISCUIT TOPPINGS
After the first night of Hotel Thrillist, there was no doubt we needed a hearty Hardee's breakfast. Good thing they brought their made-from-scratch biscuits and biscuit sticks and hooked us up with a DIY biscuit bar. With so many toppings and fillers for our biscuit sandwiches to choose from, we had to poll the audience. Let's see which came in first place among Hotel Thrillist guests.
FILLINGS
Bacon: 37%
Sausage: 18%
Breakfast Chicken: 34%
Cheese: 11%
TOPPINGS  
Pimento Cheese: 13%
Gravy: 35%
Honey Butter: 20%
Raspberry Jelly: 8%
Bacon Jam: 20%
Everything was pretty incredible. Can you believe we've been eating plain old eggs and bagels for breakfast? We're Nashville (and Hardee's) breakfast converts from here on out.
OF COURSE, WE SNAPPED PLENTY OF PICS
There was just too much going on this weekend to write about it all, so we took plenty pictures too (those are worth what, 1,000 words, right?) So here's a bunch of our favorites… hopefully that'll keep you satisfied until our next Hotel Thrillist weekend.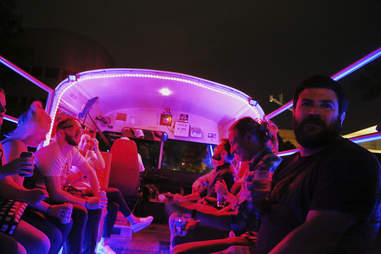 Matthew Zach
Matthew Zach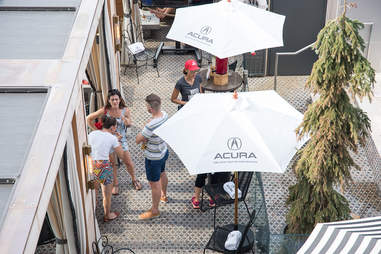 Kat Goduco Photo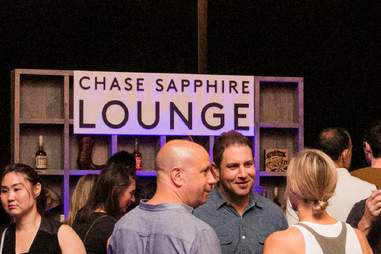 Matthew Zach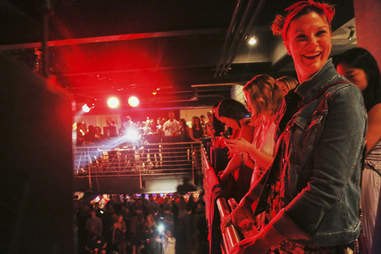 Matthew Zach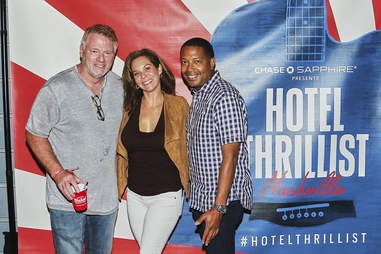 Matthew Zach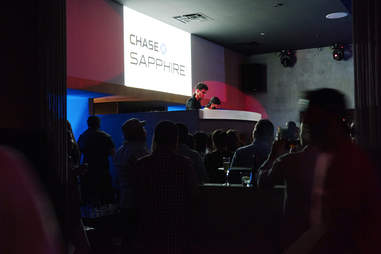 Matthew Zach
Kat Goduco Photo
Kat Goduco Photo
Matthew Zach