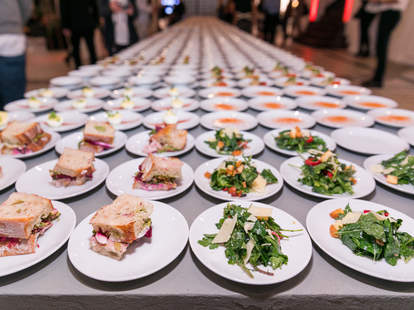 Thrillist/Nicholas Gingold
Everything That Went Down At Our 100 Course Meal
When we at Thrillist decided to create an immersive culinary experience we wanted to go big...all in... And somewhere in our fever dream, we knew it would be possible, nay, even plausible, to do a 100 Course Meal. 
It would be daunting for anyone to finish off 100 dishes, but we knew our guests would be up for a dizzying foodie challenge. We tapped Michael Cirino of A Razor/A Shiny Knife to help bring this epic event to life. The meal focused on LA-based creations to celebrate the city's incredible food, drinks and culture. 
Rather than seat everyone at a table and bring food course by course, we devised a challenge for our guests to keep them eating, drinking, and moving all night long. The dishes were laid out on a massive table by local chefs and guests cycled through the table in groups of ten. The space also allowed guests to rove and enjoy the food in a "musical chairs"-style that satisfied their need for engagement, adventure, and amazing eats.
Thrillist/Nicholas Gingold
We couldn't have pulled off this feat without our awesome partners. Inspired by the cuisine on their new cruise ships, Virgin Voyages tapped Chef Silvana Salicido of Barrio Cafe to curate four of the courses in our 100 course meal. Her cuisine is also featured aboard Virgin's awesome ships launching in April 2020.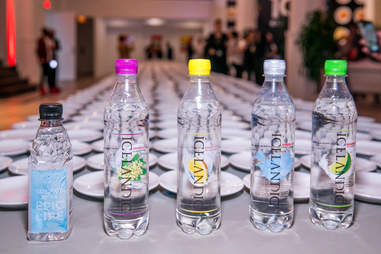 Thrillist/Nicholas Gingold
And before you set off on any adventure you need to make sure you stay hydrated. Our friends at Icelandic Glacial hooked us up with still and sparkling water to keep us going throughout the meal. 
Thrillist/Nicholas Gingold
The 100 Course Meal was a collaboration of some of the best chefs and restaurants in LA right now. Some of our favorites of the evening include:
Executive Chef and Top Chef star Brian Huskey supplied Buffalo Cauliflower from his restaurant Tackle Box.
Beet Sandwich, not only because it was delicious but because it brought together two different LA institutions. The bread was supplied by Bub and Grandma's and brought new depth and flavor to the creation from the restaurant Dune, a young but iconic mediterranean restaurant in Atwater Village. 
Thrillist/Nicholas Gingold
LA-based Konbi has been garnering a lot of attention after the humble counter next to a gas station on Sunset won best new LA restaurant. They didn't disappoint with their egg salad sandwich. 
A classic canape, Duck Salad Toast, was brought to a new dimension by The h.wood Group.
City staple Homestate supplied their delicious Queso Fundido, a supple flour tortilla paired perfectly with the warm, satisfying, classic cheese dish.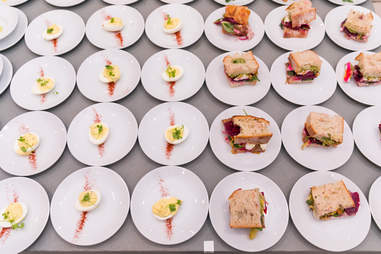 Thrillist/Nicholas Gingold
Who doesn't love a deviled egg? Alta supplied us with this simple yet delicious snack.
Combining the traditional with the futuristic, Barrio Cafe's Silvana Salcido, who lends her expertise for Virgin Voyages, served up Mexican delicacies like Hoja Santa and Smoked Cochinita Pibil.
Nothing goes better with guac than tacos. Behold! Cauliflower Mojo Role taco from Guelaguetza.
Thrillist/Nicholas Gingold
Imperial rolls from Phorage, a restaurant dedicated to using only local ingredients, gave us a celebration of SoCal in one bite. 
What celebration of Los Angeles would be complete without a bomb vegan dish? From Jewel, the much loved vegan spot, we bring you chef Jasmine Shimoda's "Chicken and Waffles" 
To counteract the vegetables you just ingested, maybe you should have some red meat. SLAB BBQ brought their amazing brisket to our event and their saucy, delicious cuts put our napkin supply to the test. 
The French Dip was created in LA (shout out to Cole's and Phillipe's) and our evening featured a take on it complete with consomme dipping sauce, provolone cheese, and a crisp pickle.
Chef and TV personality Chris Oh also brought us his insane Korean-style Fried Chicken which had the perfect amount of flavor and crisp.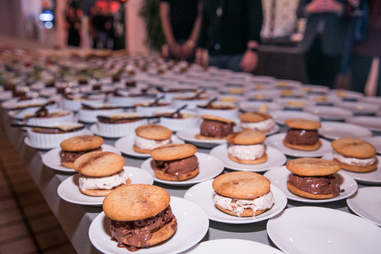 Thrillist/Nicholas Gingold
And we hope you saved room for dessert! The evening was capped off by a host of desserts and our faves included the Churro Ice Cream from Coolhaus and a special nog...er, nod to the holiday season with eggnog coffee from Go Get 'Em Tiger.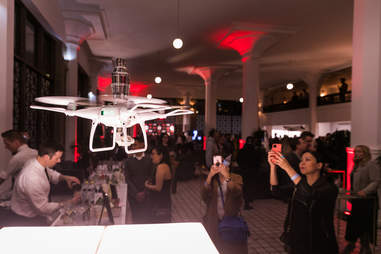 Thrillist/Nicholas Gingold
Thirsty yet? Remember LA isn't just about great food but great drinks, too!
Future Gin combines vibrant, southern California flavors with classic dry gin. And what better way to enjoy a Future Gin cocktail then by having it prepared by a drone -- the real future of drinking is here and it's BOTenders -- while laser art adorns a Thrillist lemon to add the perfect twist to the drink.
Thrillist/Nicholas Gingold
Our friends at Nosotros Tequila posted up with a tequila tasting cart offering guests samples of their small batch blanco and reposado tequilas.
Sadly, drone technology hasn't developed far enough to replace a good old tasting bar and our guests were treated to wine tastings by One Hope Wine and Obvious Wines, as well as cocktails by Kin Whiskey and Loft & Bear Vodka.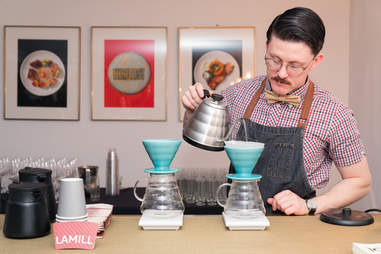 Thrillist/Nicholas Gingold
LA-favorite LAMILL provided made-to-order coffee and teas, and Sip Matcha offered delicious Matcha drinks. 
Separate from the 100 Course Meal and everflowing cocktails, guests were treated to a host of activities to keep them engaged throughout the evening.
Thrillist/Nicholas Gingold
Our demo kitchen taught guests how to make sushi, guacamole, tortillas, and the art of oyster shucking.
Thrillist/Nicholas Gingold
Mini sandwiches, tacos, sushi, and donuts were brought out to surprise and delight guests, and there were 100 of each of them, of course.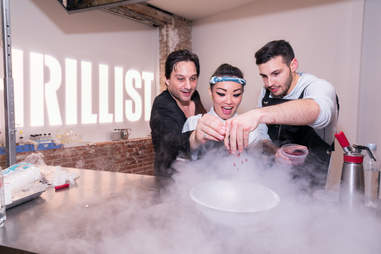 Thrillist/Nicholas Gingold
And to keep guests entertained (and give them a much needed moment to digest), we peppered the space with pop-up entertainers -- tarot card readers foretold the future while magicians performed sleight of hand tricks. Poets milled about the space to help guests put what they were experiencing into words, transforming taste into memory.
At Thrillist, we're committed to keeping it 100 100% of the time. We did just that by celebrating everything LA has to offer dish by dish and drink by drink. We have no idea how we'll top ourselves in 2020, but we can't wait to try!
Nicholas Gingold
Nicholas Gingold
Thrillist/Nicholas Gingold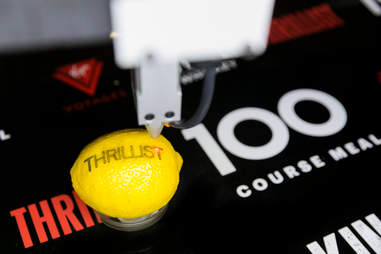 Thrillist/Nicholas Gingold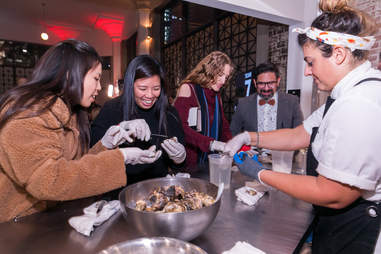 Thrillist/Nicholas Gingold
Thrillist/Nicholas Gingold