Paid Content For
Jack Daniel's
Experience Jack Daniel's Epic House No. 7 Party
Paid Content For
Jack Daniel's
Jack Daniels threw one of the coolest parties of the year in New Orleans a few weeks ago, and we were there to experience it firsthand.
Held on February 16 and 17, the second night of the party was a bit of a soaker. Didn't matter. The "bellhops" (more on that in a minute) escorted the guests with giant umbrellas from the security area to the check-in desk that greeted damp (but no less enthused) party people.
The House No. 7 concept is a Jack Daniels-imprinted interpretation of the glitz and glamour of life on the road for a rock star in a sleek house where everyone's desires are met. And for those who didn't find themselves in New Orleans in February, Jack Daniel's plans to bring their rockin' party to other cities this spring, including Chicago on April 26 and 27.
The '50s rockabilly vibe comes complete with rock star-themed manager, housekeepers in French maid uniforms, and manic bellhops who hold the key to the secret speakeasy, as well as an inclination to race guests around in luggage carts. If you missed it, here's a play by play of the lavish craziness.
Rock Star Room Keys
Each of the "guest rooms" on the second level had a flamboyant theme. In the day-glo EDM Party Room, we were led to the turntable with a cast of characters excited to hear themselves play the part of DJ.
After proper sustenance, we returned to check out the other rooms: the Bachelorette Room, decorated in pink with dudes in veils singing karaoke to oldies but goodies (all the way back to 2000) that had the entire room dancing like crazy. There's no joy like pop music joy.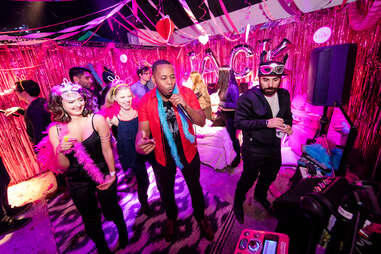 In the super luxe rock star "Royal Suite," guests lounged on a richly appointed round bed, great for Instagram accounts and non-stop group photos.
The last of the smaller rooms was the Locker Room, where guests got their faces painted, superfan style, before posing for more photos.
Downstairs, for the first half of the night, a DJ spun tunes while local roller derby legends, Big Easy Rollergirls, skated in strict formation, keeping partygoers on their toes. It was an impressive feat of staying upright, even if they weren't avoiding tackles like their day job requires.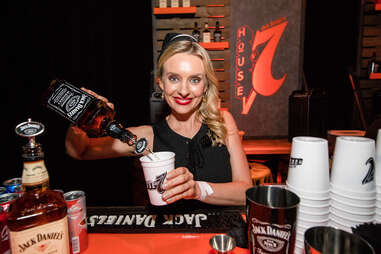 (Liquid) Gold Rush
What's a Jack Daniels party without the Jack Daniels? The event offered several bars running hot. Most of them served two-ingredient mixed drinks using the standard Jack Daniel's No. 7 Tennessee Whiskey, Tennessee Fire, and Tennessee Honey, combined with your choice of ginger ale, ginger beer, colas, and the like. However, there were a few variations scattered around for those looking for something more adventurous.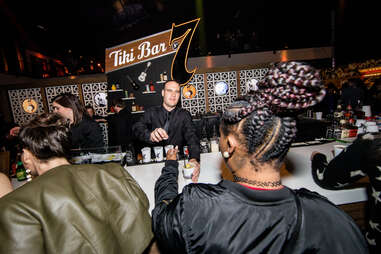 The speakeasy, the White Rabbit Saloon, was a welcome respite from the crowd and noise. To get in, you needed a special poker chip. To get a poker chip, you needed to ask for one from the bellhops. Would they just hand one over? Not a chance. The first bellhop required a joke. Later we saw the "rock star" manager give away a poker chip. He attempted to send us on a scavenger hunt to find the maid cart and get a sleep mask, but we weren't playing (and we didn't need to thanks to a previous run-in with the housekeepers). Victory was ours.
Rock & Roll Hair Styling, Rap Battles, and a Literal Piece of Jack Daniels
Once we managed to tear ourselves away from the speakeasy's softly red-hued room with antique furniture and the mellow stylings of local band Kristina Morales and the Bayou Shufflers, it was time to investigate the rest of the main floor's activity.
There was a rock and roll hair styling/makeover barber shop area where the bold went to change their look. Spin the Wheel O' Makeover and see what comes up -- Rockabilly, Mohawk, Half Shave? At the start, more people watched then took part, but that shifted through the night. Truly a multi-tasking, time saving service -- enjoy the party, and cross "getting a dramatic new haircut" off your to-do list.
Next door was the Jack'N For Beats Recording Studio, for guests in the mood for rap battles and (gentler) hip-hop showdowns. This area was madness all night long.
Probably the coolest thing was a unique opportunity to meet Kevin Sanders, the Jack Daniels Barrel Man, who signed custom branded barrel pieces. He's one of the guys who fashions the distillery's whiskey barrels and then gives them a second life as a piece of art or furniture once they're done aging the Jack Daniels. Everyone who chatted with him while he signed seemed to really enjoy the experience -- and the line to do so was intense throughout the night. Props to the bold fashion choice of overalls -- that's his trademark and he rocked 'em in the club vibe of House No. 7.
Late checkout required, but the fun didn't stop
The theme didn't extend to overnight stays, which was made clear with a sign by the entrance stating "check out time" as 1am. After the derby-delivered cheese pizza slices, it was time to leave the lush luxe life behind. The rain had stopped while hundreds of us sang, enjoyed, played pool, and danced. As the Dionysian frenzy spilled outside, we were greeted by the sultry sounds of New Orlean's jazz that capped the night off perfectly.
Find out what Jack Daniel's has in store for future Jack House No 7 events for yourself at http://www.houseno7.com (your inner rockstar will thank you). Plus, registration for the Chicago Jack's House begins April 5.
Nora McGunnigle is based in New Orleans where she writes about food, libations, and general good times for publications like Where Magazine, Beer Advocate Magazine, CraftBeer.com, and GoNOLA.com in addition to Thrillist. Find her on Twitter at @noradeirdre and Instagram at @nolabeerblog.
*Live Freely. Drink Responsibly.
JACK DANIEL'S and OLD NO. 7 are registered trademarks, ©2017 Jack Daniel's Tennessee Whiskey 40% Alcohol by Volume (80 proof). Distilled and Bottled by JACK DANIEL DISTILLERY, Lynchberg, Tennessee.