Fest of the Best in LA Proves That 2017 Is Going To Be the Best
At our tribute to LA's best eats, we featured insanely tasty bites from thirteen of our favorite restaurants. Our pick for tacos? Lamb-stuffed with a spicy lamb broth for sauce (and we weren't the only ones who drank that broth straight from the cup -- it was that good). World's most adorable fried chicken sandwich? It comes on a brioche bun and perfectly sized, hidden little pickles. Yes, it was difficult, but we savored every last dish, from nutella donuts to king salmon poke spoons and back again.
And with so many culinary trendsetters under one roof, we resolved to step up our foodie game in 2017 and figured you might want in on the action too, with tips from a few of our favorite LA chefs. But first, the food: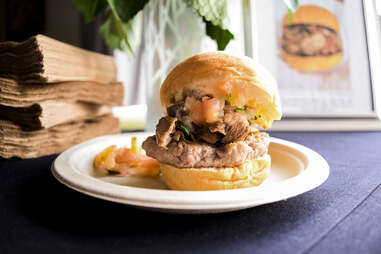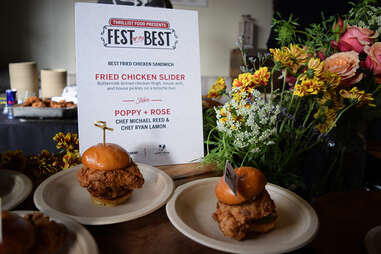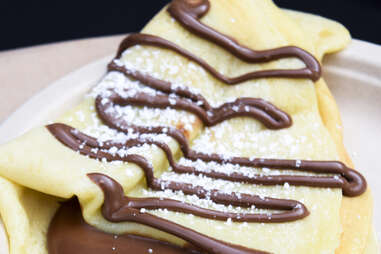 How To Pair Beer and Ramen Like a Pro
Because no food event is complete without a frosty beer, we brought our friends at Sapporo with us. Not only did they keep things flowing, but they also teamed up with Tatsu Ramen (our Fest pick for LA's best ramen) to show us exactly how to pair their beer with ramen. Some key tips:
-Tatsu paired up their Naked Ramen (no broth, Vegan friendly noodles, sweet sesame glaze) with Sapporo light because the crispness of the brew let the subtle noodle flavors shine through.
-Sapporo Premium Black was served alongside Tatsu's spiciest offering: the Bold Ramen. With 11 bold ingredients, a dark full-bodied beer was needed to stand up.
-And for a little more umami complexity, the Soul Ramen (a take on the miso classic) was paired with Sapporo Reserve, an all-malt lager that elevates the miso characteristics.
How To Ace the Age Old Sunday Brunch
Because every year seems to start this way on New Year's Day, Baldoria founder David King suggests his top tricks for the best brunch:

-Avoid champagne, which will only amp up a headache, and opt for Rosé, which pairs better with food anyway.
-Look for a spot with natural light because sunlight kickstarts your day faster and, let's be honest, everyone looks better in natural light.
-Order towards ease of eating and go for shared plates, which will temper you from eating too much. King designed his chicken and waffles to be eaten by hand, no fork necessary, like a taco.
How to Do Date Night Like the French (AKA, Probably Better)
We had more than a few upscale exec chefs (one from a French resto), so we had to ask how to look like a pro while wining and dining.
-"French dating is all about ambience," says Le Petit Paris chef Jeremie Cazes. "At a French restaurant, start with an aperitif, order a fancy appetizer like foie gras or melon with prosciutto, and always, always, order cheese after dinner, capped off by chocolate, a natural aphrodisiac."
-Larder Bakery founder Nathan Dakdouk suggests starting by smelling the bread. "All French people know that quality breads smells of the soil," (otherwise, you're eating additives, not bread). Not only will you impress your date with your arcane expertise, it's a good conversation starter.
-When it comes to wine, make an interesting, off the beaten-path selection. For chilly winter months, both Cazes and Dakdouk prefer Bordeaux for its earthy, sensual tones.
-Lastly, conversation-wise, forget jobs. "Americans always ask right away 'What do you do for a living?'" says Cazes. Instead, the French want to know: What do you like? What are your passions?
How to Throw a Party of Epic Proportions
And finally, if you want to throw a great party, you could take some cues from our event here. Check out the immense numbers we posted throughout the day, and scroll on for some of our favorite photos from the fest.