Events
Sponsored By
Holiday Hideaway
Holiday Tips From Our Holiday Hideaway Pop-Up In NYC
Sponsored By
Holiday Hideaway
This past weekend in NYC's Meatpacking District, we threw our second annual Holiday Hideaway -- a festive pop-up lounge perfect for basking in holiday cheer. This year's event was designed like a ski lodge (um, leather couches anyone?) and featured some of NY's merriest masters of food & drink. And even if you couldn't make it -- or hell, even if ya could! -- we put together a seasonally sensational story filled with holiday tips, recipes, and general hilarity, all courtesy of the people at the event. First, check out the amazing eats we had throughout the weekend for some inspiration on your holiday spread:
Liana Cervantes/Thrillist
Try this trio of tasty tipples
At Holiday Hideaway, we served up three perfectly frosty drinks to complement the party. Coors Banquet was there with a bunch of cases of their classic stubby bottles and local bartenders Nick Bennett and Shane Smith dropped by for mixology demos. Finally, BACARDÍ -- who's been partnering with us all week already for a deliciously exhaustive series of holiday drink recipes on our
Bottoms Up
video page -- was there to bring a couple of those same seasonally appropriate drinks. Check the recipes:
Megan Swann
BACARDÍ Gingerberry Rum Punch
• 1 part BACARDÍ Superior rum
• 2 parts cranberry juice cocktail
• 2 parts ginger ale
• ¼ parts lime juice
• ¼ parts lemon juice
• 10 dashes orange bitters
• Lime, to garnish
• Fresh cranberries, to garnish
Megan Swann
BACARDÍ Christmas Old Fashioned
• 2 parts BACARDÍ 8 Años Rum
• 2 dashes Angostura bitters
• 1 splash water
• 1-2 teaspoons sugar
• 1 orange peel
Megan Swann
How to serve a deliciously nostalgic holiday feast
A handful of creative chefs who painstakingly crafted every part of our delicious dishes once again graced this year's Holiday Hideaway. But before they were spearheading restaurant menus, they were just hungry kids at the holiday dinner table. We asked a few about the fondest holiday dishes from their childhood as inspiration for your menu this year.
Janice de Castro
Jae NYC Eats
"My grandmother and mother have always been excellent home cooks. For the holidays we would have traditional mix of Filipino and American food. My favorites: Kare-kare (peanut butter based stewed oxtail and veggies), Filipino spaghetti and roast beef with gravy. Of course with rice and mash on the side."
Megan Swann
Lien Lin
Bricolage
"Rice dumplings in sweet soup. Chinese New Year's eve, I would help my mom make simple dough out of rice flour, boiling water, and salt. She would place the flour on the table and make a well, pour boiling water into the well, and combine it with a pair of chopsticks. Once the dough came together we would knead it, roll it out into ½-inch thick rope, slice on a bias, toss with rice flour and leave them out overnight. In the morning we would boil the dumplings and enjoy them in a simple sweet soup."
Jonathan Sherman
Sticky's Finger Joint
"Definitely my Mom's brisket. It's so good and in such high demand from the family, that it pretty much gets made at every holiday dinner throughout the year. I've tried making it myself, and sometime with a twist, but there's something special about hers that seems impossible to recreate."
Megan Swann
4 Tips for Stressless Air Travel
Even amongst the onslaught of holiday travelers, there are ways you can learn to deal with the stress of flying home. At Holiday Hideaway, we had a plane-themed photo booth courtesy of Norwegian Airlines to keep spirits soaring. But after the event, we also hit up our friend Dr. Pete Sulack, founder of
StressRX.com
and America's Leading Stress Expert, for his best tips on flying stress-free.
Pack your own food
Why? Airport food is generally low in quality but high in price. Plus, when your body is stressed it becomes toxic and deficient. To help it function, you need food that nourishes your body, rather than stuff that adds to the stress and toxins. Try coconut water, green tea, fresh and dried fruit, protein bars, and nuts.
Don't be late
Being late for a flight causes a huge amount of unwanted mental and physical stress, Sulack says. This causes your body to release stress hormones (cortisol and adrenaline), thus lowering your immune system and making your feel totally blah.
Megan Swann
Practice gratitude
Gratitude is shown to alleviate stress, and there's no better time to be grateful than the holidays. Show gratitude to others by giving them thoughtful gifts, and show gratitude to your flight attendants who are working instead of spending time with their families -- they'll appreciate the extra smile.
Be prepared
Sulack encourages you bring reading material in addition to the usual electronics, as too much screen time is "stressful on your brain." And don't forget whatever medication you might need. We're talking your ibuprofen, your motion sickness -- everything. If you know you have everything, you can really kick back and relax.
Megan Swann
You (probably) shouldn't give these gifts
We asked attendees the strangest gifts they've ever received for the holidays, and man, did things get weird….
"A pot. Not even a lid or anything." -- John
"I opened a present from my mom once and it was a collar and a leash. She just mixed up my present with the dog's." -- Mike
Megan Swann
"My parents got me a onesie, because I really wanted one and never owned one. And, across the chest, it has this pattern of deers [doing unnamed explicit things]. It's funny, because I went to Fairfield University in Connecticut and our Mascot is a stag -- so that has a whole new meaning now…." -- Alyssa
"My dad got me a box of [business] envelopes when I was 12 -- wrapped them in wrapping paper and everything. Seriously. -- Carly
"I've never gotten a bad present…" -- 11 people with perfect lives, apparently
And finally, host holiday parties that look like this
While you might not be able to host a holiday party at quite this scale, you can certainly try. Read on for a snapshot of the sheer numbers we posted at this full weekend, and scroll even further for a stream of our favorite
actual
snapshots.
Liana Cervantes/Thrillist
Megan Swann
Megan Swann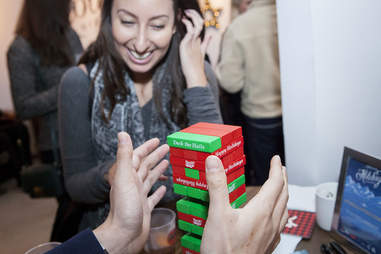 Megan Swann
Ross Figlerski
Megan Swann
Ross Figlerski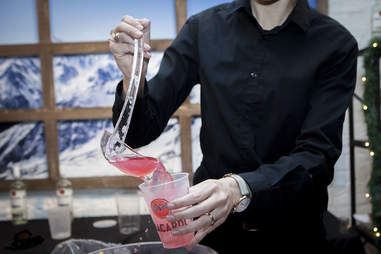 Megan Swann
Megan Swann
Ross Figlerski