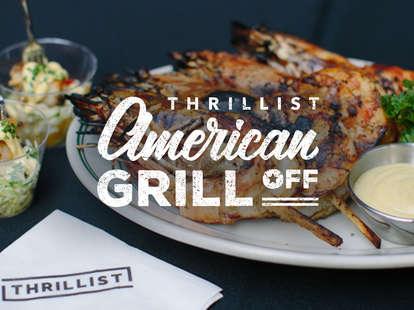 We Hosted a Next-Level Cookoff in Chicago and Here's What It Looked Like
For one glorious evening this past weekend, Chicago wasn't the Windy City. It was the Grill-y City (patent pending). On August 24th, we hit up eight of the best culinary minds Chi-Town could muster, and had them fire up the grill for the absolute best cookout concoctions. Mix that in with a few of our favorite brands bringing some of their very own flavor, and you have yourself one of the best barbecues the world has ever seen. First, here's what we served: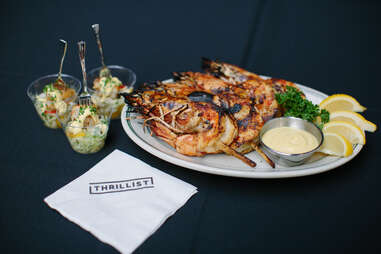 Caroline Dixey
Madagascar Shrimp
Joe's Seafood, Prime Steak & Stone Crab
Exotic shrimp with garlic, key lime aioli, and chili slaw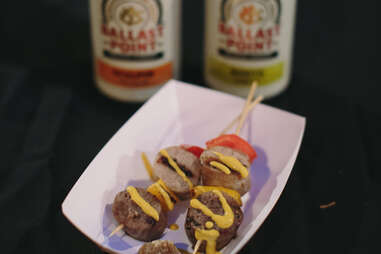 Caroline Dixey
Sausage Skewers
Links Taproom
Two housemade sausage skewers (steak & ale and beer battered), boiled in Ballast Point IPA and served with ale mustard
Caroline Dixey
Smoked Short Ribs
Wildfire
A BBQ classic served up with red-skinned mashed potatoes
Caroline Dixey
Pork-and-Brisket Sandwiches
Wrigley BBQ
A BBQ sandwich mashup that these folks are calling the "Sam & Erna Sandwich" (we'd love to meet them)
Caroline Dixey
Grilled Stuffed Pork Loin
The Fifty/50
Stuffed with what, you ask? Why a delicious urban mushroom mixture, served over grilled focaccia and panzanella salad, of course.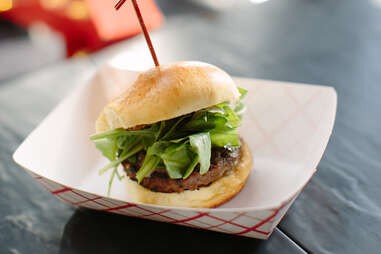 Caroline Dixey
Wagyu Beef and Duck Fat Sliders
WhirlyBall
This rich little sandwich came served with grilled pork belly, candied jalapeños, arugula & black pepper mayo
Caroline Dixey
Chicken Tinga Salad
Rockit Bar & Grill
A Mexican classic served up on a crispy open-face tortilla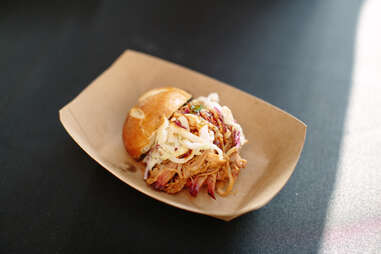 Caroline Dixey
Pork Sliders
Chicago Q
The quintessential cookout slider, doused in BBQ sauce and topped with a refreshing slaw
Caroline Dixey
Don't forget to save -- or make -- room for dessert
Everyone knows picnics and pies go together like pies and cartoon windowsills. We brought the after-dinner flavor by hitting up Talenti Gelato to put together a pie pairing station. Pick your passion: mini apples pies loaded with Southern Butter Pecan gelato, mini peach pies with Cinnamon Peach Biscuit Gelato, and mini French silk pies with Chocolate Peanut Butter Cup Gelato. Take note for your next cookout dessert. Ed. Note: we won't blame you if you mash them all together into one maniacal dessert concoction.
Caroline Dixey
The beverages covered all the bases
Everyone likes cracking open a cold one when the grill gets hot -- and Ballast Point had us covered with a few of their best brews. Meanwhile, the BBQ-loving oenophiles in the crowd were treated to Francis Coppola Diamond Collection wines.
Caroline Dixey
Who got game?
MDW Spiked Lemonade is all the rage this summer for refreshing non-alcoholic sips, but the Dew crew elevated more than our soft drinks. The only thing better than classic cookout games are gigantic classic cookout games, and guests enjoyed giant Connect Four & massive Jenga as well as ladder golf and the OG BBQ game, corn hole.
Caroline Dixey
And the way it all came together was a thing of beauty
Any cookout is only as good as its guests, and these folks came to have fun. We had over 500 foodies chowing down, more than 1,400 cans of beer, 1,200 cans of Spiked DEW, almost 200 bottles of wine, and one seriously delightful bluegrass act (shout out to Sunnyside Up!). Oh, and did we mention the whole thing was a contest? We had guests vote on their favorite grilled dish and the winner was… Wildfire! Check them out below along with a few of our favorite shots from the evening.
Caroline Dixey
Caroline Dixey
Caroline Dixey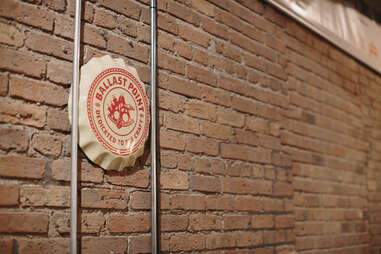 Caroline Dixey
Caroline Dixey