This Is Hotel Thrillist New Orleans
Where we'll be, what we'll be getting up to:
From September 16th through the 18th, we are taking over Royal Sonesta New Orleans on Bourbon Street. While we'll of course venture out from that stately HQ -- this is New Orleans, after all -- we'll also be bringing some of the city's best into the hotel over several days of bons temps. Here's just some of the action:
Friday night: a taste of New Orleans
When it comes to food, yes, Charleston has had a few years in the sun, and apparently Washington, DC is super-hot right now, but: New Orleans is the original American food city, and it remains unmatched in both its culinary history and fearless willingness to reinvent. So, fittingly, we're kicking the weekend off with a feast of epically edible proportions: more than 15 of New Orleans best restaurants -- from Jacques-Imo's to Domenica to the hotel's own R'evolution -- serving dishes like Chicken Tinga Tamales, Szechuan-spiced Crab Rigatoni, and the most blindingly original dessert ever created, Bananas Foster. Bonus: Jack Daniel's Tennessee Fire cocktails from Twelve Mile Limit's T. Cole Newton. (Want tickets to this event? Click here.)
Fright night: A Bona Fide Balcony Bash
The hotel has prime Bourbon St. balcony real estate, and you better believe we're posting up there. There'll also be surprise sustenance from local chefs, plentiful beverages from our friends at Modelo and others, and a DJ. BYO beads… just kidding, we'll provide beads.
Saturday day: gospel jazz brunch
The only cure for a food hangover is getting right back up on that horse. In this case the horse is a Bayou-inspired brunch complete with frog, alligator, and more creatures one tends only to dine on in Louisiana. Because no one's going to be ready to carry on a real conversation yet, entertainment will be provided by gospel singers, a horn section, and, just to be modern, a DJ. (If you somehow sleep through brunch, don't worry, our pals at Take 5 will be ensuring your snack game stays strong.)
Saturday night: a surprise bash
Beyond all the planned shenanigans, every year at Hotel Thrillist, there are more surprises than you can shake a Polaroid picture at: A-list appearances and performances, unexpected giveaways, and at the end of the night on Saturday we're taking you to… ha! As if we'd tell you that this early. Just meet us at the hotel Saturday night and we'll open your mind to new realms of party.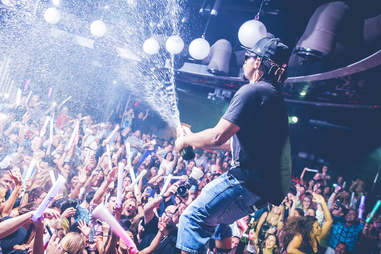 Thrillist
A little Hotel Thrillist history
This is not our first rodeo, though it promises to be our best rodeo yet. Hotel Thrillist New Orleans is the sixth in a series that's seen us celebrating cities from Miami to Chicago to San Diego. The idea is, we're in these cities, we know these cities, we love these cities, so why not let that love manifest itself in the form of a giant, three-day party? Everything we're about -- living the best life possible, eating the best food possible, drinking the best drinks possible, and then eating the best food possible again -- comes to life here. Also, last year, Lil John showed up and sprayed champagne on everybody.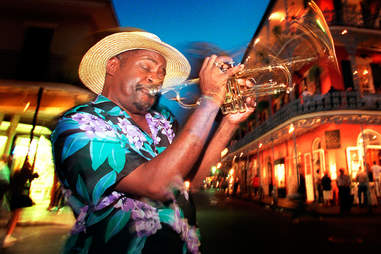 Alamy
Thrillist
A little more on The Big Easy
Is NOLA the best damn city in America? That depends on who you talk to, but if you find yourself talking to someone who doesn't think so, you should strongly consider breaking off the conversation. To help explain our love affair with the Crescent City, we put together some of our favorite stories, filled with food, drink, and dark, dark secrets. Check them out and get inspired.
How can you get in on the fun?
For starters, we're selling tickets to the Friday night feast. If you live in New Orleans, or are gonna be in New Orleans, grab a ticket right now. See you in the Big Easy.