Every year Thrillist picks one lucky city to host a glorious tribute to everything we stand for: good food, good drinks, and a damn good time (plus showing a disturbing amount of thigh whenever possible). We call it Hotel Thrillist, and this year's edition in Phoenix, AZ was maybe the greatest event we've ever thrown. To prove it, just scan the following testimonies to its gluttonous glory -- we're talking food porn, mechanical sharks, drones, fire breathers, SI Swimsuit models, all-day pool parties, LIL FREAKIN' JON, and more. So check it out -- and hopefully next year you'll be checking in.
It's not a Thrillist party unless there's enough good food to bring Dom DeLuise back to life just long enough for him to stroke out trying to finish every last bite. That's why we rounded up 16 eateries just as passionate about resurrecting Dom DeLuise as we are to whip up a feast of unparalleled deliciousness.
And by "convinced" we mean "sort of just looked at her weird." Thankfully, Morton loves food as much as we do, and graciously looked past all of our anxious sweating and directly at the spread of delicious eats from Friday night. Watch her tackle the dishes right here.
And it almost accidentally killed someone only one time. Not bad! And that was just one of many spectacular things we did for Hotel Thrillist day two (not the almost killing a guy part).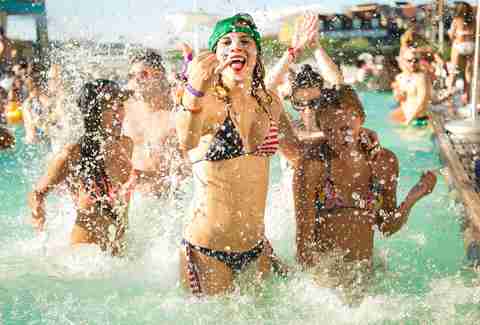 DJ Caroline D'Amore brought the beats, we brought custom cocktails & banh mi made from a whole damn roast pig, and Hotel Thrillist guests brought their surprisingly toned bodies (no thanks to the aforementioned banh mi). Oh, and Lil Jon brought his totally unmatched party-starting powers. Double oh -- there was a mechanical shark, which is like your favorite bar's mechanical bull minus an MC yelling, "Everyone give it up for Je-e-essica!"
Big fan of Italy, not so much the man-bun hairstyle.
Want to know how many accidents that mechanical shark caused? How about the number of flights we missed? We've got all the important numbers from the weekend right here.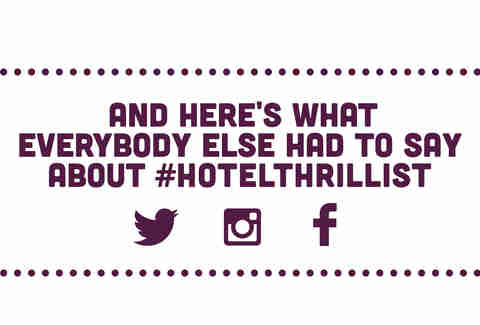 Don't just take our word for it: see below for what the rest of the guests, performers, and self-aware pool toys with a decent social following had to say about the weekend.