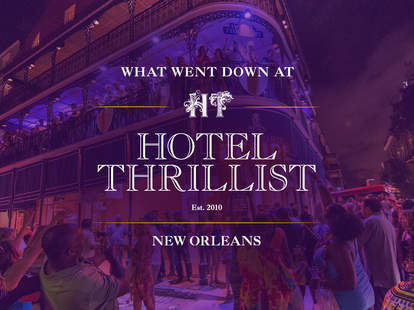 Events
Sponsored By
Hotel Thrillist
(Almost) Everything That Went Down at Hotel Thrillist New Orleans
Sponsored By
Hotel Thrillist
For some, New Orleans is synonymous with the most fun you'll ever have in your life. For others, it's synonymous with the best food you'll ever have in your life. Oh, and some people find the music pretty decent.
To us, New Orleans is all that and more, which is why we held Hotel Thrillist 2016 there. To relive that glorious, 3-day event again and again in our minds, hearts, and mouths, we put together the best photos from the weekend, plus a few deep, moving words.
We Served Truckloads of the Best Food in the World
If you don't eat too much in New Orleans, you're either having a bad trip, or too good of a trip. To kick off the weekend, we threw a tasting festival featuring 16 restaurants serving an equal number of NOLA's most noshable dishes. Get gluttonous with these visuals:
Thrillist/Denny Culbert
Shrimp Arnaud
Arnaud's Restaurant
Straight-from-the-Gulf shrimp, marinated in a zippy, Creole remoulade sauce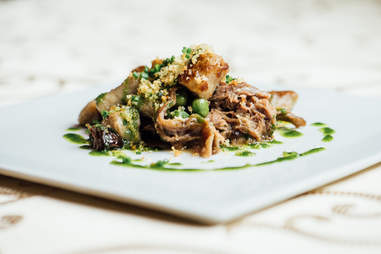 Thrillist/Denny Culbert
Smoked Lamb Shoulder
Angeline
Smoky lamb with Sorghum dumplings, roasted mushrooms, and peas fresh from the field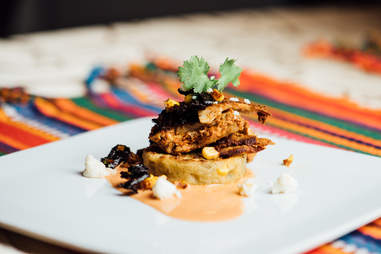 Thrillist/Denny Culbert
Open-Faced Chicken Tinga Tamale
Araña Taqueria y Cantina
A spicy classic, served open-faced with sweet ancho corn relish and chili cascabel cream
Thrillist/Denny Culbert
Crab Rigatoni
Restaurant August
An Italian take on crab, kicked up with Szechuan pepper and crispy crab fat
Thrillist/Denny Culbert
Lamb Crostini
Doris Metropolitan
Coffee-cured lamb loin, Greek yogurt, sour apple, and super-fresh mint leaves
Thrillist/Denny Culbert
Smoked Drum Mousse
Kenton's
A silky, smoky seafood purée with caraway and trout roe
Thrillist/Denny Culbert
Oysters Goodenough
Carrollton Market
Flash-fried Gulf oysters with Benton's bacon, creamed leeks (the only way to eat leeks), and béarnaise sauce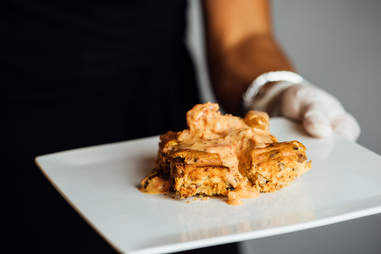 Thrillist/Denny Culbert
Shrimp & Alligator Sausage Cheesecake
Jacques-Imo's
The craziest cheesecake you've ever had with smoked Gouda, crustacean & reptile sausage in a Parmesan crust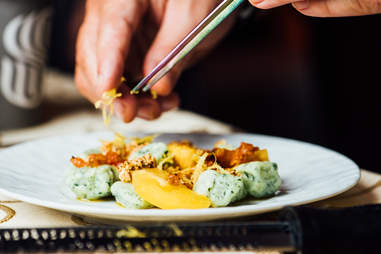 Thrillist/Denny Culbert
Spinach & Ricotta Gnocchi
Domenica
Herby dumplings of genius with the most heirloom of tomatoes -- you have no idea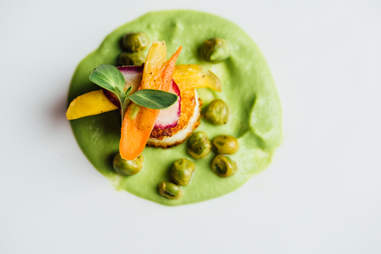 Thrillist/Denny Culbert
White Corn Polenta "Scallops"
Atchafalaya
Mock-scallops made with polenta and served with fresh peas and carrots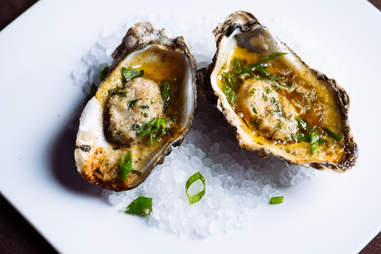 Thrillist/Denny Culbert
Chargrilled Oysters & Live Shucking
Desire Oyster Bar
A seafood classic, seared to perfection on the grill, and shucked right on site
Thrillist/Denny Culbert
Rye-Soaked Marshmallow Crackling Crispy Treats
Restaurant R'evolution
This sweet and savory dish combines the deliciousness of crispy treats and bacon fat
Thrillist/Denny Culbert
Modelo Negra & Mole-Braised Rabbit
Primitivo
A beer-braised cut of rabbit served with corn sopes and mirliton slaw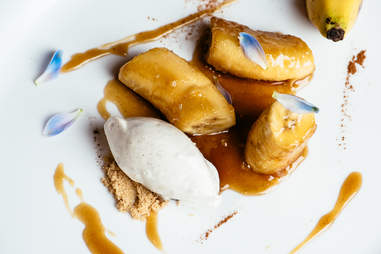 Thrillist/Denny Culbert
Bananas Foster
Brennan's
The famous dessert
made with butter, brown sugar, cinnamon, and rum, topped off with a generous scoop of vanilla ice cream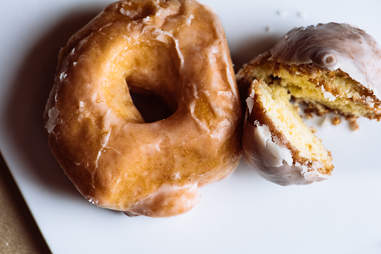 Thrillist/Denny Culbert
Buttermilk Drops & Glazed Donuts
Buttermilk Drop Bakery
NOLA-style glazed donut holes and secret-recipe glazed donuts (seriously, don't ask)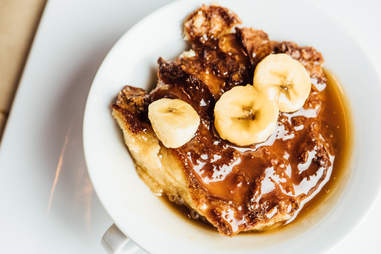 Thrillist/Denny Culbert
Banana Bread Pudding
Galatoire's Restaurant
Served warm with a caramel sauce made of brown sugar and praline liqueur
Thrillist/Craig Mulcahy
The chefs knew a ton about Creole cooking (and game meat)
Saturday morning saw a brunch of truly NOLA proportions. "NOLA limit," if you will (you don't have to). At chef
John Folse
's Restaurant R'evolution, that meant swamp fare -- you know, frogs, gators, the usual. Executive Chef Jaff Mattia and Chef de Cuisine Jana Billiot gave us tips on cooking those exotic proteins, and game meat in general.
"The name of the game with gamier, swamp meat is marinades and brines," says Chef Billiot. "Braising the rabbit and brining the frog for a while is how you should approach it. It just takes time." Billiot is no stranger to these ingredients; she grew up in rural Louisiana (her high school class had 9 students) and has been hunting gator and fishing swamps since the rest of us have been watching cartoons about talking turtles.
Thrillist/Craig Mulcahy
Chef Mattia hails from New England and came up working with quail (which he served up with waffles at brunch) and other, less bayou-esque wildlife. "You shoot a duck in the wild, and the meat is like purple," he says. "[It's] gamier, firmer, and you need to marinate it. That complexity of flavor can handle more spices, but requires more fats and gravies (because it's so lean)."
Thrillist/Caitlyn Ridenour
The hotel knew a few things about Bourbon Street bashes
The Royal Sonesta New Orleans is unique in the French Quarter, maintaining a grand hotel vibe as hordes of partiers roll by, night after night, year after year. GM Al Groos: "We do a Mardi Gras ceremony every year called 'the greasing of the poles'. We literally put grease on the poles so people can't climb up to the balcony."
The place manages to be a staging point for serious revelers (not Thrillist -- definitely not) while also serving as a discrete respite for celebs. "At R'evolution, we get some pretty big names coming into our private dining space," says Groos. "Robert DeNiro came in with his wife for his anniversary dinner, and Brad and Angelina came in with the kids." (The news on the latter couple broke two days after our weekend ended.)
Thrillist/Craig Mulcahy
TAKE5 threw a post-brunch dance party and unveiled a candy wrapper that plays music
TAKE5 is a clutch party snack: for one, it's candy. But it's also got the sustenance of
five
freakin' ingredients: peanut butter, pretzels, caramel, chocolate, and peanuts (great for keeping the energy up). And at our event, the team behind the treat brought that energy in a big way, enlisting a local dance crew to take over the last hour of our brunch for synched break moves. Why? It was all their way of introducing
their ridiculous new wrapper
that actually plays and sequences sick beats. And speaking of music…
Thrillist/Caitlyn Ridenour
The musical acts were just as pumped on New Orleans as we are
New Orleans and music go together like... well, the connection's so strong, there's no analogy strong enough, but needless to say we felt compelled to bring our A-game in the talent department. Throughout the weekend, we had sets from living jazz legend
Irvin Mayfield
, Grammy-winning Rebirth Brass Band, and house-leveling DJ Samantha Ronson. Between mouthfuls of beignet and swigs of Jack Fire-spiked milk punch, we caught up with Mayfield and Ronson to see just what New Orleans means to them.
Thrillist/ Jo Vidrine
Irvin Mayfield
"New Orleans is jazz. No other city in the world can match it from a cultural and musical standpoint."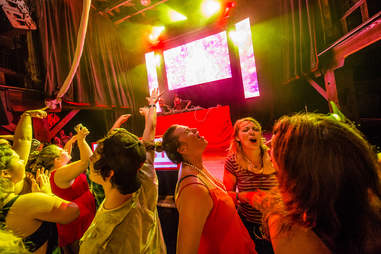 Thrillist/Josh Brasted
Samantha Ronson
"I love it in New Orleans. It's my favorite city in America. It's got such a cool vibe. Music is everywhere."
Thrillist/Caitlyn Ridenour
Rebirth Brass Band
We already knew what New Orleans meant to these guys. The quintessential New Orleans brass band has brought NOLA music to the world through the festival circuit and multiple Grammys.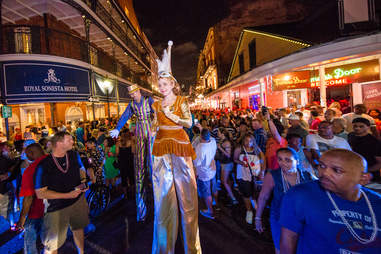 Thrillist/Josh Brasted
Jack Fire helped us close the weekend with an objectively insane finale
Between meals and parties, the Hotel Thrillist crew posted up on the hotel's unbelievable Bourbon St. balcony. But on Saturday night, to close things out in style, we teamed up with Jack Daniel's Tennessee Fire to put together a Second Line parade down Bourbon... which then boarded three two-story Mardi Gras floats, which carried us on to Republic night club. We threw beads at a lot of people, because everyone seemed to really want beads. At Republic we danced until waaay too late to Ronson and Rebirth. It all made this weekend one for the books, or at least for a long-form online article. Don't believe us? Well here's a nice numerical snapshot for ya:
Thrillist/Liana Cervantes
And for good measure, here are a few more of our favorite pics:
Thrillist/Caitlyn Ridenour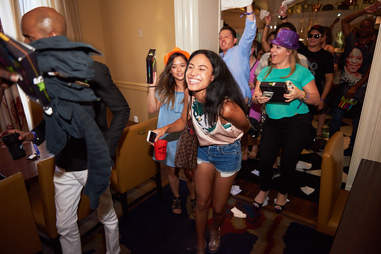 Thrillist/Craid Mulcahy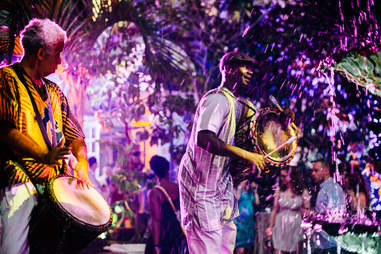 Thrillist/Denny Culbert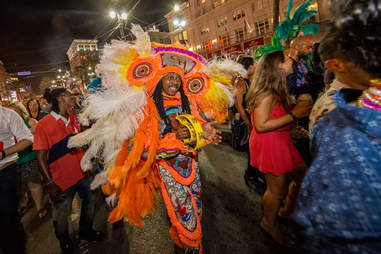 Thrillist/Josh Brasted
Thrillist/Denny Culbert
Thrillist/Jo Vidrine
Thrillist/Denny Culbert