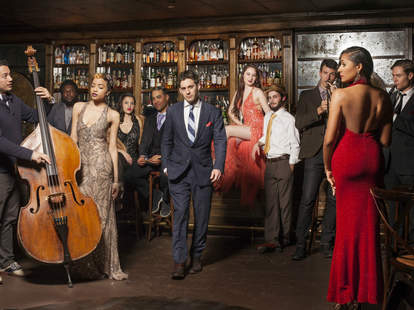 Everything You Should See This Fall at New Orleans' Historic Theaters
The historic theaters that date back to the turn of the 20th century are unquestionably some of New Orleans' best venues, but many in their daily audiences are completely unaware of how close they came to losing these town treasures. The Orpheum, Saenger, Civic, and Joy theaters all closed after Hurricane Katrina due to extensive storm damage, and took both years and millions of dollars to fully renovate. Now that these locales are back in business, what better way to celebrate their returns than to check out some of the best acts coming through the Crescent City this fall?
The Saenger Theatre was built in 1927 for an astronomical (at the time, anyhow) $2.5 million and restored for $53 million by 2013. Initially advertised as "a garden of Florentine splendor," today's Saenger resembles a 15th-century Italian courtyard and gardens, complete with arches, columns, decorative moldings, and statues. If you can take your eyes off the stage, look up at a domed "sky" ceiling complete with twinkling stars.
Responsible for hits like "The Gambler" and "Ruby, Don't Bring Your Love to Town," Kenny Rogers says he's finally retiring from music after an impressive career that spanned nearly six decades. One of the first country musicians to consistently sell out arenas nationwide, Rogers will appear for the last time in person on "The Gambler's Last Deal" tour. Even if you're not a huge country fan, seeing a legendary performer in one of New Orleans' most historic venues is a pretty great way to spend the evening.
Sarah Silverman offers an experimental approach to stand-up with biting humor that often masks cutting social commentary and experimental approaches to stand-up. Her unapologetic material earned her a brief but hilarious series on Comedy Central, numerous stand-up specials, and film and television roles. Comedy fans looking for one of the industry greats should definitely grab a seat for Silverman.
C'mon, admit it. You kinda wanna see these early 2000's pop/goth rockers in person, if only to hear their biggest song, "Bring Me to Life," live. Evanescence first took over the airwaves back in 2003, and went on to spend weeks at the top of Billboard charts while selling tens of millions of records. They've seen varying degrees of success since then, but this is their first extended tour since the band announced a hiatus back in 2012. Lead singer Amy Lee said there aren't any plans for a new record anytime soon, so November's your chance to let out your inner teen angst.
OK, so technically Lauryn Hill is playing at the beginning of winter... but New Orleans seasons never quite adhere to a proper calendar, anyway. The modern soul/hip-hop artist is making a stop in the Crescent City for her inaugural "MLH Caravan: A Diaspora Calling!" concert series, which will include performances by her and special guests while showcasing "the many facets of cultural and artistic beauty throughout the African diaspora." The variety of talent on display that night should make attending a no-brainer.
Wesley Hodges
Constructed back in 1918, the Orpheum is one of the last remaining "vertical hall" designs in the United States -- its perfect sight lines and acoustics have enhanced everything from vaudeville to renowned orchestras. Like the other theaters, it was flooded during Hurricane Katrina, but only reopened just last year. Since then, the Orpheum has made its rightful comeback to the forefront of New Orleans live entertainment offerings.
It would be remiss not to check out this British electronic music wunderkind. Blake's complex, atmospheric scores underlay his seriously gorgeous vocal talent, and seeing him in a place with acoustics like the Orpheum would only make the show that much better. Also, be sure to bring some tissues, because his soulful crooning about lost love might make you unexpectedly tear up... not that we're is speaking from experience or anything.
You might've seen Postmodern Jukebox -- or some variation of their imitators -- on YouTube and social media feeds. Scott Bradlee and company take modern pop hits and reimagine them as classic swing, jazz, and ragtime songs from the early 20th century, and their attention to detail often masks the fact that their source material came out sometimes only months ago. There's no better way to hear these re-imagined hits than in the city that birthed many musical genres.
The prolific American humorist is making a stop in New Orleans, and readers of his work should immediately grab a ticket before they undoubtedly sell out. Sedaris' prolific catalogue has consistently showcased his verbosity, wit, and charm while providing deeply insightful and hilarious social commentary. If that weren't enough, the author is incredibly entertaining live, and is worth a viewing for his performance alone. A book signing will follow the show, so be sure to grab your favorite title of his before you leave the house.
Given the acoustics, it would be a shame to not include at least one classical performance on a list of fall theater performances. The Orpheum will host the Louisiana Philharmonic Orchestra in mid-November for a rendition of Brahms' "Requiem," the seven-movement work written over three years by the 19th-century German composer. At nearly 90 minutes, it's the composer's longest work, but it will be time well-spent -- especially if you need a culture break from French Quarter debauchery.
The youngest theater on the list, the Joy opened up back in 1947 as a "modern" movie house alternative to the more classic venues in the city, complete with Art Deco architecture and neon outdoor lighting. By 2003, however, the theater lost the film battle to even more updated cinemas, and shuttered its doors until its 2011 renovation and reopening. Now, the Joy hosts a variety of live entertainment, along with special showings of films throughout the year.
After having to cancel last year's event, the Bear Creek Bayou Festival is set to make its big-name return with acts like The Flaming Lips and George Clinton & The Parliament Funkadelic. Before the festivities, however, the Joy Theater will host a pre-party concert featuring Soulive & Friends. The show is perfect for fans who want to get a head start on the funk and soul jam sessions that will undoubtedly follow later that weekend.
If you're not familiar, the name of this international hit of a podcast pretty much says it all. Comedians Corinne Fisher and Krystyna Hutchinson started the show a few years back to unabashedly and honestly examine sexuality, starting with interviewing the men they've slept with. Dubbed "the Anti Slut-Shaming Podcast," Guys We F***ed isn't meant to be inherently scandalous, but rather a frank talk about gender roles, self-worth, and, well, duh, sex. What better way to check out an explicit and brutally honest sex talk show than in a theater full of strangers?
Tig Notaro made national headlines a few years back after giving a startlingly confessional and hilarious stand-up show detailing the almost unbelievable amount of tragedy happening in her life. Fans and newcomers can catch one of the smartest and most insightful comedians touring this fall -- and if you still can't get enough Tig, tune into her semi-autobiographical Amazon series, One Mississippi.
Dark electro-pop duo Phantogram will bring their hypnotic and immensely entertaining live show to New Orleans. Since 2007, Sarah Barthel and Josh Carter have crafted hit after hit, and judging by their shows in advance of their new album, III, they haven't lost any of their edge or swagger. Music lovers looking for heavy electronic instrumentation on top of insanely catchy hooks should definitely check out the concert in an intimate theater setting like the Joy.
Dark electro-pop duo Phantogram will bring their hypnotic and immensely entertaining live show to New Orleans. Since 2007, Sarah Barthel and Josh Carter have crafted hit after hit, and judging by their shows in advance of their new album, III, they haven't lost any of their edge or swagger. Music lovers looking for heavy electronic instrumentation on top of insanely catchy hooks should definitely check out the concert in an intimate theater setting like the Joy.
Brett Duke/Times-Picayune
The Civic has the honor of being the oldest theater space in New Orleans, first opening back in 1908. It's aged pretty well since then, with amazing preservation work undertaken to maintain details like its Beaux-Arts plasterwork decorating its balconies and stage. In addition, the venue features its own craft cocktail menu overseen by respected local mixologists, so audiences can enjoy modern spins on amazing drinks while they enjoy the show.
New Orleans has an
extensive history
with burlesque dancing, and for the past seven years, the best in the biz could be found at the city's annual festival showcase. The Civic will host this year's Burlesque Festival, which features professional performances set to live jazz music and judged by some of the scene's biggest celebrities, who will crown this year's "Queen of Burlesque." The fest is sure to be a scandalously good time, and is an excellent event for both locals and tourists.
Veteran prog alt-rockers Coheed and Cambria made an international name for themselves over the course of five studio albums that told the continuous, impressively expansive sci-fi storyline known as "The Armory Wars." They've since moved on from their massive imaginary universe, but the music is as hard-hitting and complex as ever. Coheed and Cambria hits the Civic alongside fan favorites Saves the Day and Polyphia.
Just in time for Halloween, Here Come the Mummies are set to rock the Civic for a night of creepy fun funk music. The eight-piece band comprised of "5000-year-old Egyptian mummies" that deliver "terrifying funk from beyond the grave." OK, they probably aren't actually undead (probably), but they're a great way to celebrate the Halloween season. The group will play alongside NYC-by-way-of-Japan punk rockers Peelander Z, whose own superhero backstory gives the headliners a run for their… mummy.
Experimental indie rock gods Animal Collective have been a mainstay for years now, and are worth seeing live any chance you can get. Comprised of individual accomplished artists David Portner, Noah Lennox, Brian Weitz, and Josh Dibb, the band has released a number of albums ranging from critically acclaimed to instant genre classics. They'll be sharing the stage with UK avant-garde producer Actress in mid-November, so fans don't have to wait too long for what will be an undoubtedly great show.
Sign up here for our daily New Orleans email and be the first to get all the food/drink/fun in the Big Easy.
Andrew Paul is a writer based in New Orleans who is looking for season passes for all the theaters. Follow him on Twitter @anandypaul.