The historic theaters that date back to the turn of the 20th century are unquestionably some of New Orleans' best venues, but many in their daily audiences are completely unaware of how close they came to losing these town treasures. The Orpheum, Saenger, Civic, and Joy theaters all closed after Hurricane Katrina due to extensive storm damage, and took both years and millions of dollars to fully renovate. Now that these locales are back in business, what better way to celebrate their returns than to check out some of the best acts coming through the Crescent City this fall?
The Saenger Theatre was built in 1927 for an astronomical (at the time, anyhow) $2.5 million and restored for $53 million by 2013. Initially advertised as "a garden of Florentine splendor," today's Saenger resembles a 15th-century Italian courtyard and gardens, complete with arches, columns, decorative moldings, and statues. If you can take your eyes off the stage, look up at a domed "sky" ceiling complete with twinkling stars.
Constructed back in 1918, the Orpheum is one of the last remaining "vertical hall" designs in the United States -- its perfect sight lines and acoustics have enhanced everything from vaudeville to renowned orchestras. Like the other theaters, it was flooded during Hurricane Katrina, but only reopened just last year. Since then, the Orpheum has made its rightful comeback to the forefront of New Orleans live entertainment offerings.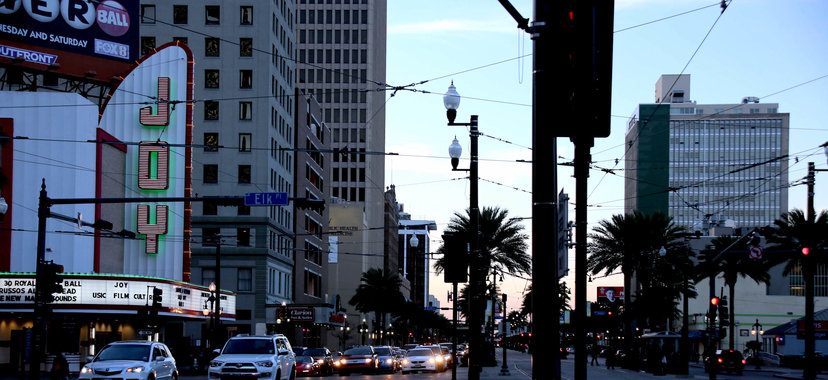 The youngest theater on the list, the Joy opened up back in 1947 as a "modern" movie house alternative to the more classic venues in the city, complete with Art Deco architecture and neon outdoor lighting. By 2003, however, the theater lost the film battle to even more updated cinemas, and shuttered its doors until its 2011 renovation and reopening. Now, the Joy hosts a variety of live entertainment, along with special showings of films throughout the year.
The Civic has the honor of being the oldest theater space in New Orleans, first opening back in 1908. It's aged pretty well since then, with amazing preservation work undertaken to maintain details like its Beaux-Arts plasterwork decorating its balconies and stage. In addition, the venue features its own craft cocktail menu overseen by respected local mixologists, so audiences can enjoy modern spins on amazing drinks while they enjoy the show.
Sign up here for our daily New Orleans email and be the first to get all the food/drink/fun in the Big Easy.