Get Festive with These Holiday Events in New Orleans
The ultimate guide to the best events, pop-up bars, and holiday markets in New Orleans this season.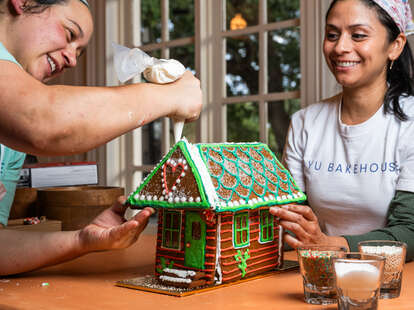 Shotgun-style gingerbread house from Ayu Bakehouse

| Photo by James Collier for Paprika Studios
Shotgun-style gingerbread house from Ayu Bakehouse

| Photo by James Collier for Paprika Studios
From Thanksgiving to Christmas, New Orleans is in full festive mode—so expect indulgence, over-the-top decor, and historic holiday traditions. The city sparkles during the holiday season, with a mix of modern traditions and unique historic customs dating back hundreds of years.
Neighborhood bars are transformed into magical wonderlands, and hotels like The Roosevelt, Windsor Court, and The Ritz-Carlton dazzle with seasonal flare. The Lafitte Greenway, City Park, and Convention Center Park are all aglow with thousands of lights, and holiday music fills the air. Restaurants around town participate in the Creole tradition of Reveillon dinners, local bakeries prepare festive treats, and grand homes open their doors to share some holiday cheer. Don't miss a performance of the beloved Nutcracker (there's a very local take on the ballet worth seeing too), and even Krampus makes an appearance with a parade.
From Black Friday all the way through the end of the year, there's no shortage of holiday events in New Orleans to fill your calendar. So settle in for a laid-back Thanksgiving feast, then prepare for all the holiday cheer you can handle.
Christmas Bars and Holiday Meals in New Orleans
Friday, November 17–Sunday, January 7
French Quarter; Prices vary
The city's premier tiki bar is transforming into an over-the-top tropical winter wonderland for the season. With over-the-top decor and a cocktail menu filled with drinks  like the Surf Nut, Sharkey's First Christmas, and Ginger Snapper, it's impossible to leave Sippin' Santa at Latitude 29 without being in the holiday spirit. Don your best island-chic and a Santa hat for this annual fave.
Tuesday, November 21–Sunday, December 31
Lower Garden District; Prices vary
Miracle, the holiday-themed pop-up bar, will return to Barrel Proof again for the 2023 season. Kitschy holiday decor, festive cocktails, and unique mug designs make this pop-up a unique holiday experience. Cocktails include the Christmapolitan, Christmas Cricket, Rudolph's Replacement, The Krampus, and Marshmallows & Unicorns. Mugs are available for purchase, and at the end of the season Miracle will donate 10% of all proceeds from the sale of Santa Pants, Christmas Carol Barrel, and Santa Heads signature glassware to the Seva Foundation, a nonprofit that provides eye care to vulnerable local communities around the world.
Monday, November 27–Sunday, December 30
Lower Garden District; Prices vary
The Bower is hosting a Bower Bah Humbug holiday-themed bar takeover at The Bower Bar. Enjoy Christmas-themed decorations and specially-curated holiday cocktails. The restaurant will also host two Bower Bah Humbug Luncheons on December 15 and 22, featuring a three-course lunch menu and Bah Humbug cocktails. Tacky sweaters and festive attire are encouraged!
Holiday Food From Local Restaurants and Bakeries
Now through December 31
Citywide; Prices vary
What's the holiday season without decadent meals and treats? Bakeries around the city will be rolling out exceptional holiday goodies for your enjoyment. For your Thanksgiving table, check out La Boulangerie, Windowsill Pies, Levee Baking Co., and Dragonfly Cafe and for seasonal pies, cakes, cookies, and other baked goods. When Hanukkah rolls around, Saba has you covered with its signature Latke Boards. Or look ahead to Christmas and get on the waitlist for a NOLA shotgun-style gingerbread house or a satsuma curd-filled "Bayoule Log" from Ayu Bakehouse. On the savory side of things, make your reservations now for Thanksgiving and Christmas dining at your favorite local restaurant.
Now through December 24
Citywide; Prices vary
Many restaurants around town participate in the Creole tradition of Révellion dinners, offering special menus for the holidays. While the original tradition was a dining event following midnight mass on Christmas, you won't have to wait that late nowadays. Traditional restaurants like Commander's Palace, Tujaque's, and Arnaud's participate, elevating their already exceptional menus. Even relative newbies like Costera and Osteria Lupo will participate with special offerings for the holiday season.
Holiday Events in New Orleans
Thursday, November 23
Mid-City; Prices vary
While the track opens in mid-November, Thanksgiving is the biggest day at the Fair Grounds, kicking off the season in earnest. Don your most fabulous hat or fascinator and head out for a day filled with mint juleps, racing, and a whole lot of fun. The clubhouse hosts a holiday dinner with all the trimmings, or you can dig into the big holiday buffet. Be sure to make a reservation, as both fill up quickly.
Black Friday and Small Business Saturday
Friday, November 24–Saturday, November 25
Citywide; Prices vary
Black Friday and Small Business Saturday mean big shopping deals at malls and big box stores, but they're especially great days to focus on shopping local. From quirky vintage stores and art galleries to antique shops and boutiques, New Orleans has a wealth of unique businesses boasting locally-made products. For one of the best local shopping experiences, head to Magazine Street for miles of independent shops plus plenty of options to stop for a bite along the way, and set a reminder to enjoy complimentary bubbles at Magazine Street's after-hours Holiday Stroll on December 2.
Holiday Arts Markets
Ongoing
Citywide; Free
Arts markets are the perfect spot to shop locally for holiday gifts. The twice-monthly, open-air Arts Market New Orleans sets up extended two-day markets in November (25-26) and December (16-17) at Marsalis Harmony Park in addition to the regular markets held there and in City Park. The monthly Freret Market will have holiday shopping on December 2, Deutsches Haus will host a German-style ChristKindleMarkt from December 1 to 3, the Shop at the Historic New Orleans Collection will have special holiday vendors on December 16, and the eclectic Piety Market at Hotel Peter and Paul will be decked out on December 17.
Now through December 31
Locations vary; Free
The live music calendar is packed with special holiday performances, including traditional concerts in St. Louis Cathedral and genre-spanning concerts exploring the African diaspora at Ashé Powerhouse Theater. See the likes of Irma Thomas, Benny Grunch and the Bunch, and the Zion Harmonizers performing their holiday favorites.
Saturday, December 2
Bywater; Free
The Krewe of Krampus parades through the Bywater with Krampus and a cast of Alpine spirits plus Swampus, the Krampus Horns, and more. It's the largest Krampus parade in America, and includes performers from all over the country and abroad, in addition to local performers. Don't miss this enchanting parade with some of the most creative costumes and props you'll see this holiday season.
Saturday, December 2
Bywater; $36-$54 in advance, $75 at the door
Celebrate the Festival of Lights with Jewish Children's Regional Service at NOCCA's Press Street Station. Stephen Stryjewski of Link Restaurant Group serves as the event's celebrity chef with assistance from NOCCA culinary program students. The night features food, live music, and an open bar with wine, beer, a Vodka Latke Punch, and a Buffalo Trace Old Fashioned Hanukkah Hi-Ball.
Thursday, December 7–Friday, December 15
Uptown; Free
This annual Hanukkah pop-up bar at Saba features specialty cocktails, latkes, sufganiyot, menorahs, dreidels, gelt, and everything else you need to celebrate Hanukkah in style. Celebrate the season with a signature latke board or just kick back and enjoy the Hanukkah vibes on every night during the festival of lights (except Tuesday, December 12).
Friday, December 8–Sunday, December 10 and Sunday, December 24
Lutcher; Free
This Christmas bonfire tradition in the River Parishes is a must-see for the holidays. Throughout the month, residents construct massive bonfire structures up to 20 feet tall that are lit on Christmas Eve to guide Papa Noel along the Mississippi. The Festival of the Bonfires earlier in the month celebrates this tradition with music, food, and bonfire burning. The main event takes place on Christmas Eve, when residents gather for the big bonfire party, joined by spectators who trek from all over to join the fun.
Friday, December 8–Sunday, December 17
Marigny; $35-$60
This local take on the holiday classic, performed by the Marigny Opera Ballet at the Marigny Opera House, is set in Jackson Square. Follow the story of Clara, a young woman transported to the Land of Rain and back again on Christmas Day. She encounters a fortune teller, tourists, a drag queen, and more. Music is performed live by the Lawrence Sieberth Ensemble.
Friday, December 15–Saturday, December 23
Downtown; $19-$83
The New Orleans Ballet Theatre's production of the holiday classic is a beloved annual tradition. The performance features the talented professional ballet company alongside more than 120 local schoolchildren. No holiday season is complete without catching this show—featuring stunning sets and costumes alongside the iconic score—at the Orpheum.
Sunday, December 17
French Quarter; Free
Another beloved holiday tradition, this community caroling event brings thousands to Jackson Square to sing along to holiday favorites. Local dignitaries lead the carols for an hour of merriment, so whether you belt out a verse yourself or simply stop by to take it all in, you'll leave with a dose of holiday cheer.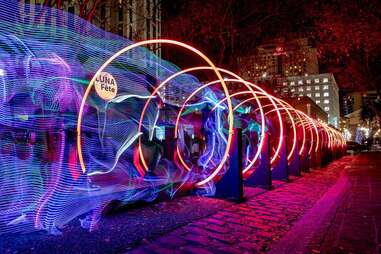 Holiday Lights and Decorations in New Orleans
Thursday, November 23–Saturday, December 30
Mid-City; $5 and up
City Park's annual celebration of the holidays is an enchanting spectacle of lights, as the glorious oak trees are decked with more than a million lights, and light sculptures are scattered throughout the park. Tour the park by bike, on foot, or in a car. The Botanical Garden features even more holiday cheer, with plenty of Instagrammable photo ops.
Thursday, December 7-Saturday, December 9
Mid-City, Free
The Lafitte Greenway transforms into a cosmic collection of light and sound art to celebrate the season. There will be illuminated installations from local artists as well live music on two stages from the likes of SaxKixAve and Bon Bon Vivant, plus local food vendors, and an art market with lots of holiday shopping opportunities.
Thursday, December 7-Sunday, December 10
Warehouse/Convention District, Free
For this annual festival of light, art, and technology — the tenth annual installment — the Ernest N. Morial Convention Center Pedestrian Park will be transformed into a runway for illuminated fashions. Hourly projections on the building will honor the power of costumes, while light-based artworks spread along 7.5 acres of the Park will celebrate the creativity of costumery and culture. Each night will also feature local food vendors, drinks, an arts market, and other glowing features.
Saturday, December 9–Sunday, December 10
Garden District, $45
This self-guided walking tour is your chance to explore the interiors and grounds of several of the Garden District's and Lower Garden District's most stunning homes decked out for the holidays. Festivities also include live musical performances and a holiday boutique (free and open to the public) at the tour's headquarters at Louise S. McGehee School.