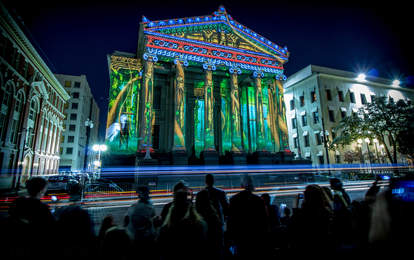 Everything You Must Do in New Orleans This Holiday Season
The holidays are upon us in the Crescent City! Whether you're out for mint juleps at the Fair Grounds, bundling up for Luna Fete, or back with ya mom'n'dem dusting off you Benny Grunch and the Bunch record, there's plenty to do, see, eat and enjoy in New Orleans this holiday season. Here's your guide to it all.
November 30-December 26
Fulton St.
Thanks to Miracle on Fulton Street's hourly "snow" storms, you can frolic in the fake stuff without having to shovel out your driveway. The pedestrian thoroughfare includes loads of Christmas lights, a massive tree, and even a cozy gingerbread village holed up in Harrah's lobby. It's also ground zero for the Running of the Santas, a frenetic stroll from Manning's to Generations Hall for an evening of costumed fun that even includes its own Cutest Santa and costume contest.
Cost: Free
November 23-December 24
Uptown
Never again feel as if you're stuck handing out gift cards to relatives -- or that your only gift options come from the internet. Merriment on Magazine shines a light on local businesses that extends far beyond Small Business Saturday and right on through to Christmas Eve. Don't sleep on the recently opened Garden District Marketplace, which includes vendors like 1 of 1 Blazers, whose one-of-a-kind duds have been worn by the likes of Saints stars including Cam Jordan and Demario Davis.
Cost: Free
November 23-December 25
City Park
The quintessential holiday celebration returns to City Park bigger than ever with special events including Yoga Under the Lights and a kid-friendly story time. This is the place to get those Santa photos knocked out and grab a boozy hot chocolate while you take in the more than half a million lights on display. It's also the one and only home of Mr. Bingle.
Cost: $10 for entry, $28 for entry and unlimited rides
November 23-December 30
Audubon Zoo
Crank up the Meters and get on over to the Audubon Zoo, where they all asked to stay open just a smidge later than usual for Zoo Lights. Alligators, flamingos, and all sorts of animals have been reimagined as silk-lighted works of art. With nightly performances and a Holiday Marketplace, Zoo Lights is a great place to double up on all your holiday goals while also supporting the New Orleans Children's Hospital. There's even a craft tent that lets patrons create their own dazzling works to be delivered to patients.
Cost: $15 for general admission, $10 for Audubon members
November 23-December 31
CBD
Windsor Court talks a mean game when it comes to tea brewed right but the four-star hotel isn't bluffing when it comes to its Holiday Tea time at Le Salon. Patrons enjoy a warm cup of Enlighs tea with a NOLA twist along with a cocktail, plus classic tea sandwiches and seasonal delights that celebrate the holiday season.
Cost: $69.03 for adults, $49.12 for children under 12
The Roosevelt New Orleans, a Waldorf Astoria Hotel
Lights up through January 2
CBD
Your grandma's been calling it the Grunewald Hotel for as long as you can remember (and she's not even old enough to remember the Grunewald) but even mawmaw can't mislabel the Roosevelt's legendary lobby lighting as tacky. The lights feature dozens of birches and Christmas trees lining the hotel's expansive lobby.
Cost: Free
December 1-31 (depending on the restaurant)
Citywide
The traditional late night meal meant to prepare you for a long Midnight Mass has been consistently turned on its head in NOLA, where Reveillon is more synonymous with prix-fixe and comfort foods. Restaurants across the city are celebrating with seasonal offerings and multiple courses sure to get you through even the most rigorous Catholic aerobics routine.
Cost: Varies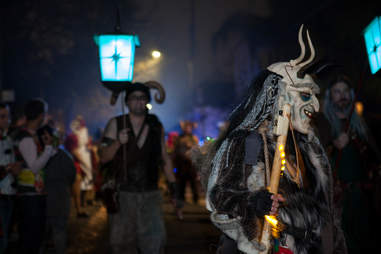 Krampus NOLAuf

| Krewe of Krampus
December 1
Bywater
The Central European legend of Krampus is alive and well in South Louisiana. Love for the sinister goat-demon brings a much-welcomed walking parade to the Bywater, which starts at Parleaux Beer Lab and ends with an afterparty ball at Bratz Y'all. Admission gets you two beers, a pretzel, and license to dance to what DJ Tom Harvey's spinning for the night.
Cost: $25 for the afterparty
December 3-16
St Louis Cathedral
St. Louis Cathedral's annual concert series Free Cathedral Shows brings traditional fare along with slightly more contemporary groups like the Iguanas and the Magnolia Sisters to the iconic landmark. It all culminates in an orchestral and choral performance of Benjamin Britten's Saint Nicolas Op. 42, which chronicles the life of St. Nicholas (the Catholic guy, not the North Pole guy).
Cost: Free
December 6
Press St. Station
Latkes with a Twist returns with Company Burger chef and owner Adam Biderman assuming the role of "latke master." With the help of NOCCA culinary students and friends, Biderman is sure to bring an impressive spread to the annual Jewish Children's Regional Service fundraiser, which includes a silent auction and live music. Don't miss the Vodka Latke punch and bourbon Hanukkah Hi-balls.
Cost: $30 in advance, $35 at the door.
December 6-9
Lafayette Square
The ambitious projection-mapping and visual arts festival returns to Lafayette Square with an ever-changing motif to be broadcast along the facade of the iconic Gallier Hall. With each passing year, Luna Fete continues to get more interactive and expansive. Sure, most of the visuals celebrate evergreen city tropes like streetcars and jazz, but the true holiday treat that'll make your heart grow three sizes is watching children interact with the many musical and visual works dotting Lafayette Square through the narrow, pedestrian-only artery of Lafayette St.
Cost: Free
December 8
Garden District
Homeowners in the Garden District and LGD have gone all out as per usual in celebrating the winter season. The Preservation Resource Center is offering the lazy among us to live vicariously through their on point decorating by opening the doors to some of the most striking shotguns and center halls. This year's tour includes a bonus glimpse at the Sully Mansion Bed and Breakfast, a 128-year-old building designed by revered NOLA architect Thomas Sully, who would go onto create the Columns Hotel and many homes that define the Uptown aesthetic.
Cost: $30-45
December 8
French Quarter
Dust off your Santa suit and get ready to drink. The very bad Santa pub crawl stresses it's not a run or a parade -- just a festive way to imbibe at seven bars in the French Quarter and Frenchmen. Only a few stops are released in advanced, but organizers promise drinking and debauchery at every location.
Cost: $12 if you register before the end of November, $20 from December 1 until the day of the pub crawl
December 8
French Quarter
As if you really needed another reason to wear your Santa suit. Sponsored by French Quarter businesses like Molly's and Pat O'Brien's, the Krewe of Kringle bills itself as the only private holiday parade in the city. The route hits at least four bars, and the price of entry includes a beer at each spot, though there'll also be drink specials. Krewe of Kringle also welcomes participants who think outside of the Christmas wrapping paper-decorated box and don their favorite costumes devoted to holiday movies and even other winter holidays altogether.
Cost: $20
December 16
Jackson Square
With a large enough crowd helping to keep you warm and by the light of free candles, no one will be able to tell if you actually know the words to "O Holy Night" -- though lyric sheets are provided. (Note that even if you don't love caroling, Jackson Square's public event is self-contained and relatively brief.)
Cost: Free
December 24
Gramercy, Lutcher, and Prairieville
Bonfires at levees across St. James Parish honor a tradition dating back to early Cajun settlers. The fires, meant to show Papa Noel exactly where to stop along his Christmas route, burn bright on displays that once stood 20 feet tall but have since been cut down to 15 for safety's sake. A handful of pyres deviate from the traditional triangular style and sometimes resemble stars, riverboats, and even local animals.
Cost: Free
December 25
Rock & Bowl
You've been hearing his iconic holiday hit all season long on WWOZ, but nothing compares to catching Grunch and the Bunch live at their annual Rock & Bowl engagement. Get a preview of what's in store for carnival season with "Ain't no Place to Pee on Mardi Gras Day" and take comfort in not having to pick up a "dix pack of sixie" when there's Dixie on tap.
Cost: $3 at the door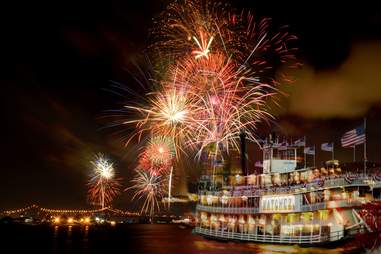 The Natchez's New Years Eve cruise

| Steamboat Natchez
December 31
Natchez
Woldenberg park, the Moon Walk, and Crescent park can only accommodate so many people to witness fireworks on the river. Why not get off land and onto the only fully steam-powered boat on the Mississippi? The Natchez's New Years Eve cruise includes hors d'oeuvres, an open bar, and live music.
Cost: $175
December 31
Jax Brewery
Every city has its own unique icon that descends from the heavens to mark a brand new year. The Fleur de Lis (and previously the downright frightening Baby New Year) just happens to be New Orleans'. Also descending on the city? Production crews for CNN and ABC, who once again plan to broadcast the festivities to a national audience. If Don Lemon's increasingly interesting are any indication, this December 31 is sure to be a treat.
Cost: Free
December 31
Downtown
It's anyone's guess who will make it to the Sugar Bowl but that's almost beside the point given all the fun (and free) things to do every New Year's Eve leading up to the New Year's Day game. Marching bands for both teams as well as regional bands will take to Decatur St. for a 2 p.m. parade, while the Sugar Bowl Fan Fest brings some of the best acts in the country to you, the fan. Past headliners include Imagine Dragons, Panic! At The Disco, and Usher.
Cost: Free
December 31
Tipitina's
Time tends to slip away at your typical Galactic show so it might come as a surprise that the out of this world funk outfit would choose to willingly observe and ring in 2019. The standing engagement at Tipitina's rarely adheres to a schedule outside of a midnight toast, with Galactic ready and willing to jam until morning.
Cost: $76
Sign up here for our daily New Orleans email and be the first to get all the food/drink/fun in the Big Easy.