Everything You Absolutely Must Do in NOLA This Winter
It may not snow, but winter is still one of the most festive seasons in New Orleans as holiday cheer, New Year's celebrations, and Carnival roll through town. In a city that parties hard year-round, it can be tough to pick which parades, festivals, and celebrations to partake in. Fortunately, we've done the heavy lifting for you and found the best the Crescent City has to offer as 2016 turns into 2017. Mark your calendars and grab a go cup -- you'll be busy until the ides of March.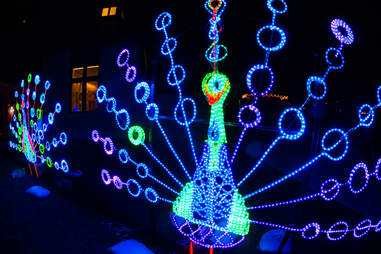 Celebration in the Oaks

| New Orleans City Park Archives
Thousands of twinkling lights adorn City Park's 25 acres -- from the famed live oaks, to the lush Botanical Garden, and family favorite Storyland. Walk around, ride the train, and take a spin on the carousel while you soak up the vast and detailed festive displays. Buy your tickets early to this hugely popular event, or visit on a weeknight for shorter lines and a more intimate experience.
Enjoy the Cajun Christmas Eve tradition of building a bonfire on the levee and setting it ablaze so Papa Noel can find his way through the parishes along the Mississippi River. The bonfire and concert at Algiers Point celebrates this tradition early and features live music, a second line, various food vendors, and a massive wooden Christmas tree on fire.
The Arts Council New Orleans updates the traditional holiday lights by projecting bright, modern video animations onto different buildings of the city's landscape. The free shows each night in Lafayette Square combine art and community and showcase the work of local, national, and international artists.
Classic holiday stories spring to life as more than 1,000 adult merrymakers dress in their finest costumes of the season and take to the streets for Krewe of Kringle. The pub crawl snakes throughout the French Quarter with stops at
Pat O'Brien's
and
Molly's at the Market
. Expect nutcrackers, marching bands, and (of course) hundreds of Santas.
Kings Cake Festival

| Cheryl Casey/Shutterstock
After you buy your first king cake of 2017, head to the St. Charles streetcar line to see the Phunny Phorty Phellows and celebrate Twelfth Night. The masked krewe opens Carnival season with a raucous street car party, throwing out beads and heralding the ensuing weeks of parades and revelry.
If you love combining history with a good party, then the Joan of Arc parade is for you. This walking parade celebrates medieval culture and the city's French roots, while also featuring many medieval traditions such as toasts, blessings, and crownings. The parade is short, bright, and full of spunk.
Dust off your lightsaber and celebrate your nerdom at the New Orleans Comic Con. Meet actors, writers, and artists from different movies, TV shows, and comic books, or check out the video and tabletop gaming, vendors, and expos. Comic cons are known for excellent cosplay and costuming, so expect New Orleanians to take it to the next level.
Bakeries from all over the city convene to offer $1 samples of their finest goods at the annual King Cake Festival. Indulge for a cause as proceeds benefit babies and children at Ochsner New Orleans, or sign up for the fitness expo to sweat away all of the sugar-filled guilt.
Rock 'n' Roll Marathon

| Ryan Bethke
The Humana Rock 'n' Roll Marathon provides miles of live music for athletes going the distance. Acts at the raceside stages span genres including classic rock, zydeco, brass, jazz, R&B, and country. Look for local favorites the Dirty Dozen Brass Band funking it up at the finish line.
Back in New Orleans for a third time, NBA All Star Weekend brings the best basketball players and celebrities to show off their skills at the Smoothie King Center. Along with the All Star Game and celebrity game, the weekend also features slam dunk contests and a Rising Stars Challenge between NBA rookies and second-year players.
The pre-Lenten season of parades, cakes, and parties culminates on Fat Tuesday. Rain or shine, New Orleanians will be costumed and out to enjoy the spoils of Mardi Gras. Catch coconuts and beads at Zulu at 8am and Rex 10am on St. Charles Avenue, find a party to join, or start your own. Most importantly, have fun to excess and prepare to cleanse yourself on Ash Wednesday.
Sign up here for our daily New Orleans email and be the first to get all the food/drink/fun in the Big Easy.
Emma Sloan is a freelance writer in New Orleans. Her calendar is always marked for Mardi Gras. Follow her on Twitter @emmuuuh.