The Ultimate Guide to New Orleans Jazz Fest 2023
Lineups, ticket information, and everything else you need to know for an epic time at New Orleans Jazz Fest.
The New Orleans Jazz & Heritage Festival—better known as New Orleans Jazz Fest—is one of the city's top annual events of the spring, marking peak festival season. Celebrating the music, food, and culture of New Orleans and Louisiana, Jazz Fest kicks off on April 28 and takes over the Fair Grounds Race Course for seven days over two consecutive weekends, drawing hundreds of thousands of attendees each year.
Many out-of-towners take an annual pilgrimage for the event to dive into the local food and music scene and take advantage of a chance to see big-name national acts in a chill setting. For locals, Jazz Fest is an opportunity to see all the best NOLA bands in one spot while feasting on iconic local foods. Beyond the Fairgrounds, the festival brings a lively atmosphere to all corners, where block parties, porch concerts, and impromptu street performances keep the party vibe pulsing throughout the entire city.
From its humble beginnings in 1970 as a small fair celebrating the birthplace of jazz to the behemoth it is today, Jazz Fest offers something for every music lover. On 14 stages over the course of two weekends, you can enjoy jazz, blues, Cajun, zydeco, gospel, brass bands, R&B, hip-hop, and other musical styles. Headliners include major local and national acts, and the Cultural Exchange Pavilion presents the music and food of a different country or region.
In addition to the music, Jazz Fest celebrates the food of Louisiana, with dozens of vendors dishing out top versions of regional favorites. Meanwhile, the craft areas showcase artists from around the country, as well as Louisiana artisans demonstrating their skills, from weaving and woodworking to sculpture and accordion-making.
There's a lot going on during this seven-day festival we look forward to every year, so here's everything you need to know about New Orleans Jazz Fest, from how to get tickets to a rundown of Fest-adjacent events to keep the party going after hours.
When is Jazz Fest?
Jazz Fest is held over two consecutive weekends. It kicks off on Friday, April 28 and runs through Sunday, April 30, before picking back up again Thursday, May 4 through Sunday, May 7. Festivities begin each day at 11 am and wrap up by 7 pm—but there are after-hours events to keep the party going, so stay tuned.
Where is Jazz Fest?
Jazz Fest is held at the Fair Grounds Race Course on Gentilly Boulevard in Mid-City, about 10 minutes from the French Quarter.
How much are Jazz Fest tickets?
Single day tickets are $85 in advance or $95 at the gate. A limited number of weekend passes are available at $245 for the first weekend (three days) and $290 for the second weekend (four days). "Locals Thursday" is held on May 4, and tickets are $50 for Louisiana residents. For an upgraded experience, Big Chief VIP, Grand Marshal VIP, and Krewe of Jazz Fest tickets offer a range of perks and start at $850. Purchase tickets here.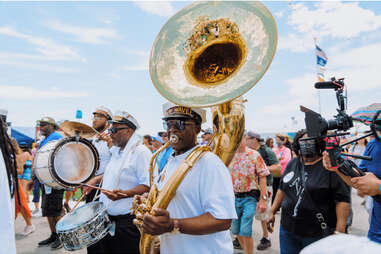 What is the Jazz Fest lineup?
Big name national acts this year include Lizzo, Dead & Company, Ed Sheeran, and Tom Jones. The list of local artists is endless, but some highlights include Irma Thomas, Jon Batiste, Galactic, Soul Rebels with Wu Tang Clan, and festival closer Trombone Shorty.
So, how do you plan who to see? Be sure to pick up a festival map to find all the stages plus food and craft areas—you'll see friendly volunteers outside the gates handing them out. If you're someone who wants to see as much as possible, you'll want to consult the cubes, which is Fest-speak for the daily music schedule. If you just want to explore by genre, the stages make it easy—see jazz in the Jazz Tent, blues in the Blues Tent, zydeco on the Zydeco Stage, and gospel in the Gospel Tent.
Puerto Rico is this year's featured destination in the Cultural Exchange Pavilion, and you won't want to miss it. Hear the sounds of bomba, plena, salsa, and reggaeton, all while munching on authentic Borinqueña treats.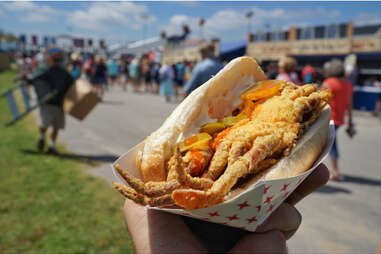 What can I eat at Jazz Fest?
Lucky for you, the food lineup at Jazz Fest is as stellar as the music. All the Louisiana classics are represented, from red beans and rice and boudin to beignets, cochon de lait po-boys, crawfish pie, and jambalaya. No shame in bringing a Ziploc to take home extras for later.
While this year's Festers will mourn the absence of crawfish bread, jama-jama, and Cuban sandwiches, all the longtime favorites will be back. Must-try dishes include Crawfish Monica, Vaucresson's Creole Sausage Po-Boy, Trout Baquet, and the Crawfish Sack, Oyster Patty, and Crawfish Beignet Trio. For sweets, top options include Snowballs, Roman Candy, White Chocolate Bread Pudding, and Sweet Potato Pie.
Want to dive deeper into the food of Jazz Fest? Check out the Food Heritage Stage, where local chefs prepare and discuss some of their most famous dishes before handing out samples.
Which visual artists will be at Jazz Fest?
Jazz Fest also presents artisans and craftspeople of Louisiana, plus acclaimed artists both local and national. At the Contemporary Crafts area you'll find jewelry, photography, handmade clothing, sculpture, pottery, and other unique items to purchase. Congo Square features art of the African diaspora, with both traditional and modern techniques represented. The Louisiana Marketplace showcases regional artisans, makers of everything from accordions to furniture to parade floats to duck calls. Even if you're able to resist these amazing crafts, two must-have souvenirs include the official Jazz Fest poster and an official tee.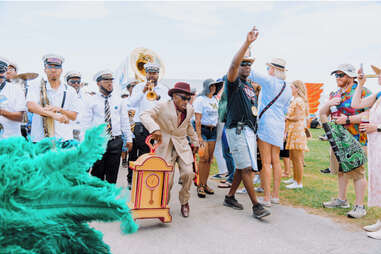 What else can you do at Jazz Fest?
Amidst all the music, you might come across a second line parade or a Mardi Gras Indian procession—and even if you're a tourist, feel free to join in. Be sure to stop in the Grandstand where you'll find cultural exhibits and interviews with some of the Jazz Fest performers. Spend some time in the Native American Village where you can see music and dance performances. Find the Ancestors area in Congo Square Village to see artistic tributes to culture-bearers who have passed.
What are some important tips to know before attending?
One big change to note: Jazz Fest will be cashless for the first time this year. Vendors will accept major credit cards and digital payment methods and cash exchange booths will be located near vendor areas.
Hydration at Jazz Fest is important! Factory-sealed water bottles are allowed in the Fest, and refill stations are available. You can bring chairs, blankets, and a few other things, but be mindful of what you can't bring. There's a full list of dos and don'ts here.
There are many ways to get to the Fest. Streetcar and bike are great options, and the official Jazz Fest Shuttle can also get you there without the stress of traffic and parking. Parking closest to the Fest is in a residential neighborhood, so look out for parking restrictions.
Rain in the forecast? Bring a poncho or rain jacket. The track can get muddy, so don't wear flip flops—they won't last!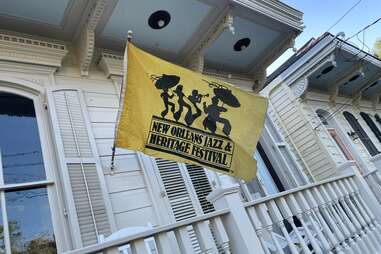 What other events are going on in New Orleans during Jazz Fest?
You'll find great music around New Orleans any time of year, but the nightly lineups are even more packed during Jazz Fest. Clubs around town will be packed and ticket prices may be a little higher, but all the effort will be worth it as local bands jam their hardest and visiting national artists tend to sit in on small stages.
To find a thorough rundown of everything going on after-hours, check out Jazz Fest Grids. The biggest after-hours event is the annual Daze Between at Faubourg Brewery on May 2 and 3. This year the event features headliners Goose on both days, supported by local bands including Tank and the Bangas, David Shaw, George Porter, Jr., and Honey Island Swamp Band.
Other highlights of nighttime shows during Jazz Fest include Take Me to the River All-Stars at Joy Theater, Treme Threauxdown 7 with Trombone Shorty and a long list of special guests at The Saenger, Lettuce and Tower of Power with the Louisiana Philharmonic at The Saenger, The Meters Experience at Zony Mash, WWOZ's Piano Night at House of Blues, and a Tribute to Dr. John and Art Neville at the Civic.