What's the best thing you can do in New Orleans this summer? Leave! Just kidding... sort of. If you're one of those lucky people who can migrate to a beach house when hurricane season and five months of subtropical heat set in, well, we envy you. But if, like the rest of us, you're sweating it out during the city's off-season, take solace in the fact that there are enough festivals, parties, concerts and things to do in NOLA to distract you from your misery. And if that doesn't work, the bars are always open.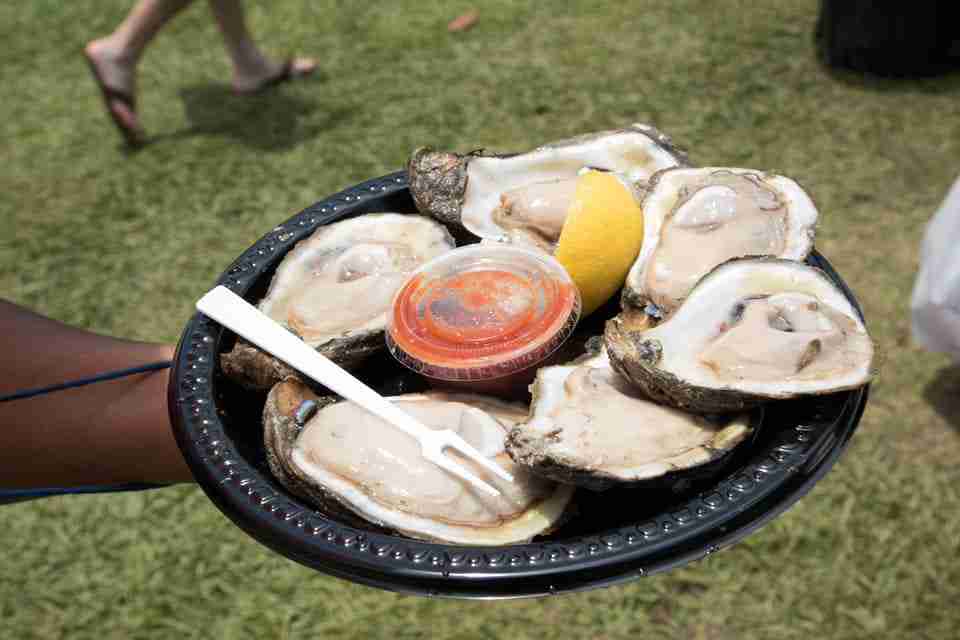 Friday June 1 - Saturday June 2
Woldenberg Park
Big, mild Gulf bivalves are the stars of this two-day festival, which includes an oyster-eating and shucking contest, live music performances by Feufollet and Maggie Koerner, plenty of Abita beer, and a beautiful riverfront view. Raw or charbroiled, deep-fried and tucked in a po-boy. or simmered in a gumbo, oysters at this festival are delicious no matter what.
Cost: Free
Friday June 7
Carousel Gardens Amusement Park
There's nothing better than riding the Ferris Wheel, merry-go-round, and roller-coasters when you're a kid -- except for doing those exact same things as a drunk adult. June Under The Moon brings unlimited rides, an open bar, and an adults-only atmosphere to Carousel Gardens, and, for the first time ever, you can now bring your (leashed) dogs, too. The ticket price includes unlimited beer, a hot dog, jambalaya, and a vodka snowball. Get yours soon, because (unsurprisingly) this event usually sells out.
Cost: $30/person and $10/dog
Saturday, June 8
Markey Park
Whether you dress relatively modest (a bathing suit), bare all, or do something in between (body paint and glitter), you'll need to slather every crevice with sunscreen before taking part in this naked bike ride. Bring a bike to Markey Park and get ready for plenty of day-drinking and looky-loos as you embark on a route that meanders through the Bywater, Marigny, and French Quarter.
Cost: Free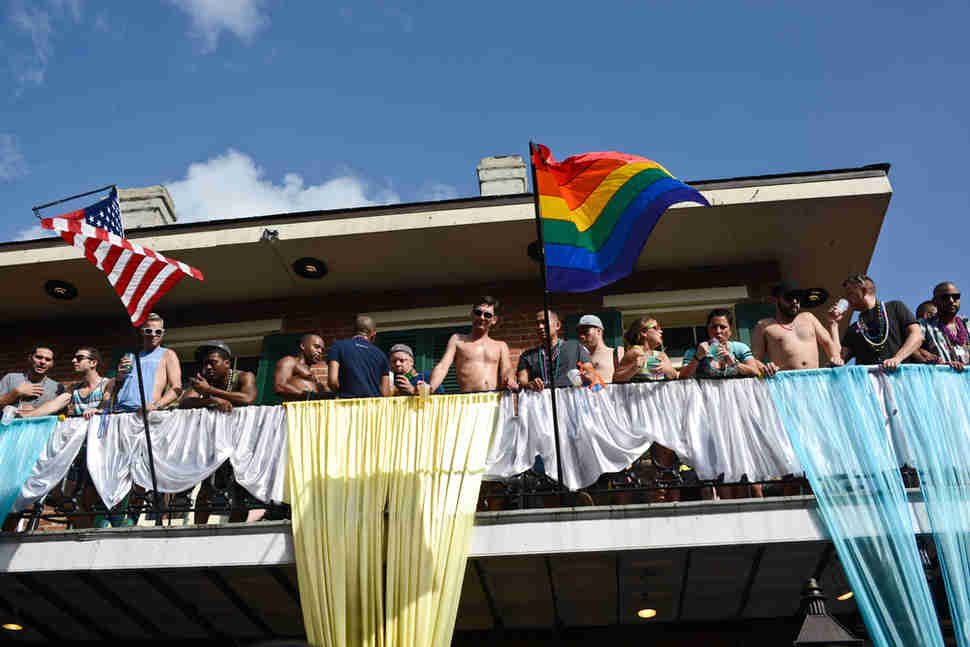 Friday June 7 - Sunday 9
Various locations
The days are getting longer, and the rainbow flags are flying on Rampart Street, which means one thing: It's almost time for Pride weekend. The LGBTQ+ celebration brings block parties, concerts, and brunches to New Orleans -- plus a 24-float parade that rolls through the French Quarter on Saturday night at at 7:30 pm.
Cost: Varies by event
Friday June 7 - Sunday June 9
French Market
Creole tomatoes can inspire the palate or incite controversy (do they or do they not belong in gumbo? Depends who you ask). And it's likely that the meaty, flavorful fruit will do both at the 33rd annual Creole Tomato Festival. Just grab a Bloody Mary if the debate gets too heated and dance it out at the two music stages, hit the market in Dutch Alley, or observe a cooking demonstration.
Cost: Free
Wednesday, June 12 - Friday June 14
Despite what those guys driving the "Weed World Candies" vans might tell you, recreational marijuana (sadly) remains illegal in New Orleans. But that doesn't mean we can't host the cannabis industry's preeminent international conference, which brings together cannabis business executives, cultivators, and extractors. Whether you're a head shop owner or a local farmer looking to grow hemp, this is the place to learn all the ins and outs of the industry.
Cost: $399 for the all-event pass
Saturday June 22 - Sunday June 23
Louis Armstrong Park
Purists frequently complain that there's no (or very little) jazz at Jazz Fest, but have no fear -- Cajun and zydeco music is the exclusive feature at this aptly named fest in Louis Armstrong Park, which also boasts seafood vendors, kids' activities, and plenty of misting stations (because two-stepping in New Orleans humidity is a good way to work up a sweat).
Cost: Free
Wednesday July 4
French Quarter
New Orleanians have made riverside firework shows a tradition for literally hundreds of years. It's kind of cool to think that the firework display and the French Quarter skyline haven't changed in all that time. Ignore the proliferation of people Snapchatting the show, and you might feel like it's 1819 all over again.
Cost: Free
Thursday July 5 - Sunday July 7
Downtown New Orleans
Prince, Beyonce, and Kendrick Lamar are just a few past headliners at this epic, annual celebration of black culture spearheaded by Essence Magazine. This year brings former First Lady Michelle Obama as the keynote speaker, as well as Missy Elliot, Mary J. Blige, and NAS to the Mercedes-Benz Superdome, plus a packed roster of prominent speakers to the Ernest Morial Convention Center.
Cost: Tickets start at $55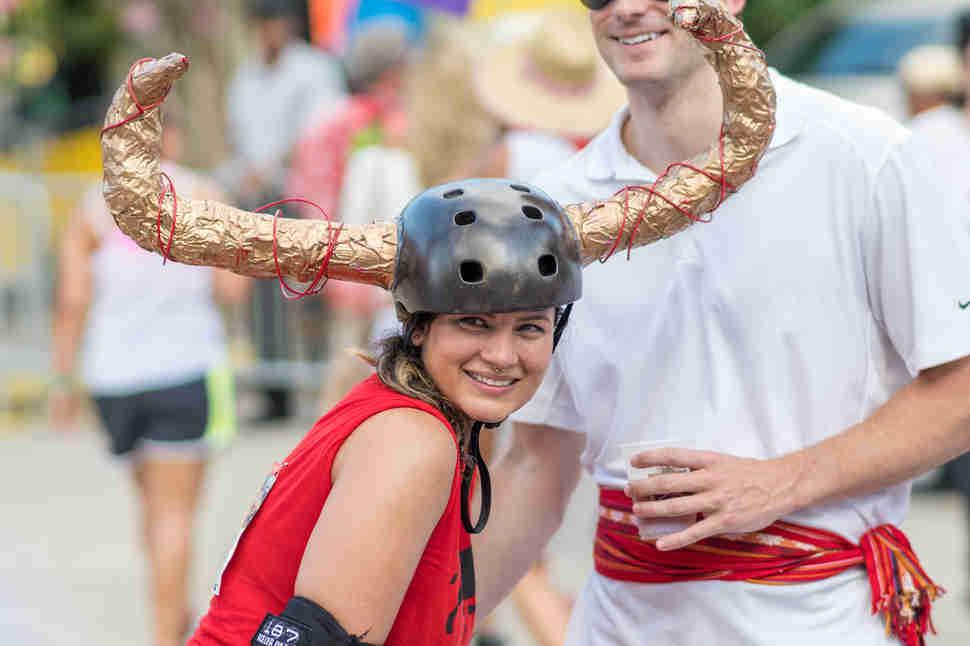 Friday July 12 - Sunday July 14
Warehouse District
Big Easy residents love nothing more than an excuse to drink at the literal crack of dawn. They do it after they clock out from their service industry graveyard shifts. They do it on Mardi Gras. And they do it at San Fermin in Nueva Orleans, which starts at the ungodly hour of 6:30am. That's when dozens of "rollerbulls" (roller derby members wielding bats and horned helmets) descend on masses of bandanna-clad revelers. Proceeds benefit Big Easy Animal Rescue and BFF NOLA.
Cost: $30-$95
Sunday July 14
Mercedes-Benz Superdome
The Rolling Stones disappointed legions of Hawaiian shirt-wearing Jazz Fest dads when they unexpectedly cancelled its headlining appearance this year. In a conciliatory move, the band added a New Orleans stop to its No Filter tour. It's been 25 years since the Stones last rocked the Crescent City, but even as a septuagenarian recovering from heart surgery, Mick Jagger still has moves like . . . well . . . himself.
Cost: Tickets start at $100
Tuesday July 16 - Sunday July 21
Downtown/French Quarter
There will be more tweedy, tattooed, mustachioed "mixologists" in town than you can shake a daiquiri at during this annual spirits industry trade conference. (So, if that's your type, definitely get on Tinder in mid-July). Cocktail industry seminars, tastings, competitions, and parties take over downtown and -- whether you're an pro or just a supporter of the spirits industry -- there's equal parts fun and education to be had.
Cost: Varies; some events are free
Wednesday July 23 - Sunday July 28
French Quarter
Come for the sex parties, stay for the facesitting seminar! This "lifestyle event" (read: swinger convention) includes panel discussions, private parties, a naked swinger pride parade, and lots of overly friendly people who are open in just about every way. Clearly, these free spirits are doing something right, since this event has been a New Orleans mainstay since 1998.
Cost: Varies; the parade is free to attend, but the hotel rates listed start at $99/night
Thursday August 1 - Saturday August 31
Citywide
The tourism sector generally reaches its nadir in August, which is the hottest, grossest, brokest month of the year in New Orleans. So what do restaurant owners do to get bodies in the restaurants? They offer three-course prix-fixe dinners for $39 or less. Now in its 15th year, Coolinary offers an extensive list of participating restaurants, which includes chic, James Beard award-winning trendsetters, Creole grand dames, and every air-conditioned spot in between.
Cost: Varies
Honor Louis Armstrong at Satchmo Summerfest
Friday August 2 - Sunday August 4
New Orleans Jazz Museum at the former U.S. Mint
Legendary jazz trumpeter, composer, and vocalist Louis "Satchmo" Armstrong gets his well-deserved time in the sun at Satchmo Summerfest, which brings two stages of live music, local food vendors, and seminars to the New Orleans Jazz Museum. Not holding this weekend-long event at Armstrong Park feels like a missed opportunity, but we imagine the Hades-like climate may have something to do with it.
Cost: $6
Saturday August 3
300-700 blocks of Julia Street
Let's be real: Even the gauziest linen, coldest champagne, and biggest handheld fan won't save you from the heat at this block party-cum-gallery-opening, which attracts thousands of people to Julia Street's galleries, museums, restaurant, and bars. But they sure are nice distractions.
Cost: Free
Friday August 9 - Sunday August 11
Bourbon Orleans Hotel
Witches are having a moment in popular culture -- chokers, black-winged eyeliner, and crystals haven't been this ubiquitous since The Craft came out in 1996. But underpinning the rise of Instagram-influencer witches is an ancient, earth-based belief system that predates Christianity. And what better place to celebrate that than New Orleans? HexFest brings "witches, rootworkers, and other magical teachers" (and yes, probably an amethyst choker or two) to a creaky, haunted French Quarter hotel for workshops, tours, panel discussions, and fellowship.
Price: $350
Saturday August 10
Royal Street, French Quarter
French Quarter gallery and business owners created Dirty Linen Night as a sly, tongue-in-cheek response to the Warehouse District's White Linen Night -- and a way to drum up business during the slow summer months. Don your grungy linen garb (extra points for sweat and Chardonnay stains), grab a dirty martini, and check out even more art.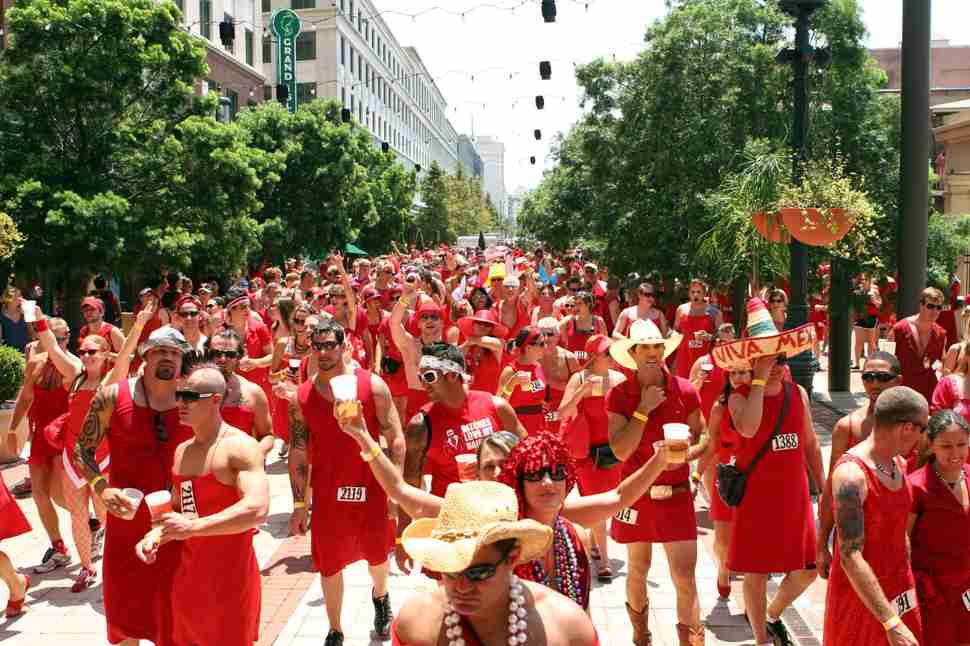 Saturday August 10
French Quarter
Yes, this is technically another early-morning drinking event.. but it's also so much more! Thrown by the New Orleans Hash House Harriers ("a drinking club with a running problem"), the Red Dress Run brings a sea of crimson gowns a la (the dancing lady emoji) to the French Quarter and raises money for charity. Register early, as the price goes up as the event approaches, and definitely get your red dress ahead of time, because the vintage stores do sell out.
Cost: $60 registration through June 30; $65 after that.
Thursday August 29 - Monday September 2
French Quarter
Ah, there's nothing like Southern Decadence, when around 300,000 bears, twinks, leather daddies, otters, butches, and femmes descend on the French Quarter in a weekend-long celebration. It's more than just a giant circuit party of concerts and drag shows -- it's both a celebration of gay culture and an act of resistance against the fundamentalist homophobes who show up for Decadence year after year with the same tired "God hates sin" picket signs.
Cost: Free
Sign up here for our daily New Orleans email and be the first to get all the food/drink/fun in the Big Easy.