October is nigh, and with it comes an entire month of spooktacular Halloween events in New York City. Sure, the world seems scary enough without having to pay $40 for a man dressed as a killer clown to jump out at you in the dark. But sometimes a good scare -- in a controlled environment, of course -- can give you that heart-pounding thrill of relief, which is otherwise hard to come by these days.
This year, Halloween's on a Wednesday, so the Sexy Lion's share of the parties are on the weekend of the 27th. But whether you want to scream your head off, get lost in a crowd, or just pretend to be someone else for a night, New York has plenty of fright-filled activities. Give yourself a fright at these film screenings, bar crawls, masquerade balls, seances, and costume parties all month long.
Recommended Video
There's a Stock Market-Themed Cocktail Bar in Hong Kong
Oct. 4, Oct. 11, Oct. 18, Oct. 25, Oct. 31
East Village
What better way to celebrate a month of horror than with the man himself? The Village East Cinema will screen five weeks of Hitchcock films -- including Rear Window and Strangers on a Train -- before ending the month, on Halloween, with Psycho. Whether you've seen them all a hundred times or consider yourself more of a Tom Six buff, Hitchcock's sophisticated scares hold up time after time.
Cost: Tickets are $15
Oct. 27
Murray Hill
If you think about it, bar crawls are kind of like trick or treating; they even have the same likelihood of puking when you're done. The Night of the Crawling Dead takes you from bar to bar through Murray Hill and Midtown. Expect a lot of Trump masks and that Bumble guy who ghosted you dressed as an actual ghost.
Cost: $10 gets you a ticket to the crawl, but you'll have to buy your own beers (or get someone to buy them for you)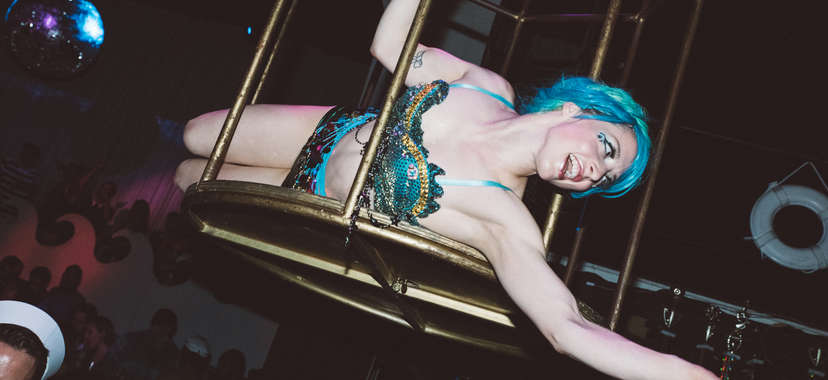 Oct. 16, Oct. 19, Oct. 20
Bushwick
When the dress code is "spooky, scary, blood-curdling and bone-chilling," you know you're in for a night. The party experts at House of Yes are teaming up with Little Cinema to create an immersive horror movie experience complete with aerial dancers, 3D animation, and an audiovisual DJ show. So go ahead and soak that wedding dress you found at the thrift store in red corn syrup and dance until morning.
Cost: General admission starts at $30
Oct. 19
The Bronx
This adults-only Halloween party lets you fulfill your lifelong dream of getting boozy at the zoo. There's a costume contest (although stilts aren't allowed, so I'm afraid your giraffe costume won't work out), a haunted trail, mentalism shows, food trucks, live music, karaoke, beer, and wine. The lemur and gorilla exhibits will close right before the Brew, but the sea lions will stay up to party with you all the way until 11pm.
Cost: Tickets start at $80 and include unlimited beer samples
Oct. 27
Pier 40
For more of an Eyes Wide Shut vibe, the Titanic Masquerade is a three-hour party cruise with DJs, multiple bars, and a strict dress code. Come in all white -- cocktail attire for women, collared shirts for men -- and a masquerade mask. If the club gets a little rowdy, you can always step outside to take in the view of the skyline. Just saying, though, standing on the deck of a Halloween yacht cruise sounds like the beginning of a slasher film.
Cost: Tickets start at $28
Oct. 14
East Village
Live your best goth life as you attend a reenactment of the 19th-century funeral service of Seabury Tredwell. You'll learn about funeral customs, Victorian mourning, and the brand-new (to them) world of undertaking. After the service, you can tour the museum and view A Good Death: 19th Century Lessons in Dying Well, where -- if you dare -- you can pose for a photograph inside the museum's 19th-century coffin.
Cost: $35
Oct. 28
Bushwick
The co-owner of Catland, a metaphysical boutique and event space, is hosting this intimate group seance during October, when "the veil is at its thinnest." The veil between us and the spirit world, that is. Attendance is limited, as the hosts will work with every guest one-on-one to help you achieve contact with the great beyond. All you have to bring is a white candle and some burning questions.
Cost: $50
Oct. 27
SoHo
Hosted by the Wasabassco burlesque troupe, this Halloween party features a costume contest at 7:30pm and a burlesque show at 8. Come early and have dinner, or just sip a few glasses of their locally sourced wine -- it's ideal for exploring the uninhibited side of Halloween without having to stand on the street or shout in a crowded club. Plus, if you win a prize, you'll get a bottle of wine to drink on the comfort of your couch.
Cost: General admission is $22
Oct. 31
Greenpoint
The Wild Honey Pie, an artist collective, hosts dinner parties where musicians can connect directly with their fans. Their Halloween-themed dinner at Le Fanfare is your chance to meet jazz duo Salt Cathedral all dressed up in your homemade costume. It's the perfect way to celebrate actual Halloween in a low-key, date-worthy way. Your $50 ticket includes booze and three courses of Le Fanfare's Italian menu.
Cost: General admission is $50
Oct. 27
Ft. Greene
With the beloved Tompkins Square Park Halloween Dog Parade recently canceled by The Man, you need a new place to show off that dog costume you spent 30 hours hot-gluing together. The Great PUPkin is a worthy replacement: It's got dogs in wigs, a leafy park, and your best chance of making your dog Insta-famous. Only registered dogs can enter, so sign up online starting October 1 or day-of at the Fort Greene Park monument plaza. Judging starts at 11:30am, so this is a pre-brunch kind of thing.
Cost: Suggested donation is $5
Oct. 4-31
Croton-on-Hudson
Hosted at Van Cortlandt Manor, this upstate display features more than 7,000 carved pumpkins fashioned after carousels, planetariums, medieval castles, and signs of the zodiac. The manor's a little over an hour from the city by car, or you can take the Metro-North to Croton-Harmon. If you can, plan a day of pumpkin picking and leaf peeping and then swing by the Blaze before you head home.
Cost: $22
Oct. 27
Greenwich Village
Good thing fanny packs are back in! This underground pseudo-speakeasy is hosting their annual Halloween party for those of us who don't have time to make a costume but do own a bunch of leotards. The '80s theme means you can throw on a pair of leggings and be ready to party in no time at all. They'll have a live DJ, specialty cocktails, and -- I'm sure -- a lot of Barb from Stranger Things.
Cost: General admission starts at $10
Oct. 6, Oct. 7, Oct. 13, Oct. 14, Oct. 28
Greenwood
It turns out that Green-Wood's 478 sprawling acres of spectacular graves are even more foreboding in the dark. Once dusk comes, you'll wind through the cemetery on a guided tour, visiting famous and beautiful graves, before ending with a visit to the Catacombs (where the public aren't usually allowed). Bring a flashlight... you're going to need it, and not just for telling scary stories.
Cost: $25
Oct. 27
Midtown
Looking to get absolutely ghoulish? This huge Halloween party has sold out five years in a row -- and they've got 50,000 square feet and four floors to fill. Come costumed and ready to tear up the runway, because the contest is one of the most competitive in town. The club's in Times Square (ugh), but at least if you win a cash prize in the contest you can treat yourself to a pedicab home.
Cost: Tickets start at $29
Oct. 5-7, Oct. 11-14, Oct. 17-21, Oct. 23-31
Tribeca
This haunted house is not messing around, scare-wise. They're here to play the Halloween hits -- clowns, mad scientist, mummies, ghosts -- and they must go through gallons of fake blood every night. If you think you've got nerves of steel, you might still find your heart racing. And if you're like me, you'll sleep with the lights on for a night. Even with a ticket, prepare to wait in line... just be thankful they let you in with your friends. Nobody wants to be alone when a killer nurse jumps out of the dark with a machete.
Cost: General admission is $35
Oct. 31
Greenwich Village
This is the 45th iteration of the ultimate NYC Halloween experience. This year's theme, reflecting the narrowing line between human and android, is "I AM a Robot." Even if you don't dress up like a ghost in a machine or Zombie Elon Musk, you'll find yourself in an incredible sea of weirdos and artists and tourists and NYU undergrads in wigs from Ricky's. Head's up: The costume contest is the parade -- if their secret scouts like your costume, they'll hand you a card. Oh, and please do dress up as Zombie Elon Musk.
Cost: Free
Sign up here for our daily NYC email and be the first to get all the food/drink/fun New York has to offer.