With snakes on the L train, a Times Square full of handsy monsters, and... whatever this guy is doing, New York can be scary enough to feel like Halloween all year round. Now that October 31 is finally here, it begs the question: How do you give a Halloween fright to a city of people who refuse to flinch? Well, we've got some pretty good ideas.
 
Even if you've smelled enough of New York City to think that it's horrifying year-round, you can get scared by a screening of Nosferatu with a live organ score, immerse yourself in a seven deadly sins-themed party, or march as a "Wild Thing" in the Village Halloween Parade -- we've rounded up thirteen super-spooky ways to celebrate Halloween.
Spending Halloween outside of the city? Check out our guides to the best Halloween parties and events in LA, Chicago, Las Vegas, Houston, Nashville, San Francisco, New Orleans, Miami, Seattle, Portland, Atlanta, DC, & Boston.
Williamsburg
Nitehawk Cinemas is hosting its annual Halloween party and costume contest for cinephiles. This year, it's screening two "secret" 35mm films from the Best Movie Year Ever, 1999 -- aka the year of The Blair Witch Project, The Sixth Sense, Deep Blue Sea, and many other campy thrillers. You can sip a specialty cocktail while you watch (or cover your eyes at the scariest parts -- we don't judge). Just keep an eye out for the "Nitehawk," the masked man who might deliver your drink. 
Cost: Tickets are $20; food and drink available to purchase
Tribeca
If IT Chapter Two wasn't scary enough for you, then maybe Blood Manor will do the trick. This haunted house has enough clowns around blind corners to scare even seasoned horror junkies. Taking place over 5,000 square feet of twisting labyrinths and tiny rooms, it's easy to forget that you're in the middle of Manhattan. If you get too scared, though, just tell an actor -- they'll lead you out one of the emergency exits and back into the cold, dark New York night. 
Cost: Advance tickets start at $35; $40 at the door
East Village
Inspired by the radio plays of the 1930s (think "The War of the Worlds" and Lights Out), Radiotheatre reimagines classic scary stories for voice actors on the stage. With narrators, orchestral arrangements, sound effects, and very limited visuals, their performances let your imagination do the work -- just like in the golden days of radio. The stories -- based on H.P. Lovecraft, Bram Stoker, and Saki -- are more pulpy than scary, making this indie theater company a campy cult-classic Halloween destination. 
Cost: Tickets start at $24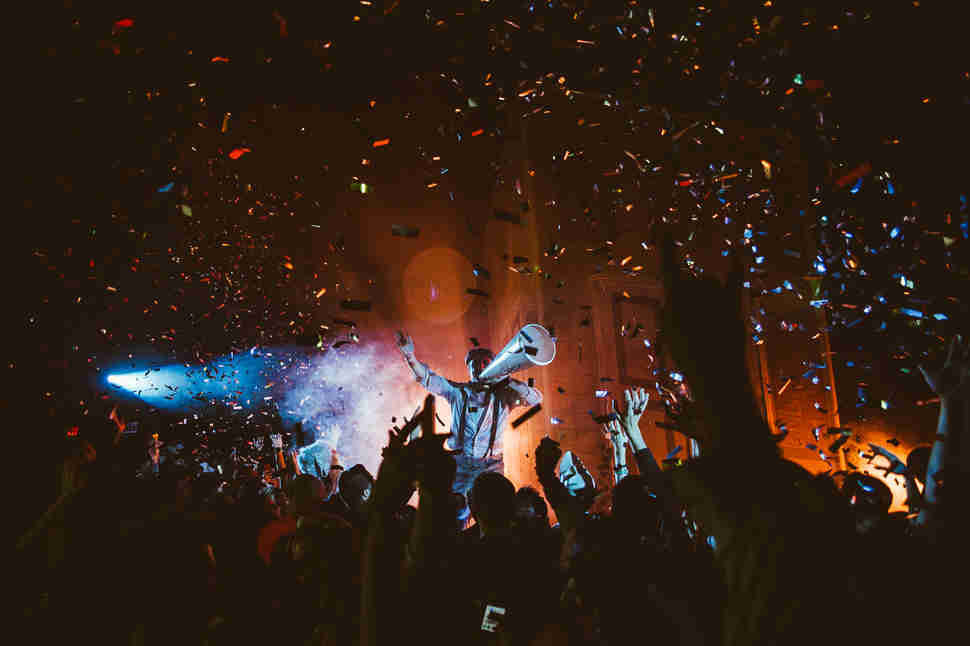 Chelsea
The McKittrick Hotel -- longtime home of the made-for-spooky-season Sleep No More -- is stepping up its October game with the Hitchcock Halloween Party. Taking inspiration from the man behind Psycho and The Birds, they'll be transforming the entire hotel with art, installations, stunning costumes, and live performances. Come for a thrilling performance of Sleep No More, then stay to drink and dance away your heebie-jeebies -- there'll be an open bar all night long. 
Cost: Hitchcock Halloween Party tickets start at $125 and include an open bar; Sleep No More + Hitchcock Halloween Party tickets start at $250
Kips Bay
Think you know everything about the cult-classic movie Hocus Pocus? Prove you know your potions from your poisons at this Hocus Pocus-themed trivia night. There'll be a costume contest, too, so convince your BFFs to dress up like the Sanderson sisters -- the best-dressed team wins extra prizes. If you don't have a coven at the ready, you can sign up by yourself to be teamed up with some other Sarah Jessica Parker completists. 
Cost: Registration is free; drinks available for purchase
Greenwich Village
For one night only, you can catch Nosferatu on the big screen with a live score from organist Parker Ramsay at St. John's in the Village. Made in 1922, the German Expressionist adaptation of Bram Stoker's Dracula is a silent film designed to be accompanied by live music. The movie may have lost some of its scare factor in the nearly hundred years since it was made, but it's still plenty spooky -- especially in a dark church on Halloween night. 
Cost: Tickets are $20
Williamsburg
If you like your Halloween a little more Eyes Wide Shut than The Hills Have Eyes, head to Maison Premiere's Jazz Age Masquerade. There, you can enjoy a meal that isn't your kid's trick-or-treat Reese's, sip on specialty cocktails, and slurp down oysters while channeling Tom Cruise in his iconic gold mask. There'll be a fortune teller from 7-9pm, but the party goes all night -- oysters are served until 2am, and the drinks will flow until 4. 
Cost: Standard menu prices; reservations are recommended
SoHo
A celebration of the seven deadly sins, The Blond's Halloween party lets you move through rooms dedicated to each sin in its "human form" -- none of which, hopefully, have anything to do with the movie Se7en. From 9pm to midnight, you can get your fill of greed, gluttony, wrath, sloth, and pride -- and until 4am, the dance party on the main floor will be (what else?) "lust"-themed. Just remember: If you see a box, do not ask what's in it. 
Cost: Tickets start at $40
Pier 26
Is remembering your pre-teen years the one thing that really scares you? Remember the horror at City Vineyard's Halloween-themed "Your Middle School Dance" party. If the possibility of hearing Sisqo's "Thong Song" isn't enough to make you quiver in fear, the memory of waiting for someone to ask you to slow dance might do it. There'll be a costume contest, too, so come dressed in your favorite '90s or '00s nostalgia, like Funky Purple EZ Squirt or a dead Tamagotchi. 
Cost: Tickets are $12; drinks available for purchase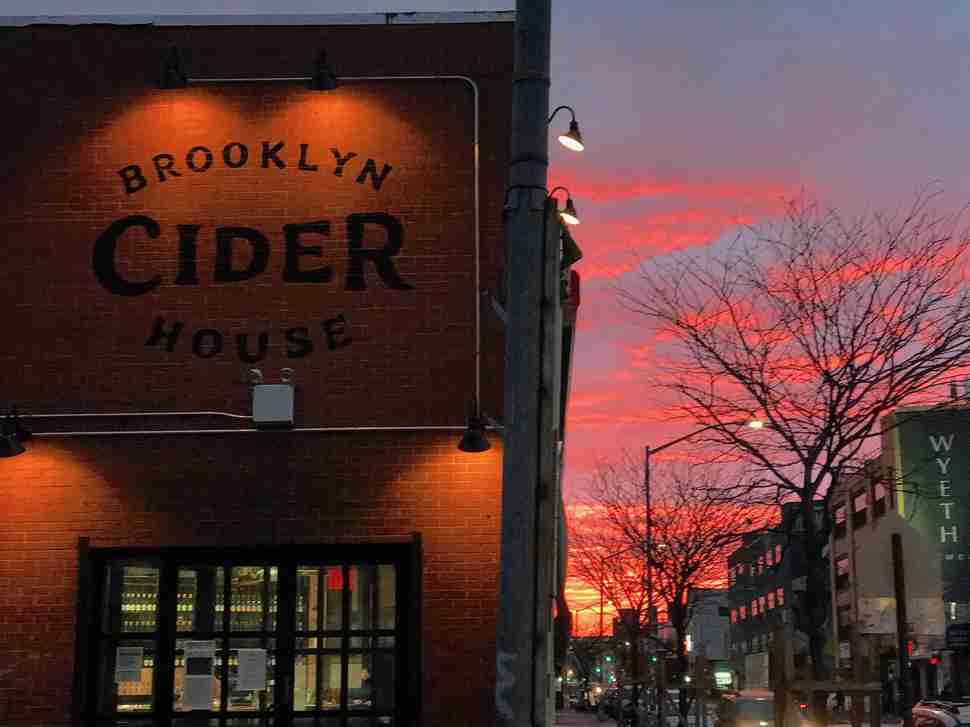 Bushwick
If you're not into haunted houses or -- even scarier -- the club scene, Brooklyn Cider House has a lowkey way to celebrate. There'll be scary movies, seasonal brews, and a live band from 7-9. (That gives you plenty of time to get home to catch the last of the trick-or-treaters). You can drink your cider in costume or out -- but know that everybody dressed in a Halloween costume gets a free cider catch with any purchase. 
Cost: Free to enter; drinks available for purchase
Maspeth
The Haunted Hop Halloween Spooktacular is worth the schlep to Maspeth, Queens -- with DJs, live bands, and multimedia performances, it's a packed dance party of non-stop spooky stimulation. Much like a bag of trick-or-treat candy, if you don't like one thing (looking at you, Life Savers), you can just move on and try another. Wear a costume you can sweat in; the costume contest doesn't start until 1am, and you don't want to blow your shot.  
Cost: Tickets are $25 in advance; $30 day-of show
West Village
This year, the NYC Village Halloween Parade is "Wild Thing"-themed, so text the friend who's most willing to wear the back of your horse costume. Pre-game the parade (no alcohol is allowed) and jump into the fray, where you'll be joined by hundreds of puppets, undergrads in cat ears, and what seems like an impossible amount of uniformed NYPD officers. Only costumed marchers are allowed, so you better start planning how wild your Wild Thing costume is going to be. 
Cost: Free for spectators and costumed participants; perks like line skipping have their price 
Flatiron
If you're looking to postgame the Halloween parade, the minds behind House of Yes have joined up with art collective Kostume Kult to host an afterparty near the end of the parade route. Like the parade itself, only costumed revelers are allowed -- the weirder and wilder, the better. Once inside, you can warm up from the cold with live DJs, drinks, debauched dancing, and the chance to connect with other New Yorkers who actually like parades. 
Cost: $40 to enter before 1am, $20 to enter after; drinks available for purchase
Sign up here for our daily NYC email and be the first to get all the food/drink/fun New York has to offer.