Elsewhere Halloween

| Photo by Luis Nieto Dickens, courtesy of Elsewhere
Elsewhere Halloween

| Photo by Luis Nieto Dickens, courtesy of Elsewhere
Sometimes it seems like goblins, ghouls, and witches haunt New York City year-round, but they really come out to play once October arrives and All Hallow's Eve inches closer. In a city as spirited as the Big Apple, the sheer number of Halloween festivities across the boroughs throughout the month of October can make choosing the right ones overwhelming—and that's on top of coming up with the perfect costume. There's no need to break out the Ouija board to see what the spirits suggest. Here are the best ways to celebrate the scary season in the city with whatever tricks or treats you like.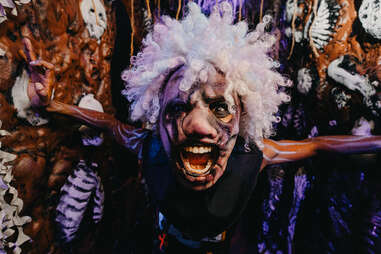 Halloween Haunted Houses and Tours in NYC
Ongoing
South Slope, Prices vary
With 478 acres of winding paths and rolling hills, graves dating back to the 1800s, and Victorian architecture, Green-Wood Cemetery will cast a spell on you. Stroll past graves (including those of famous people like Jean-Michel Basquiat and Leonard Bernstein) on your own, or check out the cemetery's lively event calendar for special programs like a guided Spirited Stroll with ghost stories on October 28 and 29, an evening dance party on October 19 and 20, and a free Día de los Muertos celebration on November 1 featuring live music and crafts.
Through November 4
Tribeca, Prices vary by date
NYC's premier Halloween attraction celebrates 20 years this season with three new rooms where screams are sure to abound. Whatever makes the hair on your neck stand up—creepy clowns, eerie asylums and medical curiosities, or cursed mansions where ghosts lurk around every corner—this 10,000-square-foot haunted house has it and will get a few jump-scares out of you. Ticket prices vary across dates.
Through October 29
Bronx Park, Starting at $23.95 (non-member children)
For family-friendly festivities, the Bronx Zoo can't be beat. Daytime event Boo at the Zoo returns each weekend, encouraging patrons to come in costume while visiting 6,000 species. Special activities include pumpkin-carving demonstrations, magic shows, a parade of puppets and stilt walkers, and a new animal skeleton exhibit. On Thursday through Sunday evenings, the zoo twinkles with a half-mile trail of more than 5,000 animal-themed jack-o'-lanterns during Pumpkin Nights (a first for the zoo).
Through November 12
Bronx Park, Starting at $15
Hundreds of pumpkins and gourds are on display at the New York Botanic Garden, alongside a promenade that highlights all kinds of colorful varieties and a collection of award-winning gigantic pumpkins from farmers across the country. Weekends bring opportunities to watch professional jack-o'-lantern carvers and decorate your own pumpkin, and there are special activities like Spooky Garden Nights, featuring fun additions like illuminated scarecrows, a shadow puppet show, and a parade.
October 26
Central Park, Free
Summon spirits into the city ahead of All Hallow's Eve with this sunset event. Central Park's annual Pumpkin Flotilla, held on the Northeast corner of the park, sets illuminated jack-o'-lanterns floating across the Harlem Meer on rafts in a mystical parade. The event and participation are free—just arrive early, sign up by 5:30 pm, and make sure your pumpkin is free of unnatural decorations.
October 29
Nolita, Free
The annual pet parade takes over Elizabeth Street Garden's stunning, statue-dotted public green space with a costume contest and parade for pets. Bring your furry, feathered, or scaled friend in a cute costume to walk the runway (where they'll be "rigorously judged") for a chance to win prizes from local businesses. (Don't be afraid to get creative and collaborate: Last year's winner was a group of dachshunds (aka weenie dogs) masquerading in a hot dog cart costume.) If you don't have a fur baby of your own, simply come and have what's guaranteed to be the most adorable Halloween plans. Plus, you'll be supporting the Garden, which is at risk of being destroyed by developers.
October 29
Glen Oaks, $20
If Halloween doesn't feel complete without a trip to the pumpkin patch, you don't have to leave the five boroughs to make that happen. Embrace your childhood nostalgia at the Queens County Farm Museum, a 47-acre historic site owned by the Parks Department that features farm buildings, livestock, fields, and more. Family-friendly Halloween on the Farm returns this year on October 29. Wear a costume and enjoy a day of trick-or-treating throughout the barns. Other October events include a three-acre corn labyrinth, hayrides, and a pumpkin patch. Tickets to Halloween on the Farm must be purchased in advance.
Halloween Shopping Events in NYC
October 28–October 29
The Seaport, Free entry
Embrace Halloween weekend's energy early by celebrating with eclectic shopping, crafting opportunities, and a block party all in one at the Hester Street Fair. The popular costume contest returns as well, so dress to impress while shopping for a new one-of-a-kind addition to your closet and grooving to DJs while you wait to hear who's taking home the prize basket of goodies from the flea market's beloved vendors. Founded by three Lower East Side locals, Hester Street Fair got its start on Hester Street before moving to Pier 17 at the Seaport last spring. The collection features artisans, chic designers, vintage, and more.
October 29
Upper West Side, Free entry
Channel your inner Nora Ephron character and head up to the Upper West Side to spend a charming fall day at Grand Bazaar, the oldest and largest flea market in the city. Hosted each Sunday, Grand Bazaar transforms into a Halloween-themed shopping experience during the big weekend with decorations and over 200 vendors (ranging from vintage sellers and antique dealers to inventive artisan and food makers), many in costume. Wear a costume as well while you shop, but don't be afraid to hold back on your look: You can bet some vintage retailers will pull incredible costumes and accessories out of their collections. You could piece together a last minute look while you thrift.
October 27, October 28, and October 31
Chelsea, Starting around $100
Bring whatever monster is hiding under your bed to this elaborate party at NYC's '30s-themed event space The McKittrick Hotel. Emursive, the team behind acclaimed, interactive theater productions like Sleep No More, will transform the performance venue into a horrifying dreamscape with hair-raising decor, a variety of top-notch live acts, and a dance floor where you can let your inner demons loose.
October 28
East Williamsburg, Starting at $71.07
For a night where you're guaranteed to see some of the hottest costumes and hear the hippest beats, Elsewhere's annual Halloween party is where it's at. Trendy underground DJs producing an eclectic mix of house, hyperpop, and hip-hop are scheduled to play sets on every stage of this popular, multi-room live music space from 10 pm until late, so you can commune with the spirit world on the dancefloor all night long.
October 29
East Williamsburg, Starting at $15
The horror movie final girl—from characters Laurie Strode to Sidney Prescott and recent faves like Maxine Minx—always slays as she faces off with the killer. LGBTQ+ nightclub 3 Dollar Bill is asking its guests to serve those Halloqueens at this party, which is an homage to the slasher film genre. Dance to trendy, queer electronic and pop music, see killer performances from drag queens like Thorgy Thor and Olivia Lux, and take a stab at getting a tattoo.
October 31
East Village, Starting at $25.92
Webster Hell is where you'll find all the dedicated Halloween fiends partying well past midnight. The long-running party and official afterparty of the Village Halloween Parade beckons all of the demonic debauchery from the underworld to music venue Webster Hall, where the party takes over all three floors. Music throughout the club will definitely have you doing the Monster Mash; performances—including a theatrical satanic ritual and fire dancers—are sure to hypnotize; and the best costume takes home a hefty $5000 prize.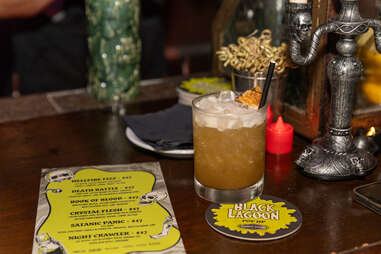 Ongoing
Various locations, Prices vary
Sip on libations at a spot where Frankenstein, Dracula, or the Creature from the Black Lagoon would fit right in were any to make a trip to NYC. A handful of bars throughout the city have delightfully grim atmospheres year-round, from creepy-cute cocktail bars like Ridgewood's The Keep to kitschy, themed joints like the East Village's BeetleHouse (dedicated to the goth king himself, Tim Burton) and Jekyll and Hyde Club in the West Village. You could even summon your bravery and visit rumored homes to friendly ghosts, like the storied Ear Inn (founded in 1817) or White Horse Tavern, where some say the late poet Dylan Thomas hangs out from beyond the grave. For mocktails and a side of witchiness, the city's sole sober bar Hekate serves spellbinding elixirs and frequently hosts spiritual events like tarot readings and workshops.
October 17–31
Lower East Side, Prices vary
If the spirits had a designated watering hole once they made it to the other side, it would be this pop-up. Black Lagoon, founded by longtime bartenders Kelsey Ramage and Erin Hayes, will turn LES bar Pretty Ricky's into a denizen of the macabre by transforming the space with a dungeon-like interior with a special menu of cocktails from your nightmares. The Night Crawler, for example, is inspired by an autumnal palette and the Hellfire Fizz is a devilish mix of earthy flavors. Cocktail connoisseurs and goths alike are sure to have a great time no matter what poison they pick. Reservations available on Resy.
October 27–28
Ridgewood, Starting at $66.60
Sink your fangs into a Halloween prix fixe meal at Flying Fox Tavern. The Ridgewood bar and restaurant keeps things chilling year-round with an eerie space, selection of cocktails named after iconic vampires, and horror-themed events, but they all collide at a special dinner for this scary season. Diners will untangle clues to solve mystery while enjoying either a vegan or non-vegan four-course meal and cocktail. Costumes are welcome, and the tickets to reserve a seat go towards the final bill.
Halloween Horror Movies in NYC
October 12–October 19
Prospect Park and Williamsburg, $18.89
The Brooklyn Horror Film Festival, the East Coast's premier genre festival, offers a slate of screenings from independent, up-and-coming filmmakers. Broken down into categories like Slayed LGBTQ+ Horror, Head Trip, and Home Invasion, there's something for every kind of horror fan. Check out the lineup, screening solely at Nitehawk Cinema's Prospect Park and Williamsburg locations, and you might catch the debut project from the next Wes Craven or David Cronenberg.
Through October 31
Various locations, Prices vary
If you're a cinephile who can't celebrate Halloween without (re)watching a horror movie, or even a nostalgic, childhood favorite Halloween film, be sure to check out what NYC's indie theaters are screening. Nitehawk Cinema in Williamsburg and Prospect Park has several retrospective screenings this year: Don't Go in There is devoted to haunted house movies (The Amityville Horror, The Shining, The Evil Dead, etc.) and a more general Halloween slate (Coraline, Suspiria, more). Bushwick's dine-in theater Syndicated has a variety of special screenings, from certified classics (Halloween, The Texas Chainsaw Massacre) to cult classics (Jennifer's Body) and beloved international imports (A Girl Walks Home Alone at Night, Possession, Ringu). In Manhattan, Hitchcocktober is back at The Village East by Angelika with its annual screenings of Alfred Hitchcock classics throughout the month.
Outdoor Halloween Movie Screenings
Through October 31
Midtown and Nolita, Prices vary
There are several opportunities to watch a movie outdoors in the crisp autumn air. Catch a view of the skyline while seeing iconic titles at Rooftop Cinema Club in Midtown. The open-air cinema will play Halloween movies as a part of recurring series like Y2K Tuesdays (Final Destination, Scooby-Doo), plus it will celebrate the 30th anniversary of Hocus Pocus and The Nightmare Before Christmas. and Y2K Tuesdays (Final Destination, Scooby-Doo) with screenings. There are also ample opportunities to catch whatever subgenre gets you in the scary season spirit—be it something witchy (The Craft, Practical Magic) or demonic (The Exorcist, Paranormal Activity). Meanwhile, embrace all the autumnal vibes in the Elizabeth Street Garden on October 24, 25, and 26 with the free Monster Movie Mini Series, including Beetlejuice, the original Cat People from 1942, and Ghostbusters. Movie-related costumes are encouraged, if you're so inclined to start dressing up early.
Sadie Bell is Thrillist's former Associate Culture Editor and a Thrillist contributor, focusing on music, culture, and nightlife. Halloween is by far her favorite holiday.