Deck the Halls, Your Pets, and Yourself in Spooky Accessories, Costumes, and Candy at These NYC Halloween Stores
We're all familiar with the seasonal "Halloween Store" hustle. These pop-ups start haunting the avenues on the 5th of July in nondescript, dropped-ceiling retail spaces with fluorescent lighting and a poorly categorized array of disorienting "Comical British Secret Agent" and "80s Purple Musician" costumes. And then, like the fabled "Late October Serial Killer," they're gone before you've finished your final fun-size Nutrageous.
Luckily, New York City has a wealth of destinations for Halloween and Halloween-adjacent goods that are both higher quality than those chintzy pop-ups, and available (mostly) year-round. If you're in the market for bargain candy, a dragon costume for your doggo, or makeup that'll evoke the undead, the five boroughs abound with tried-and-true shopping options that aren't just here in an instant, gone in a flash.
Courtesy of Abracadabra
The best store for scary decor: Abracadabra
Flatiron
Halloween obsessives will feel like a witch in an eye of newt store at Abracadabra, the 21st Street institution that's been supplying NYC with costumes, props, and magic supplies for years. Its selection or prop rentals rises above the ho-hum jack-o-lantern bowls and cartoony rubber bats you'll find at every CVS in town. Choose from hearts in jars, alien autopsy mannequins, and giant coffins to create your own small-scale haunted house and finally be zealous adult reveler you always dreamed of becoming when you were just a trick-or-treater.
East Village
If there's a Jekyll to Abracadabra's Hyde, it's New York Costumes (aka Halloween Adventure) in the East Village -- without the evil. This year-round holiday superstore is a Halloween Town right in the city, with a selection of hundreds of wigs, masks, accessories, and costumes for you to fashion your own generic vampire or mimic a blockbuster superhero. Go in with a specific costume in mind, or search for inspiration among the broad, well-organized array of choices.
The best store for DIY costumes: Housing Works
Multiple locations
When readymade costumes can't express the spooky sartorial creativity you've been brewing all year, thrift and vintage stores will bring your Halloween vision to fruition. And when it comes to DIY duds, selection is key. Housing Works has choices by the baker's dozen. Peruse its 13 stores to find the perfect pieces for your sexy zombie pizza rat costume.
Courtesy of Manhattan Wardrobe Supply
Midtown
Its proximity to FIT, Broadway, and the Fashion District makes Manhattan Wardrobe Supply a natural destination for Halloween makeup. Since it supplies the pros, you'll find all the tools you could ever need to pull off some elaborately gruesome designs. And, because the staff here works so closely with the entertainment industry, they might just share their expert tips and tricks if you ask nicely.
Courtesy of Economy Candy
Lower East Side
NYC is rife with gourmet, artisanal,
expensive
candy shops, but at the end of the day Economy Candy has them beat. Choose from an international assortment of fun and unique treats, or opt for classic fun-sized candy bars. Even though trick-or-treating isn't quite the same in the city, stocking up on candy always makes the Halloween season a little sweeter.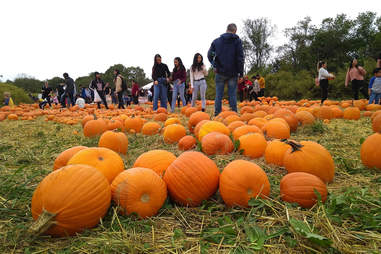 Courtesy of Queens County Farm Museum
The best place to get a future jack-o'-lantern (aka pumpkin): Queens County Farm Museum
Floral Park
Just try to find a real deal
pumpkin patch
in NYC that isn't part of some
immersive experience
Instagram bait. For the majority of us, seasonal gourds will come from a particularly well-equipped bodega or, at best, the Union Square Greenmarket. If you want to make an IRL adventure out of your pumpkin picking, the Queens County Farm Museum in Floral Park is the best in the boroughs. Choose from hundreds of pumpkins at the longest continually farmed site in New York state.
The best store for dog costumes: Canine Styles
Upper East Side and Upper West Side
If your pup is patient enough to get into the spooky spirit (or just let you project your spirit onto them), Canine Styles offers a wide selection of dog costumes to transform your pup into a hippopotamus, pineapple, Captain America, or even a taco. Everybody loves a taco! Start planning ASAP so your doggo's look is ready for the annual
Tompkins Square Dog Parade
!
Enchantments

| Victor Castro
The best store for occult relics and objects: Enchantments
East Village
Enchantments has all the supplies aspiring witches could hope to conjure. Pick up hand-crafted candles, tarot decks, books on divination, and oils and resins for making your own magical potions. Really, anything you need bring
The Craft
into the almost-2020s. And, while you're there, you can get a psychic reading to see if the witch life is really meat for you.
Schuylerville
Between Abracadabra, Halloween Adventure, and Housing Works, your costume and decoration bases will be covered. But if you're really trying to come correct this October 31, the Frank Bee Costume Center is worth an extra stop for its high quality masks. This one-of-a-kind mom and pop costume shop in the Bronx has been in operation for more than 60 years, so you know they've seen and done it all.
Best store for making Halloween a lifestyle: Gothic Renaissance
Union Square
For most people, Halloween is one day a year or, at most, it's a month-long celebration of
horror movies
, pumpkin carving, and overindulging on
candy
. But for some people, Halloween is a way of life. If you're looking to make the leap into full-on goth, Gothic Renaissance is your spot. This boutique just south of Union Square has all the corsets, capes, and creepers you could need to really live on the dark side.
Sign up here for our daily NYC email and be the first to get all the food/drink/fun New York has to offer.
Erik Helin is the only Brooklyn-based freelance writer.​​​