New Yorkers are gluttons for productivity. Maybe it's because even scoring dinner reservations and bar seats requires hustle here, we're constantly angling for ways to make our precious free time pull double duty. And NYC is full of courses and workshops that split the difference between fun and informative.
 
Many of these opportunities, however, cost more cash and time than we can afford. While it'd be nice to be able to devote weeks to a cheese board building apprenticeship, we're busy working our day jobs, night gigs, and side hustles. Fortunately, there are also plenty of one-day classes designed to build cocktail party-worthy skills that might also save you time on your next night in. These are the best places to learn how to brew your own beer, create unique gifts, hand make pasta, butcher a fish, improve your knife skills in the kitchen, and yes, build a better cheese board in NYC.
Class: Brewshop 101
Bitter & Esters
Prospect Heights
Prepare yourself to give the city's best craft brewers a run for their money with Brewshop 101, a three hour workshop concentrating on practical brewing techniques, including how to use malts, grains, hops and yeast to produce desired flavors. If you want to take your knowledge to the next level, follow 101 with advanced courses focusing individually on all-grain, hops and yeast.
Cost: $55
Class: Tarot Card Basics
Brooklyn Brainery
Prospect Heights
Whether you were hoping to make better dating choices, considering a big career move, or deciding where to have dinner, there's a good chance you've checked your horoscope or had your cards read at some point in your life. During this two hour course at the Brooklyn Brainery, you'll learn how to forecast your own fate by studying the foundational meanings behind each card in a traditional tarot deck, and gain a basic understanding of their astrological connections. 
Cost: $35
Class: Glass Terrariums
Brooklyn Glass
Gowanus
Glasswork skews a bit spendy, but Brooklyn Glass' terrariums workshop provides a big bang for your buck: you'll create a couple of gorgeous pieces to showcase your favorite plants (which also make stunning gifts) in one five-hour session. For the same price, you can opt for the shot glass workshop, where you'll create four unique pieces that will certainly come in handy the next time you have a party and want something to brag about (then drink from).
Cost: $220
Class: Fromages 101
French Cheese Board
Nolita
Get ready to accelerate your cheese plate game following French Cheese Board's Fromages 101 course. This 90 minute tasting session starts with a glass of wine, walks you through the flavor profiles and provenances of some of France's famed cheeses, demonstrates the correct course order, and identifies the best accompaniment for each selection. 
Cost: $49
Class: Handmade Pasta
International Culinary Center
SoHo
Solidify your standing as the most popular dinner party host in your friend group at the International Culinary Center's handmade pasta class. You'll make a basic dough, which you'll learn how to cut into a variety of shapes, prepare a more elastic dough for ravioli and tortellini, and prepare seasonal sauces and fillings to complement the carbs in this four hour course.
Cost: $195
Class: Intro Hand Building
La Mano Pottery
Flatiron
Pottery is therapeutic and humbling: it's physical, challenging and requires incredible attention and patience. La Mano's hand building class lets you play sexy Hollywood ghost for a day to create your very own functional or fashionable piece (typically ready for pickup within four weeks). And if you fall in love with the form during your intro, you can further your practice with an eight session weekly workshop. 
Cost: $75 (+ $15 if you want to keep your piece)
Class: Mastering the Art of Tomato Gardening
New York Botanical Garden
Fordham
If brown thumb tendencies have gotten the best of you for too long, consider this local rooftop farmer's three-hour seminar. You'll learn how to "maintain your growing garden, create trellises, make a fertilizing regimen, manage pests and diseases, and select and store your most successful plants' seeds," all while surrounded by the stunning landscape of the New York Botanical Garden. 
Cost: $55 (members), $59 (non-members)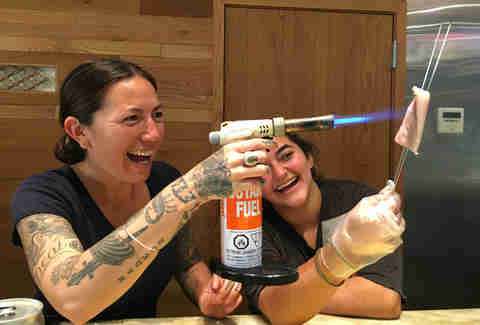 Class: Fish Butchery
Osakana
Williamsburg
This fishmonger is unlike any other in NYC. Its counter is deliberately curated to reflect the store's mission: to "honor your fish". Start with butchery, which imbues you with a no-waste ethic while explaining how to use the entire fish. Once you've mastered the basics, check out the wildly popular sashimi and sushi making classes.
Cost: $100
Class: Knife Skills
The Brooklyn Kitchen
Sunset Park
The Brooklyn Kitchen offers oodles of fun and interesting cooking classes, but knife skills is perhaps its most practical offering (think of all the time you'll save on produce prep at home!). Class includes a light meal made from chopped veggies, plus two drinks (after class, of course, you don't want to lose any fingers!). Sign up for this one well ahead of time -- it tends to sell out early.
Cost: $75
Sign up here for our daily NYC email and be the first to get all the food/drink/fun New York has to offer.