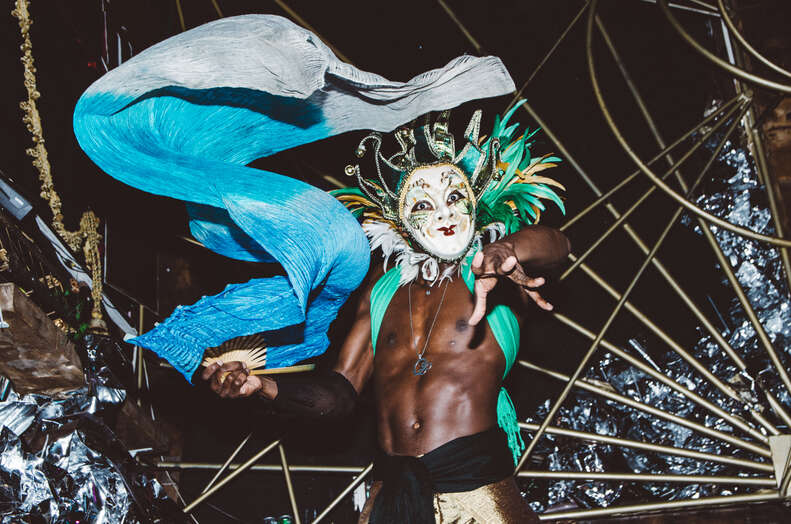 Night of a Thousand Faces at House of Yes

| Kenny Rodriguez
Night of a Thousand Faces at House of Yes

| Kenny Rodriguez
Most of us have precious few reasons to play dress up and get blotto in public at the same time. Halloween comes close, but its attendant alcohol acts more as liquid courage for your "sexy" whatever costume than a cherished tradition. St. Patrick's Day tries, too, bringing even more booze, but further dwindling your dress up options to sexy leprechaun, beer maid, or bishop. Only Purim truly does right by the classic combination of disguising and imbibing.
Purim is the celebration of Esther, a Jewish queen from the Bible who saved countless lives when she thwarted her evil husband's plot to kill all the Jewish people in the land. Now, we honor the queen at joyful festivities in the late winter/early spring each year. The traditions are simple: It's a mitzvah, Hebrew for a godly commandment, for Jewish folks to get drunk on Purim. Readings from the book of Esther anchor many fêtes. And since Queen Esther had to conceal her Jewish identity, it doesn't hurt to dress up in a costume, either.
This year, Purim proper falls on squarely in the middle of the week on Wednesday, March 20 -- a time not typically associated with revelry. But there are parties happening clear through the weekend, so you can get as much or as little mileage of that topical getup as your school night schedule allows at the best Purim parties in NYC.
Wednesday, March 20
Flatiron
Billed as the longest running Purim party in Manhattan, this two-floor bash has about a dozen partnership Jewish organizations endorsing it as the place to be. There's a lot to do here other than get drunk off of overpriced rum and Cokes. Expect a costume contest, VIP seating options, and "celebrity DJs spinning all night."
Cost: Early bird GA tickets are $18; reserve a table for six and a bottle of vodka for $500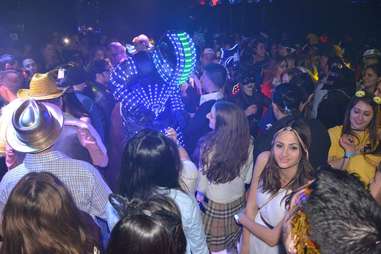 Wednesday, March 20
Meatpacking
Embrace your inner-Cinderella and get tipsy at this mid-week ball. This fête skews more sexy than fancy, so if you don a costume, dress to turn heads. Over-40s read on; you must be 21-39 for entry.
Cost: Tickets rise from $15 to $40 as the event approaches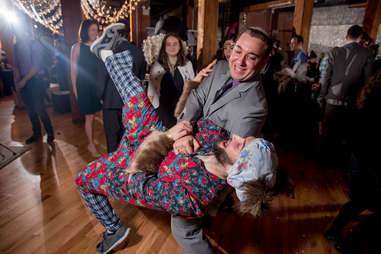 Wednesday, March 20
DUMBO
Fashioned after Hugh Jackman vehicle The Greatest Showman, this twenty-and thirtysomething-only event is a big top take on Purim. Do not expect any exotic animals at the "circus buffet dinner" -- this is a kosher event, so meat options are limited to chicken and beef. Avail yourself of everyone's favorite triangle-shaped baked sweets at the gourmet hamantaschen station and indulge in more adult goodies at the open bar. Carnival-style booths will provide prime Instagram opportunities.
Cost: $36 in advance; $45 at the door
Wednesday, March 20
Financial District
Thump-thump clubs not your thing? How about getting decked out in fantasy-ware and chatting with neighborhood finance bros over a sushi spread? The Setai rooftop lounge's Purim party is one of the more relaxed options on offer this year, and it's catered toward those of us who have to get up early for work the next day. It'll be a tidy two-hour affair with doors closing at 10pm; so you'll have to act fast to get the full effect of the open bar.
Cost: $18
Wednesday, March 20
Bushwick
House of Yes is known for throwing some of the wildest parties in NYC. Its pulsating music, near-naked performers, and theatrical atmosphere rivals Broadway productions. Naturally, HoY's take on Purim will feature body glitter and body painting, go-go performers, an Israeli/Chassidic trance room, and an hora chair dance. Costumes are required to get in, and dress warm; entrance lines are expected to be long.
Cost: Remaining tickets are $40 and they're going fast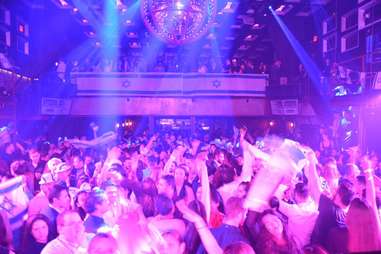 Thursday, March 21
Midtown
Join more than a thousand 21-to-39ers (they'll be checking IDs at the door to keep the grown-ups at bay) at this Italian clubsturant. Costumes are encouraged, as is dropping a few hundred bucks on a bottle of your choice in order to get VIP treatment during the hours-long bash. Fancy dance at VIP tables, or rub elbows with the regular Joes and Janes, while a rotating cast of DJs spin throbbing music from Israel and the United States.
Cost: Entry is $25; standard inflated bottle service prices apply
Thursday, March 21
Williamsburg
This unpretentious dance party is tailor made for lovers of psychedelic trance music. There are no top age limits, costumes are not required, and non-Jewish revelers are openly welcome. If you can't handle trance's heart-pounding beats, look elsewhere. This is more of a Purim rave than a traditional Purim party.
Cost: $20
Saturday, March 23
Gowanus
Part costume party, part Beatles sing-a-long, this one is for Ringo, John, Paul and George devotees. Expect to partake of the Purim tradition of getting rather blotto while you hear takes on Fab Four tunes and snack on hamantaschen.
Cost: $15 in advance; $20 day of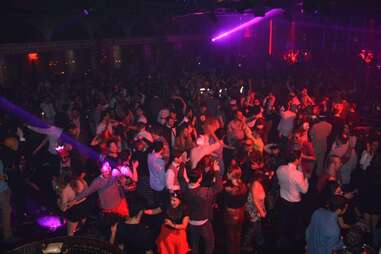 Saturday, March 23
Times Square
We know: no self-respecting New Yorker parties on a Saturday night in Times Square. Make an exception and head Sony Hall for a (21-39 years-old only) mega costume party co-hosted by J-Swipe, aka Tinder for Jewish singles. DJs will spin Israeli and other international music, along with the typical American chart toppers. Last year's edition drew more than 1,000 revelers. Stay in costume after the event and take up with the Elmos nearby.
Cost: $25
Sign up here for our daily NYC email and be the first to get all the food/drink/fun New York has to offer.