NYC Stories You May Have Missed This Year
Like every single 12-month period that has preceded it, and every one to come, 2019 sure was a year! The zeitgeist ebbed and flowed. Some things happened, while others did not. There were good days and bad days. And now it is nearing its end.
We hope you've spent these past 12 months eating, drinking, and seeing the best of what NYC has to offer, week after week. Stick with us for the best of everything you need to do to make the most of 2020, but first have one last look at some of the best New York City restaurant, bar, travel, and nightlife stories you may have missed this year.
mr.hodgson/Flickr
"As recently as 2017, New Yorkers were protesting the arrival of another Starbucks in their neighborhood. So what makes the UWS store so worth saving, even though there are five other Starbucks within a seven-block radius?"
Michele Vacchiano/Shutterstock
"Manhattan's Little Italy is filled with New York City history that you can eat. Visit any number of local businesses -- some of which have been slinging mozzarella and powdered pastries for decades -- and you'll get a taste of the area's once-bustling immigrant community."
stockelements/Shutterstock
"The subway is the most iconic, accessible attraction we have. It's our premier people-watching spot. At the end of the day -- or rather, all day long -- millions of people from every pocket of society navigate a system where the rules are simultaneously never-changing and constantly in flux. It's like a cocktail party where everyone's invited and only half of the guests are drunk."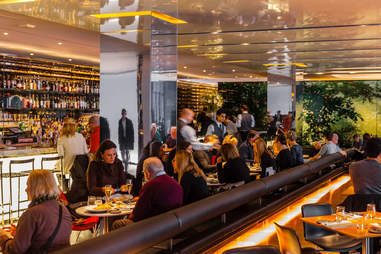 Nathan Rawlinson
"When the check came, all but our first round had been comped. Assuming our scheme had succeeded, we were ready to come clean -- did it have anything to do with social-media?"
TWA Hotel/David Mitchell
"The Flight Center's architecture is breathtaking, but you just can't shake the knowledge that you are, in fact, at JFK. Airports are in-between places, where the dollar is weakened by unseen forces and time changes shape. The TWA Hotel is simply a beautiful place to wait; it's not a destination unto itself."
Cole Saladino/Thrillist
"Like every other 'custom' product, the bespoke cocktail has been formalized, monetized, and become so mainstream that we have to wonder if it's even custom anymore. With seemingly few flavors that will appeal to the average drinker, has the 'bartender's choice' become nothing more than the same few off-menu items bartenders already know like the back of their hand?"
Cole Saladino/Thrillist
"If you're going to have Greek food in New York City, you should go to Astoria. And if you're only going to have Greek food in NYC one time, you must go to Astoria."
Cole Saladino/Thrillist
"It's hard to believe that New York cheesecake --- now a fixture of suburban casual dining menus and the namesake of a restaurant that serves 'Glamburgers®'-- was ever truly a New York dessert. Once as authentic (and easy to come by) as pizza or bagels, the New York cheesecake was perhaps the original victim of the New York dessert fad, paving the way for fro-yo, cupcakes, and cookie dough to flash in the pan."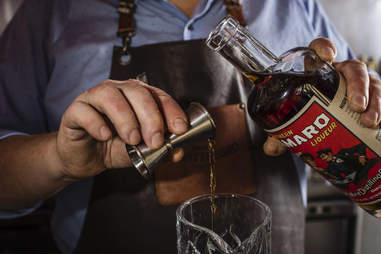 Courtesy of Amor y Amargo
"Seemingly rooted in the growing desire for 'wellness' in an unwell world, millennials are drinking less -- and more thoughtfully -- than their Gen X and Boomer counterparts. To capitalize on the trend, new restaurants and bars all over NYC are shining a light on their no- and low-ABV cocktail menus."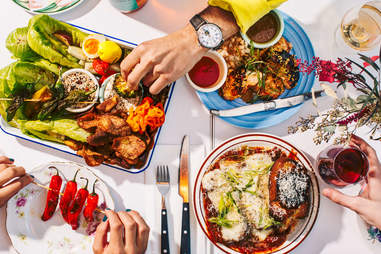 Cole Saladino/Thrillist
"Each one of these special occasion spots, statement dining destinations, burgeoning local staples, and tourist dazzlers come correct with excellent food and drinks, but so do a handful of other places you won't find here. What separates the best from the rest are their shared qualities of comfort, hospitality, and charisma that'll keep you coming back."
Sign up here for our daily NYC email and be the first to get all the food/drink/fun New York has to offer.