Your BRIC Celebrate Brooklyn Guide to Summer '18
Once upon a time, BRIC Celebrate Brooklyn was a happy neighborhood secret, kept by Brooklyn locals scattered along the fringes of Prospect Park. While Manhattanites made a show of refusing to set foot in the so-called lesser borough, and North Brooklyn hipsters maintained their distance from the G train, the likes of Bob Dylan, Prince, Real Estate, and Talib Kweli graced the Celebrate Brooklyn stage.
The BRIC Media concert series is no longer a secret, and Brooklyn can no longer be cited as the lesser borough, but BRIC Celebrate Brooklyn still remains one of the city's premier musical events. Each summer, BRIC takes over the Prospect Park Bandshell to offer a host of lively free concerts, and a small handful of ticketed benefit shows. On performance nights, the park is littered with families and gaggles of friends sipping lazily disguised wine and arranging picnic snacks across blankets to the sounds of the storied live performers.
Take a look at the iconic concert series' summer line up, and be sure to rule out your vague Hamptons plans ahead of time. We assure you, this will be better.
June 5
Old-school hip-hop from an iconic '90s rapper-turned-poet-turned activist
Free
June 10
A popular Mexican-American rock band with upbeat, kid-friendly tracks
Free
June 13
A Portland-born, folk-leaning indie band with eccentric stage-presence
Tickets are $45
June 14
Romantic, acoustic-y indie pop from dual singer-songwriters, ideal for outdoor listening
Tickets are $54.50 in advance, $60 at the gate
June 16
Fun power-pop groups with Southern-leaning twang
Free
June 20
Indie darlings spouting upbeat folk-leaning pop and rock
Tickets are $46 in advance, $51 at the gate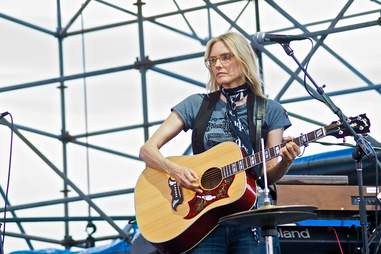 Aimee Mann

| Mark J. Smith/Shutterstock.com
June 21
Mellow singer-songwriter vibes meet light, upbeat pop-punk
Free
June 22
Robert Glasper's latest politically charged soul/jazz collective, and a Haitian-Brooklynite singer-songwriter
Free
June 23
Art-pop dancefloor tracks with an electro undercurrent
Free
June 28
Michelle Dorrance's imaginative tap-dance with a throbbing, bass-heavy live orchestra
Free
June 29
A Nola-based sax prodigy, and a poetic one-man show
Free
June 30
Classic country jams, heavy on the mandolin
Free
July 6
A sprawling, dance homage to Leonard Cohen's "Dance Me to the End of Love"
Free
July 7
Curtis Mayfield-esque soul-funk, paired with harmonic electro-pop
Free
July 12
A global dance party helmed by Brooklyn-based artists
Free
July 13
Fierce female singers with Latin-leaning sounds
Free
July 14
Two separate Malian supergroups, each with a distinct gospel and blues-facing edge
Free
July 19
A 2013-formed Grateful Dead cover band
Tickets are $45
July 20
Experimental tracks melding traditional Indian raga, electronic beats, orchestral harmonies, and otherworldly sounds
Free
July 21
Brimstone and Glory, a documentary by the creators of Beast of the Southern Wild, screened with a booming live orchestra
Free
July 25
Sparse airy singer-songwriter tracks from prominent female vocalists with notably witty lyricism
Tickets are $39.50 in advance, $45 at the gate
July 26
Southern-born Americana sounds merged with vocal-heavy upbeat power-pop
Free
July 27
Innovative desert blues with global influences
Free
July 28
An animated masterpiece by the makers of Spirited Away complemented by Brooklyn-based guitarist Kaki King
Free
August 2
Jazzy instrumental hip-hop meets droning spacey electronic
Free
August 3
Artful soul tracks paired with clever, spoken word-esque rap
Free
August 4
Socially relevant reggae tracks from eccentric performers
Free
August 7
Old-school easy-listening beach pop
Tickets are $55 in advance, $60 at the gate
August 9
Category defying soul-psychedelia-hip-hop sounds from a blues guitar phenom
Free
August 10
Neoclassical punk rock with electronica infusions
Free
August 11
Throwback '90's pop-rock sounds from contemporary indie bands
Free
 
Sign up here for our daily NYC email and be the first to get all the food/drink/fun New York has to offer.