A Picnic-Style Dining Series Atop Radio City Music Hall Set to Debut This Summer
On a rooftop garden oasis opening to the public for the first time ever, Dine at Radio Park will run for four weekends only.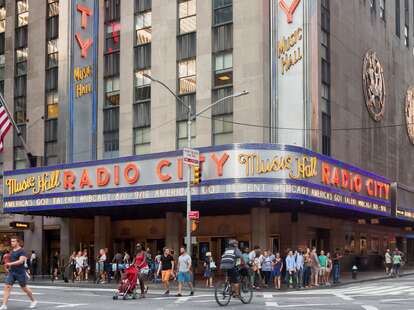 Adding to the sweetness of summertime in NYC, next month, Rockefeller Center is set to debut a limited-time al fresco dining experience atop the legendary Radio City Music Hall called Dine at Radio Park.
Opening to the public for the first time ever and located 9 floors above Radio City Music Hall—which along with Rockefeller Plaza, The Rink, and other structures comprise of Rockefeller Center—Radio Park at Rock Center originally opened in the fall of 2021 as an exclusive amenity and outdoor work space for the Rockefeller business community of tenants, employees, and their guests.
The expansive area is made up of a 24,000-square-foot rooftop garden featuring scenic city views, picnic tables, greenspace, and a variety of seating nooks. And for the month of July, the public can book a reservation to see it for themselves while enjoying bites from popular chefs through the special Dine at Radio Park series.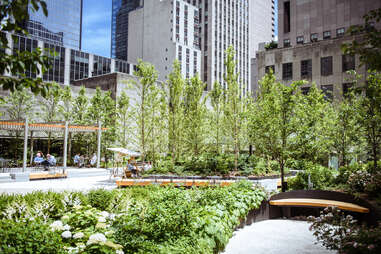 To kick off the picnic-style affair accompanied by beer and wine, on the weekends of July 8 and July 15, chef JJ Johnson (owner of FIELDTRIP) will serve a three-course Caribbean soul food-inspired meal featuring dishes such as Chopped Cheese Empanadas; Rotisserie BBQ Chicken (crushed herbs, tamarind barbecue sauce); and Crispy Snapper Coconut Curry (clams, mussels, snap peas).
Following that, over the weekends of July 22 and July 29, chef Homer Murray (owner of 21 Greenpoint) will take over as the Dine at Radio Park resident, bringing contemporary American flavors from his seasonal Brooklyn-based eatery like Deviled Eggs, Pasta Salad, and Strawberry Shortcake. Stay tuned for the finalized menu that will be announced soon, as well as a new Manhattan branch of 21 Greenpoint that's slated to open later this summer on Rink Level.
The Dine at Radio Park series will be hosted at Rockefeller Center in Radio Park at 50 Rockefeller Plaza every weekend of July, Friday to Sunday. Reservations are available via Resy.