11 Drive-In Movie Theaters Within 2 Hours of NYC
Swap out endless scrolling through your Netflix queue for an al fresco cinematic adventure.
Whether you're hanging with the whole squad or having a date night with bae, there's nothing quite like an IRL screening of nostalgia at a drive-in movie theater.
Even better, most of these longtime spots—some of which have been around since the early 1900s—have recently upped their game with a range of modern amenities. From high-quality sound (which you can connect to via Bluetooth in your whip) and state-of-the-art screens to electric car charging stations and stellar locally-sourced snacks, these properties promise comfort and ease as you venture out of your apartment for an al fresco cinematic adventure.
So, if you're one of those lucky New Yorkers with a car (or are down to rent a set of four wheels), here's 11 drive-in movie theaters within two hours of New York City.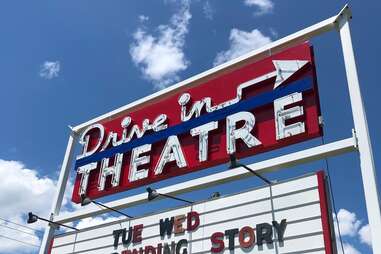 Greenville, New York
The Greenville Drive-In has been a Catskills institution since 1959. After changing hands in 2015, the new owners and married duo, Dwight Grimm and Leigh Van Swall, renovated the property by adding an ungraded projection system, modernized audio transmission, and a stage for live performances. At the concession stand, guests can choose from local beers, wine, and specialty cocktails as well as locally-sourced snacks like frosted cookies by baker Amanda Hummel. Double feature tickets are from $9 per adult.
Distance from NYC: About two hours
Hyde Park, New York
Owned by the same family behind Overlook Drive-In in Poughkeepsie, New York (which is just 20 minutes away), this sibling locale also embodies the same approachable and dog-friendly cinema experience. Situated on 12 acres and especially popular for spreading out blankets and lawn chairs on its grass, the Hyde Park Drive-In has an 82-foot-wide screen and can accommodate up to 670 cars. Open Friday to Sunday (with specialty movie premieres held on select Thursdays), tickets are $12 for adults and $8 for children.
Distance from NYC: About two hours
Pleasant Valley, Connecticut
At Pleasant Valley Drive-In, a nostalgic Americana aesthetic and cash-only policy has been in operation over the last 75 years. Opened in 1947, the property features a large viewing screen placed within a picturesque 3-acre clearing near Connecticut's Farmington River. During showings, choose from concessions like cheeseburgers, pretzels, soda, and more. It's also wise to note, Pleasant Valley only books their films a week in advance, so stay tuned via their website for the weekly schedule.
Distance from NYC: About two hours
Walnutport, Pennsylvania
Still operated by the family that built the theater nearly five decades ago, Becky's Drive-In Theatre in Pennsylvania is a classic go-to. The start time for movies is usually around dusk, and for exact showtimes you can check their website a few days in advance. Moviegoers have a choice between two sets of double features playing on different screens, and tickets are $11 for adults and $7 for children.
Distance from NYC: About two hours
Middletown, New York
This twin-screen venue north of the city in Middletown can hold up to 800 cars and is now open through mid to late September. The Fair Oaks Drive-In Theatre shows double features on two different screens each night, so unlike some other spots, you can make the executive decision on what to watch. Tickets are $30 per car or $49 for the specialty Carload Family Pack which includes a large popcorn, four drinks, and a choice of candy.
Distance from NYC: About an hour and a half
Amenia, New York
Located in Dutchess County and perhaps the most modernized of the surrounding NYC area theaters, Four Brothers is like the Mall of America of drive-ins. Where most just have a radio frequency and simple concession stand, here, expect: electric car charging stations, a giant fire pit, mini-golf course, small business open-air marketplace, arcade, dog park, and an app to order food for delivery to your car. Also, in addition to pulling up in your car for the film, guests have the option of camping out on the grounds for the night. Single feature tickets are $13 for adults and $9 for children, seniors, and veterans.
Distance from NYC: About two hours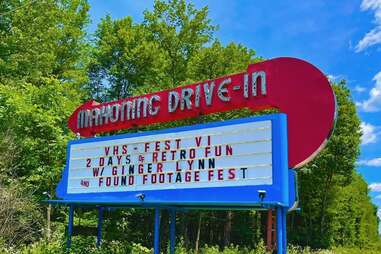 Lehighton, Pennsylvania
While most theaters have converted to digital, you can get an authentically retro experience watching movies in original 35mm film at the Mahoning Drive-In Theater in Lehighton, Pennsylvania. Reopened for its 73rd season, this year, the team is asking patrons to submit their "dream double feature" suggestions via their website, so feel free to send in your all-time favorites. Tickets are $8 per adult.
Distance from NYC: About two hours
Poughkeepsie, New York
This family-owned and dog-friendly theater in Poughkeepsie has been operating since 1955 and can accommodate up to 750 cars at once for its double-feature shows. The Overlook Drive-In touts its six-story screen as the largest in the tri-state area, so no need to get there early for a front row parking spot. In addition, there's a lengthy list of Americana snacks for sale like hot dogs and funnel cakes. Tickets are $12 for adults and $8 for children.
Distance from NYC: About an hour and a half
Greenpoint
Between the sweeping views of Manhattan's skyline and a top-tier concession stand (if you're an early bird, the first 10 guests on property receive a free popcorn), you might get distracted from what's playing on screen. But luckily, Skyline Drive-In has a slate of recent blockbuster films like Nope and Bullet Train plus classics like The Shining that will keep you tuned in. Tickets are $55 per car and $35 per motorcycle.
Distance from NYC: None! It's in Brooklyn
Orefield, Pennsylvania
Opened in 1934, Shankweiler's in Pennsylvania is America's oldest drive-in and this summer marks their 89th anniversary. Here, guests will find an old-school snack bar with classic movie theater treats like popcorn topped with locally-made Keller's Butter along with a selection of assorted candy. Note that tickets can only be purchased at the box office on property and are priced at $12 for adults and $8 for children.
Distance from NYC: About two hours
Warwick, New York
This 72-year-old, three-screen theater in Warwick, New York, near the New Jersey border is open through summer with double features showing every night of the week. With their trio of screens each playing a different movie duo, your options at the Warwick rival what's left unwatched on your Netflix queue. Whether you're interested in thrillers like The Black Phone and Nope or family-friendly flicks like Minions: The Rise of Gru, tickets are $10 for adults and $8 for children and seniors.
Distance from NYC: About an hour and a half