Every Actually Great Oktoberfest in NYC, Now in One Calendar
Contrary to what the word implies, Oktoberfest does not take place in October. Well, it does for some of it, but it actually kicks off in September. As in this month. As in you have a lot of really, really large beers to drink very soon, especially now that you've got this master calendar of actually great Oktoberfest events filled with liter steins, lederhosen, and brats.
Mmm... brats.
Sure, it's not Munich, but downing an impressive selection of German beers with views of the Brooklyn and Williamsburg Bridges isn't the worst thing.
The New York City Brewers Guild hosts this massive German-themed beer extravaganza (15,000sqft of beers and games, you guys) to raise money for their NYC beer week. We like the way they roll.
Stone Street is already very Oktoberfest-like with its rows of picnic tables typically holding lots of beer. This year, it's making it official for the very first time. Also: pig roast!!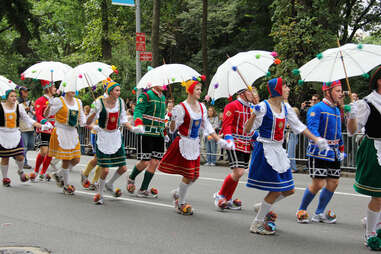 German-American groups walk for almost 20 blocks, then come together for an Oktoberfest celebration.
Sample a rare selection of beers, and maybe even a cocktail if you need a beer break. Then more beer.
This place doesn't mess around with celebrating for three weeks straight (weekends only).
Almost two dozen homebrewers let you sample their award-winning German homebrews, from pilsners to shwarzbiers (taste like snozberries!).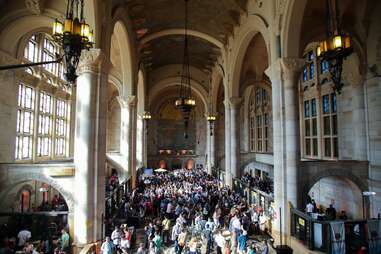 More than 100 beers from 20+ local (and some not-as-local) brewers.
Who cares whether or not the Mets win when you can down pretzels and beer (in your own signature Mets stein!) in the Bullpen Plaza?
The East Village bier haus takes its already-massive steins of beer and German-speaking staff down to the East River for its own version of Munich's celebration. Weekends only.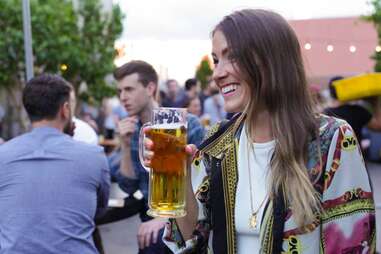 Beer, pretzels, and a 32-team cornhole tournament. Honestly, what's there to really think about?
Beer crawl, this time with bigger beers.
Oktoberfest... on a boat!
Stuff yourself silly with all the pierogi, bratwurst, strudel, and crazy amounts of mustard you can handle. Then eat more.
Five-hundred exhibitors and undisclosed levels of insanity in Times Square since 1994.