Every NYC Summer Festival You Need to Go To
Handout/Getty Images Entertainment/Getty Images
Handout/Getty Images Entertainment/Getty Images
Summer is all about celebrating, and whether you're looking to dance to live music, catch an indie film, or eat your face off, New York has a festival for you. We rounded up 40+ festivals happening across NYC this summer, all conveniently organized by date for your party-going pleasure.
Editor's Note: We'll be updating this over time, so keep checking back for new festivals!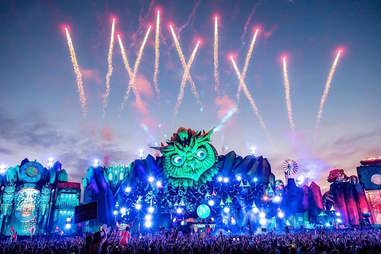 Jam out to guitar-led music at this week-long event.
Enjoy Cajun music, food, and dance over the course of three days.
Get lost in techno heaven.
Check out musical performances from Indie-pop bands from around the world.
Celebrating the diverse food, entertainment, and art of Harlem with dinners from classic spots like Sylvia's and a walk-around tasting from favorites like Dinosaur Bar-B-Que and The Cecil.
Sample over 200 wines, plus hors d'oeuvres.
This year's lineup features a Happy Endings reunion; talks with Shonda Rhimes, Rachel Bloom, and Amy Poehler; comedy from Sarah Silverman and friends; and a tour of the MET Breuer with senior art critic Jerry Saltz (among other events).
A family-friend event celebrating Puerto Rican culture with performances, arts & crafts, live music, and food.
A month-long Jazz celebration featuring 150 concerts across 15 venues.
Enjoy performances of Shakespeare's The Taming of the Shrew and Troilus and Cressida.
Gorge on Asian food and drink from some of the city's leading Asian restaurants.
Featuring The Strokes, The Killers, and a hopefully uninhibited Kanye.
Check out over 100 films from filmmakers in 20 different countries.
A week-long event promoting food, art, and fashion in Williamsburg and Greenpoint.
Free outdoor performances from Dr. Dog, Violent Femmes, and more inside Prospect Park's bandshell. Check out the full
Celebrate Brooklyn
lineup for more details.
A weekend-long event featuring live DJs, barbecues, and happy hour specials.
Watch dramas and comedies from around the world.
Enjoy award-winning barbecue, cooking seminars, live music, and more barbecue.
Take free dance and fitness classes at participating studios across the city.
Enjoy free yoga at this annual event attended by hundreds of yogis.
Do some arts & crafts, get your face painted, and enjoy live music among sculptures in the park.
Celebrate and support the LGBT community at this week-long event featuring a variety of fun, inspiring events.
Mix and mingle at this annual event with live music, hors d'oeuvres, and cocktails. Must wear white!
Attend free weekly concerts featuring jazz and classical music.
Enjoy the annual patriotic display of fireworks, this year over the East River.
Lose your appetite watching competitive eaters slam an unthinkable amount of hot dogs.
Watch popular shows on and off Broadway perform their biggest hits.
Embrace hip-hop culture at this fest featuring discussion panels, films, live music, and food.
Expect a packed event, featuring live music and loads of Caribbean food.
See 250 poets across three stages, plus food and beverages.
A family-fun musical with a performance featuring the Rockettes.
Concerts, operas, and world premieres featuring the music of Mozart.
Watch 170 dragon boats compete in this annual race, plus enjoy loads of food & drink.
An annual festival honoring Italian food, drink, music, and culture.
Check out over 1,000 stage performances across 20 venues.
Two days of live music from Santigold, Pusha T, Lolawolf, and more.
Established comedians and newcomers alike will perform a variety of sketch, standup, and improv comedy.
Celebrate diversity at this annual event with food, live music, and kiddie rides.
Blasting techno, epic food trucks, and lots of neon.
Honor Brazilian culture at this day-long event featuring live music, dancing, and food.