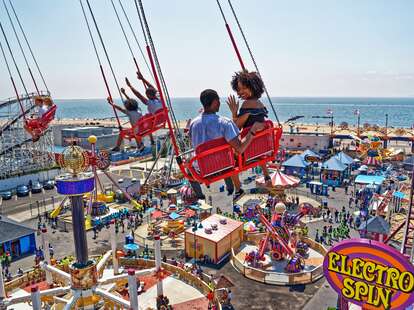 Luna Park on Coney Island

| Photo courtesy of Luna Park
Luna Park on Coney Island

| Photo courtesy of Luna Park
While our city never falls short of exciting new ways to create core memories—like visiting the new NASA-backed immersive experience or checking out the latest hotspot for pickleball—all of that comes with a price tag. But this season, we're giving our Venmos and Apple Pays a break with the help of cost-free events, museums, classes, and more.
Let's enter our economical eras together. Here are the coolest free things to do in NYC this spring.
Saturday, April 1 and Sunday, April 2, 12 pm–5 pm
Woodside
For more than 50 years, married duo Ming Yi and Ching Yeh Chen have been the heart and soul of Pearl River Mart. This weekend, the couple invites New Yorkers to explore decades of eclectic wares that have been carefully stowed away in their storage unit in Queens. If you're looking to purchase, first come, first served is the policy here with everything from statues, lamps, and artwork up for grabs.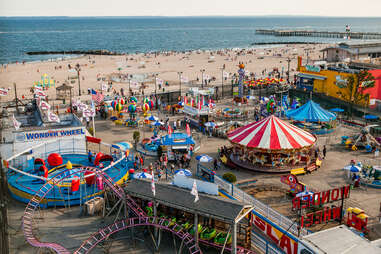 Throughout spring
Coney Island
Trips to Coney Island are back! This weekend welcomes the seasonal reopening of Coney Island's iconic Luna Park—and admission is still completely free. Plus, along with being their annual Donation Day supporting organizations like the Coney Island Sharks, in celebration of its 120th birthday on Sunday, April 2, be one of the first 96 guests and you'll ride the whole park for free.
Fill up on tequila-forward cocktails and free empanadas
Saturday, April 8, 5 pm–12 am
Hell's Kitchen
National Empanada Day is best spent at La Pulperia this year. With the purchase of a signature cocktail like the Pulperia HK (tequila, orange liqueur, pineapple, jalapeno), guests of the Latin American restaurant can add a Beef or Corn & Manchego Empanada to their bill for free.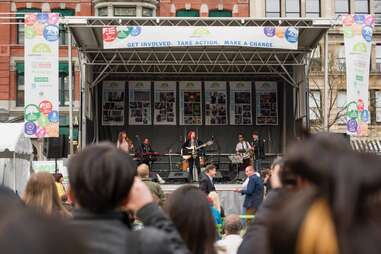 Sunday, April 16, 12 pm–6 pm
Union Square
This year, we're fighting climate change and environmental injustice every day, not just on Earth Day. To jumpstart your activism efforts, drop by the Earth Day Initiative's Earth Day 2023 Festival for an inspirational lineup of interactive workshops, impassioned speeches, and more. Also, stay tuned for this year's special guest speaker—previous celebrity appearances have included Robert Downey Jr. and Bill Nye.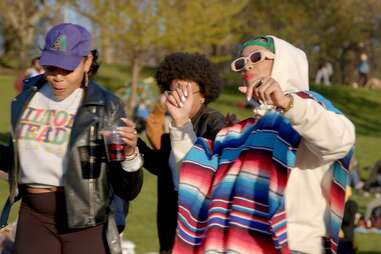 Thursday, April 20, 2 pm–8 pm
Prospect Park
We're manifesting chill vibes and good energy this 4/20. Hosted by Black Girls Smoke, a cannabis-friendly concept that promotes inclusion, post up in Prospect Park on April 20 at a picnic-style hangout with DJ sets, local vendor setups, and more.
Brush up on your bouquet-making skills
Saturday, April 22, 10 am–2 pm
Tribeca
Nothing brightens up an apartment quite like a gorgeous arrangement of flowers. This Earth Day, the swanky Smyth Tribeca hotel has just that in store for you. From morning through afternoon, drop by at your leisure for an expert bouquet-making lesson led by Darling Moon Flowers and bring some new life back to your digs.
Tuesday, May 2–Saturday, May 13, 11 am–7 pm
Financial District
As most of us have realized by now, pickleball is the newest baddie of the sports world. So whether you're finally trying it out for the first time or are an avid pickler already, Brookfield Place is offering free court reservations over the course of two weeks in May. For those who haven't committed to a personal pickleball kit, don't fret! Paddles and balls are free of charge as well.
Throughout spring
Various locations
A tell tale sign of spring in NYC is the annual arrival of white and pink cherry blossoms. Over the next month or so, we've made it our mission to seek out the most gorgeous spots across the boroughs for that cherry blossom fix. Among our favorites, there's the New York Botanical Garden in The Bronx, Sakura Park in Manhattan, and Flushing Meadows Corona Park in Queens.
Throughout spring
SoHo
In a city where workout culture flourishes, New Yorkers are always on the hunt for the next hottest exercise trend. And the most recent spot that everyone can't stop buzzing about is Aarmy. At the SoHo headquarters, participants work on strength, conditioning, and mental health through music-based cycle and bootcamp classes led by uplifting (but tough) instructors. Here's the piece de resistance, if you're looking to test the waters before picking up a membership, your first session is free.
Throughout spring
Midtown
In a city blessed with some of the coolest museums and immersive art exhibits, MoMA still remains an inimitable and cutting edge source of contemporary art. And for New Yorkers that have been looking for a reason to drop by and explore the new installations, from 4 pm–8 pm every first Friday of the month, entry is now free (if you can prove New York residency). In addition to roaming the many art-covered floors and catching a live DJ set, visitors will also be able to attend any movie screenings during these hours.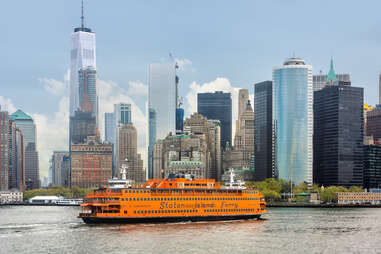 Take a scenic river cruise on the Staten Island Ferry
Throughout spring
St. George/Financial District
There are few pleasures greater than hopping on a boat for a spin between the boroughs. And while that may seem like a fancy pastime, never overlook the Staten Island Ferry, which operates 24 hours a day, seven days a week. The free, 25-minute ride boasts incredible views of New York Harbor, the Statue of Liberty, and Manhattan's glittering skyline. Also, it doesn't hurt that they serve beer on board.
Escape cooped-up apts for a spring walk at serene local parks
Throughout spring
Various locations
While our city's parks are typically swarming with crowds during the warmer months, during these chillier temps, we are graced with emptier trails and plenty more elbow room. Pick a path in your local park, layer up, leave the headphones off for the chorus of nature, and get some crisp air in your lungs.
First up, explore all the winding paths and historical sites within the iconic Central Park, like Belvedere Castle, Wollman Rink and more. Another hotspot is the innovative floating park on the Hudson River's Pier 55 called Little Island, which features stellar city views, peaceful walkways, and berry-covered greenery. Other notable parks to explore in Manhattan include Charles Schurz Park on the Upper East Side, where the mayor's residence named Gracie Mansion lies, as well as Washington Square Park, where the people watching is unmatched.
In Brooklyn, favorites include the expansive beauty that is Prospect Park, and Domino Park for bundled-up hangs and walks along the East River. In Queens, there's the famous Gantry Plaza State Park in Long Island City, as well as the iconic Flushing Meadows-Corona Park, which is home to the Unisphere. In the Bronx, head to Raoul Wallenberg Forest and for Staten Island, the Seaside Wildlife Nature Park.