Every year, we take one summer Saturday and designate it as not just the best day of the season, but the Best Day of Your Life (BDOYL). Bold, we know. This year, we decided to make it even better -- by taking all the summer highlights we could think of and cramming them into one place. We partnered up with Brooklyn's Industry City to make it happen. We had a Tiki bar on a beach, a nostalgia-worthy arcade, a giant ball pit, and (of course) seemingly endless food and drinks. The best part? We relived the whole day below, and tied in some tips, facts, and plenty of fun pictures so that even if you couldn't make it, the FOMO won't be so bad. (But still, we missed you.)
THERE WERE SOME EPIC EATS
Because the best day of your life needs to feature some of the best bites you've ever had, we had the eateries at IC turn out some delicious dishes. (And tasty drinks, too!) Just take a look, swoon, and hope that scratch-and-sniff web pages are in the not-so-distant future.
Avocaderia
Mediterranean Avocado Toast
Bangkok B.A.R.
Kang Keaw Wan Gai Ka-Nom Jeen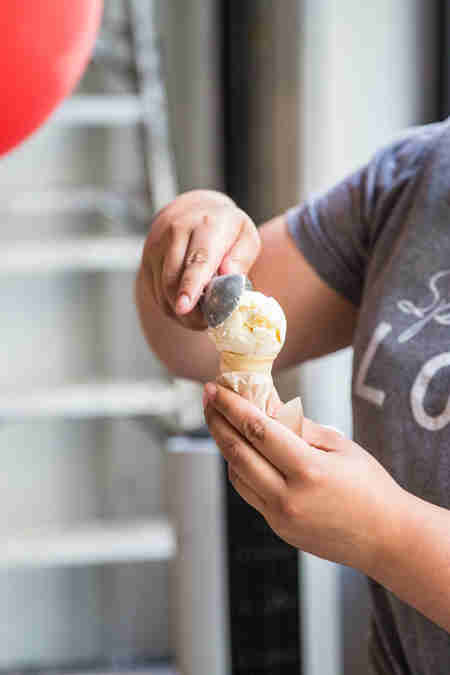 Blue Marble Ice Cream
Piña Colada Twist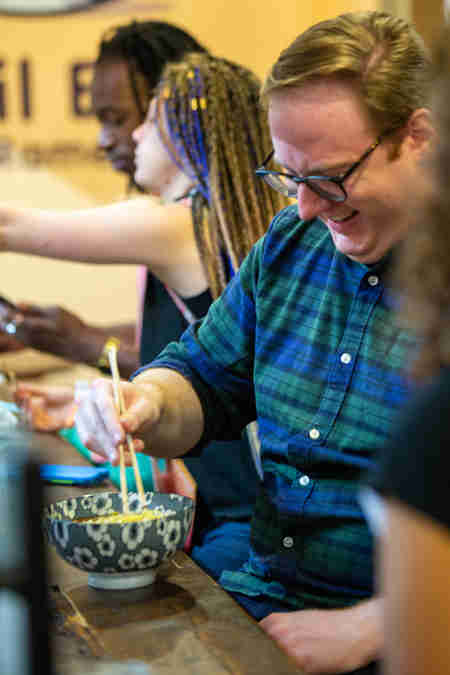 Boil Boil Ramen
"Sealicious" Lobster Ramen
Burger Joint
Chicken Sandwich
Colson Patisserie
Liège Belgian Waffle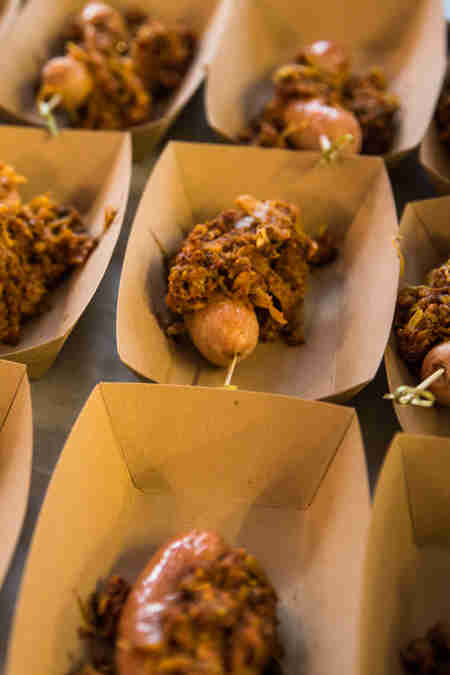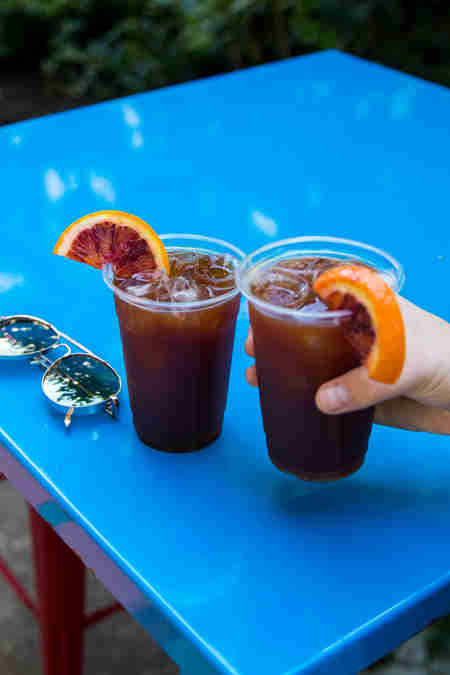 Extraction Lab
Crimson & Clover
Kotti Berliner Döner Kebab
Rice Pilaf Chicken Slider Bowl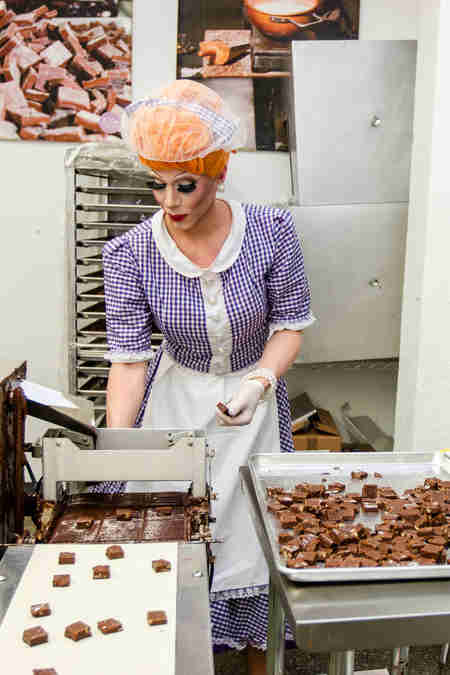 Li-Lac Chocolates
Summer Fudge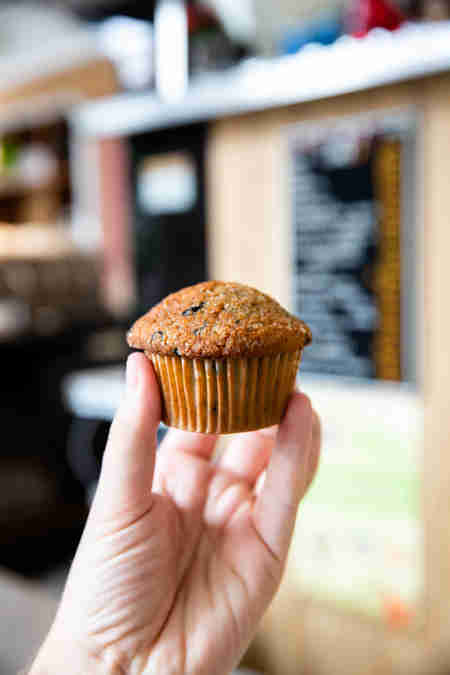 Maglia Rosa
Mini Savory Muffins
Moore Brothers Wine Company
Wine Sampling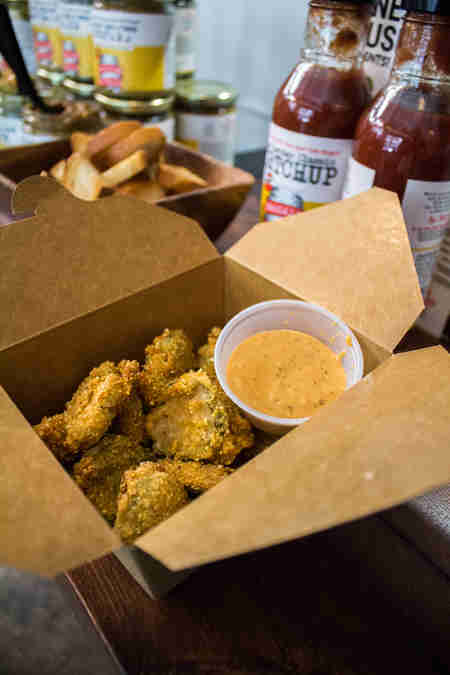 Pickle Shack
Fried Pickles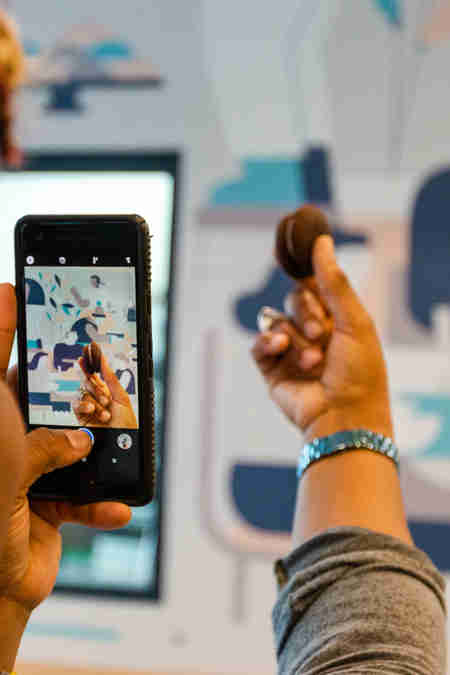 One Girl Cookies
Whoopie Pies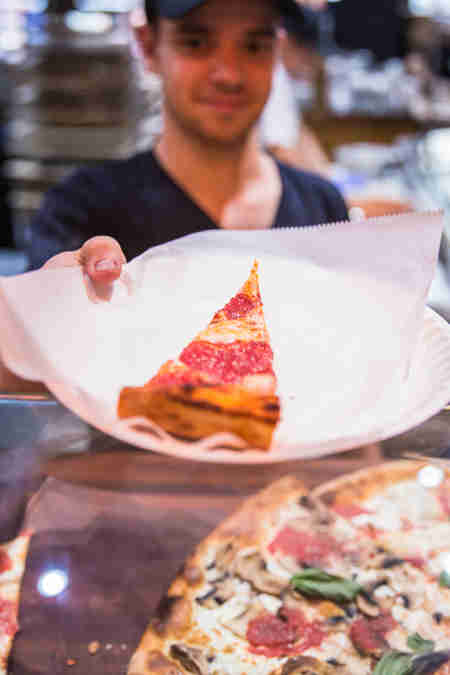 Table 87
Coal Oven Margherita Slice
Yaso Tangbao
Sweet and Sour Pork Rib Dry Noodles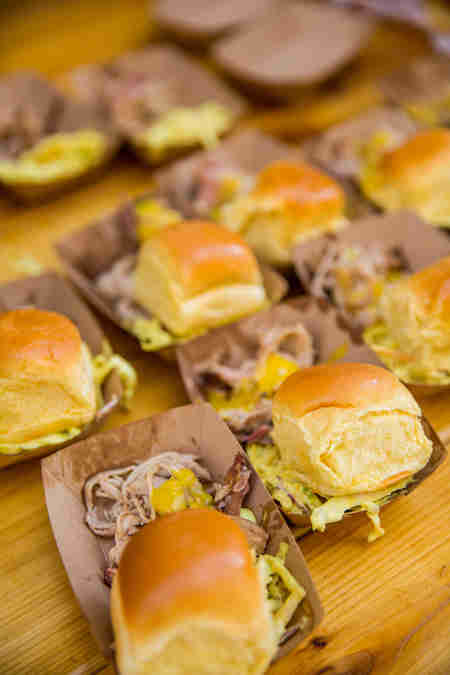 Arrogant Swine
Pork Sliders and Slaw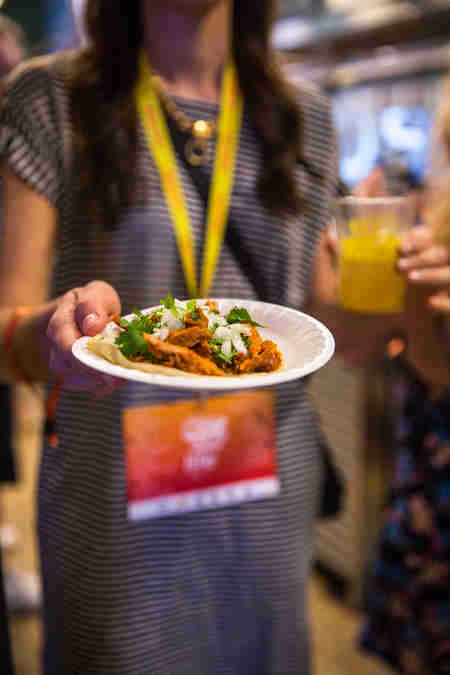 The Brooklyn Kitchen
Dumplings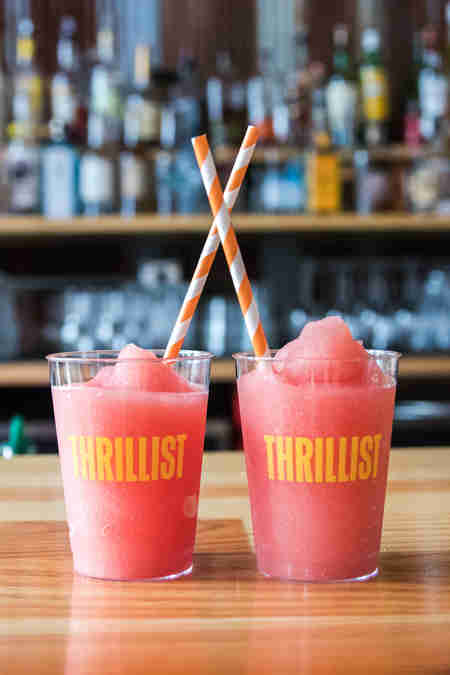 The Frying Pan Brooklyn
Frosé and Ceviche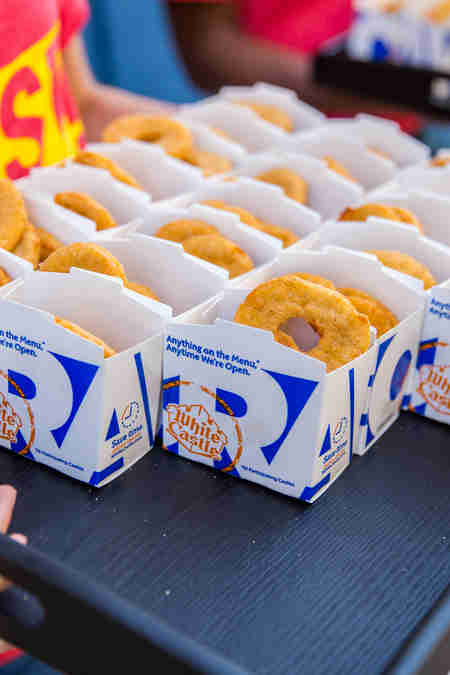 White Castle
Chicken Rings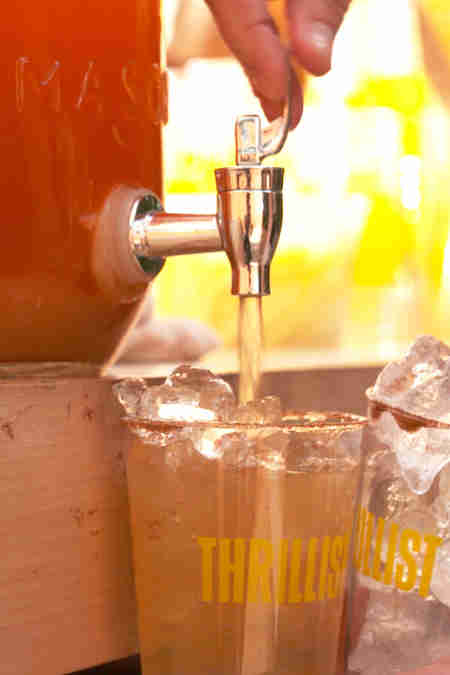 Sagamore Spirit
Rye Tai Cocktail
Brooklyn Kura
Craft Sake Tastings
WE HAD A HISTORY LESSON ON THE APEROL SPRITZ
Helping to keep things cool were our friends at Schweppes, who served up their signature Schweppes Aperol Spritz, made with Aperol and Prosecco topped with Schweppes Lemon Lime Sparkling Water. This classic cocktail has made a big comeback in recent years, but it dates back to the early 20th century. While you already know how incredibly tasty the Aperol Spritz is, allow us to teach you a few new things about summer's favorite cocktail.
It all started in Padua, Northern Italy. The Barbieri Brothers invented Aperol in 1919. This bitter, orange liqueur is known as an aperitif, meant to stimulate the appetite.
There's a simple way to make it. Schweppes has an Aperol Spritz recipe that's nearly impossible to forget: 1-1-1. That's one part Aperol (2 ounces), one part Prosecco (2 ounces), and one part Schweppes Lemon Lime Sparkling Water. Now go forth and host a cocktail party.
It represents a life of leisure. In Italy, the Aperol Spritz is not merely a cocktail. It represents important values in Italian culture, like transitioning from work to play and truly unwinding. So, live and let spritz. You've earned it.
WE KICKED OFF A SUMMER-LONG MUSICAL MISSION
This summer, our friends at MINI and Sing for Hope are on a mission to bring creativity to communities across NYC -- by placing 50 pianos throughout the five boroughs. That way, all New Yorkers can have access to the arts. We had to get in on this, so MINI brought a custom-designed car piano to BDOYL to act as the 51st. It was custom retrofitted into a MINI Countryman, and was the can't-miss spot for live performances all throughout the day. It even served as a photo booth, so you could get your photo taken while busting out a tune. The MINIPiano will be traveling the city streets with a series of concerts for the rest of this month, too. So if you see it, be sure to have your camera ready. Tag your pics and videos with #DRIVINGHOPE.
WE PLAYED TO WIN WITH WHITE CASTLE
After fueling up on their tasty Chicken Rings, we hit the White Castle game room to test our Jenga skills. And guess what: we're not too shabby, so we're gonna let you in on some sweet tips and tricks. Family game night doesn't stand a chance.
1. Don't strategize. Instead of playing the long game, focus on individual bricks. You just need your opponent to mess up to win.
2. Take your time. You've seen how fragile a Jenga tower can be. Slow and steady wins the race… or more appropriately, the game.
3. Consider your brick placement. When placing the bricks back on top, consider throwing off the balance of the tower by putting them back on one side. You've got this.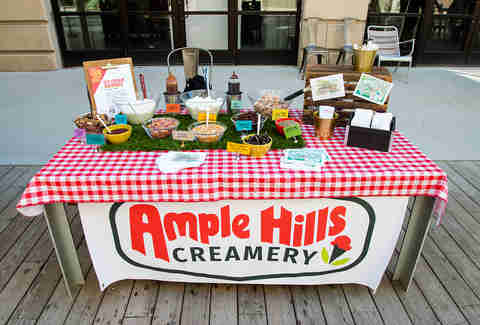 WE CONDUCTED A SUPER-SCIENTIFIC POLL ABOUT SUNDAES
We don't know about you, but there's no way it could be the best day of our lives without ice cream -- and a lot of it. Undeniably Dairy set up a sundae bar with Ample Hills Creamery that -- if we're speaking honestly -- would blow your ice cream-loving mind. That's when we got the idea to figure out just which topping reigns supreme. We polled as many guests as we could grab between bites to see which classic topping they can't do without. Check out the results below, but remember... the toppings would be nothing without that creamy dairy base.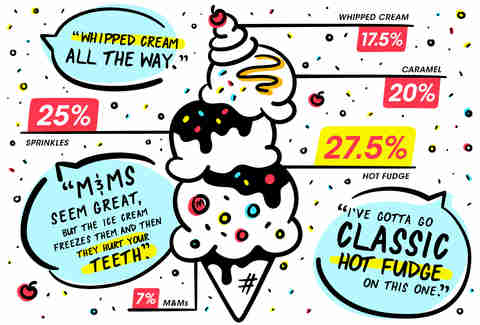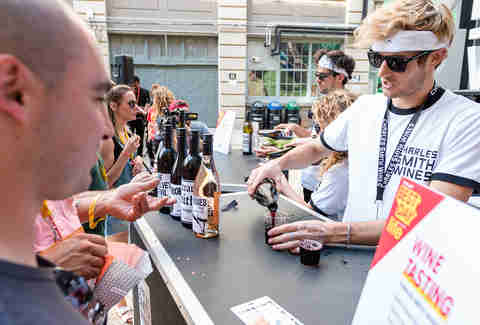 WE LEARNED HOW TO PAIR WINES WITH SUMMERTIME BITES
Charles Smith Wines brought some of their favorite bottles to BDOYL, and we figured the best way to enjoy these easy-sipping wines was to pair them alongside some laidback, summertime dishes. So, we leveraged the experts at Charles Smith Wines at Best Day to give us their best recommendations:
Burgers: For an umami-packed burger, reach for a refreshing rosé, like Band of Roses Rosé. Its fruity notes will give you all the summer vibes and get your mouth watering --  especially if you topped that burger with bacon.
Ice Cream: Sweet wines don't necessarily make for the best dessert pairings. Instead, a red wine with big bold flavor and rich dark fruit notes, like the Boom Boom! Syrah, will essentially become the syrup on top of an ice cream sundae, but the grown-up version.
Lobster Rolls: While some Chardonnays pack a lot of buttery flavor on their own, a crisp, juicy Chardonnay, like Eve Chardonnay, will compliment the buttery lobster flavors, without feeling heavy on your palate.
Tacos: When it comes to spicy dishes, a Riesling will quench that fire faster than a quick gulp of water. That's because the sugar content helps cleanse the palate, and a Riesling with a lot of minerality, like Kung Fu Girl, will leave you with fresh, fruity flavors -- and ready for a second, spicy bite.
WE SERVED UP A COCKTAIL THAT WILL KEEP YOU COOL ALL SEASON
Our friends at Sagamore Spirit showed us that whiskey can shine in summer cocktails just as easily as it does in an Old Fashioned. Their take on a classic Mai Tai swaps the rum for their Sagamore Spirit Straight Rye Whiskey, and we just had to share the recipe. (Trust us, you'll be serving it up at plenty of barbecues this season.)
SAGAMORE SPIRIT RYE TAI
Ingredients:
1.5 ounces Sagamore Spirit Rye Whiskey
1 ounce fresh pineapple juice
1 ounce lemon juice
3 ounces black tea
Cinnamon simple syrup
Directions:
Combine all ingredients and serve over ice. Garnish the glass with cinnamon sugar for some extra sweetness.
WE STAYED ENTERTAINED FROM START TO FINISH
In true BDOYL fashion, just when you think you've seen it all (like the incredible Schweppes ball pit), there's another surprise to shock and amaze you. Take the tie-dying class from WE GATHER, for example. Guests were able to take a break to release their creative sides. Professionals taught us how to tie-dye the legit way, so don't be surprised if we show up next year in head-to-toe handmade garments.
We also had some pretty sweet bungee trampolines where guests could jump around in between bites and sips of Brooklyn Kura's delicious craft sake. And across the way, a calypso band jammed all day.
The after-party featured an extra special performance by musical trio THE SHADOWBOXERS. Fresh off Justin Timberlake's Man of the Woods tour, the soul and pop group ended BDOYL on a high note. (But really, did you hear those high notes? They were awesome.)
LAST, HERE'S A LOOK AT SOME OF OUR FAVORITE MOMENTS
And since a picture's worth a thousand words, here's a bunch of our favorites, so we can wrap this up and get to planning our next Best Day of Your Life: