The Macy's Thanksgiving Day Parade Will Start 30 Minutes Earlier for the First Time Ever
A 2023 guide to the parade route, how to stream, and the performance lineup with Cher and Paul Russell of TikTok's viral 'Lil Boo Thang.'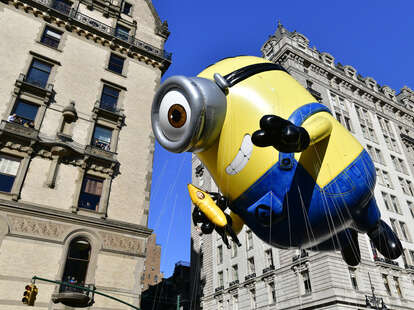 Stuart the Minion by Illumination Studios, which made its parade debut in 2022

| Photo courtesy of Macy's Event Media
Stuart the Minion by Illumination Studios, which made its parade debut in 2022

| Photo courtesy of Macy's Event Media
On Thanksgiving morning, we love the tradition of watching the world-renowned Macy's Thanksgiving Day Parade from our kitchens, while chopping veggies for Friendsgiving dinner with the day's first boozy drink in hand. But sometimes, there's nothing better than seeing all of the helium-filled excitement IRL.
Whether you're determined to cheer on the action along the parade route this year or would much rather stream it all under a pile of weighted blankets, read on for all of the details. Here's everything to know about the 2023 Macy's Thanksgiving Day Parade—an annual event guaranteed to help kick-start your winter cheer.
What time is the Macy's Day Parade?
For the first time in its history, the annual float-filled, star-studded extravaganza is starting 30 minutes earlier than its usual time.
The parade's 97th run in 2023 will take place from 8:30 am–12 pm on Thursday, November 23. When it comes to an extra 30 more minutes of holiday joy, we'll take it because a win is a win. And the parade is happening rain or shine, which means this time frame is pretty much set in stone.
How to watch Macy's Thanksgiving Day Parade
What channel is the Macy's Day Parade on?
The festivities will be broadcast live on NBC, Peacock, and Telemundo (in Spanish) from 8:30 am to noon on November 23, in all time zones. Once again, the legendary TV personalities Hoda Kotb, Savannah Guthrie, and Al Roker will be leading the broadcast.
What's the parade route and the best viewing spots?
Heading down Central Park West, the parade kicks off on West 77th—but public viewing there is not an option (neither is it an option between 60th and 59th Streets). It then makes its way around to Columbus Circle (also not open for public viewing) and Central Park South to 6th Ave, and then proceeds down 6th Avenue to Macy's.
To secure some front row seating along the parade's first leg, you can start camping out as early as 6 am on Central Park West from West 75th to West 61st Streets.
For general viewing, you're guaranteed popping views between West 59th and West 38th Streets along 6th Avenue. Take note: there's no viewing spots between West 38th and West 34th.
While the options for spots might feel a bit limiting, Macy's assures fans there will be 2.5 miles of public viewing opportunities this year. To get an instant visual on the full parade route and start planning where you'll head to on Thanksgiving morning, check out the route guide.
What's the best way to get there?
No matter your planned arrival time, we strongly advise against driving or Ubering there to avoid road closures and subsequent delays. Instead, take the subway or go old school by walking.
The best subway station for viewing on the Upper West Side is 72nd Street, serviced by the 1, 2, and 3 trains. For Midtown viewing, your best bet is the 49th Street station via the N, Q, R, and W trains—so as to prevent major turnstile drama at busier stations like Times Square-42nd Street.
What performers, floats, and new balloons will I see?
New balloons include The Pillsbury Doughboy and Beagle Scout Snoopy alongside fan-favorites like the Nutcracker Mouse King. For 2023, expect a total of 48 balloons and 26 eye-popping floats from brands like Green Giant, Kinder, and LEGO. Also on hand are a bunch of clown crews (over 700 clowns, to be precise) and the finest performance troupes from around the country to get you in that holiday spirit.
This year's headliner is the one and only Cher, who will be performing a new holiday hit at 34th Street. Additional performers include Brandy, Chicago, En Vogue, ENHYPEN, Pentatonix, and Paul Russell of the TikTok viral hit, "Lil Boo Thang."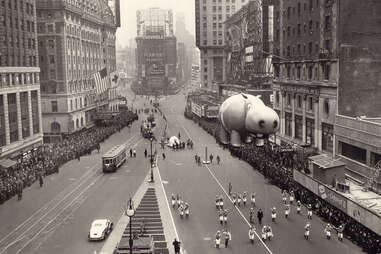 What's the parade's history and significance?
The OG Macy's Thanksgiving Day Parade took place on November 27, 1924, when Macy's staff decided to do some grassroots marketing by dressing up and leading a procession filled with floats and live animals from the Central Park Zoo. The aim was to promote the newly opened Herald Square Macy's flagship store, while treating New Yorkers to a pure spectacle. Needless to say, it worked—and has been an annual NYC landmark event for almost a century that draws millions of spectators and TV viewers.
In addition, while hours of boisterous, colorful, balloon-fueled fun is great and all, it's also important to recognize that we currently occupy land that's indigenous to the Lenape people, who referred to it as Manhatta ("hilly island").
Stacia Datskovska is a freelance journalist with publications in USA Today, Boston Globe, Teen Vogue, HuffPost, Bustle, and beyond. She's graduating from NYU's journalism bachelor's program this December and is currently interning at Mashable.