"Van Gogh: The Immersive Experience"

| Photo courtesy of Hunt & Gather Agency
"Van Gogh: The Immersive Experience"

| Photo courtesy of Hunt & Gather Agency
The legend of Dutch artist, Vincent Van Gogh, continues to captivate the world even 131 years after his death. Born in 1853, Van Gogh's legacy includes the association of many familiar tropes that are often romanticized with his art and life story: he was a tortured artist unrecognized for his talents when alive, he struggled with mental health issues, and cut off a part of his left ear after an incident with the artist, Gauguin.
In addition to his talent, legends like these make it no surprise that, globally, interest in the artist and his work only continues to soar, including through two immersive world-touring Van Gogh art experiences that are now open in NYC. Here's what you need to know about each.
What are the two Van Gogh art experiences in NYC right now?
The first is Van Gogh: The Immersive Experience, which debuted on June 5 and will run to October. Located at the venue, Skylight, at 300 Vesey Street in Downtown Manhattan, and featuring a 30,000-square-foot space, this program is run by Exhibition Hub and has previously toured through international places like Barcelona, Beijing, Tel Aviv, the UK, and more.
The second is Immersive Van Gogh, which is expected to debut on June 10 and will run to September. Located at Pier 36 between the Manhattan Bridge and Williamsburg Bridge, this program touts itself as "the largest Van Gogh exhibit in the world" featuring a 75,000-square-foot space. Created by Italian contemporary immersive artist, Massimiliano Siccardi, and also operated by Lighthouse Immersive, this show has previously toured in Toronto, Chicago, San Francisco, and Los Angeles.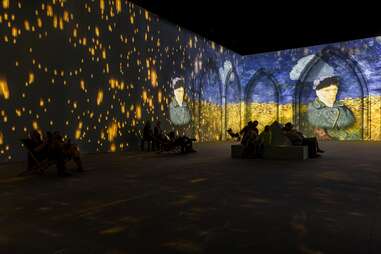 How are the two exhibitions different?
Expect more than the standard museum visit—through elements of sight, sound, lights, technology, and and also real-life replicas (like one of van Gogh's The Bedroom), both Van Gogh: The Immersive Experience and Immersive Van Gogh offer a dazzling experience in which visitors will be captivated inside a multi-sensory universe centered around the works and story of Vincent Van Gogh.
At Van Gogh: The Immersive Experience, elements include a sunflower display upon entrance; an animated version of Starry Night with a bench for viewing; a 360 degree, two-story projection along with narration featuring some of the artist's most important works; a VR experience; a special artist table where visitors can color their own Van Gogh-inspired pieces to then upload for display onto a virtual wall; and more, for an experience totalling 60 to 70 minutes.
At Immersive Van Gogh, expect an experience made in collaboration with Emmy Award-winning and Tony Award nominated designer David Korins (Hamilton, Dear Evan Hansen), with over 500,000-cubic-feet of projections. According to their website, visitors will "wander through entrancing," and "moving images that highlight brushstrokes, detail, and color," through some of his works like The Potato Eaters, Starry Night, Sunflowers, and more.
For Van Gogh: The Immersive Experience, tickets are available through Fever
For Immersive Van Gogh, tickets are available through their website.