Balloons, Costumes, and Tunes! Have a Hoot at the Macy's Thanksgiving Day Parade
You've seen it on TV and you've seen it in the movies. You've been spellbound by its floats and you've stared slack-jawed at its balloons. It's perhaps the most ornamented live holiday event, one that the vast majority will only ever experience through the buffer of screens. The Macy's Thanksgiving Day Parade entertains over 50 million people each year, and if you're one of roughly 3.5 million lucky enough to see the action in person, you're going to want a game plan.
We've gathered the whos, whats, whens, wheres, and hows of this year's parade to help you prepare, including tips for finding a good vantage point, details about new floats and balloons, and the lineup of celebrity performers. Here's everything you should know before attending the 93rd Macy's Thanksgiving Day Parade in NYC.
The parade route
The parade steps off from West 77th Street at 9am, moves south on Central Park West to Columbus Circle, and turns left on West 59th Street. The journey continues south on Sixth Avenue to 34th Street and ends outside Macy's flagship store around noon. See the route
here
.
Spectators bundle to brave the parade

| JStone/Shutterstock
Where to watch
There are
two main stretches where you can catch a solid view
. Early birds can line up on
the west side of Central Park West between West 75th Street and West 59th Street
-- people start camping out here as early as 6am, but you can show up closer to the start time for a less optimal view. If you want to arrive a little later, find a spot farther down the route: Your best bet is
on Sixth Avenue between West 59th Street and West 38th Street
.
There are a few areas on the route with limited-to-no views: Avoid the kickoff area at West 77th Street, Columbus Circle, the stretch of Sixth Avenue between West 38th Street and West 34th Street, the stretch of West 34th Street between Sixth Avenue and Seventh Avenue, and the area in front of Macy's at Herald Square.
How to get there
The subway is your most reliable mode of transportation, especially when street closures are involved. Meet up with your group before hopping on a train, and head to a station slightly off the beaten path to minimize the madness. You're already going to be on your feet and in the cold -- a few extra minutes of walking won't hurt. If you're planning to watch in the Upper West Side, take the 1, 2, or 3 train to 72nd Street. If you're planning to watch in Midtown, consider taking the E train to 50th Street or the N train to 49th Street. As always, watch the MTA's live service updates
online
or on
Twitter
in case there's a hangup.
What to wear and how to prepare
You'll be standing in a crowd, sure, but body heat alone won't keep you warm. With a morning event like this, layers are key; long johns, sweaters, coats, and scarves are a must, but don't stop there. Wear comfortable shoes, thick socks, and fashion yourself with head and hand protection so you can focus more on the parade than your rapidly declining body temp. Get some hand warmers, don't pass on the gloves, and hold a thermos of hot coffee or cocoa to further the coziness. Also hold your bladder once you arrive -- bathroom lines will be long and crowds will be unforgiving when you attempt to return to your post.
Diary of a Wimpy Kid

| Ryan Rahman/Shutterstock
The prominent performers, flashy floats, and brand-new balloons
The 2019 parade consists of 26
floats
, 16
giant character balloons
, and 40
other miscellaneous balloons
. Macy's says more than 8,000 people will participate, including 1,200
cheerleaders and dancers
, 1,000-plus
clowns
, 11
marching bands
, and several singers, athletes, and additional performers.
On the celebrity front, expect performances from
Natasha Bedingfield
,
Billy Porter
,
Black Eyed Peas
,
Ciara
,
Idina Menzel
,
Lea Michele
,
TLC
,
Chicago
, and
more
.
Former astronauts Kay Hire and Janet Kavandi
also join the star-studded guest list, along with
Miss America 2019 Nia Franklin
and
NHL icons Dominic Moore and Eddie Olczyk
.
Of the 26 floats, five are new to the lineup: Blue's Clues & You!, a simple set featuring the Blue's Clues reboot host Josh Dela Cruz; The Brick-Changer, a multicolored LEGO display the size of approximately 2,000 LEGOs; Home Sweet Home, a cozy reimagining of Cracker Barrel's famous country stores; Rexy in the City, the first luxury fashion float, centered on COACH's glittery reptilian mascot; and Toy House of Marvelous Milestones, a dollhouse-style depiction of life's most important moments.

This year's parade also features three new character balloons and two new heritage balloons: Astronaut Snoopy, the dog's newest design commemorating 50 years since the moon landing; Green Eggs and Ham, featuring a green "hammobile" the size of 4 million eggs or 14,000 hams; Spongebob Squarepants & Gary, honoring the iconic cartoon's 20th birthday; Love Flies Up to the Sky, a special creation by contemporary artist Yayoi Kusama; and Smokey Bear, returning to the parade for the first time since 1993 to celebrate his 75th birthday.
More: Get a Sneak Preview of the Parade at Wednesday's Balloon Inflation Event
If you'd rather just watch it on TV…
Some people -- in the words of a woman I stood beside at last year's parade -- "prefer watching this in a warm apartment with some wine." If that's you, don't worry: NBC broadcasts the parade at 9am in every time zone. For a slightly more involved viewing experience, watch Verizon's
360 Livestream
, launching at 8:30am ET on YouTube.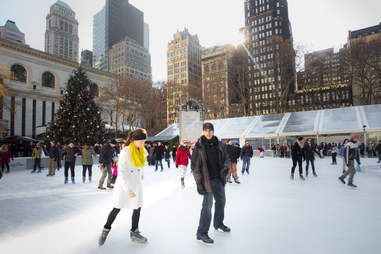 Ice skating at Bryant Park

| littlenySTOCK/Shutterstock
Sign up here for our daily NYC email and be the first to get all the food/drink/fun New York has to offer.
Kyler Alvord's toes froze last year and he had to hobble home before seeing Santa's Sleigh. It was worth it though. Find out if he dresses smarter this year on Instagram and Twitter.