The 5 Best Ways to Celebrate Mother's Day in NYC
Mother's Day is Sunday, May 12th: Whether you've got a mom, love a mom, or are a mom (or any combination of the above!), New York City's got a million ways to celebrate the wonderful mothers in your life. You can buy a bouquet of blue carnations at any bodega and a card with a glittery butterfly at the Duane Reade at the end of your block, but a meaningful Mother's Day is all about doing exactly what Mom wants.
Whether she's in the mood to spend an afternoon at the museum or needs to catch up on her me-time, I've rounded up the five best ways to celebrate Mother's Day in New York City. Oh, and while you're at it... why don't you offer a mom a hand with her heavy stroller while she's struggling down the subway steps? It would make your own mama proud.
Fort Greene, Brooklyn
Habana Outpost, a Cuban restaurant and community space, hosts a free movie night every Sunday all summer long. They're delightfully lo-fi affairs, with a projector beaming cult classics onto the side of a building. This Mother's Day, they're playing Robin Williams' 1993 magnum opus Mrs. Doubtfire. The movie starts at 8, but it's best to show up early to get a good spot. If you're taking your mom, you can reminisce while you wait; if you're taking your own kids, you can spend the time trying to explain how you lived without an iPhone.
Flushing, Queens
Start shopping for dorky matching outfits! From 9am-2pm, you can stop by the Wedding Garden for a professional session with photographer Eryn Hatzithomas. For $20 (not including the $6 admission for adults and $2 for kids 4-12), you'll get two digital photos from the shoot, all ready to print and frame. Then you can spend the rest of the day rambling among the sweet-smelling 39-acres of the Queens Botanical Garden -- it's like a Mother's Day bouquet you can walk in.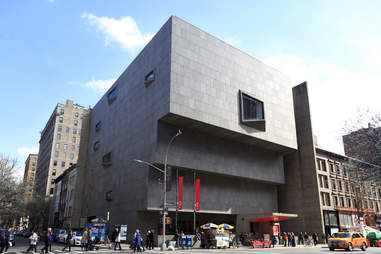 The Met Breuer

| Osugi/Shutterstock
Upper East Side
The Met Breuer is significantly smaller than the Metropolitan Museum of Art, making it much more doable with kids in tow. Pack a picnic lunch to eat in Central Park, then let the Met's experts take you through a guided tour designed specifically for families with children ages 3-11. The tour is free with admission (pay-as-you-wish for NY residents), but make sure to get your tickets in the lobby to reserve your spots. And bring a sketchbook in case anyone gets inspired to make some refrigerator art for Mom.
Shuka

| Cole Saladino/Thrillist
Citywide
You're a little too old to make your mom a macaroni portrait, so you better make a reservation. Mother's Day brunch is an age-old classic, and for good reason: It's like breakfast in bed, but with no danger of you burning down the kitchen. Whether Mom's craving fancy pancakes or a round of Bloody Marys to take the edge off, we've made it easy to find a spot with our roundup of Mother's Day brunches.
Courtesy of Lift Floats
Cobble Hill
You know what mom wants, what she really, really wants? She wanna (ha) she wanna (ha) she really, really, really wants everyone to leave her alone. Give her the ultimate experience in one of Lift's sensory deprivation tanks: More buoyant than the Dead Sea, these float tanks allow her to rest in total darkness with no pressure, no expectations, and no one yelling "Mom! Mom! Mom!" Buy her a gift certificate (one float specials are $93), take the kids, and let her forget that all of you exist for an entire hour.
Sign up here for our daily NYC email and be the first to get all the food/drink/fun New York has to offer.