Independence Day in NYC invites controversy. A Gen X-er at the barbecue will wonder aloud whether hot dogs are sandwiches, a contrarian at the pool party will assert that "Firework" is more patriotic than "Party In The U.S.A.," and two aggressively partisan relatives at the family reunion will dissect the very definition of "patriotism" in an effort to shade the other's vacuous political beliefs. But for 25 minutes -- 25 short, magical minutes -- Americans -- even New Yorkers -- will put aside their differences to accept one universal truth: Fireworks are cool as hell.
The 43rd annual Macy's 4th of July Fireworks show begins at 9:20pm this year, and for the first time since 2014, they'll be launching from the Brooklyn Bridge area. Thursday's weather forecast calls for highs of 87-degrees, lows of around 70, and manageable humidity that'll make you forget all about last week's sweatfest. Expect to navigate untold crowds looking forward to a near-perfect setting for sky sparklies.
Macy's worked with the city to establish a few official viewing locations, but there are plenty of other places to see sparks fly. Waterfront restaurants and rooftop bars in the vicinity are always an option if you have a few hundred dollars to spare, and if you know anyone living along the lower East River, this would be the time to wiggle back into their life.
To the vast majority relying on public spaces this Fourth: You're not alone, you're actually in the same boat as millions of others, and you're going to need to arrive at your waterfront destination very early because of said millions of others. Here are the best streets, parks, piers, beaches, restaurants, and bars for getting your firework fix.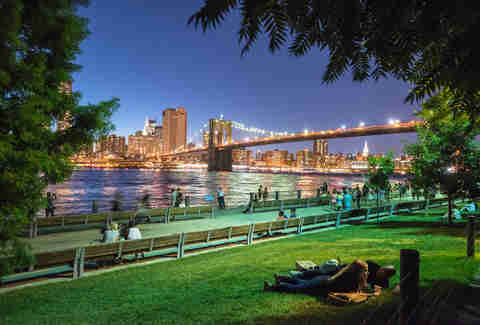 Brooklyn Heights
Catch amazing pyrotechnic views at one of the city's shiniest parks. BBP's six piers harbor benches, grassy areas, and open spaces perfect for observers, but with such a prime location for watching the show, expect them to fill up fast. Parking won't be your friend here, so take advantage of the city's extensive public transportation options. Check the park website for details on where to enter and what areas are open to the public.
Brooklyn Heights
The elevated walkway behind Brooklyn Bridge Park makes a wonderful vista point for glimpsing the Manhattan skyline, the Statue of Liberty, and -- you guessed it -- the Brooklyn Bridge. If you're committed to finding a spot for the whole posse, you'll have to stake your claim long before the light show. Don't worry though -- a day at the promenade isn't exactly a jail sentence.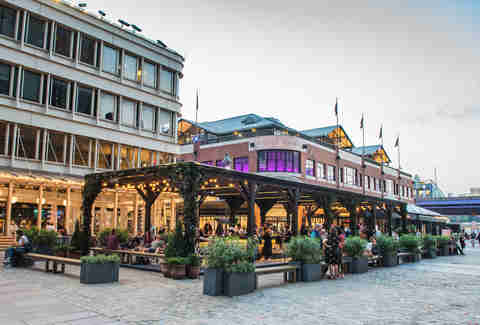 Seaport District
Fulton Street's outdoor bar is one of a precious few businesses that's open to the public during the fireworks show with no tickets required. Garden Bar closes at 11pm on the holiday, and it'll bring in rotating DJs from noon to 9pm as people pregame for the night's party in the sky. Nabbing a spot here is a game of chance, but the prime real estate is worth a shot.
Chinatown
The bar and lounge atop Lower Manhattan's Wyndham Garden Hotel will offer up its three spacious floors for enthusiastic July Fourth revelers. The ticketed holiday party includes DJ tunes, treats, and specialty cocktails, and you can get in for as little as a $35 general admission ticket (or as much as a $1,250 VIP table, if you and 11 friends are looking for luxury). Rooftop93 has floor-to-ceiling windows and a rooftop area with views of Manhattan and Brooklyn Bridge area.
Coney Island
You don't go to Coney Island on Independence Day for the fireworks alone. You go to Coney Island on Independence Day if you're looking for a full day of fun that just happens to involve beachside fireworks. At 10am, cheer on contestants at Nathan's Hot Dog Eating Contest; at 6pm, catch a minor league baseball game at MCU Park; and shortly before 10pm, look up at the sky for the grand finale. You'll have no problem filling time between events.
Battery Park City
If the major retailer's sparkle show doesn't impress you much and a trip to Coney Beach sounds exhausting, take a seat on Manhattan's west side for an alternative holiday experience. Jersey City's 50 Star Fire Show can typically be seen from parts of Lower Manhattan, the waterfront at Battery Park City among the most reliable. Keep an eye on the event page for a more specific timeline of the evening as the date nears.
Staten Island
Staten Island doesn't launch its own fireworks, but it does have views of nearby displays. Wait out nightfall with a free Staten Island Philharmonic performance at Alice Austen Park from 6-9pm, then stick around and watch the Jersey City, Manhattan, and Coney Island fireworks from a comfortable distance. You may not be right below the action, but dodging city crowds makes for a pretty nice tradeoff.
Lower East Side
Get classy in Hotel on Rivington's luxury penthouse space between 4pm and midnight on Independence Day. The event requires tickets (that start at $35 and quickly rise in price if you want a reserved table), but once you're in, you won't need to leave until the night's over: Food and drinks are available on-site, DJs will spin hits and keep vibes high, and the glass walls and roof deck will frame the East River show.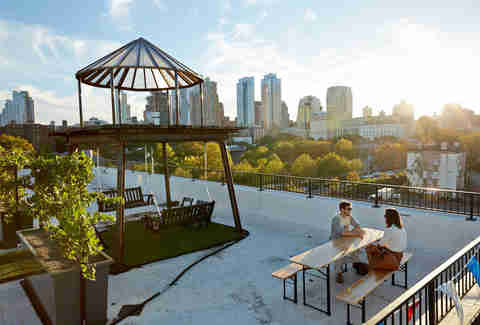 Brooklyn Navy Yard
Tucked into the Navy Yard Basin around the corner from the lower East River, Rooftop Reds won't have as clear a view of the fireworks as the riverside parks and streets. But it will have a sprawling space suitable for groups looking for a chill Fourth evening. Roof admission is $30, where guests will find hammocks, cornhole, music, and drinks for sale from 2pm till after the fireworks show. Dinosaur BBQ will also be there selling pulled BBQ pork and chicken.
Leaves from Hudson Square
Spend the night on the water at this year's Rock the Boat Fireworks Party Cruise for ages 21+. Tickets start at $159 and get you a four hour open bar, DJ entertainment, and a picnic buffet featuring beef tenderloin sandwiches and pulled BBQ brisket. Boarding begins at 6pm, departure's at 7pm, and the three-tiered party boat returns at 11pm.
Citywide
This one's a crapshoot, best suited for folks who don't need to see the full extravaganza, but wouldn't mind an errant glimpse of the rockets' red glare. Venues with guaranteed views of the fireworks sure are cashing in on their fortuitous locations, but if you don't want to shell out hundreds (or in some unbelievable cases thousands) of dollars for a few ooohs and aaahs, pick a spot south of the Brooklyn Bridge as close as you can get to the water and see what you can see.
Sign up here for our daily NYC email and be the first to get all the food/drink/fun New York has to offer.