Photo courtesy of 230 Fifth
The holidays are—of course—going to look a little different this year. The Rockettes aren't high-kicking; SantaCon revelers won't be roaming the streets (which, actually, might be a silver lining!); and for the first time since 1861, Mr. Claus will be skipping his route to Macy's. And while this may turn out to be one of the strangest winters of our lives, NYC will always be the most magical place to celebrate the holidays. That's because, pandemic or not, after 10 months of brandishing hard grit and attitude, this is traditionally the time of year when New Yorkers let their guards down and embrace the season's merriments. And especially in 2020, we're ready to revel in all of the cheesy, over-the-top, holiday cheer we can get.
This year, see the Bronx Zoo transform into a light-up winter wonderland, take a trip to Queens to shop for decor in a gigantic Christmas shop, or warm up with a hot cocktail at a holiday-themed pop-up bar—we've rounded up every magical, miraculous, and must-do event in the city this holiday season. And when it comes to 2020's hottest gift to give and receive—wearing a mask and social distancing responsibly—we hope it remains at the top of your list beyond this time of year.
Open 8 am - 8 pm through December 24, 9 am - 7 pm December 25-27
Bryant Park
Parisian café Angelina—best-known for its creamy hot chocolate—dates back to 1903 and has opened a Manhattan outpost to bring a little joie de vivre to winter in NYC. Sip a big cup of hot chocolate, nibble on a croissant, and live your best Emily in Paris fantasy. If you want to spend a whole dreamy morning à la Emily Cooper, the prix fixe brunch includes tea, coffee, or hot chocolate; pastries; your choice of entree; and a chestnut crepe with chantilly cream.
Cost: Hot chocolate is $8.90, prix fixe brunch is $38
Through December 24
Bryant Park
Don't know what to stuff inside your family's stockings this year? The Holiday Shops at Bryant Park have handmade gifts from over 170 vendors from artisans all over the world, so statistically, you're sure to find something they'll like. Sip a hot cider, shop for scarves, take a break by watching the figure skaters glide across the ice rink at Bryant Park, and take in some retail therapy in the comforts of open air.
Cost: Free to peruse
Through spring
Midtown
230 Fifth is bringing back its beloved Igloo Bar, which features 17 heated domes that are ideal for social distancing and (not-so-socially-distant) holiday dates. You can order food and drinks to your booze cocoon with a cocktail menu that includes hot chocolate spiked with Malibu, apple pie cider, and caramel Irish coffee made with whiskey and butterscotch schnapps. Igloos can be reserved, but walk-ins are welcome—and while you wait, warm up with one of the bar's cozy red robes.
Cost: Cocktails start at $10
Through January 31
The Bronx
At the New York Botanical Garden, the Holiday Train Show is back—with a few twists on the tradition. The beloved recreation of NYC rendered in natural materials (like bark, acorns, and cinnamon sticks!) will be there, complete with the Statue of Liberty, the Brooklyn Bridge, and Rockefeller Center. Due to social distancing guidelines, only members and patrons of the NYBG will be able to score a ticket, although they will be allowed to bring a guest. Why not start a new holiday tradition by becoming a member and supporting one of the best green spaces in NYC?
Cost: Membership starts at $90
Through December 31
East Village
The pop-up bar Miracle on 9th Street will bring that warm holiday flush to your face… or maybe that's just all the booze? From behind a bar draped with bows, garlands, presents, and all the other trappings of the season, they're serving up cocktails to get you more than a little merry. Order the Christmapolitan with vodka, vermouth, spiced cranberry, and rosemary, or (because Die Hard is a Christmas movie!) the Yippie Ki Yay Mother F****r! with four rums, bitters, and pumpkin-almond orgeat.
Cost: Depends how merry you get
December 17-23, 26-31
The Bronx
The Bronx Zoo is transforming into a winter wonderland for the holidays. Watch an ice carving competition, sip a steaming cup of hot cocoa, and walk through a glittering "lantern safari" that features light-up animals from habitats all over the world. While all the real animals of the zoo will be tucked into their cozy dwellings for the night, you'll get to see glowing gorillas, flamingos, caribou, and sharks with a ticket to the Holiday Lights.
Cost: $34.95

Open 7 days a week
Ozone Park
With over 35,000 square feet of shopping space, Ozone Park's House of Holiday store is filled with wall-to-wall Christmas cheer. Shopping here is like stepping inside a snow globe: Christmas trees, ornaments, stockings, and some (frankly) unnerving elves await you. Even if your apartment doesn't have the space to start a miniature Christmas village, you can still ooh and aah over their collection of tiny trees, trains, and snow-topped houses.
Cost: Free to browse; unnerving elves start at $24.99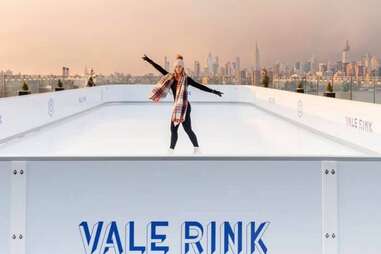 Wednesday - Sunday
Williamsburg
Skip the crowds at Rockefeller Center and head to the William Vale's outdoor Vale Rink on the 23rd floor, where the ice is just as cold and you can skate with the Manhattan skyline behind you. When you get too chilly, head to their cozy, socially-distant "tiny houses" to have a warm drink and compare moves with your ice-dancing partner.
Cost: Check website for updates
Through January 10
Randall's Island
The LuminoCity Festival is returning to Randall's Island Park this year for a socially-distant light-up extravaganza. With glowing Christmas trees, castles, unicorns, and other magical displays, they've transformed the island into a jaw-dropping (and eminently Instagrammable) destination. Safety precautions are in place—including masks, temperature checks, and ticketed time slots—so be sure to secure your spot before you go.
Cost: $38
Through December 24
Virtual
Seeing as you can't sit on somebody's lap from 6 feet away, the longstanding tradition of Macy's Santaland is moving online. With Macy's Santaland at Home, now you can recreate the "Santa at the mall" experience of your childhood from your very own computer. It might feel different from the mall of your memories, but Santa is exactly the same (isn't it funny how that happens?). These new adaptations set in place due to COVID-19 will make 2020 the first time since 1861 that Santa won't be ho-ho-hoing at Macy's, but you can still tell the big man what you want under your tree.
Cost: Free; no reservations needed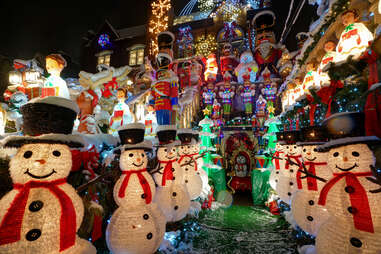 Through December 31
Dyker Heights
Mid-to-late December is the time when Dyker Heights—finally!—gets to shine. Every year, the entire neighborhood transforms into a Christmas light spectacular, inflatable Santas and all. Almost every house gets into the spirit, but the most merry drive (or walk, if the night is warm) is up Dyker Heights Boulevard from 83rd to 86th Street. Head out after sundown, and be prepared to jump on the D train around 9, when the homeowners turn off the lights. Since individual homeowners decide whether to light up or not, 2020 might have fewer holiday lights than years past—but the neighborhood is sure to still be in the Christmas spirit.
Cost: Free
December 31
Your apartment
After the year we've all had, we deserve to celebrate 2021. While the Times Square ball drop usually draws more than a million people to the streets, this year you can watch it virtually and spend the night cuddled up in your pajamas. Sing "Auld Lang Syne," drink a split of champagne with your roommates, and brace yourself for whatever the new year will bring.
Cost: Free
Sign up here for our daily NYC email and be the first to get all the food/drink/fun New York has to offer.