Village Halloween Parade

| Steve Edreff/Shutterstock
Village Halloween Parade

| Steve Edreff/Shutterstock
Halloween in NYC just isn't complete without the Village Halloween Parade, a cherished October 31st tradition since 1973. Sadly, for only the second time in its 48-year history, the spooky nighttime celebration was canceled in 2020 amid COVID-19 concerns. This year, the parade organizers worked some dark magic to not only design a COVID-safe event, but raise the necessary funds to fully resurrect the parade without trimming its budget—because in times like these, the show must go on.
The 2021 parade theme is "Let's Play," aiming to be a triumphant party dedicated to everyone robbed of a proper Halloween last year, and comedic singer Randy Rainbow was chosen as the grand marshal for his ability to make people laugh during challenging times.
Ready to party? Here's everything you need to know about the grand return of NYC's Village Halloween Parade and its route. And if parades aren't your thing, there are still plenty of ways to celebrate all things spooky in the city.
How do I get there?
Traveling underground is always your safest bet for events like these—streets are closed in certain areas, and buses and traffic are rerouted to avoid the parade area. Rally with your crew before you head to the scene and brave the subway on Halloween together. You can take the B, D, F, or M lines to the 23rd, 14th, or West 4th Street stations; the 1, 2, or 3 lines to the 23rd, 18th, 14th, Sheridan Square, or Houston Street stations; or the A, C, or E lines to West 4th Street, Spring Street, or Canal Street.
What's the best viewing spot?
The biggest crowds often build between Bleecker and 14th Street. Arrive extra early to claim a spot if you're looking to be at the heart of the event; otherwise, any other place along Sixth Avenue will get you a solid vantage point.
Can I march in the parade?
Yes! As long as you're in costume, you are permitted—even encouraged—to join the parade alongside hundreds of giant puppets, dozens of bands, a host of dancers, and thousands of like-minded New Yorkers.
Participants must arrive at the corner of Sixth Avenue and Canal Street to join the lineup. You can arrive any time between 6:30pm and 9pm to get in on the fun, but the later you come, the larger the chance that you'll miss the crowd. If you're marching with a group of friends, meet up with them before coming to the step-off area to ensure that you can all walk together.
You don't need to register in advance if you want to march, but for those who hate waiting in lines, you have the option to purchase VIP tickets starting at $100 that allow you to bypass the masses.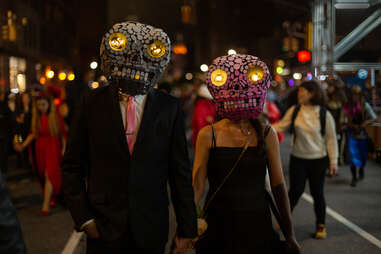 What COVID-19 precautions are being taken?
With COVID cases currently more under control than this time last year, the parade is permitted to carry on in 2021 since it takes place on a wide street outdoors. That said, break-through COVID isn't unheard of, and it's important that everyone—regardless of vaccination status—brings a mask, whether they're participating or simply watching.
Parade participants are required to wear a mask upon arrival and keep it on for the duration of the line-up process. Once participants begin marching on the parade route and spacing out, they are allowed to take off their masks, even though face coverings are encouraged from start to finish.
Fortunately, Halloween is a very mask-friendly event, so the parade organizers have challenged everyone in attendance to find a creative way to incorporate their mask into their costume. The parade photographers will be looking out into the crowds on the sidewalk to capture people's most creatively adorned face coverings.
Can I bring booze?
No. Sadly, even on the most sinful night of the year, open container laws still apply. And the parade isn't any more forgiving than NYC government: Its zero-tolerance policy for alcohol means you should keep the tallboys to your apartment pregame. You've got a long night ahead of you, so pacing yourself is probably for the best.
Where should I party afterward?
As is tradition, the Halloween Parade's official after-party, Webster Hell, will take place in the East Village on Halloween night. Doors open at Webster Hall at 8 pm and remain open until late, allowing you to bounce over after the parade and keep the party going. Tickets start at $39.50 and all guests must show proof of vaccination to enter.
Where can I watch if I can't go in person?
If you're not able to attend or don't feel comfortable going to large gatherings just yet, you can watch the festivities from home! The Village Halloween Parade will be telecasted live on NY1 from 8 pm to 9:30 pm, and national and international news programs are expected to have some spot coverage as well.