Your Complete Guide to This Year's 'Wild' Village Halloween Parade
Courtesy of the Village Halloween Parade
Some traditions never die, and after 45 years of keeping New York weird, the Village Halloween Parade seems to be one of them. The only nighttime parade in New York City returns to Sixth Avenue on Thursday, October 31, for a highly anticipated celebration of all things spooky.
This year's theme -- Wild Thing! -- calls for an exploration of the natural world, a hard lean away from civilization, an inventive take on your inner beast. Expect antlers, expect fur, expect tails, nails, leaves, and straw. And like every other year, you'll still find giant puppets, whimsical dancers, and thousands of costumed New Yorkers donning their wackiest creations.
For one night only, almost anything goes. So request Friday off work and get ready for the wildest weeknight of the year. Here's everything you need to know about the 46th annual Village Halloween Parade (and where to celebrate afterward).
Where and when is the parade?
If you didn't gather from its name, the parade happens in Greenwich Village. The mile-long route is simple: Participants step off at Spring Street and move up Sixth Avenue to 16th Street. Marching begins at 7pm and wraps up around 10:30pm.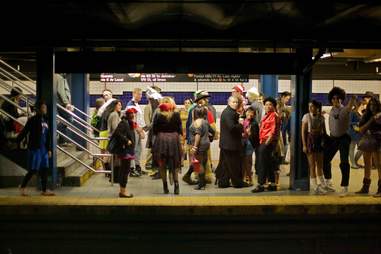 Courtesy of the Village Halloween Parade
How do I get there?
Traveling underground is always your safest bet for events like these -- streets are closed, and buses and traffic are rerouted to avoid the parade area. Rally with your crew before you head to the scene, and brave the subwayon Halloween together. You can take the B, D, F, or M lines to the 23rd, 14th, or West 4th Street stations; the 1, 2, or 3 lines to 23rd, 18th, 14th, Sheridan Square, or Houston Street stations; or the A, C, or E lines to West 4th Street, Spring Street, or Canal Street.
What's the best viewing spot?
The biggest crowd builds at Sixth Avenue and 10th Street, where TV crews set up camp. Arrive extra early to claim a spot if you're looking to get in on the action. Otherwise, any place along Sixth Avenue will get you a decent vantage point, with the exception of the Ruth E. Wittenberg Triangle, where logistical issues will prevent you from nabbing a view.
Courtesy of the Village Halloween Parade
Can I march in the parade?
Yes, but with a catch: Only those in costume will be permitted to march. To join the procession, line up on Sixth Avenue between Spring and Broome streets. Much of Sixth Avenue will be closed off, so it's best to approach the line-up area from the south (coming up from Canal Street) or the east (entering from Broome or Sullivan). Line-up begins 30 minutes before the parade, at 6:30pm, and lasts until 9pm.
What should I wear?
You don't have to dress as a "wild thing" to march in the parade, and you aren't required to wear a costume at all if you're planning to watch from the sidelines, but what fun is that?
This is an opportunity to flex your creativity muscles and show off the outfit you've spent all year brainstorming, wild or not! Take advantage of it and express yourself in whatever costume you see fit. If you decide to march, you'll automatically be considered for the annual costume contest, so whatever you do, don't half-ass it.
Courtesy of the Village Halloween Parade
Can I bring booze?
No. Sadly, even on the most sinful night of the year, open container laws still apply. And the parade isn't any more forgiving than NYC government: Its zero tolerance policy for alcohol means you should keep the tallboys to your apartment pregame. You've got a long night ahead of you, so pacing yourself is probably for the best.
Where should I party after the parade?
New Yorkers jump on every opportunity to turn up, and Halloween night is far from an exception. Webster Hell, the parade's official after-party, returns to the East Village this year, bumping tunes from 8pm till 4am to catch any late-night stragglers. Tickets cost $39.95, and the partygoer whose costume steals the show will walk away with $5,000 cash.
If you'd rather turn up on your own terms, the city has plenty of bars with Halloween spirit. Hunt ghosts at historic haunts like White Horse Tavern and Ear Inn, enter the "Temple of Terror" at beloved rooftop bar Mr. Purple, or find an interactive theatre experience at the West Village's Jekyll & Hyde Club. Check out our full guide here.
Where can I watch if I can't make it?
NY1 will broadcast the Village Halloween Parade live from 8-10pm on Halloween night. Click over to channel 1 if you're in NYC, or sign in with your TV provider and watch online.
Sign up here for our daily NYC email and be the first to get all the food/drink/fun New York has to offer.
Kyler Alvord is terrified of riding the subway on Halloween. See how well he copes this year on Instagram and Twitter. Or don't. It's really up to you.