"We all came into this world naked," says RuPaul. "The rest is all drag."
There is no better place to dance in drag -- or naked -- than New York City. And there is no better time to do so, than the NYC Pride March.
The first Pride March in 1970 was a civil rights protest in defense of sexual freedom. Each year since, folks identifying as gay, lesbian, bisexual, transgender, queer, intersexual, asexual, and their allies, have rallied to march, sing, dance, speak, and revel in the thriving community they've fought to create and sustain.
Throughout history, the scope of the movement has evolved to honor those living with AIDS, sexual violence, and neglect. The catalog of sexual preferences and identities we celebrate and protect has broadened. The sentiment remains: we will not stand for discrimination on the basis of sexuality. And everyone has the right to love whomever they love.
Somewhere along the line, this celebration of the right to love became a gigantic party. Last year, over 450 groups took to Fifth Avenue, making it one of the largest Pride celebrations in history. And on Sunday, June 24, after a month of Pride events, history repeats itself. Once again, New York City is poised to emit a rainbow glow at the glittery spectacle that has become a staple of summer in the city.
Here is everything you need to know to March for Pride this Sunday:
Where and when will the march take place?
The march will begin at noon on Sunday, June 24, on the corner of Seventh Avenue and 16th Street in Manhattan.
What is the march route?
The March will head downtown from 16th Street along Seventh Avenue, passing the AIDS Memorial on 12th Street. The procession will take a wide left turn at Christopher Street and Seventh Avenue South, then continue past Sixth Avenue and onto West Eighth Street. For the last leg of the journey, marchers will take West Eighth Street to Fifth Avenue, swinging uptown until the dispersal point at Fifth Avenue and 29th Street.
How do I get there?
The streets will be crowded AF, so your best means of transportation is definitely subterranean (on the A or the F). You can take the L, B, D, F, and M trains 14th Street and Sixth Avenue, ride the 1 train to 14th Street, or cruise on the A, C, and E trains to 14th Street and Eighth Avenue.
What Streets will be closed?
The NYPD has yet to release final info on street closures, but expect the downtown stretches of Fifth Avenue and Seventh Avenue near the parade route to be off-limits to vehicles.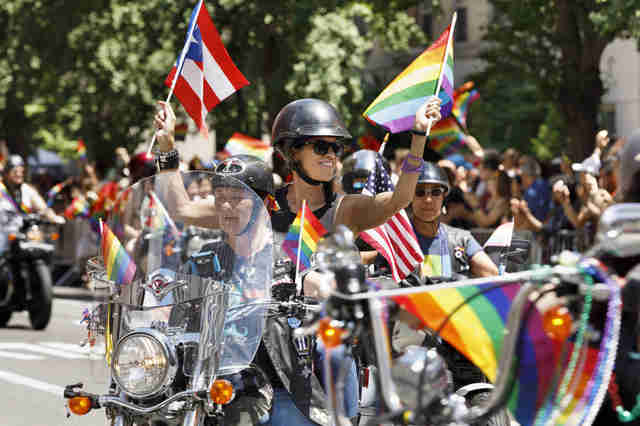 What will the weather be like?
So far, so good, according to the experts. Expect 80 degrees and sunshine -- perfect glitter-sticking conditions.
What do I wear?
Literally anything you want. Or nothing. No matter what you choose to put on your body -- a full suit of armor, a wedding dress, an iguana costume -- we can assure you that someone will be donning something far more outlandish. Go for as much color as possible, take into consideration the fact that body paint is basically the same as clothing, and have some fun choosing your grab. The general vibe is anything but business casual.
And along with all that body paint, consider a little sunscreen.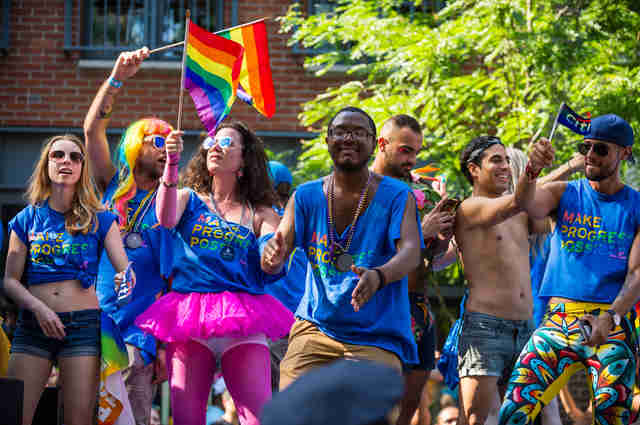 Where are the best spots to watch the Pride March?
You've missed your window to actually march this year -- but watching from the sidelines is just as fun. Your best bet for spectatorship would be purchasing a third story apartment on Seventh Avenue and Grove Street, right across from the Stonewall, where you can lean out over the masses and watch the glitzy, colorful fun unfold. Unfortunately, all but a tiny percentage of us are capable of purchasing a West Village apartment on such short notice. Or, like, ever.
In lieu of multi-million-dollar real estate deals, snag a spot at the intersection of Seventh Avenue, Grove Street, and Christopher Street. Not only will you be stationed right near the iconic Stonewall, but you'll also be facing Big Gay Ice Cream and the Duplex. Take up residence in the cloistered Christopher Park, right in the center of all the action. It will be crowded.
For differently-abled spectators, a section surrounding the AIDS memorial in St. Vincent's Triangle Park will be roped off for protected seating. Be sure to register in advance to secure a space here, if necessary.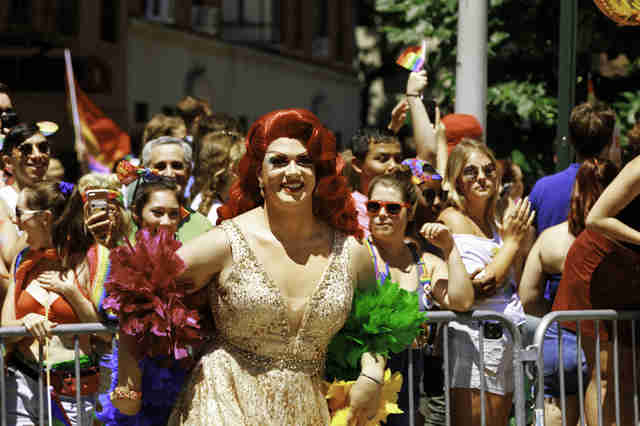 Where do I party after?
The Pride March is one big party per se -- and you will not be ready to go home once the marching comes to a close.
Before you and your fellow revelers file off to a slew of different bars, NYC Pride is holding an official Pride Fest. The LGBTQIA+ street fair will bring food, drink, and live entertainment to University Place between 13th Street and Waverly Place.
On stage, popular television personality Ross Mathews will host; superstar Alex Newell will grace the stage with a special musical performance; and Parson James will slay the National Anthem.
Once Pride Fest dies down, all the self-identifying ladies can take the party over to Hudson Terrace for the NYC Pride-Hosted Femme Fatale. Like all good rooftop parties, the girls-only soirée will feature ample drinking, dancing, and progesterone.
How do I follow along if I can't be there?
The NYC Pride March will broadcast live on ABC 7 from 12-3pm. And check #NYCPride on Twitter and Instagram for all the fanfare.  
How else can I show my support?
NYC Pride is always looking for volunteers to help orchestrate the battery of phenomenal events taking place all across the city throughout the course of Pride Month.
Be sure to check for sponsorship opportunities before the parade begins, and donations are always more than welcome, to help ensure that future programming is as kick-ass as this year's.
Sign up here for our daily NYC email and be the first to get all the food/drink/fun New York has to offer.