Rockefeller Center Christmas Tree

| lazyllama/Shutterstock
Rockefeller Center Christmas Tree

| lazyllama/Shutterstock
It's impossible to spend a winter in New York City without taking a moment to appreciate Rockefeller Center. Just across the way from the Fifth Avenue holiday window displays, the Midtown attraction hosts millions of visitors each year eager to glide on its ice rink, dine in its restaurants, and take a photo in front of the world-famous Christmas tree.
The annual Rockefeller Center Christmas Tree Lighting is one of the most celebrated holiday events of the year, featuring celebrity performances, joyous Christmas music, and a first look at the larger-than-life tree in all its glowing glory.
On Wednesday, December 1, prepare to usher in the Christmas season at the 89th annual tree lighting ceremony—here's everything you need to know about the ceremony.
Who's performing this year?
The 2021 Rockefeller Center Christmas Tree Lighting will feature special live performances by a lineup of stars including Alessia Cara, Carrie Underwood, Harry Connick Jr., Brad Paisley, Mickey Guyton, Norah Jones, and Rob Thomas. The stage will also welcome the city's most recognizable dance troupe, the Radio City Rockettes.
When should I arrive?
Here's the bad news: The tree lighting ceremony lasts from about 7-10 pm, but because spots are first come, first served, you'll want to arrive around 3 pm to get a good view. If you're a little late it should be all right, but don't even try showing up after 4 pm. Waiting around outside may not sound very exciting, but there's a reason people brave the cold every year.
What should I wear?
The 2021 holiday season is starting off a little warmer than average, but that doesn't mean you can dress in shorts and a t-shirt. The tree lighting ceremony will undoubtedly still be cold, and the body heat of others in the crowd won't be enough to keep you cozy.
As with any outdoor winter event, layers are key. Wear comfortable shoes, thick socks, and fashion yourself with plenty of head and hand protection so you can stay focused on the entertainment, not the temperature.
Note: Historically, umbrellas, backpacks, large bags, coolers, and alcoholic beverages have not been allowed through security, so plan accordingly.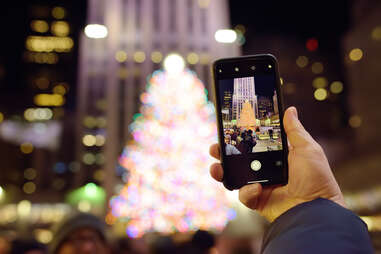 How do I get to the Rockefeller Center?
With any large event in NYC, the subway is your best option. Take a B, D, F, or M train to 47th-50th Streets–Rockefeller Center to get off in the heart of the action. If those trains aren't convenient and you're willing to walk a little, take the N, R, or W train to 49th Street, the E or M train to 5 Avenue/53rd Street, or the 4, 5, 6, or 7 train to Grand Central Terminal.
Will the ceremony be broadcast live?
Yes! If you can't attend in person, or simply don't feel like it, NBC will broadcast the ceremony live during a special televised event, with Today show co-anchors Savannah Guthrie, Hoda Kotb, Al Roker, and Craig Melvin hosting.
Christmas in Rockefeller Center airs on NBC at 8 pm ET nationwide, and select NBC affiliates will broadcast an hour of pre-show entertainment beginning at 7 pm ET.
Where is this year's tree from?
Every year, an evergreen is trucked into New York City from an American farm to serve as the world-famous Rockefeller Center Christmas Tree for a season. This year, for the first time in Rockefeller Center history, the tree hails from Maryland, where it's lived a long life of approximately 85 years.
The 2021 Rockefeller Center Christmas Tree is a 79-foot-tall, 12-ton Norway spruce donated by a family in Elkton, Maryland. It was cut on Thursday, November 11, and arrived at Rockefeller Center on Saturday, November 13, to start undergoing its transformation.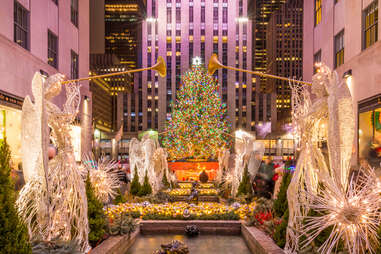 What's so special about the Rockefeller Center Christmas Tree?
In the decades since the first Christmas tree was erected in Rockefeller Center in 1931—standing only 20 feet tall and adorned with homemade garland—the Midtown plaza has become one of the most romanticized holiday spectacles in the world.
Weighing 24,000 pounds this year, the Rockefeller Center Christmas Tree is an enormous sight to behold with an unbelievable amount of decorations. The 2021 tree is wrapped in 50,000 multi-colored LED lights and crowned with a 900-pound Swarovski star that contains 70 spikes and 3 million crystals.
The awe-inspiring tree has been thrust into the spotlight thanks to movies like Elf, Miracle on 34th Street, and Home Alone 2, putting it on the radar of people around the globe and leading millions to visit NYC each December to get a glimpse of the magic.
How long will the tree stay at the Rockefeller Center?
The Rockefeller Center Christmas Tree will be on display until Sunday, January 16, 2022, giving everyone plenty of time to plan a visit.
Following the initial tree lighting on December 1, the Norwegian spruce will shine every day from 6 am to midnight. On Christmas Day, it'll remain lit for 24 hours, and on New Year's Eve, it'll go dark a little early at 9 pm.
What happens to the tree after the holidays?
As is tradition, the Rockefeller Christmas Tree will be donated to Habitat for Humanity once it's fulfilled its duties at 30 Rock. The Norway spruce will be milled, treated, and used in the organization's home-building projects.